NASCAR: Chase Contenders, Pretenders at the Quarter Mark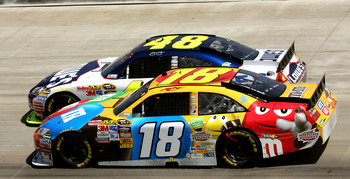 After the race at Dover, it's now race 12 and already we are a quarter of the way through the 2010 season.
There are 12 spots for the chase. But everyone from behind Juan Pablo Montoya, is out, and ahead of Jeff Burton is definitly in.
That makes it 12 drivers for six spots. I'm simply stating who and who will not be competing for those six spots.
Enjoy.
19th—Juan Pablo Montoya (#42 Target Chevrolet)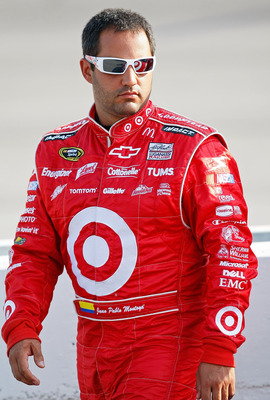 Juan Pablo Motoya: Contender.
Juan sits 19th in Sprint Cup standings and is 112 points behind 12th place Martin Truex, Jr.
There are 14 races left before the chase. In those remaining 14 races, JPM earned nine top-10 finishes which includes an 11th at Indianapolis where Montoya had the win locked up before speeding on pit road.
With these stats, and three big shots to win at Sonoma, Indianapolis, and Watkin's Glen coming up, where no doubtedly other drivers will struggle.
Montoya is definitly a contender when he visits these next tracks coming up.
18th—Joey Logano (#20 Home Depot Toyota)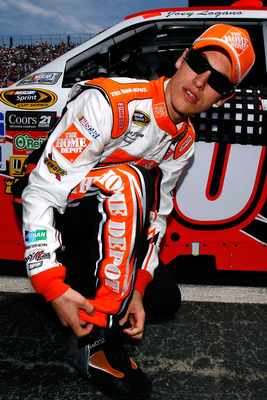 Joey Logano: Pretender.
The 19-year-old driver sits 102 points behind 12th place Truex.
Although the sophmore slump has eluded Logano, he's still not ready to contend for the chase.
Don't get me wrong, Joey is everything everyone makes him out to be. He will be a superstar one day, but a top-15 points finish is going to be a success for Logano this year.
Look for him to contend for it in 2011.
These next 14 races in 2009, Logano only earned 3 top-10's including his rain shortened victory at New Hampshire. Wait one more year for "sliced bread" to become just that!
17th—Jamie McMurray (#1 Bass Pro Shops Chevrolet)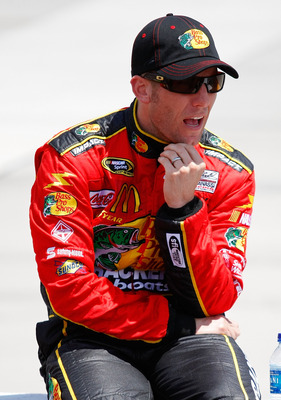 Jamie McMurray: Still Too Early To Tell.
McMurray is the only driver on this list I still just don't know about.
The Joplin, Missouri native is 88 points out of the chase.
He has been feast or famine so far in 2010, two second place finishes and a win in the Daytona 500, his next highest finish is eigth at Bristol and then 17th at Auto Club Speedway.
General logic would tell me, pretender, he didn't have a single top-10 in any of these 14 remaining races.
Daytona is coming up, and Jamie has proven he can get the job done there, and his car owner, Chip Ganassi always runs well at Indianapolis, and Jamie is a very good road racer.
With JPM as his teammate this year, he can only become a better road racer.
If they can continue to run as good as they have, I think they're in, but they need to get consistent, and I don't know if they can do that.
Therefore, I still need more time on Jamie McMurray, and he's the only one!
16th—Dale Earnhardt, Jr. (#88 AMP Energy/National Guard Chevy)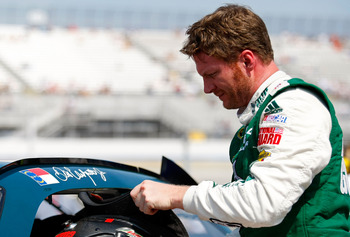 Dale Earnhardt, Jr.: Pretender
Earnhardt, Jr. would've been in the same class as Jamie McMurray, until his run at Dover this passed week.
It's been two weeks shy of a year since the Tony Eury, Jr. firing, and things seem to be right where they were after Dover of last year.
After a crew chief change after Charlotte in 2009 he was 19th in points.
This year, he's a little better, but not much, and he's falling.
I opened up all the racing websites Monday morning, and fans are calling for Lance McGrew's job. Never a good thing, that's proving fans are expecting more.
When fans, who usually have biased opinions by nature, are expecting more, and aren't satisfied, coming into the race where Dale struggled more than any in 2009, that's scary.
If that doesn't make a pretender, I don't know what does!
15th—Clint Bowyer (#33 Cheerios/BB&T Chevrolet)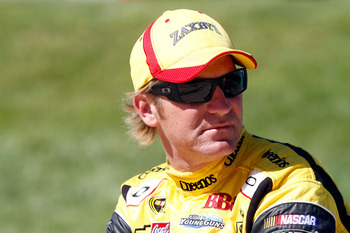 Clint Bowyer: Contender
Here's a choice that I really had to think about.
This team has been running really well, but has had some bad luck.
They started off 2010 on fire. A fourth place finish in Daytona, and then two eighth place finishes have Bowyer fifteenth.
He got caught up in the big crash at Texas where he was on his way to a top-10 finish.
Bowyer needs to rebound in these next 14 races, and his teammates are running just as well without the bad luck, I believe Bowyer can contend for the chase.
14th—Tony Stewart (#14 Office Depot/Old Spice Chevrolet)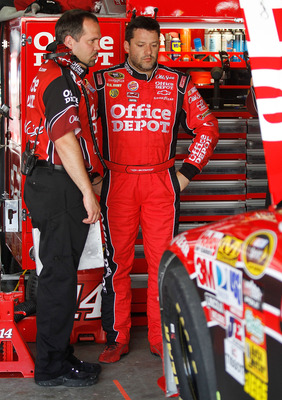 Tony Stewart: Contender
The two-time series champion has started off slowly in 2010.
But some tough luck lately for Stewart has been the cause of tough finishes.
A ninth a Dover still seemed like the path hasn't been righted for Stewart.
But Stewart and the weather are very similar.
Once the sun comes out more, and it gets later in the season, it heats up, usually for good.
So does Stewart, and a two time champion, within striking distance, he's still a contender in my eyes.
13th—Ryan Newman (#39 US Army Chevrolet)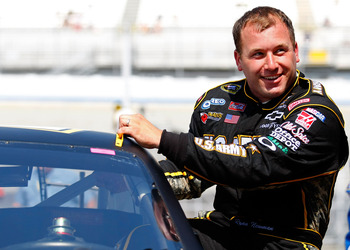 Ryan Newman: Contender
Newman has had a very nice season.
He nearly won Martinsville, and did win Phoenix.
After an extremely poor first five races for Newman, he has considerably picked it up since.
In those seven races since Bristol (week 5) he's had four top-10 finishes, and a win.
If Newman can continue to keep his strongs runs a habit, he will remain a contender.
12th—Martin Truex, Jr. (#56 NAPA Auto Parts Toyota)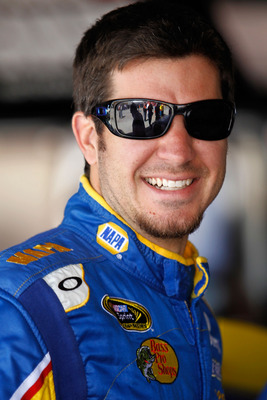 Martin Truex, Jr.: Pretender
It's hard for me to count out a fellow Jersey boy, but when he drives for MWR, I realize it's logical.
Truex has had some good runs, and other mediocore runs.
Four top tens, one top 5 and no wins, isn't going to get the job done in the next twelve races.
Truex, is going to have a FAR better year then Michael Waltrip did in this car last year, and he did last year too.
But it won't be good enough to make the chase.
His teammate David Reutimann has had some bad luck and isn't even a contender.
If Truex gets some of this luck, he for sure won't contend, and again, any car that has anything to do with Michael Waltrip won't contend for a chase.
11th—Mark Martin (#5 GoDaddy.com Chevrolet)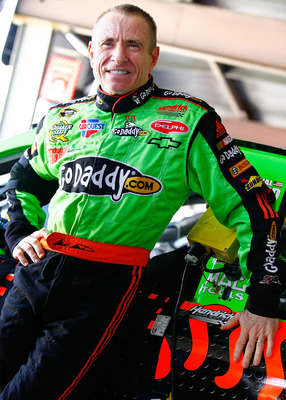 Mark Martin: Contender
Martin is only a contender because of what he did last year.
His 2010 has been all but impressive so far. But he still has got time to turn it around.
So far Martin has only led 42 laps of the short season.
Last year after race 12 it was 215 laps led.
Martin started off slow last year too, but already had a win and dominated a race by this point.
If Martin can't get back to form, he will make the chase, but not do much once he gets in.
10th—Carl Edwards (#99 Aflac Ford Fusion)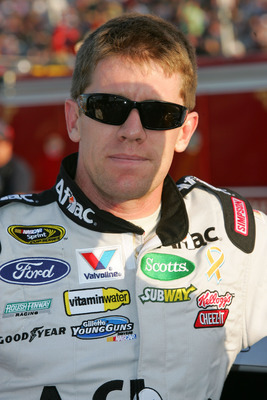 Carl Edwards: Contender.
Edwards was 11th after race twelve of 2009, and still made the chase.
But that's not the reason I'm putting him in.
The Fords will turn to the new FR-9 engine full-time after Daytona.
That's going to make them even better, as they seem to be improving already.
I think Edwards will make it in, and maybe by chase time get a win or two and contend for the championship, but still a year off from winning one.
9th—Kurt Busch (#2 Miller Lite Dodge)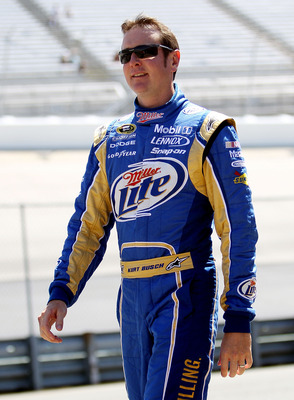 Kurt Busch: Contender
I like Busch as a driver, but I don't like Addington as a crew chief.
Busch has either hit the set-up hard this year, or missed it entirely.
In his good runs, he has finishes no worse then sixth!
In his bad runs, no better than 19th. That shows me if they're not good to start, they're not good period, and don't adjust the car well.
I still see Busch as a contender, Penske Racing is good enough and so is he.
Busch will contend and have a couple of more wins in 2010.
8th—Jeff Burton (#31 Caterpillar Chevy)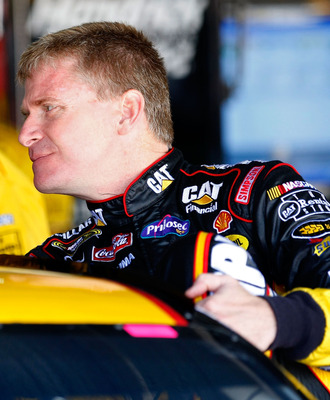 Jeff Burton: Contender
Burton is the only guy on this list that shouldn't be on it.
He has had some bad luck in 2010, but a second place solid finish at Dover shows Burton hasn't lost a beat even with the bad luck.
He needs a win though, and he runs extremely well at Charlotte.
Martinsville, Texas, Talladega, and Darlington all slipped away from Burton and he is very due.
Look for the #31 Caterpillar Chevy to have a big 3/4 of the end of the season.
Burton is a major contender, he just needs his luck to turn around.
Keep Reading