How Soon Do These New College Football Head Coaches Need To Succeed?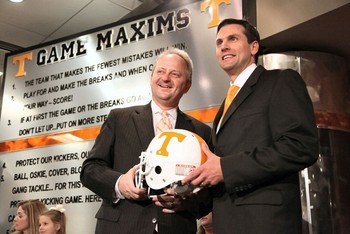 Sometimes change is needed.
For a handful of college football programs in 2010, that time for change came. Names like Brian Kelly, Lane Kiffin, and Turner Gill were not only seen all over ESPN and other media outlets, but they were seen packing their bags in order to find greener pastures at their newest destinations.
Some take over programs on the upswing drooling with potential, while others taking over ones that recently have found little to no success.
No matter which scenario these eight new head coaches find themselves in, they all face heavy expectations from the nation and their respective fan bases. Although some of these expectations may seem unfair or unjust, they are realistic in the college football world of today.
Success will come in different ways for many of these coaches. Some will be chasing conference titles while others are just looking to bring their programs back to respectability.
Regardless of the scenario, let's take a look at the eight head coaches looking to find success in their first year at the helm and what their timetables for success look like.
Derek Dooley - Tennessee
Vol nation should give Dooley at least three years to restore their program back into contention in the SEC.
After such a devastating and dramatic exit by Lane Kiffin, the Vols are searching for an answer to heal their wounds.
Dooley steps in as the successor to the villain. He inherits a roster that took plenty of hits through transfers and recruits signing elsewhere, but that doesn't mean talent still can't be found on the depth chart.
Although it's going to take a year or two, Dooley should be able to reel in some talented recruiting classes to compliment his already SEC-ready roster. If he can do just that, he will be on the right track to getting the Vols back into contention in the elite conference of college football.
It will be tough at first, but expect Dooley to get Tennessee back to where the program once was. Just don't expect that too soon.
Brian Kelly - Notre Dame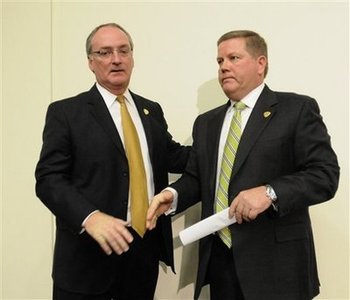 Brian Kelly has exactly two years to get the Irish back to the BCS.
The Irish, coming off of two unsuccessful seasons in a row, have taken a step back into the shadows in the past decade. Besides the two BCS appearances in Charlie Weis' first two years at the helm, the Irish haven't found much success.
Talent has been flocking to the Bend in massive amounts. Top ten recruiting classes and five-stars have started once again making Notre Dame their tentative homes before fleeing to the NFL.
Kelly takes over in South Bend with top-25 talent up and down his roster. There is no reason the Irish shouldn't be among the top 25 teams next season.
It may be unrealistic to expect a BCS bowl appearance in 2010, but 2011 is a year in which a BCS appearance is a must.
Turner Gill - Kansas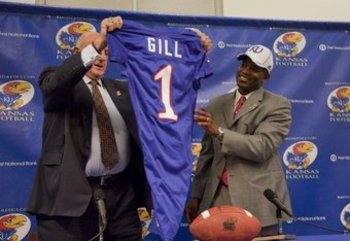 Gill needs to lead Kansas to a North title before the Big12 disbands.
Coming from a lesser-known program stuck in a city where football seems to be overshadowed, his success at Buffalo opened up an opportunity for him to succeed yet again.
This time, however, on a bigger stage.
Gill doesn't inherit a roster full of elite talent. What he does inherit is talent much better than what he was use to at Buffalo. Because of this, and Gill's track record of squeezing each and every last drop of his player's potential out, expect big things from Kansas in the future.
Will the Big 12 disband soon? It may be a possibility with super-conferences floating around in many minds.
Gill has some time in order to get his program back into contention in the North. But for now, sit back, relax, and enjoy the process of re-building an upper-tier college football program.
Skip Holtz - South Florida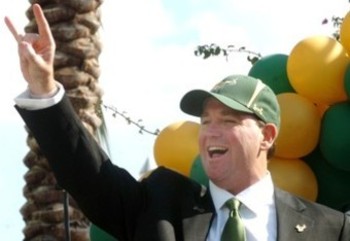 Skip Holtz needs to win a Big East championship in his first three seasons in charge.
South Florida has been a consistent contender in the Big East for the past couple of seasons. A program on the upswing, top Florida-talent is finding it's way to South Florida more often, leading to more success on the field.
Holtz brings a new look to this program in 2010. With his hard-working personality and Holtz-like leadership, there is no reason for the Bulls not to take a title in the next three years.
The Big East offers good competition, but certaintly none that many of the other top conferences offer. With a soft schedule and in-conference slate, look for Holtz to lead the Bulls to atleast 8 or 9 wins in 2010.
And for the future, Bulls' fans should expect a ring (or two) within the first three years of their own Holtz era.
Lane Kiffin - USC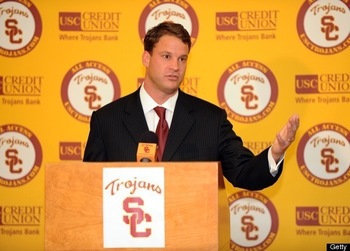 Kiffin must restore USC's Pac-10 dominance immediately.
Spurning Vol nation for his "dream" job in Southern California, Kiffin has no excuses to not succeed right away.
With a roster full of nearly all four and five-star recruits, success must come quick and often. Playing in the Pac-10, Kiffin should run through the conference year in and year out just as Pete Carroll did for most of his career.
USC knows only success, BCS appearances, and rings as of late. Anything less from Kiffin will be considered a failure.
High expectations for a high-profile exit.
Charlie Strong - Louisville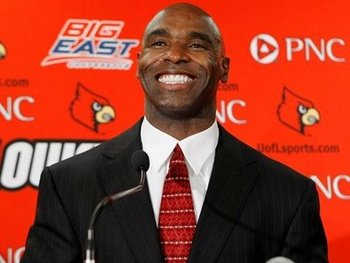 Charlie Strong needs to build Lousiville back into a Big East contender within a few years.
The days of Brian Brohm and success at Louisville are long gone. Losses have come in large doses and wins have been hard to come by for the Cardinal program.
However, a new man comes to town in national champion Charlie Strong. The former defensive-coordinator under Urban Meyer brings a sense of promise to a program in need.
Louisville, once a pride of the Big East, has a roster with some potential. With Strong's name, the recruiting trail should be more smoother in 2010, and in turn, success should be on it's way.
If Strong can get the Cardinals back into contention within two or three years, it will be considered a great success on his part.
Tommy Tuberville - Texas Tech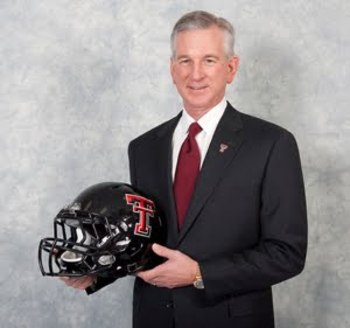 Tommy Tuberville needs to get Texas Tech back into the top-25 within two years.
Mike Leach left Tuberville a bundle of talent in Texas. The one thing that will hold Tuberville back from succeeding right off the bat is the change of offense and defense.
Leach and Tuberville run different styles of football teams. If the roster can adjust to the Tuberville-style of football, they should be fine and ready to compete with the nation's best in no time.
However, if they can't adjust, it may take a recruiting class or two in order to replenish the personnel for the new head coach's schemes. Expect Tuberville to have his program in the top-25 by the end of 2011.
If not, success will not have been found.
Jimbo Fisher - Florida State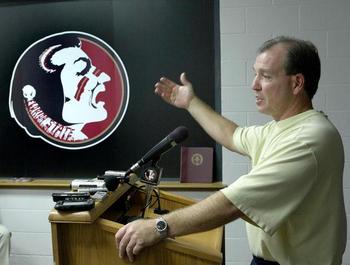 Jimbo Fisher needs to bring an ACC championship back to Tallahassee within his first three years leading the Seminoles.
The Seminoles are one of the few ACC teams getting national attention this spring. Many have them slotted as the No. 22 team in the nation entering 2010.
Although Bobby Bowden has handed over the reigns to his successor in Fisher, Seminole fans expect little to no drop off. In fact, many expect improvement.
Winning an ACC title in his first season may be asking a little too much from a first-year head coach. However, Fisher has been being groomed for 2010 for years now. He knows what he must do in order to bring that title home.
If he doesn't get it done in 2010, it won't be the end of the world. But anything less than a title run by 2012, Seminole fans will be screaming failure at Fisher.
Keep Reading

USC Football: Like this team?