Suns-Lakers: Why Phoenix Matches Up Better With LA Than People Think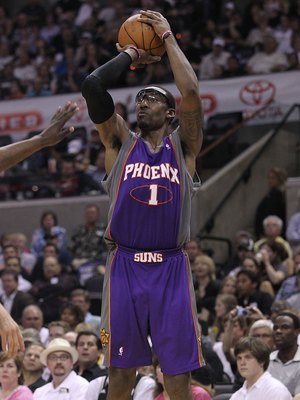 After a long week of waiting for basketball to be played by the Suns, obviously what everyone needs is a Suns/Lakers preview. I am happy to oblige.
As a man who loves the Suns and abhors anything Los Angeles, it admittedly is no easy thing to look at the series objectively. Even so, there are many, including Lakers analyst Mychal Thompson, who believe that this series is simply a formality and that the Lakers shall indeed advance to defend their 2009 championship.
I, on the other hand, feel that these two teams are not unevenly matched. The series is bound to be a good one. Here is my breakdown of the matchups, from my view from my favorite chair (and sometimes, like for a part of game one, the view from my bed when two shows are recording on the DVR on my TV).
Point Guard: Derek Fisher vs. Steve Nash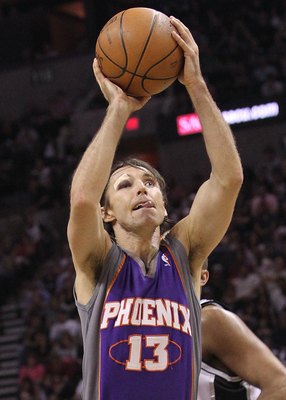 This should be restated to be "the cadaver known previously as Derek Fisher" vs. "the point guard playing at the same level his two MVP seasons (but four years removed) known currently as Steve Nash."
At age 37, Nash led the NBA's leading offense and was the league's leader in assists at 11 a game. He accomplished for the fourth time in his career the legendary 50-40-90 status (50% shooting from the field, 40% in three pointers, and 90% FT). This club is exclusive, as only six players have accomplished it (Larry Bird, Mark Price, Reggie Miller, Dirk Nowitski, José Calderón, and Nash) and Nash is the only one to have done it more than twice.
Fisher, at only 35, just finished a season in which he shot only .380 for the season. In his last four years, his production has steadily declined. He has had a knack for hitting big three point shots, but he shot just under 35 percent for the season.
Defensively, both are liabilities. However, Nash has difficulties with quick guards, something Fisher does not. Fisher can't even guard slow players anymore.
Advantage: Suns, decisively.
Shooting Guard: Kobe Bryant vs. Jason Richardson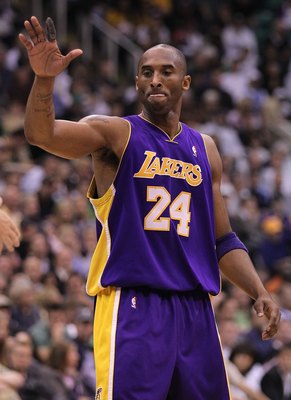 Obviously, when you have to match up against a player who has been known for years as the best basketball player on the planet and can still be debated to be such, you are not going to be favored at the position.
Kobe Bryant is amazing. He continues to reinvent himself, even as his athletic gifts are beginning to fail him. His post game is solid. He is still a great defender. He has played the entire season with a broken finger. He still is scary good in the clutch.
However, he is not the player he has always been. He is not as explosive as he used to be. There is less lift on his jumper. His bad nights really do look bad now.
The Suns bring Jason Richardson to the table, who is no chopped liver. The stat is well known and well cited. The Suns are 31-4 when Richardson scores at least 20 points. I see him not as the Suns' best player (you can argue either Nash or Amar'e Stoudemire) or the team MVP (still Nash).
I see him as the Suns' most important player. He serves as a barometer for the Phoenix's offense. When it is right, he is right. He is now a good team defender, rather than the poster child for the terrible Phoenix defenses (see Roger Mason three-point shot on Christmas 2008). He is, by all means, one of the league's best shooting guards.
Advantage: Lakers, but only by a little.
Small Forward: Ron Artest vs. Grant Hill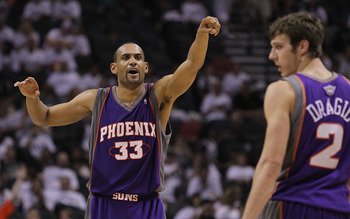 Ron-Ron has not quite had the impact on the Lakers that many hoped he would have. He is still a good defender, but he cannot guard all the positions he once could.
He can score, but will take too many ill-advised threes. Teammates love him, but he is always just one moment away from an incident on the court. There is also that mysterious injury he had with the stairs and lacerations.
The suns counter with the ageless Grant Hill, who is having as fine a season as he has ever had. He is not the 'possible next Jordan' he was at the start of his career, but he has turned into the Suns' most important defender, guarding point guards to power forwards at times. What Artest has always lacked in stability and influence on teammates, Hill has in excess.
Both players averaged just over 11 points a game, and Hill averaged a rebound more than Artest. Hill shot almost 48 precent from the field and a career-high 44% percent in threes. Artest shot 41 percent and 36 percent, respectively.
Advantage: Suns.
Power Forward: Pau Gasol vs. Amar'e Stoudemire
This is a wonderful matchup to watch. Both are elite at their positions. Both play some power forward and some center. Stoudemire scored more than Gasol (21.4 a game against 18.3), Gasol rebounds more (8.9 for Stoudemire, 2.7 offensive, 11.3 for Gasol, 3.7 offensive, rebounds a game), and block about the same number of shots (1.4 for Stoudemire, 1.7 for Gasol).
The difference is that Stoudemire is the No. 1 banana on his team and Gasol is banana No. 2 behind Kobe Bryant.
Gasol has the advantage in height, Stoudemire in quickness and explosiveness. Neither one can stop the other. Amare can have trouble with length, which Gasol has, while Gasol can have trouble with explosiveness, which Stoudemire has. This matchup is truly a wash.
Advantage: None
Center: Andrew Bynum vs. Robin Lopez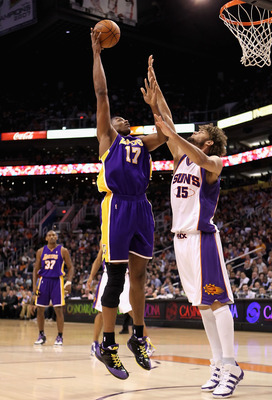 This matchup is between two injured starting centers. Lopez is returning from a back injury that has sidelined him since the end of March. Bynum is playing with ligament damage in his knees. Both players are very important pieces to their teams' success.
Lopez had a sort of breakout year this season after a very forgettable rookie campaign. His move to the starting lineup sparked Phoenix's second half run. He is offensively limited, but is mobile and can score. Defensively, he alters shots and gives Phoenix the physical and athletic presence they have historically lacked.
Bynum has had another injury riddled season, playing only in 65 games in the regular season. When he is healthy, he can be dominant. He also disappears. Injured as he is now, he is either productive or invisible (see Utah series with one very good game, one okay game, and two very forgettable games).
Even with Lopez likely getting only a few minutes at the start of the series, his impact will more likely be greater on his team than what Bynum will be on his. Bynum is more talented, but his knees will hinder him.
Advantage: Lakers, but only slightly.
Lakers Bench vs. Suns Bench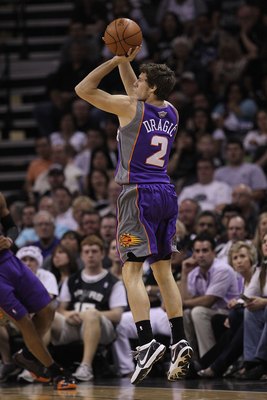 What was once a liability for Phoenix has become a strength. This season, the Suns play a true first and second team. The bench play is not as explosive as the starting lineup, but can score.
There is defense and toughness (Lou Amundsen, Jared Dudley, and Goran Dragic) and outside shooting (Channing Frye, Leandro Barbosa, Dudley, and Dragic). The second unit plays important minutes and holds leads, erases deficits, and even builds leads.
Los Angeles in previous years has counted on solid bench play. The most important player off the bench is Lamar Odom. He, though, is historically inconsistent in the playoffs. Sasha Vujacic returns from injury, but will battle Jordan Farmar for minutes. This year's Laker bench is more known to lose leads that the starters build. Look for this trend to continue if the Lakers have built a lead.
Advantage: Suns.
Intangibles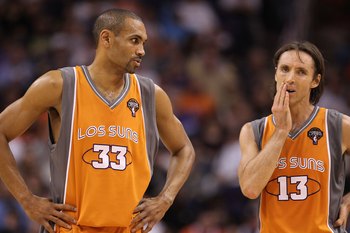 Phoenix is the league's hottest team, winning 36 of its last 45 games, including a second round sweep of San Antonio in the playoffs. There has never been better team chemistry. Additionally, the Suns have done this for almost two months starting a guy at center (Jaron Collins) who was out of a job just a few months before.
Steve Nash has played in 112 playoff games without reaching the NBA Finals. Grant Hill, before this season, had never gotten past the first round of the playoffs. They are playing for something special.
The Lakers appear to have turned things around against Utah in their second round playoff sweep. Kobe Bryant, who is the single most competitive player in the NBA, seeks to match Michael Jordan with a sixth championship ring. It is still the prestigious Los Angeles Laker organization.
However, they did not play good basketball down the stretch. They are not completely healthy. Team chemistry has been a struggle, as both Bynum and Gasol have questioned whether Kobe should be taking as many shots as he does. Ron Artest is a ticking time bomb. Bynum's knee situation is tenuous at best. There does not seem to be much of anything magical about this Laker team.
Advantage: Suns.
Prediction: The winner is...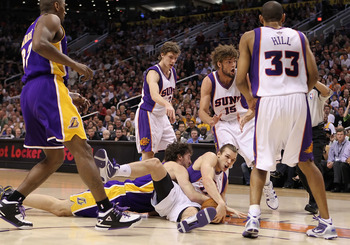 This is going to be a historically good series with two evenly-matched teams. Every game will be very competitive. In the end, my heart prevails with my prediction.
The Western Conference champions will be...the Phoenix Suns, winning in shocking fashion in Los Angeles in Game Seven.
You can find me, the (Happily) Trapped Fan on Facebook (http://facebook.com/thehappilytrappedfan) or follow me on Twitter (http://twitter.com/happytrappedfan)
Keep Reading

Phoenix Suns: Like this team?