Orlando Magic All-Time Team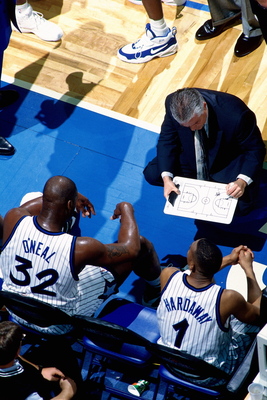 Thanks to Dwight Howard, the Orlando Magic are back in the Eastern Conference Finals. I decided with that thought in mind, the placement of Dwight Howard among Orlando's all-time best was intriguing.
Through 20 years, there might be less players to choose from, but the squad should be able to rival most all-time teams.
Let's give it a go Orlando.
Honorable Mentions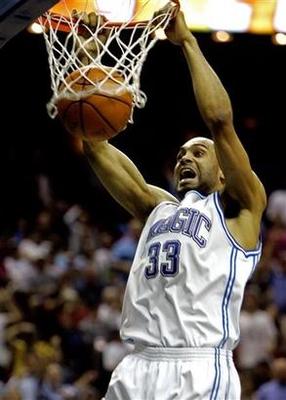 These guys made contributions, but just couldn't make the roster:
Reggie Theus: Lead the team in scoring their initial season.
Steve Francis: Led the team in scoring and put together a fine first season with the team.
Mike Miller: Won Rookie of the Year with the Team and was a great three point shooter
Grant Hill: Sufficient when healthy, made the All-Star team twice in Orlando
12. Scott Skiles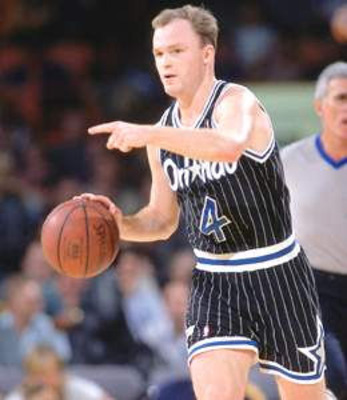 The former play-maker and teammate of Kevin Willis at Michigan State could play a little ball.
He set the NBA record for Assists in a single game while playing with the Orlando Magic. The point guard for the Magic before Penny showed up, in retrospect, Skiles had a overlooked career.
He had one thing that did not go overlooked: if you have Shaq, give him the ball! Worked for him as he set his career high in assists Shaq's rookie season.
11. Hedo Turkoglu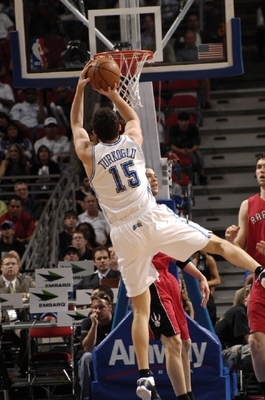 He did not play long in Orlando (five seasons), but his impact was immense.
Turkoglu's regular season statistics weren't the greatest, but he shined in the playoffs Particularly in 2009, as he may have been the biggest catalyst outside of Dwight Howard in getting Orlando to the finals.
His sweet three and drives to the bucket would make you wonder why Sacramento or San Antonio would have ever wanted to give the guy up.
10. Dennis Scott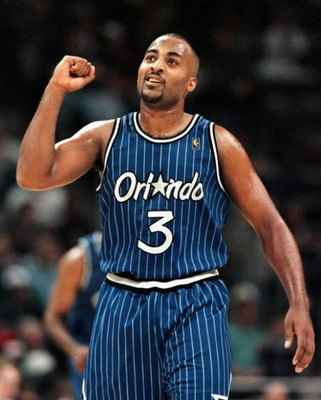 Scott is a forgotten man when one usually thinks about the Shaq era in Orlando. He had a well established career while at Georgia Tech and was picked fourth by Orlando in 1990 draft.
Scott never fully lived up to expectations, but he could do one thing great: hit the three. With Shaq inside, he was able to have open threes all day. It showed in his numbers, as he averaged 17.5 points per game in 1995-96 following his 20 points per game in 1991-92.
Scott was the x-factor on many occasions. He made sure there were no O's on his tic-tac-toe board.
9. Darrell Armstrong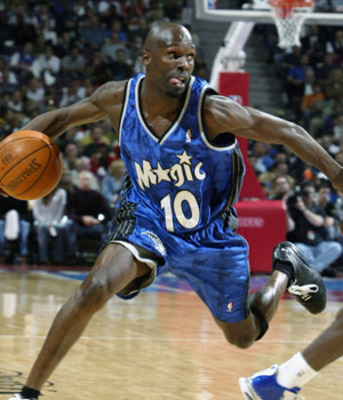 The former Sixth Man of the Year for the Magic was always full of energy and spirit.
A tough-on-ball defender in his early years, he was able to be among the steals leaders throughout his years with the Magic. He played a large role in trying to replace some of the luster that left with Shaq. Though no one could completely fill that role, he was still a very consistent, energetic player.
8. Jameer Nelson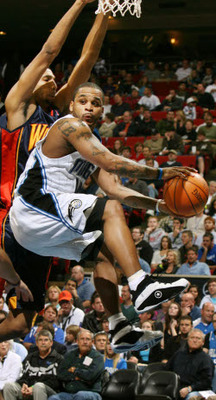 More of a what will be spot for Jameer at this point, as he can only rise upon this list.
He was an All-Star prior to this season and had a major injury to overcome. He showed heart in coming back for the NBA finals last season despite the injury. He looks to be fully healed from his injury and is playing at a star caliber level this year.
An original (steal) pickup by the Magic in the draft, he has been well worth his acquisition. It will be intriguing to see what his future holds.
7. Nick Anderson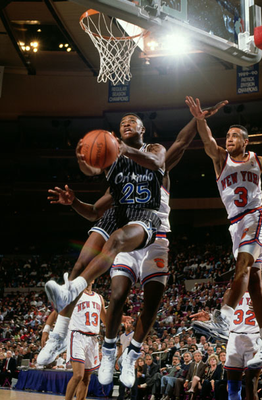 An original draft pick of the Orlando Magic, Nick Anderson was a steady player throughout his decade with the team.
He is probably most known for his ill fated free throws in Game one of the 1995 finals. That is a shame given his tough, gritty defense against, most notably, Michael Jordan.
Anderson was a clutch contributor for the Magic and a key cog during the mid-90's when the team competed for the NBA title.
6. Rashard Lewis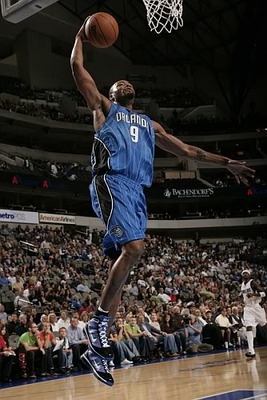 Rashard was signed for megabucks from the Seattle Supersonics and people wondered whether he was worth the money.
Well, he has been—and then some—now in his third year with the club. Lewis has been a major spark for the Magic when a key three is needed, as was the case in the 2009 Eastern Conference Finals.
His length and shooting range make him a tough man to defend. He should be a valuable contributor for the Magic the next few years.
5. Horace Grant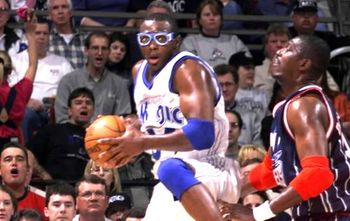 The man with the blue goggles was always a menace around the boards. After the Magic were able to snag Grant away from Chicago, they were able to enjoy the hard work Grant brought from his All-Star days with the Bulls.
He spent seven years total with the Magic, but the most important were the first four, where he averaged right around a double double each season.
Grant had great defensive instincts and played a huge role in the Magic's great regular season success during those years.
4. Tracy McGrady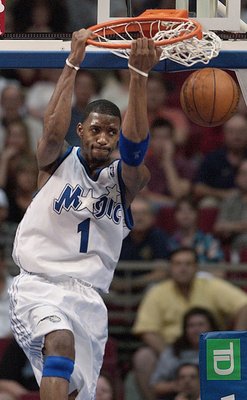 Forgotten by many is that Tracy McGrady was an Orlando Magic player and a scoring champion. At one point McGrady, and Bryant were fighting for the anointed best player in the game position and that was within McGrady's grasp in Orlando.
Not always the greatest defender in comparison to his offense—it did not matter. He was electric on offense and tough to stop. His big play ability allowed many of his teammates great looks they would not normally see.
It is somewhat shocking that he never won an MVP.
3. Anfernee Hardaway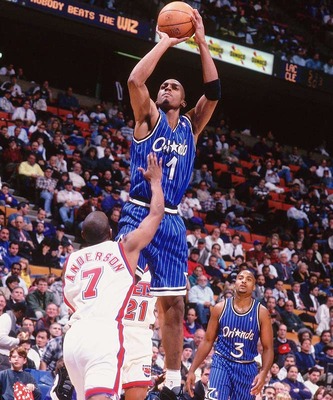 One of my favorite players of all-time was probably the second best guard after Jordan until he became injured in the mid-90's.
He wasn't All-NBA First team for nothing—the guy could play. Scoring, assists/turnover ratio, defensive awareness—he had the most complete game minus Scottie Pippen in the mid-90's. He helped shape the Magic into a team that you wanted to see on TNT or NBC all the time.
Hardaway also carried the team when Shaq was injured. It's too bad he and Grant Hill had injuries during their stay in Orlando that limited their effectiveness.
He was still one bad man when healthy.
2. Dwight Howard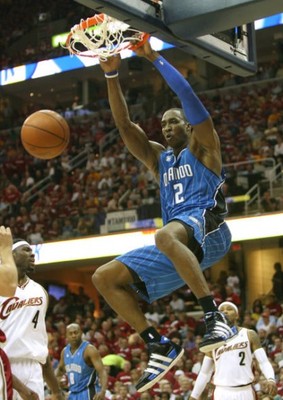 There's no question Dwight Howard is a freak of nature. Many, including myself, wonder what other physical things he can accomplish outside of basketball.
Sticking with basketball, though; he is a top two player for many reasons. Howard was the main reason the Magic made the Finals in 2009. He has been the Defensive Player of the Year two years in a row, a four-time All-Star and perennial MVP Candidate all at the young age of 24.
He is a complete monster on the glass; you'd think he's a spokesman for Windex. He should win some titles down the line.
We can just have a wait-and-see approach when it comes to Dwight.
1. Shaquille O'Neal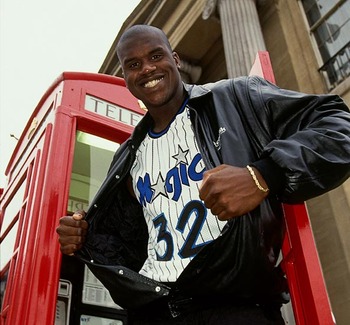 Why is he number one? It's simple: there is no Orlando Magic without Shaquille O'Neal.
It was seen what happened with the Charlotte Hornets after Alonzo Mourning and Larry Johnson were not able to have the success the Magic did; they were moved. It was further years down the line, but Shaq had instilled such a love for basketball in Orlando that there was no way the Commissioner was going to move Orlando.
Now, getting to actual basketball reasons; he was the main reason Orlando made the 1995 finals. The Magic had a tough road to traverse on their way to the Finals. They had to beat the Bulls and Pacers, along with a potential match-up with the Knicks. Getting out of of the Eastern Conference was no laughing matter at that time.
When Shaq entered the league, nothing like him had ever been seen. So strong, big, and agile he was like the Eighth Wonder of the world. He won not only the Rookie of the Year, but people's hearts. People were enamored with his rapping, acting and overall persona; but those couldn't hold a stick to his ball playing abilties.
He was a force, and altered many of the ways teams would be able to play their defense. His biggest supporting reason might be that many of the greatest Magic players would not be of note had it not have been for him (Nick Anderson, Dennis Scott, Scott Skiles).
As much as Dwight Howard is the face of the Magic today, we will have to see if he can ever duplicate the magic Shaq held in his palm. It will take a title or two from Dwight to ever surpass Shaq in Orlando.
Keep Reading

Orlando Magic: Like this team?