All Time Froggies; The All Time Top Ten TCU Football Players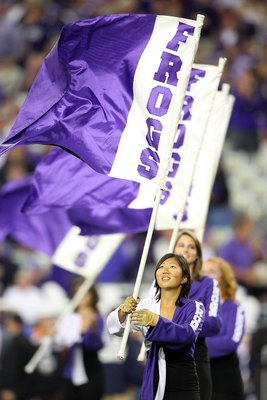 TCU has been playing football since 1896...that's a dang long time. They've been at venerable Anon Carter Stadium since 1930, creating history and memories for their fans.
The Froggies have captured two national championships and 15 conference championships in their storied history; one in the old TIAA, nine in the old Southwestern Conference, two in the WAC, one in Conference USA, and two in the Mountain West.
They've gone 11-14-1 in 25 bowls, with 15 top 25 finishes.
Individually, the Frogs have one Heisman winner, 37 consensus first team All-Americans, and ten members in the College Football Hall of Fame.
So who are the top ten Froggies. Here's the list...
#10 Kenneth Davis, RB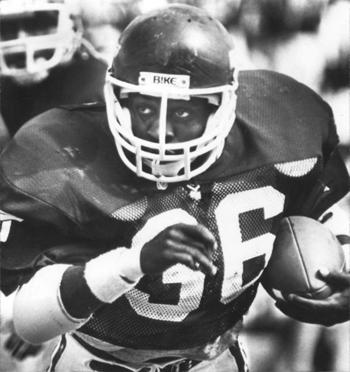 Davis played from 1982-1985. As a junior, he rushed for 1,611 yards (#3 in the NCAA) and 16 touchdowns, earning him a first team selection on the College Football All-America Team.
He finished fifth in the Heisman Trophy voting that year. His 1,611 rushing yards set the single season school record until LaDainian Tomlinson rushed for 1,850 yards in 1999
Davis finished his college career with an impressive 2,904 yards and 24 touchdowns. He also led the Frogs to the school's first bowl, the 1983 Astro Bluebonnet Bowl, in 18 years.
Davis was implicated in the cheating scandals that swept through the SWC at the time. He only played one game in his senior year. Still, he left TCU as the school's second all-time leader in rushing yards and rushing touchdowns.
Davis played for Green Bay and Buffalo during his nine year NFL career.
#9 Aaron Schobel, DE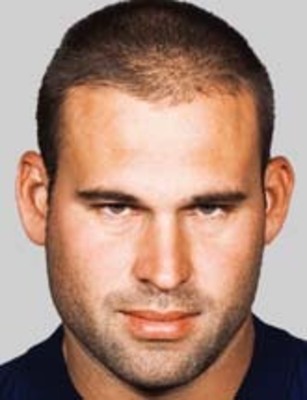 Schobel was on the Frogs for the 1997 to 2000 seasons, playing under three bowl teams, including a 2000 squad that went 10-2.
During his tenure at TCU, Schobel was selected first team all WAC two years in a row (1999 and 2000) and was voted the WAC defensive player of the year in 2000. He set the all time single season sack record for the Frogs, registering 22.5 in 1999.
Selected in the second round by the Buffalo Bills, Schobel has become one of the premier defensive linemen in pro football. He started an amazing 116 consecutive games for the Bills from 2003 to 2008. He was selected to the pro bowl twice during that stretch.
#8 Raymond Matthews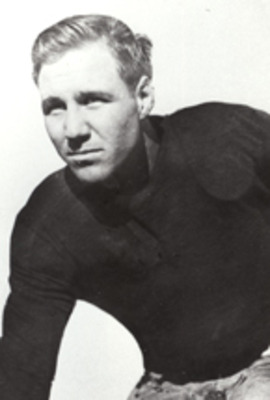 Matthews represents an "old school" selection for the Frogs, playing both offensive and defensive end in an era of two way players.
He lettered three times under coach Matty Bell from 1925 to 1927, during which the Horned Frogs posted a cumulative record of 17-5-5.
Matthews was named the team's Most Valuable Player after the 1926 and 1927 seasons, and was selected to play in the Shrine East-West All-Star Game as a senior in 1927. This was the first year players from the Southwest Conference were included.
Matthews was named to the All-Time All-SWC Team in 1969, and was elected to the College Football Hall of Fame in 1971.
#7 Jerry Hughes, DE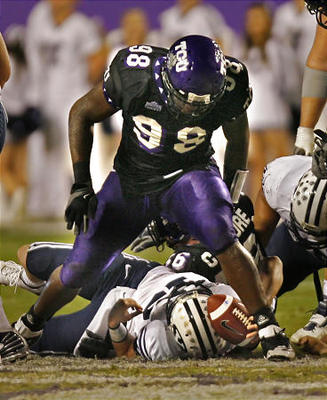 Hughes was one of just four true freshmen to play for the Horned Frogs in 2006. He played in all 13 games as a sophomore in 2007, and recorded at least one tackle in each of those contests.
Taking over as a full-time starter as a junior in 2008, Hughes recorded 15 sacks, 18.5 tackles for a loss, 6 forced fumbles, 2 interceptions and returned one of those picks for a touchdown. He led the nation with his 15 sacks. He garnered First-team All-MWC and MWC Defensive Player of the Year honors, and was an All-America selection.
In 2009 Hughes had a career-high 54 tackles and 11.5 sacks (tied for 7th in NCAA). He was again a First-team All-America and consensus First-team All-MWC. Additionally, he was named the MWC Defensive Player of the Year for the second time in two years.
His career totals include 28.5 sacks, 139 total tackles, 39 tackles-for-loss and 7 forced fumbles.
Hughes was selected in the first round, by Indianapolis, of this year's draft.
#6 Ki Aldrich; C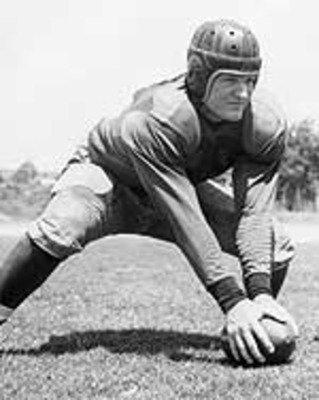 Aldrich was an All-American center for two legendary quarterbacks; Sammy Baugh and Davey O'Brien. In Aldrich's senior year, 1938, the Horned Frogs won the National Championship, finishing 11-0 and winning the Sugar Bowl.
Aldrich was the 1937 Cotton Bowl classic MVP. He was selected to the All time SWC team in 1969 and the College Football Hall of Fame in 1960.
A measure of how good Aldrich was can be judged by his the Chicago Cardinals selecting him first overall in the 1939 draft..ahead of Heisman winner and teamate Davy O'Brien. Sammy Baugh called him "the toughest player I ever knew".
#5 Jim Swink, HB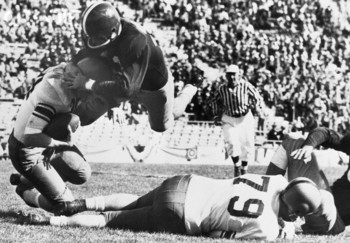 Swink is remembered as one of the all-time greatest running backs in Southwest Conference history. He led the Horned Frogs to consecutive conference championships in 1955 and 1956, which resulted in trips to the Cotton Bowl Classic.
While he was named an All-American as a junior and senior, Swink's best season came as a junior in 1955.
That year, he rushed for 1,283 yards, second-best in the nation. Swink led the country with 125 points scored. His best game came against rival Texas in Austin, when he rushed 15 times for 235 yards and scored 26 points in a 47-20 rout of the Longhorns. That year, he finished second to Ohio State's Howard Cassady in the Heisman Trophy voting.
After finishing his degree at TCU, he decided to forgo playing in the National Football League and instead went to medical school. In 1960 he joined the American Football League's Dallas Texans for their inaugural season. He later practiced medicine in Fort Worth.
He was elected to the College Football Hall of Fame in 1980, and in 1982 was presented with a Silver Anniversary Award by the NCAA for career achievements outside of football. In 2005, he was awarded the Doak Walker Legends award.
#4 Davey O' Brien; QB and DB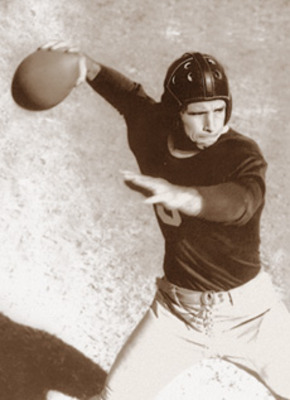 O'Brien was a backup for Sammy Baugh. He became the starter in 1937 after Baugh graduated. O'Brien was named to the first-team All-Southwest Conference after that season.
In 1938, O'Brien threw for 1,457 passing yards, a Southwest Conference record that stood for ten years. He threw only four interceptions in 194 passing attempts, and his NCAA record for most rushing and passing plays in a single-season still stands today.
That season, he led the Horned Frogs to an undefeated record. They outscored their opponents by a 269-60 margin, holding nine of their ten regular-season opponents to seven points or less, including three shutouts.
They finished the season with a 15–7 victory over Carnegie Tech in the 1939 Sugar Bowl and earned the National Championship title.
O'Brien was named to 13 All-America teams and became the first player to win the Heisman, Maxwell and Walter Camp trophies in the same year. He was also the first Heisman winner from TCU, and the first from the Southwest Conference.
O'Brien was drafted in the first round (fourth overall) of the 1939 NFL Draft by the Philadelphia Eagles. In his first season in the NFL, O'Brien led the NFL with 1,324 yards in 11 games, breaking his old TCU teammate Sammy Baugh's single season passing yardage record.
In 1940, he again led the league in several passing categories, including attempts and completions. The Eagles gave him a $2,000 raise, but he retired after the 1940 season.
In his professional career, O'Brien completed 223 of 478 passes for 2,614 yards and 11 touchdowns. He also played as a defensive back, and punter, and intercepted four passes for 92 yards. He punted nine times for an average of 40.7 yards per kick.
The Davey O'Brien Award, given annually to the best quarterback in college football, is named for him. He is a member of the College Football Hall of Fame.
#3 Bob Lilly; DT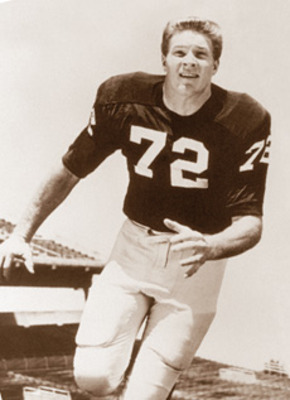 Bob Lilly was "Mr. Defense" as both a collegiate and professional star.
During Lilly's three varsity seasons with Texas Christian, the Horned Frogs surrendered an average of just eight points a game. As a sophomore in 1958, Bob helped the Horned Frogs to an 8-2-1 record, which included a scoreless tie with Air Force in the Cotton Bowl.
TCU was 8-2 in 1959 before losing to Clemson, 23-7, in the first Bluebonnet Bowl game. Eleven opponents could total no more than 75 points against the Horned Frogs that year, an average of less than seven points a game. Lilly was the ring leader of that great TCU defense, winning All- Southwest Conference honors.
Although the Horned Frogs slipped to a mediocre 4-4-2 record in 1960, Lilly's individual play continued to draw praises from the experts.
Again, he was all-conference and he added consensus All-America laurels. That year, he appeared in four post-season contests: the East-West Shrine Game, the Hula Bowl, the Coaches All-America game and the College All-Star Game.
Following his collegiate career, Lilly went on to star for the Dallas Cowboys, where he became an All-Pro defensive star.
Lilly is a member of both the College and Pro Football Halls of Fame.
#2 Ladainian Tomlinson; RB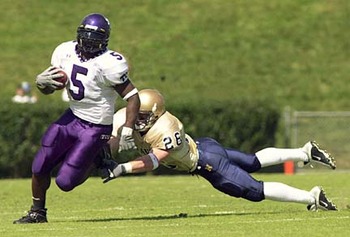 During his freshman and sophomore years, Tomlinson split time with Basil Mitchell. In the 1998 season, he helped the Horned Frogs win their first bowl win in 41 years, against the University of Southern California in the Sun Bowl.
During his junior season in 1999, Tomlinson set an NCAA record for yards in a game, with 406 against UTEP. He ended the year with an NCAA-leading 1,850 yards rushing to go along with 18 touchdowns.
In his senior season in 2000, Tomlinson led the NCAA for the second time with 2,158 yards and 22 touchdowns while adding 354 yards receiving.
He won the Doak Walker Award as the nation's best running back, and was a finalist for the Heisman, finishing fourth. He completed his college career with 5,263 rushing yards, ranking sixth in NCAA Division I history.
The school retired his jersey number (5) during halftime of a November 2005 game against UNLV. In December of that year, Tomlinson fulfilled a promise to his mother by earning his degree in communications from TCU.
After nine years as a pro, Tomlinson holds numerous rushing and scoring records and has tallied over 12,000 yards rushing. Once he retires, it will be surprising if he is not elected to the Pro and College Football Halls of Fame in his first year of eligibility.
#1 Slingin' Sammy Baugh; QB, S and Punter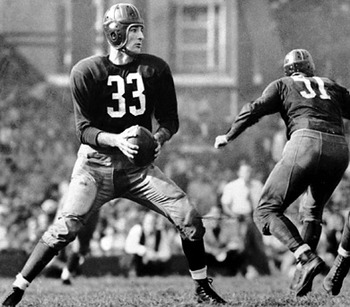 After coach Dutch Meyer told him he could play three sports (football, baseball, and basketball), Baugh decided to attended Texas Christian University. Good thing for Frog fans.
While at Texas Christian, he threw 587 passes in his three varsity seasons, for 39 touchdowns, and was named an All-American in 1935 and 1936.
He also led TCU to two bowl game wins, a 3–2 victory over LSU in the 1936 Sugar Bowl and a 16-6 victory over Marquette in the first annual Cotton Bowl Classic in 1937(after which he was named MVP). He finished fourth in the Heisman voting in 1936.
Drafted by the Redskins, Baugh played for the team from 1937 to 1952. By the time he retired, Baugh set 13 NFL records in three player positions: quarterback, punter and defensive back. He is considered one of the all-time great football players.
Baugh gave birth to the fanaticism of Redskins fans and is a member of the inaugural class inducted into the Pro Football Hall of Fame in 1963. That class included Bronko Nagurski, Red Grange, Jim Thorpe, Curly Lambeau, Don Hutson, George Halas, Ernie Nevers and Mel Hein.
Two of his records as quarterback still stand: most seasons leading the league in passing (six; tied with Steve Young) and most seasons leading the league with the lowest interception percentage (five). He is also third in highest single-season completion percentage (70.33), most seasons leading the league in yards gained (four) and most seasons leading the league in completion percentage (seven).
As a punter, Baugh retired with the NFL record for highest punting average in a career (45.1 yards), and is still second all-time (Shane Lechler 46.5 yards), and has the best (51.4 in 1940) and fourth best (48.7 in 1941) season marks.
As a defensive back, he was the first player in league history to intercept four passes in a game, and is the only player to lead the league in passing, punting and interceptions in the same season. Baugh also led the league in punting from 1940 through 1943.
When comparing Baugh's athletic achievements with modern football greats, consider the actual football he threw then was rounder at the ends and fatter in the middle than the one used today, making it far more difficult to pass well (or even to create a proper spiral).
He was, as aforementioned, a member of the Pro Football Hall of Fame and also is a member of the College Football Hall of Fame.
Slingin' Sammy Baugh...greatest Horned Frog ever.
Keep Reading

TCU Football: Like this team?