Five Reasons Why The Cavaliers Playoff Exit Isn't Entirely LeBron's Fault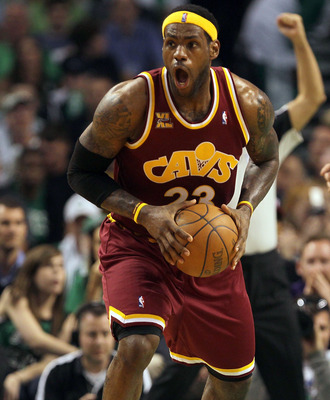 With their 94-85 loss to the Boston Celtics on Thursday night, the Cleveland Cavaliers championship hopes came to a screeching halt.
Cleveland entered the postseason as arguably the best team in the NBA. They produced a league best 61-21 regular season record, secured home court advantage throughout the playoffs, and had arguably the best player in the NBA on their roster.
This veteran laden squad was specifically built to thrive in the playoffs.
But after two downright embarrassing performances against the Boston Celtics, in games five and six, Cleveland's best laid plans quickly fell apart.
Cavs fans shouldn't be upset that their team didn't challenge for a title. They should, however, be upset by the team's pathetic effort. As a sports fan, if your team plays their guts out and simply comes up short, you can live with that.
But watching the Cavs play games five and six, it appeared that the entire team, not just LeBron, would rather be somewhere else.
The Cavaliers looked like they weren't giving enough effort during stretches of this series.
When a team with championship aspirations fails to perform up to their perceived potential, there will always be plenty of blame to go around.
LeBron James should shoulder a fair amount of this blame. But at the same time, it's unreasonable to heap every criticism on the King.
I'm not making excuses for LeBron, and it's been proven that for a team to be successful during the playoffs, their best player has to play well.
However, it has also been proven, throughout the years, that a team's best player needs support from his teammates and his coaching staff. Lebron didn't get help from either.
It was painfully obvious that LeBron was not himself in the last two games of the Boston series. But his un-LeBron-like performance is only one of a few reasons why Cleveland faltered against Boston. Here are five reasons why the Cavaliers playoff exit isn't LeBron's fault.
LeBron Was Playing Hurt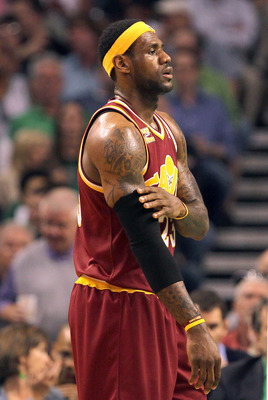 Throughout the playoffs, LeBron maintained that his injured elbow wasn't an issue.
But you didn't need an MD to see that it was bothering him. James was more hesitant to drive right. He even began using his left when the situation didn't necessarily call for it.
In the last three games of the Boston series, especially, James couldn't hit a jumper to save his life.
It appears that his elbow worsened as the playoffs proceeded. He shot 56 percent against the Bulls in the first round, including 54 percent from three. In the second round, Lebron shot just 44 percent, including a dreadful 26 percent from beyond the arc, from the floor.
His shot simply didn't look right in the last few games against Boston. It appeared that he was pushing the ball more than he was shooting it, probably because of his injured elbow.
You could argue that the Celtics defense caused LeBron's rough series, and they certainly played a part. But their defensive strategy in the last few games of the series allowed LeBron to shoot and cut off his drives to the basket, forcing him to either pull up or pass it away.
James got good looks, but he simply wasn't able to knock them down.
In the press conference after their game six loss, James finally admitted that the elbow was bothering him. He was telling us what we already knew.
Mike Brown's Coaching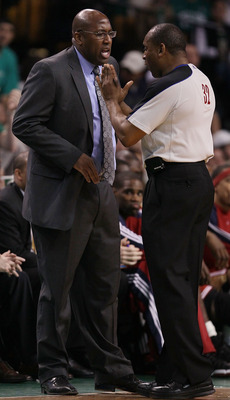 Let's be honest, Mike Brown put on a terrible coaching clinic in the second round.
Brown made panic move after panic move over the last three games. After Rajon Rondo's epic triple-double in game four, Brown decided to shift the team's defensive focus to Rondo in game five. The move resulted in Ray Allen and Paul Pierce combining for 46 points.
Maybe Brown forgot that the Celtics had already won a title with Rondo distributing the ball to Pierce and Allen, or maybe he had forgotten that the Cavaliers were one of the best defensive teams in the NBA during the regular season.
Whatever his reasoning, Cleveland shifted their defensive game plan for Game Five. They gave up 120 points that night. The move clearly didn't work.
Rondo is one of the best young players in the league, but wouldn't you rather have him beating you than letting Ray Allen take wide open threes?
Then there's Brown's insistence on playing Shaquille O'Neal who, as others have already said, bogged down the Cavaliers offense and prevented them from running a more up-tempo game. If Cleveland had run more, they could have scored some easy transition buckets.
When O'neal went down with a thumb injury on February 25th, Cleveland went 16-3 over the next 19 games. He was hardly missed.
Brown also mismanaged center Zydrunas Ilgauskas, who had played a total of 38 minutes during the Cavaliers first nine playoff games.
Big Z notched just five total minutes in the first four games of the Celtics series.
Then Brown thought, "Why don't I take one of our oldest, and least physical, players who is ice cold because he essentially hasn't played throughout the playoffs and give him some of our most important minutes of the season?"
That's exactly what Brown did in games five and six. In 29 minutes, Ilgauskas amassed just seven points and three rebounds.
I don't mean to pile on the embattled coach, who has had people calling for his head for a while now, but a lot of his decisions backfired.
The Celtics Are Still a Very Good Team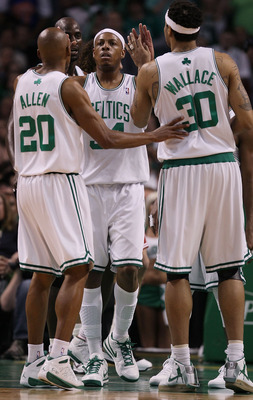 Lost in all of the LeBron media hype is the fact that Boston played very well during the series.
Their starting five, Rondo, Allen, Pierce, Garnett, and Perkins, is still formidable and they've been playing together for three full seasons. They know each other inside and out.
The Celtics clearly have a much better team chemistry than the Cavaliers. Boston won the series by playing together, while their opponent couldn't get on the same page.
The Celtics posed several mismatches during the six games, and Cleveland made few effective adjusments neutralize those advantages.
For starters, no Cavalier could stop Rondo.
Kevin Garnett also appeared to be the player we remember him. Antawn Jamison couldn't guard Garnett in the post.
Garnett was an incredibly consistent scoring option for the Celtics, providing at least 18 points in every game. He also contributed three double-doubles.
The Celtics were the more physical team throughout the series, and Kendrick Perkins scuffle with Shaq during game six showed the Celtics unwavering commitment to tough play.
Finally, Boston got some great play from their bench.
Tony Allen's hard-nosed defense made life difficult for LeBron. Glen Davis played well and even Rasheed Wallace provided a clutch three during game six.
The Celtics are a better team than most gave them credit for going into the series. Boston used their depth and experience to eliminate the Cavaliers.
Rajon Rondo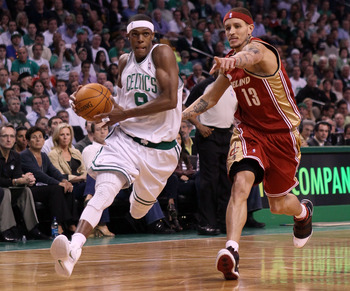 This guy couldn't have played any better over the past six games.
Rondo compiled some amazing numbers against Cleveland; 20.7 points, 11.8 assists, 6.3 rebounds, and almost 2 steals per game. He was the best player on the court the entire series.
Rajon isn't known for his shooting ability. Cleveland sagged off of him on defense, allowing Rondo to fire open jumpers. But the separation also allowed Rondo to calmly, and effectively, orchestrate the Celtics offense. He directed traffic and found his guys for easy opportunities.
Rondo's game four performance(29 points 18 rebounds and 13 assists), was one of the greatest in recent memory. His spectacular game arguably turned the series in Boston's favor.

His immaculate play in game four caused the Cavaliers to question their defensive game plan. In game five, the Celtics shooters were suddenly finding open looks because of Cleveland's fixation with Rondo.
Pierce, Allen and Garnett, three potential hall of famers, commanded little attention in game five.
With Cleveland desperately trying to prevent another Rondo explosion, the big three combined for 64 points on over 50 percent shooting.
The Rest of The Cavaliers Didn't Give LeBron Much Help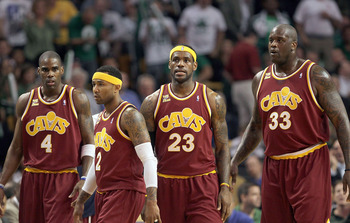 Considering that the Cavaliers roster was built to support LeBron. They didn't fulfill their end of the bargain in the Celtics series.
Antawn Jamison, a trade deadline acquisition from the Washington Wizards, was supposed to provide another scoring threat for Cleveland.
Jamison averaged over 19 points per game and seemed like the perfect compliment to LeBron in the first round series against Chicago.
But against the Celtics, Jamison looked like a different player. He averaged just 11.8 points per game, including a combined 14 points on 6 of 20 shooting in games five and six. Jamison faltered when Cleveland needed him the most.
Jamison's finesse scoring style was effectively shut down by Boston's physical defense. He never looked comfortable on offense during the series.
Mo Williams, the Cavaliers second leading scorer in the regular season, also had a less than stellar series against the Celtics.
Williams played well offensively in games one and six, but was the invisible man during the middle four games. He averaged less than 10 points per game, and shot an abysmal 11-34 from the field, in Games 2 through 5.
As if his offense wasn't bad enough, Williams couldn't hold Rondo in check on the defensive end. Boston's point guard consistently got to the paint with relative ease.
Cleveland's bench didn't help matters, either. Delonte West and Anderson Varejao both underperformed.
Despite missing parts of the season, West was a solid bench scorer for the Cavaliers. But against the Celtics, he couldn't find his stroke. This was especially true during the last three games of the series, where he scored only eight points on 1-11 shooting.
Varejao is one of the most important players on the Cavaliers because of his rebounding and defensive prowess in the paint. But Andy was tossed around, like a stuffed animal, by the Celtics bigger and more physical post players. Kendrick Perkins, Glen Davis and Kevin Garnett all had their way with Varejao.
LeBron didn't play well during stretches of this series, but his teammates were virtually non-existent for long stretches, as well. James is a great player, but he can't do it all by himself.
Keep Reading

Cleveland Cavaliers: Like this team?