The Top 10 Pass Rushers to Watch in the 2010 NFL Season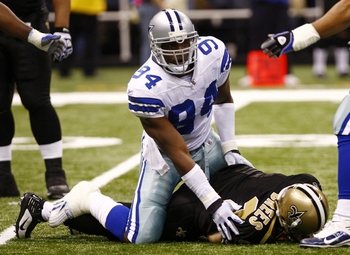 The pass rusher is one of the most important positions in the NFL, whether it's the defensive end position in the 4-3 defense, or the outside linebacker in the 3-4 defense.
The pass rusher has changed a lot; you see those outside linebackers drop in coverage now and not just try to get to the quarterback—but the pass rushers job is to get to the quarterback. It doesn't matter who the player is or what position—it just matters if he can sack the quarterback.
These are the top 10 players in the NFL who know how to do just that.
10. Clay Matthews: Outside Linebacker, the Green Bay Packers
In my opinion, Clay Matthews should have won the Defensive Rookie of the Year for one reason and one reason only—he can put pressure on the quarterback.
Matthews had a dream rookie season, sacking the quarterback 10.0 times, tied for 11th in the NFL. If Matthews was that good in his rookie season I do expect really big things in years to come.
9. Will Smith: Defensive End, the New Orleans Saints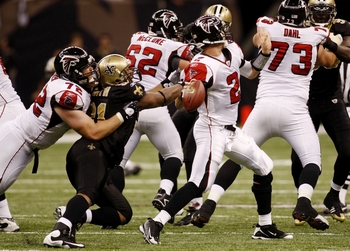 Will Smith, in my opinion, was the most underrated defensive end in the NFL last season, getting 13.0 sacks and not making the Pro Bowl.
That just shows the fans shouldn't vote for the Pro-Bowl anymore.
Smith was arguably the Saints' best defensive player on a Super-Bowl-winning team. He was an Honorable Mention All-Pro, but I think he should get more publicity than that.
Watch out for Smith to have another good season; he is in his prime, and that is the main reason he is on this list.
8. Tamba Hali: Outside Linebacker, the Kansas City Chiefs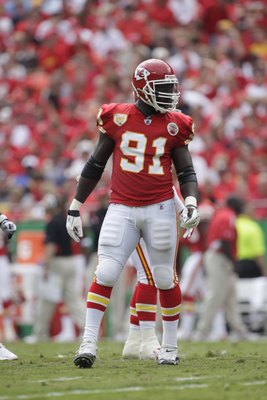 For those of you that don't know who he is: Meet Tamba Hali, the next big pass rusher in the NFL.
When I say "next big pass rusher," I really mean it.
Hali switched from defensive end to outside linebacker—a switch no one thought he could make before the 2009 season. Chiefs fans were really questioning if he could make an impact or even start.
Hali proved all those doubters wrong and ended up being one of the best at his position in the 2009 season. Still, he has flown under the radar.
Hali had 8.5 sacks last season, a career high, which is pretty good for a player switching positions. Hali even burned Denver Broncos' so-called All-Pro left tackle Ryan Clady with 4.0 sacks in two games, lined up against him every play.
Really watch out for Tamba Hali in the 2010 season; he could have another break out year.
7. Dwight Freeney: Defensive End, the Indianapolis Colts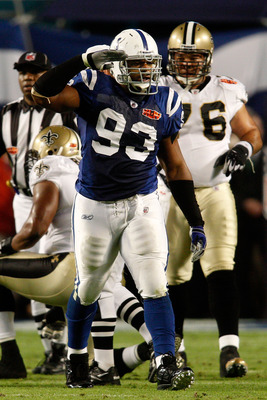 Dwight Freeney has shown his dominance over the last decade, and is a perfectionist at getting to the quarterback. Despite always getting dinged up and hurt, Freeney will likely come out and play through the pain as he did in Super Bowl XLIV.
Freeney had his best season since 2004 this past season, but I don't think Freeney will be as dominant as he used to be.
With age and injuries being a concern, I still expect Freeney, though, to make an impact; I expect at least 9.0 sacks out of him in 2010.
6. Mario Williams: Defensive End, the Houston Texans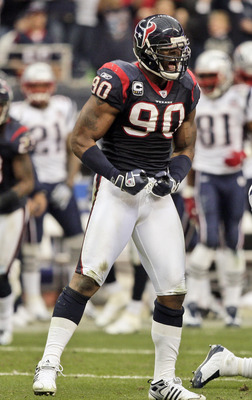 After a slow rookie season in 2006, Mario Williams has really emerged to be the No.1 overall pick the Houston Texans thought he would be.
Williams is a monster; having giant size along with freak athleticism. He does just what he is paid to do, and does it well.
Entering the prime of his career (if he isn't there already), Williams has 39.5 sacks in only four NFL seasons.
If healthy I can see him getting anywhere between 8.0 to 15.0 sacks in the 2010 season.
5. Trent Cole: Defensive End, the Philadelphia Eagles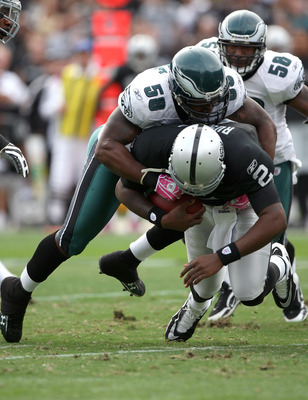 Trent Cole is a pass rushing specialist and is the Eagles' best player on defense.
I expect Cole to have a similar season to that of 2009, being one of the only veteran leaders left on a young, new-look Eagles franchise.
Cole had 12.5 sacks in 2009, matching a career high. Like Will Smith, Cole is in his prime. Expect another stellar season out of this veteran defensive end.
4. Elvis Dumervil: Outside Linebacker, the Denver Broncos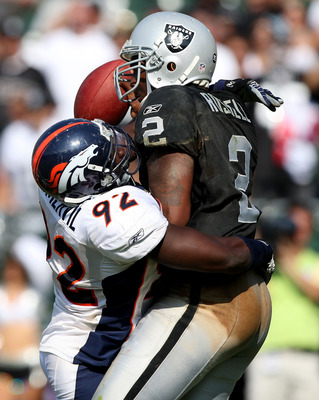 Like Tamba Hali of the Kansas City Chiefs, Elvis Dumervil made a big switch from defensive end to outside linebacker and made a big impact.
With 17.0 sacks in 2009, Dumervil lead the NFL in sacks (which is outstanding for a rare guy standing 5'11" in the NFL).
I don't expect Dumervil to have quite as good as a season in 2010 because he is disgruntled—I really don't know if he wants to play for the Broncos.
Whether he plays with the Broncos or not I still expect him, however, to make a big impact on defense regardless of which team he is on.
3. LaMarr Woodley: Outside Linebacker, the Pittsburgh Steelers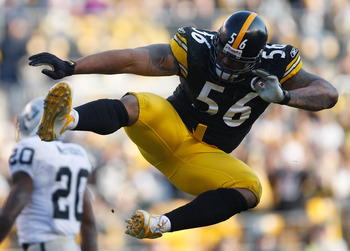 With the Pittsburgh Steelers really losing their identity following the departure of Super Bowl MVP Santonio Holmes; with the injuries to Troy Polumalu, the age concern in James Harrison, and, of course, the troubles of Ben Roethlisberger, I expect LeMarr Woodley to step it up.
Woodley is young and talented—just what the Steelers need—and is one of the best pass rushers in the NFL.
Woodley had 13.5 sacks in the 2009 season and I really think those numbers will remain close to the same, if not, increase in the 2010 season.
Woodley might be the new face of the Steelers franchise if he keeps up sacking the quarterback.
2. DeMarcus Ware: Outside Linebacker, the Dallas Cowboys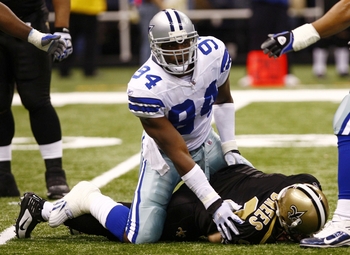 DeMarcus Ware might be the perfect NFL player, not just when it comes to getting sacks. He can do anything you would want a NFL player to do.
And yet Ware is arguably the best pass rusher in the NFL, which is why he on this list. After getting 20.0 sacks in 2008, Ware's numbers slipped significantly, but he still had and outstanding 11.0.
Ware will definitely have another Pro-Bowl caliber season in 2010; I expect double-digit sacks for Ware for the fifth straight time in his career.
1. Jared Allen: Defensive End, the Minnesota Vikings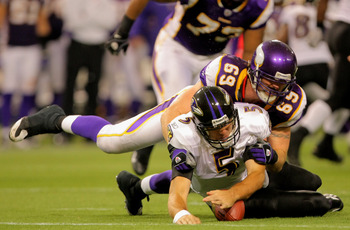 You guessed it! Jared Allen is the best pass rusher in the NFL.
Since day one of Jared Allen's career he has been getting to the quarterback at a constant rate. A fourth round pick from Idaho State, Jared Allen had 9.0 sacks in his rookie season with Kansas City. After leading the league in sacks with 15.5 in 2007, Jared Allen kicked off his career to super stardom.
Ever since being was traded to Minnesota, no one has called Allen's talent into question, and his sack numbers just keep on staying the same.
I expect another All-Pro year for Jared Allen in 2010.
Keep Reading