Breaking Down the 2010 San Francisco 49ers Depth Chart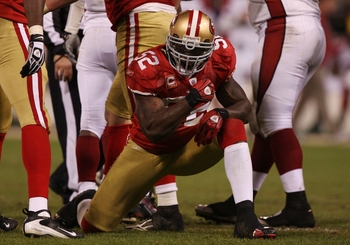 We may still be a couple months away from the start of training camp in earnest. The San Francisco 49ers may still be signing potential free agents to improve their team. But it is never too early to take a look at how the current roster projects to look when the red and gold take the field for 2010.
The 49ers have done an impressive job of improving their team thus far this offseason, making some interesting acquisitions, and turning former weaknesses into potential strengths for the coming season.
In fact, the 49ers now stand so deep at some positions that they will have some difficult choices to make as they begin to trim down to meet the league-mandated 53-man roster maximum.
Here is a breakdown of each position, looking at starters, back-ups, potential dark-horses, and who might find themselves on the outside looking in.
Quarterbacks: Alex Smith, David Carr, Nate Davis, Jarrett Brown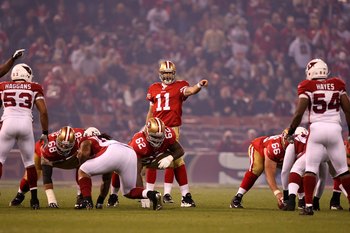 The 49ers made a splash early in free-agency with the signing of former No. 1 overall pick David Carr back in February. This was followed quickly by the trade of one-time starter Shaun Hill to Detroit for a seventh round draft pick.
At the time, most experts expected another open training camp competition at quarterback. However, since then, all reports have shown that the 49ers are hanging their hats on Alex Smith, who is coming off his best stretch as a professional, going 5-5 to close out the last 10 games of 2009, and throwing 18 touchdowns in the process.
All reports out of mini-camp and team workouts indicate that Smith is carrying himself with a confidence unseen since his days commanding the Urban Meyer offense at the University of Utah.
The continuity of playing in the same offensive system in consecutive years, the familiarity of having a designated starter going into training camp, and the seemingly vast improvement on the offensive line all seem to suggest that Alex Smith will continue to improve and that he will lead the offense onto the field in Week One.
However, should Smith falter, or again be plagued by injury, David Carr stands as a much more attractive insurance policy than did Shaun Hill. Carr's capabilities more closely match those of Smith, meaning that the offense will not need to make wholesale changes to their approach based on who is calling signals.
His experience of backing up two Super Bowl QBs over the past five seasons should also bode well for him as a mentor, and a potential spot starter if needed.
The 49ers' refusal to pursue first Donovan McNabb via trade and then Jimmy Clausen via the draft, indicate the confidence they have in the tandem of Smith and Carr.
The battle for third string will be interesting between Nate Davis and Jarrett Brown. Davis was considered by many to be the next great option for the 49ers at quarterback when the team invested a late-round draft choice on the Ball State product in 2009. He showed some poise and promise in preseason action last year, but has yet to take a regular season snap.
The 49ers added some intrigue after the draft by signing undrafted free agent Jarrett Brown from the University of West Virginia. Team officials and fans alike are excited by Brown's unique balance of arm strength, passing capability, and ability to make plays with his legs.
Ultimately, experience might be the deciding factor, as Brown played little more than one season as a starter at WVU. Look for him to command the practice squad in 2010 as it is doubtful the 49ers will go into the regular season with four QBs.
Offensive Line: Mike Iupati, Anthony Davis, Eric Heitmann, Joe Staley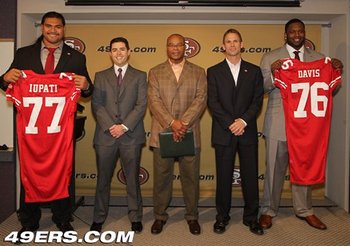 The 49ers invested heavily in the offensive line this offseason, in an effort to instantly improve one of their key vulnerabilities from 2009.
They used three draft picks to acquire two top prospects in the first round of the draft, moving up to take Rutgers' Anthony Davis, then almost instantly jumping on Idaho's Mike Iupati at No. 17. With the picks and money invested in that tandem, both are certainly expected to start and contribute right away.
Those acquisitions, combined with the re-signing of tackle Barry Sims, and the healthy return of tackle Joe Staley—after missing most of the 2009 season to injury, set the 49ers up with not only a potentially great starting front five, but also some depth should injuries rear their ugly heads.
Depth on the offensive line was a clear deficiency for the 49ers in 2009, revealed by their tremendous struggles following the early injury to Joe Staley.
Look for Eric Heitmann to start again at center, with Iupati and Tony Wragge flanking him at guard, and Davis and Staley holding down the corners at tackle. If needed, Barry Sims and Adam Snyder sit at the ready to step in at tackle, and Brian de la Puente and David Baas wait for the call at guard.
Guard seems to be the most questionable remaining position in terms of depth. Baas has struggled at times in his career and de la Puente has yet to see regular season playing time in his two years out of Cal. Given that, it would not be surprising to see the 49ers sign free agent Chester Pitts out of Houston before training camp.
Pitts by all reports had a very promising visit to team headquarters earlier this spring, but failed to sign before the draft. Despite the selection of Mike Iupati, guard remains somewhat of a question mark for the 49ers beyond the two clear starters, so the signing of Pitts, who remains a free agent, would not be a huge surprise.
Running Backs: Frank Gore, Moran Norris, Glen Coffee, Anthony Dixon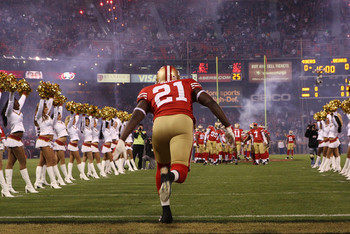 Despite pleas from the fan base, the 49ers did not wind up with either Clemson stud C.J. Spiller or local hero and Cal star Javid Best on draft weekend. Nor did they target Stanford product and Heisman runner-up Toby Gerhart.
Instead, the running back situation looks much the same in 2010 as it did in 2009; for the most part at least.
The fortifications on the offensive line should revitalize the San Francisco running game, and may well contribute to another Pro Bowl season for Frank Gore, who sits entrenched as one of the upper-echelon RBs in all the NFL.
Nothing too creative to watch for here. Gore should thoroughly enjoy running behind the revamped front five: look for him to have a big season on the heels of his 1,100 plus yards and 10 touchdowns from a year ago.
Glen Coffee should continue to emerge as a capable substitute and potential eventual heir, and rookie Anthony Dixon should get an opportunity to show what he can do.
The 49ers seemed to get great value in Dixon, when they invested a mere sixth-round pick in the Mississippi State RB on draft weekend. He put together in impressive four-career collegiate career, averaging more than 1,000 yards per season against tough competition in the SEC.
He lacks great speed, in fact he was among the slowest RBs at the NFL Combine, but he has a punishing physical running style that should complement the north-south style of the smaller Gore and Coffee.
Moran Norris remains the clear No. 1 at fullback over dark horse Brit Miller, and Michael Robinson will in all likelihood resume his usual role of special teams and cheerleading.
Wide Receivers: Michael Crabtree, . . . and then . . . ?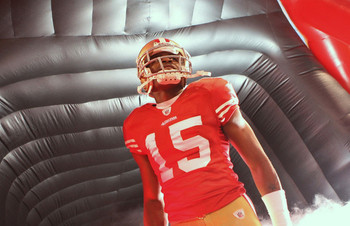 The wide receiver corps for the 49ers (like the offensive line) will be another area that looks drastically different in 2010.
Arnaz Battle is gone to the Pittsburgh Steelers via free agency, and future Hall of Famer Isaac Bruce has yet to reveal his plans conclusively for 2010, but needless to say it is highly unlikely he will be suiting up for San Francisco.
Michael Crabtree, who shockingly fell to the 49ers in last year's draft and then proceeding to sit out the first five weeks in a contract hold-out, sits as the clear No. 1 option for Alex Smith, but after that it remains anyone's guess.
Josh Morgan and Jason Hill return after seeing some appreciable playing time last year, and 2009 offseason free agent acquisition Brandon Jones returns hoping to remain healthy and get a chance to compete for some playing time.
Former practice squad mainstay Dominique Zeigler will be in the mix, as will sixth-round draft pick Kyle Williams from Arizona State.
The 49ers spent a fifth-round pick on Ted Ginn Jr. via a trade with the Miami Dolphins a week before the draft, but his career numbers to this point suggest he will spend most of his time returning kicks, at least initially.
Head Coach Mike Singletary went on record after mini-camp saying that the 49ers want Ginn to develop into a receiver, but that could take some time.
The 49ers went on a WR spending spree after the draft nabbing Shay Hodge, Bakari Grant, Scott Long, and Jared Perry as undrafted free agents.
They will all have a shot at making a roster spot in what promises to be an interesting training camp competition, but look for it to be an up-hill battle for them. Should any of them make the final cut, the majority of their playing time will likely be on special teams.
History suggests that Josh Morgan is the early favorite to line up opposite Crabtree come Week One. Since coming out of Virginia Tech in 2008, he has quickly become a favorite of the coaching staff, if not the fans. Morgan put up respectable numbers in 2009, playing in 15 games and tallying 52 catches for 527 yards and three scores.
Logic suggests that this will be an open competition, however, and I for one am interested to see how it plays out.
Will this be the year that Zeigler fulfills the glimmers of promise he has shown in the past? Can local product Jason Hill surpass Josh Morgan for the second starter spot? How will Kyle Williams transition to the NFL? We will have to wait and see.
Tight Ends: Vernon Davis, Delanie Walker, Nate Byham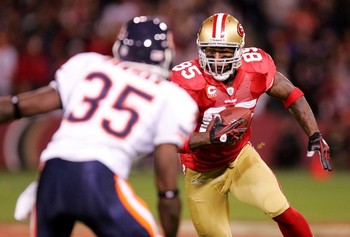 It remains to be seen whether Vernon Davis's career, Pro Bowl, and record-tying year in 2009 will be rewarded this offseason with a big contract extension, but regardless of that, he will be the starter at tight end for the 49ers in 2010.
Davis, once banished from the sideline by Coach Sing in his interim days, and often vilified up to last year as a selfish diva and team pariah, emerged as a team captain in training camp in 2009.
He led by example on and off the field and his stats validated the coaching staff's faith in him, as Davis flourished under resurgent QB Alex Smith.
Davis put up nearly 1,000 yards and tied an NFL record with 13 touchdown catches as a tight end. At times the deep seam route connection between Smith and Davis looked downright unstoppable.
Davis's leadership and blocking skills are also tremendous assets. While some question whether $8M per year is too much for a player with just one big professional season on record, should the contract negotiations extend into the regular season, do not look for them to distract his play. And do not look for anyone to unseat him as the top TE.
The back-up job is a little more in question. Draft choice Nate Byham from University of Pittsburgh should give incumbent Delanie Walker some push throughout this year's training camp. All indications are that Byham is a gifted TE with soft hands and solid blocking skills. While he should be able to keep Walker honest, look for him to wind up at the 49ers' third option at TE.
Offensive Coordinator Jimmy Raye may work him into certain double TE packages and get him some regular season reps, and he is certain to chip in on special teams, but barring injury or something very unexpected, do not expect much more from him this year.
Other hopefuls like celebrity namesake Tony Curtis and Joe Jon Finley will likely spend the year on the practice squad or elsewhere.
Defensive Line: Justin Smith, Aubrayo Franklin, Isaac Sopoaga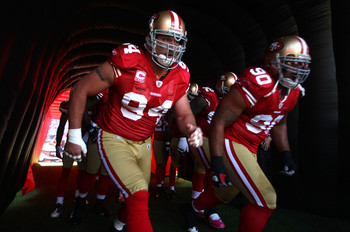 Experts expected the 49ers to target someone to help their pass rush in this year's draft. While the 49ers recorded more than 40 sacks last year, they failed to generate much pressure on opposing QBs without employing the blitz, leaving their defensive pass coverage vulnerable to the deep threat.
The 49ers began the offseason by sticking the franchise tag on nose tackle Aubrayo Franklin. Franklin still has yet to reach an agreement on contract terms with the 49ers, but still remains the clear favorite to anchor the defensive line in 2010.
Justin Smith (high-profile free agent acquisition from 2008) and defensive line mainstay Isaac Sopoaga are the clear favorites to maintain their spots on the edges. Given that the 49ers have really added nobody on the defensive line this offseason, there is little reason to think anything will change from last year.
Ricky Jean Francois enters his second year in the NFL and should build on the limited playing time he saw as a rookie. Demetric Evans and Ray McDonald will continue to make contributions in a substitution role, and could step in as starters, should the need arise.
Kentwan Balmer enters his third season with the 49ers, after being selected in the first round in 2008. One must question how much longer the 49ers will be willing to wait to see if the promise which led them to draft him so high materializes into NFL production.
Last year, he played in only 11 games due to injury. While he showed some signs of improvement, his stats were still far from impressive. How many appearances he makes in 2010 is anyone's guess.
Linebackers: Patrick Willis, Takeo Spikes, Ahmad Brooks, Travis LaBoy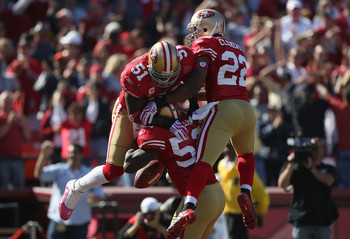 The 49ers made headlines recently, when they made a key investment in the team's future: extending Patrick Willis's contract through the 2016 season.
In a very "DeBartolian" move, the 49ers took advantage of the lack of a salary cap for the 2010 NFL season to rework the three-time consecutive Pro Bowl linebacker's contract and ensure he remains in red and gold for years to come.
Willis and Takeo Spikes stand to hold down the middle linebacking duties, while emerging pass rush threat Ahmad Brooks and offseason acquisition Travis LaBoy stand to be the favorites on the outside.
Parys Haralson and Manny Lawson both stand to make significant contributions at outside linebacker as well, and Scott McKillop looks to improve on a productive rookie campaign in which he recovered a blocked punt for a touchdown and recorded 15 solo tackles.
Rookie Navarro Bowman from Penn State looks to be a strong addition to a talented young corps of linebackers. He had a productive college career at Penn State, a school known for developing stellar linebacking talent. Coach Sing (a Hall of Fame linebacker himself) is excited about Bowman's potential, and his third-round draft status suggests that the team expects some contributions early.
Undrafted free agents—including Brandon Long, Keaton Kristick, and Mike Balogun—will have their hands full trying to break onto the roster in this talented linebacking group.
Defensive Backs: Nate Clements, Shawntae Spencer, Dashon Goldson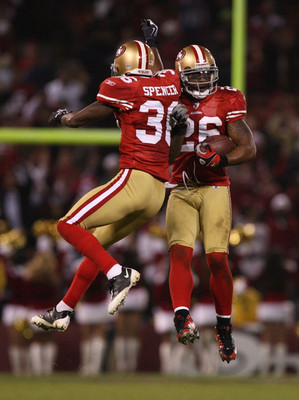 Defensive back is another area the 49ers largely overlooked in the draft. While they landed physical stud Taylor Mays from USC at no worse than fair value in the second round, his short-term projections do not have him making large contributions right away.
The 49ers decided to focus on the offensive line in the first round. This was not a terrible strategy, given the players they would up with, but they passed on some elite defensive back talent in the process.
University of Texas safety Earl Thomas could have been had at No. 13, and a bevy of players were still on the board when the 49ers selected Mike Iupati at No. 17, including Boise State product Kyle Wilson.
While the 49ers have a talented young defense, which has the potential to emerge as one the elite units in the NFL very soon, they did show some significant vulnerabilities in pass coverage, particularly against elite offensive competition in 2009.
The 49ers did little to change that this offseason, so look for this to again be a weak link for the team in 2010. Nate Clements and Shawntae Spencer remain the clear favorites to start at cornerback, with free agent newcomers Karl Paymah and Will James providing experienced veteran depth.
Former University of Texas cornerback Tarell Brown has shown some flashes of promise in his three years with the team, playing in all 16 games last year and recording 34 solo tackles with two interceptions and eight passes defensed. Look for him to again play a key role in certain substitution packages.
The 49ers selected Phillip Adams from South Carolina State with one of their seventh-round draft choices. While his potential for contributing defensively in 2010 is debatable, it is possible he could entrench himself on special teams. Probably not though, as will be explained later.
Michael Lewis and Dashon Goldson return as the incumbent favorites at safety. Michael Lewis struggled with battling concussions in 2009, so there is a possibility he could wind up seeing limited playing time in 2010 if he suffers another big hit.
Should that happen, I would not expect to see Taylor Mays step in to the starting role. Despite his tremendous attributes and almost unlimited upside, he showed severe vulnerabilities in coverage, footwork, instincts, and other critical fundamentals at USC in 2009, leading to his draft stock dropping and a late second-round selection.
The 49ers are wisely bringing in Hall of Famer and team alumnus Ronnie Lott to work with Mays in the offseason, but unless he proves to be a tremendously fast study, I cannot see him making contributions beyond the occasional safety blitz and short-field eight-men-in-the-box formations in 2010.
Should Michael Lewis miss playing time, we could see Nate Clements move into the safety position, something the 49ers did with great success with the aforementioned Ronnie Lott back in the 80s.
Kickers and Punters: Joe Nedney, Andy Lee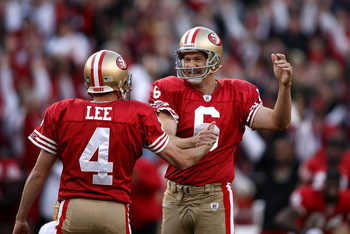 No surprises here. Joe Nedney and Andy Lee are both stellar at what they do and have long been highly touted special teams players in the league. Both have made Pro Bowls, and deservedly so.
The 49ers did retain a backup kicker this offseason, with the re-signing of Shane Andrus, but his odds of wresting the starting job from Nedney are virtually non-existent.
Look for Nedney and Lee to keep doing their thing in 2010, and Andrus to be hitting the practice field at 4949 Centennial Boulevard, or possibly seeking a better opportunity elsewhere.
Returners: Ted Ginn Jr., LeRoy Vann, and a cast of thousands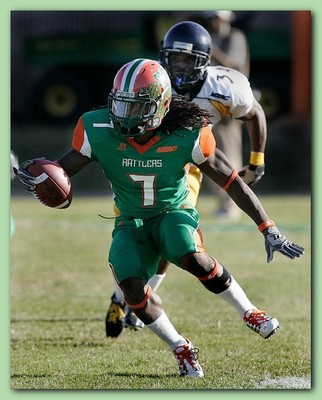 When Michael Crabtree finally signed his contract after sitting out five games last year, the 49ers parted ways with return specialist Allen Rossum. This left a dearth of talent in the return game for the team, and while Arnaz Battle, Josh Morgan, Delanie Walker and others tried to fill the void, their efforts were met with marginal success at best.
Battle, as stated earlier, is now gone to Pittsburgh, and for a brief while this offseason, the return game options were looking pretty bleak in San Francisco.
Not anymore.
As pointed out very aptly by my fellow FC Joseph Burkey in his most recent article, the 49ers have built an incredible stable of return talent for 2010.
With the possible exception of Allen Rossum, you have to go all the way back to Deion "Primetime" Sanders' brief stint with the team to find a return man in a 49er uniform that struck fear in the hearts of opposing special teams coaches. Now the 49ers have two.
The acquisition of Ted Ginn Jr. from Miami for a fifth round pick gave the 49ers an immediate threat in the return game, and at quite a bargain to boot.
Ginn has failed to live up to his No. 9 overall draft status thus far in his NFL career, but he has shown some promise returning kicks, culminating in his performance against the New York Jets on November 1, 2009, when he became the first player in NFL history to return two kickoffs of 100 yards or longer for touchdowns in the same game.
Coach Sing has publicly stated that he wants Ginn to contribute as a receiver, but given his past in the NFL, that could take some time to materialize. His early contributions figure to be largely in the return game.
You might not recognize LeRoy Vann's name right away, but chances are you saw highlights of him on SportsCenter at some point, clad in Florida A&M's green and orange, returning yet another kick or punt to the house.
Vann left Florida A&M holding virtually every significant NCAA return record, with six overall, including 11 career touchdowns (eight kick returns, three punt returns) and over 1,000 yards career in both kick and punt returns (the only NCAA player to hold such a distinction).
It remains to be seen how his skills translate from Division I Championship Subdivision Florida A&M to the NFL, but one encouraging sign is that he does not rely on "razzle dazzle" moves that often fail to work in the pros (ala Peter Warrick).
Should Ginn or Vann not work out, or become injured, the 49ers have no fewer than five other viable options to replace them.
Phillip Adams, Tramaine Brock, and Kyle Williams all spent significant time returning kicks in college, albeit with varied success and a very devastating muffed punt by Williams against the University of Arizona in the Territorial War in 2009, allowing the Wildcats to kick the game-winning field goal.
In addition the 49ers have Josh Morgan and Delanie Walker returning to the fold, both of whom have shown flourishes of promise in the return game in limited professional opportunities.
Special Teams Coach Kurt Shottenheimer will have a lot of fun developing return schemes with such a diverse stable of weapons to draw from. I do not envy the coaches who have to game plan against a kick return team with Ted Ginn Jr. and LeRoy Vann dropped deep.
Kick the ball out of bounds and set the 49ers up on the 40. That might just be the best possible outcome.
They may have a few vulnerabilities, but the 49ers stand to be a much-improved team in 2010. Anything short of a playoff berth will be a tremendous disappointment.
Keep the Faith!
Keep Reading

San Francisco 49ers: Like this team?