Do we need him? A look at the possible lottery winners of John Wall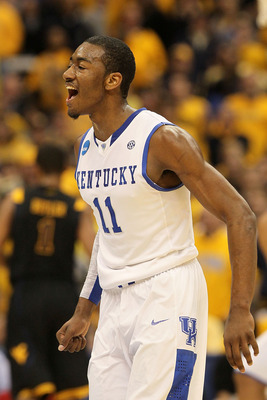 There is absolutely no denying who the best player is in this upcoming NBA Draft. Since he has committed to the University of Kentucky a year ago, John Wall has been one of the hottest names on any level of basketball. He has yet to throw on NBA threads but many are already considering him another generational player. There are even reports that he is the best NBA prospect since LeBron James. But, there is a slight issue. As of right now, there are 14 teams fighting for John Wall. However their fates will be sealed by the drawing of ping pong balls. They, as well the rest of the basketball world will find out where he will call home in mere days. But with Wall coming in, who will be bounced out of town? Let's begin with the team with the best chance at netting the Kentucky Wildcat, New Jersey.
New Jersey Nets (Chance at landing pick #1: 25%):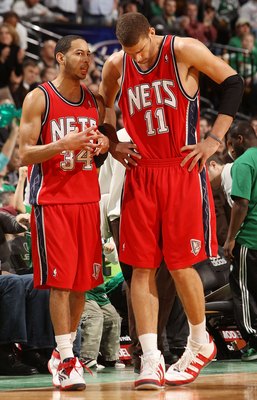 This is a terrible team. No heart, no real leader, and when they had a chance to be known for something, they blew it. Granted it was for the NBA's worst record of all time, but at least a struggling franchise would have that going for them. The talent in New Jersey isn't terrible, just a bit young and poorly coached. Wall would put people in their seats while the new Brooklyn arena is being built and Brook Lopez looks more and more like a future all star in this league. He has already worked out with the national team and may get a chance to play at the FIBA World Championship if Amare Stoudemire and Dwight Howard opt to skip it. But with the talented Wall, what do you do with former all star PG Devin Harris? You could keep him and have him back up Wall, but that doesn't seem very likely. The better option would be through a trade. If this is the case, look for Washington, Indiana, and possibly the LA Lakers fielding a call for Harris.
Minnesota Timberwolves (Chance at landing pick #1: 19.9%):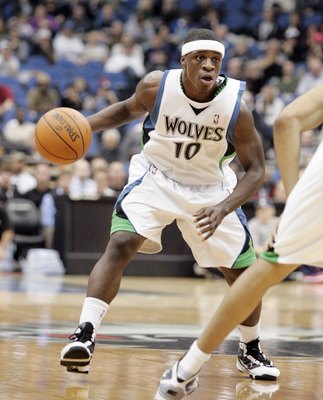 Timberwolves GM David Kahn loves his PGs. I still can't find any logical evidence of why he chose guards with all 4 of his 1st round picks. When your GM chooses Ricky Rubio, Jonny Flynn, Ty Lawson, and Wayne Ellington over other promising wings and bigs last year, what makes you think they would make the right choice of Evan Turner this summer? Now if the 1st 2 choices were maybe Flynn and Curry it wouldn't have been as bad, but there is no point to complain about the past. If Wall came to Minneapolis, there would be an outside chance Rubio would come to the US to play next to a great playmaker, but I wouldn't bet anything on that. If the T-Wolves don't trade away the top pick, expect Flynn to be sent in a package with Minnesota's lower picks to try to move back up into the low lottery-mid first round. All of the previously mentioned teams are also fair game for Flynn as well as the Knicks.
Sacramento Kings (Chance at landing pick #1: 15.6%):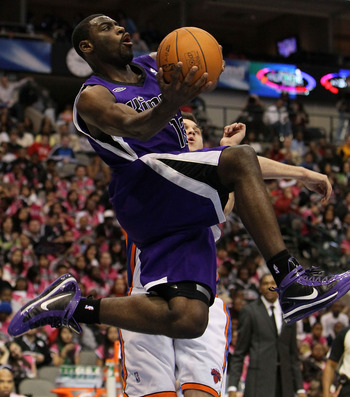 The Kings made some good progress last season under new head coach Paul Westphal. Along with an improvement in record, the Kings drafted eventual rookie of the year Tyreke Evans. If the Sacramento Kings landed John Wall, they would boast one of the most exciting young backcourts in the NBA. With Wall being more of a passer and Evans can play at the 1 and the 2, and he has a scorer's mindset, the Kings would have a great chemistry and continue on the road back to the playoffs. Beno Udrih would then take his rightful place on the bench.
Golden State Warriors (Chance at landing pick #1: 10.4%):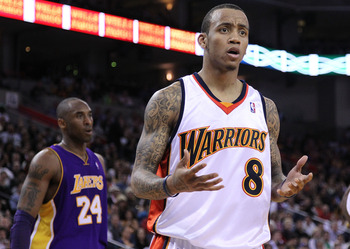 Now this is where things get interesting. First, the Warriors current ownership are said to be selling the team and no one knows if Don Nelson is returning. Also, with the management running players out of town every year, Monta Ellis and Anthony Randolph could be the next ex-Warriors. Even if the Warriors land John Wall, Ellis' future with the team is not certain. If he is retained, he will likely play at SF while Wall and Curry dominate the backcourt just like the Kings would have with Evans and Wall. That's a lot of scoring if the Warriors keep the team intact. But, Ellis would get a lot of phone calls. Miami, Atlanta, Toronto, New York, and possibly Utah could be possible suitors.
Washington Wizards (Chance at landing pick #1: 10.3%):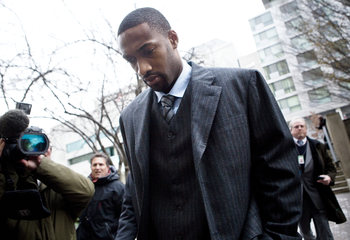 Washington has about as good a chance to win the #1 pick as Golden State. The only difference is that the Wizards could use a star like Wall a lot worse than the Warriors. This is a team that went through a fire sale at the trade deadline sending away Caron Butler, Brenden Haywood, and Antawn Jamison. To make matters worse, Josh Howard didn't even play a quarter for the Wizards before he got injured. Not to mention former all star Gilbert Arenas was just released from a halfway house for a gun prank that went terribly wrong. Also it is very likely that Mike Miller will leave the team this summer. This leaves a guard in Randy Foye who can play at the 2 if Wall arrived. He may not be the best guard around, but Foye does have potential. The Wizards also have Andray Blatche who played as good as anyone in the 2nd half of the regular season. Wall would have no problem dishing the ball into the rising star. So in conclusion, Washington just needs a new face and a new beginning and Wall would provide this.
Philadelphia 76ers (Chance at landing pick #1: 5.3%):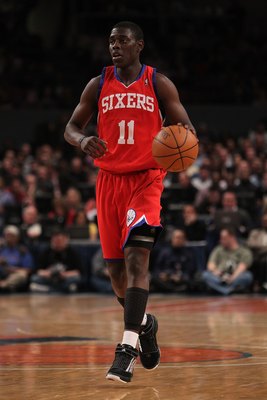 This is a historic franchise in a historic turmoil. They have no coach, a front office who couldn't run a McDonalds properly, and a very angry fan base in one of the most critical sports city in the United States. Many believed that last year the Sixers were going to be sellers like the Washington Wizards in the trade deadline. There were countless rumors that Iguodala and Elton Brand were out of town, but the rumors never fathomed. To make everything worse starting center Samuel Dalembert hates Philly and former all star Jason Kapono looked absolutely terrible in the city of Brotherly Love last year. And I won't even bring up the entire Allen Iverson mess. Now, the 76ers drafted Jrue Holliday last season and he showed some promise at the end of the year. Now if Wall comes to town, all bets are off. I don't see Holliday getting much trade value. He'll hit the bench for the new face of the franchise. But, don't expect many members of this current team around in February 2011.
Detroit Pistons (Chance at landing pick #1: 5.2%):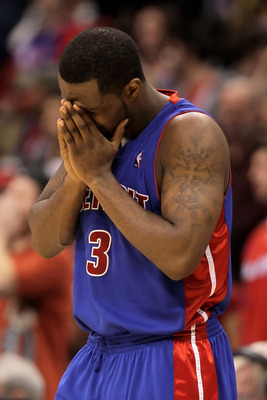 It's hard to believe that this team was in the Eastern Conference Finals just 2 years ago. Now they are in the lottery slated to pick 7th overall. One of the main reasons behind the Pistons failure is getting rid of the most important piece of their team. Chauncey Billups was everything to that team and when he was booted for GM Joe Dumar's favorite Rodney Stuckey, he took the heart of the city of Detroit with him. If the Pistons could grab Wall, it would revive the city in a way unimaginable. I still feel that this team will get blown up and will begin the rebuilding phase through John Wall. Stuckey would fit in with any of the teams that may look at Devin Harris. The Knicks may be very interested because Stuckey should come moderately cheap. And again don't count out the Lakers.
Los Angeles Clippers (Chance at landing pick #1: 2.3%):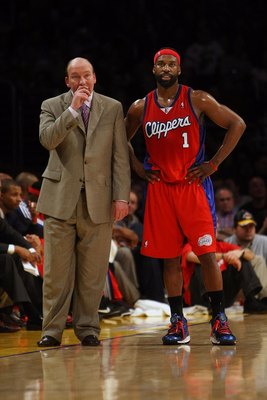 If the Clippers win the lottery again, you have to believe that either A). The lottery is rigged, or B). The Clippers curse is about to die. They are going to need a new coach, they have last year's top pick Blake Griffin waiting to step onto the court for his first NBA game, and they have enough cap space to lure in a top free agent (LeBron James maybe?). Don't laugh at that proposition because they could have enough to lure in the King. Not to mention he would probably love to take the Kobe-LeBron rivalry to a new level as they fight for the city of Los Angeles. But where does that leave current starter Baron Davis? Baron is not a bench player just yet but he's not worth the top deal he signed a few years ago. If the Clippers can get the #1 pick, I would expect just about every team in the lottery to give a call with the exception of the Jazz, Hornets, and the Rockets. If the Clippers can get the dream offseason completed, they should stay out of the lottery for a pretty long time.
Utah Jazz- from New York Knicks (Chance at landing pick #1: 2.2%):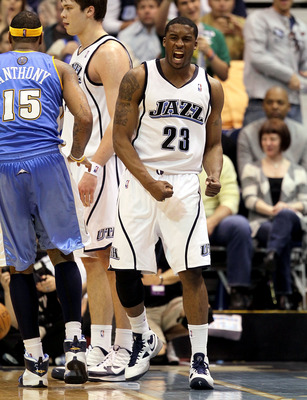 This would create one of the most bizarre situations in this entire article. The Jazz have one of if not the best point guard in the game today in Deron Williams and John Wall is not much of a shooting guard. If Utah lands the top pick, the Jazz will most likely trade the pick for a lot. They may be able to get a few established players and more draft picks to bolster their team that always seems banged up. Although they may keep the pick, if they do Evan Turner will be the pick because there is absolutely no need for John Wall in SLC.
Indiana Pacers (Chance at landing pick #1: 1.1%):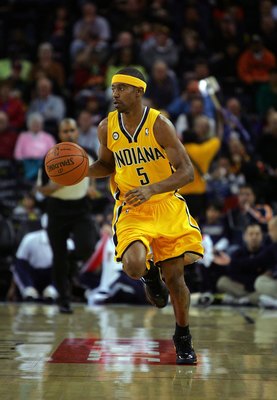 This is the franchise on probably the highest amount of life support. They have no face of the franchise, they win games at the worst possible time, and they are losing money by the day. They may not play in a huge market, but they have something better. The Pacers play in probably the biggest basketball state in the country. The Pacers may feel that Danny Granger is the face of the franchise, but they would probably feel pretty good having a big 3 to build upon in Wall, Granger, and Roy Hibbert. Not to mention that head coach Jim O'Brien would love to get rid of TJ Ford somehow someway. Either way, the Pacers need to start filling the seats quickly or the team may have a new home within 5 years.
New Orleans Hornets (Chance at landing pick #1: 0.8%):
this would create one of the biggest controversies in the NBA if David Stern pulls the Hornets name plate last next Tuesday. This is a team that has an Olympic champion and the player who many believe is the best point guard in the league with Chris Paul. They also have a shining star as the backup in Darren Collison. To make things worse, unless Evan Turner Is put at small forward he's not needed either since Marcus Thornton proved himself to be efficient as a starter. Much like in Utah, this pick will bring New Orleans a lot of talent and draft picks and if packaged with Chris Paul (a lot of speculation there, but it could happen) the Hornets will acquire a fresh beginning with a team that could play in the postseason next season. But just to clarify, no I don't see the hornets getting rid of Chris Paul but could you imagine the kind of deals that New Orleans could get if they sent Chris Paul somewhere and the #1 pick somewhere else? Talk about a blockbuster.
Memphis Grizzlies (Chance at landing pick #1: 0.7%):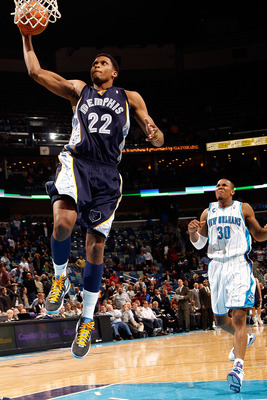 Probably one of the most attractive places for Wall to land, Memphis is going to have to be really lucky to land the #1 pick since they are at #12 now. This would be ideal for the Grizzlies for several reasons. First, the team has been the subject of relocation rumors for years now. Even if they would move, a new city (Seattle hopefully) would acquire a team of young stars waiting to go back to the post season. Wall is a huge upgrade over Mike Connelly who is better suited for the bench as it is. Secondly, Rudy Gay would really consider staying in Memphis if the Grizzlies draft Wall. Gay is the leader of this young team and he would love more playmakers to make his team deadly. The Oklahoma City Thunder made the playoffs this season, and in my opinion the Grizzlies could maybe become better than OKC.
Toronto Raptors (Chance at landing pick #1: 0.6%):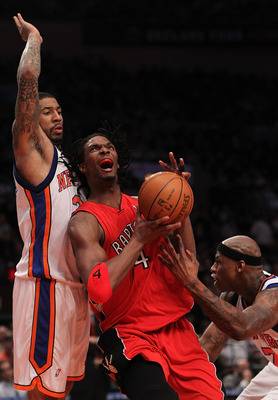 if I'm Bryan Colangelo, I feel terrible around this time of year. Every time that the Raptors acquire a superstar that can get the team to the playoffs (or almost there) they bolt at the first chance because reality is that most players don't want to play in Toronto. It's not right, but it's true. If a player has a chance to play in Miami or Toronto, 9/10 times said player is headed to South Beach. It will be same old song this summer when Chris Bosh leaves and probably in a few years the same story when DeMar DeRozan can leave. So, to patch the hole in Raptors fans hearts, the team would love to draft John Wall. Although they have Jose Calderon, he would become expandable and would be a pretty enticing player for teams to consider. The Lakers would be the most willing to deal because Fisher will probably retire, and Calderon is in his prime and would fit in well with fellow Spanish national team member Pau Gasol. If the Raptors can do the unthinkable, expect Dr. Jerry Buss to field a call as soon as possible.
Houston Rockets (Chance at landing pick #1: 0.5%):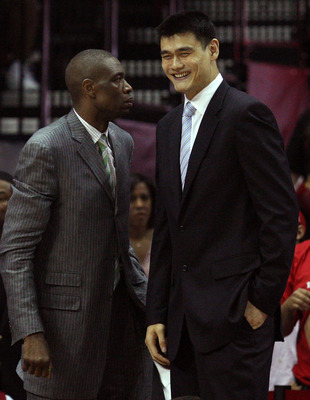 The team that is the closest to the playoffs always get the short end of the straw. They miss the post season and generally get a weaker player in the lottery compared to those in front of it. The Rockets have Most Improved player of the year in Aaron Brooks but if the miracle happens and Wall plays alongside a healthy Yao Ming, the Rockets would once again be a force to fear. They are even more deadly since the Rockets have a good chance to sign Chris Bosh. A starting lineup of Wall/Brooks/Martin/Bosh/Yao is pretty impressive with Trevor Ariza as the 6th man, or the more likely Wall/Martin/Ariza/Bosh/Yao is just as efficient. But if I'm a Rockets fan, I'd be excited that we have a great chance at getting Bosh and I'd leave it at that. Houston will return to the postseason barring any injury to Yao or another key player. Bank on it.
Which way will the ping pong balls fly?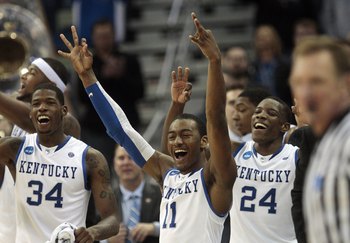 So in conclusion, John Wall would do every single lottery team a great service. Some could use him more than others, and teams with established PGs will consider selling them off if they land the young star in the making. He is just too good of a player at this point to even consider him becoming a bust. Even the Clippers couldn't derail his career! While most of this article is speculation and having fun, for one of these very lucky franchises, it will become a reality.
Keep Reading