Jordan vs. James: Six Reasons Why LeBron Is Not Michael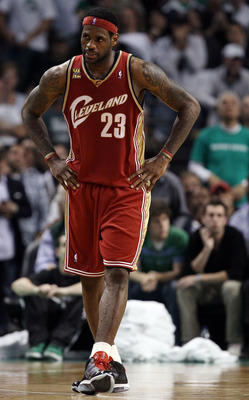 LeBron James just finished his seventh season and it ends like the previous six ones did, with no ring.
Ironically, Michael Jordan won his first of six NBA Championships in his seventh season. After coming up short to the Orlando Magic in the Eastern Conference Finals last year, it seemed like James would get it done in his "lucky" seventh season.
If he had won a championship this season he could've been added to the list of seven's like; Seven Deadly Sins, Seven Seas, Seven Ancient Planets, building of the Earth in seven days, Air Jordan, and then, King James.
But it was just not meant to be for the King. And now the question is what will happen next for LeBron. He will remain a Cavalier? He will leave for the Big Apple? Or join with Jay-Z and the Russian millionaire? Maybe he will team up with D-Wade in South Beach?
For the first time in his career James has a chance to be pursued and pursue many different possibilities. The NBA could look very different next year. The balance of power among the teams in the NBA could be shifted dramatically in the Eastern Conference.
Maybe in the West, but the only team in the Western Conference that has a shot at signing LeBron is the Clippers. I don't think James would ever go to the Clippers. I think they are more cursed than the entire city of Cleveland.
No matter what happens with James one thing is certain. He is not, nor will he ever be Michael Jordan. Nobody will ever be Jordan. Next to Bryant, James is the only thing comparable to Jordan. I really don't think that James will be the best in the league much longer. Kevin Durant and the Oklahoma City Thunder had the best season of any NBA team. I think Durant will overtake the "King" soon.
Regular Season Guy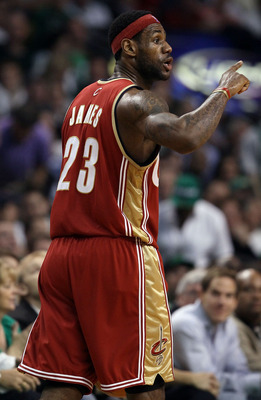 James and the Cavaliers finished with the best record in the NBA for the second straight season. With the addition of Shaquille O'Neal and the pickup of Antawn Jamison in February for a couple of months without Zydrunas Ilgauskas, the pieces for their championship puzzle looked to be in Cleveland's box.
Cleveland topped Orlando by two games for the NBA's best record and was the only team to crack the 60+ win plateau.
James has proving that he can lead a team to being the best in the regular season, but he has not shown that same ability during the playoffs. His stat-line in the series against the Celtics was pretty good, 26.8 points per game, 9.3 rebounds per game, and 7.2 assists per game.
While those numbers are pretty eye-catching, they don't tell the whole story. James shot 56 percent from the field and 54 percent from the three-pointer in the First Round against the Bulls. These numbers were better than his MVP performance of 50 percent from the field and 33 percent from the three-point line during the regular season.
But, in the Conference Semifinals James' numbers fell just like his interest in the series. He shot just 44 percent from the field and 26 percent the 3-pointer. Not exactly MVP type numbers.
SportsCenter Top-Ten Guy/ Not A Championship Winner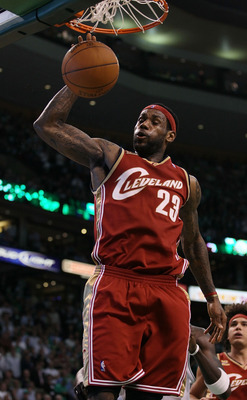 LeBron James is a pretty frequent occupier of SportsCenter's Top Ten. Whether it is an earth-shattering slam dunk, an incredible shot from an incredible angle, or a monster rejection from behind, James certainly keeps the flashbulbs popping.
However, Michael Jordan was known to make a few flashbulbs pop in his day. He did it in the regular season and could also do it in the First Round, the Conference Semifinals, the Conference Finals, and the NBA Finals.
Most Overhyped Playoff Player Ever.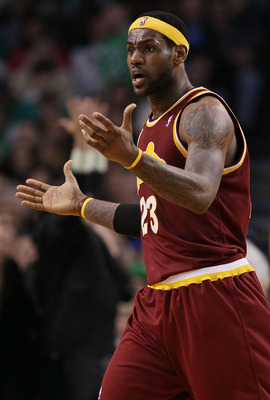 Ever since James came into the league, the basketball world has been waiting for him to take his rightful place as an NBA champion. For the past two seasons it seems that the only two teams in the league that the NBA Commissioner David Stern wants to see is the Lakers vs. Cavaliers; LeBron James vs. Kobe Bryant.
James has just been giving this free pass to be the hopeful to represent the East in the NBA Finals. Only problem is James seems to think that his opponent will come through on the free pass. It happened with Orlando last year and Boston got to revoke the pass this season.
Sorry David, LeBron vs. Kobe will have to wait for another year.
Needs a "Batman" to his "Robin"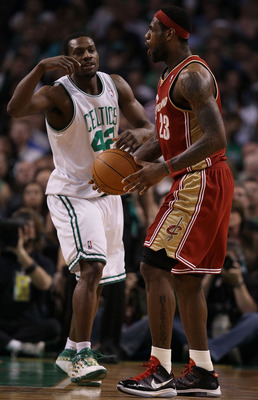 LeBron James is not Michael Jordan. He cannot be the only No. 1 on a team. He needs more than just a "Robin" and role players. He needs a guy that is just as much of a threat as he is. Basically, what Shaq and Kobe were for the Lakers not so long ago.
James has an opportunity to do this by joining up with one of the many superstar free agents to be with him. This might mean leaving Cleveland.
Jordan never left Chicago. He was able to get the best out of his teammates by elevating both his game and their game. He did not have to leave to reach his goal(s).
Career Comparison Through First Seven Seasons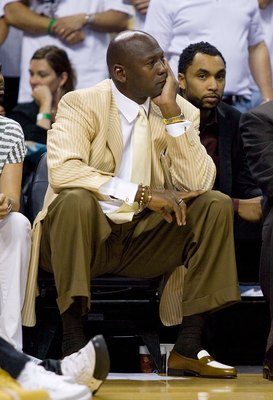 Jordan:
32.6 PPG, 5 Scoring Titles, 2 MVPs, 1 NBA Title- Won First Title in 7th Season
James:
27.8 PPG, 1 Scoring Title, 2 MVPs, 0 NBA Titles
James was able to win his second straight MVP this season to at least tie Jordan in one category. Only problem for James, Jordan was just getting started on his climb to being the best player in the world; the best player ever.
With names like Wade, Durant, Bryant, Nash, Nowitzki, Bosh, Stoudemire, and Howard; it will be pretty tough for James to keep winning MVPs and scoring titles. Even more so if he does in fact team up with one of these names.
James is nine scoring titles shy of Jordan's 10. Jordan also had 5 MVPs.
College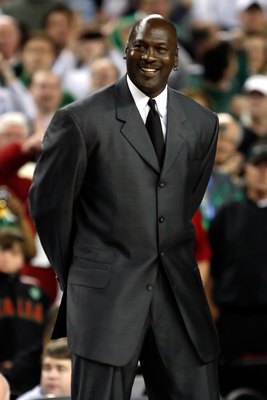 The three years that Michael Jordan spent at the University of North Carolina under Dean Smith no doubt greatly influenced his NBA career. He went into the NBA as an NCAA champion with all of the wisdom, ability, experience, and work ethic needed to win the ultimate basketball prize—an NBA championship. He was so good at it that he did it six times.
Jordan came into the league understanding just how hard and dedicated you have to be in order to the best in the world. James, having never gone to college, came into the league with the talent to be the best, but the knowledge of how to get there is still something he is figuring out with a 0-for-7 in the NBA playoffs.
I like to compare James and Kobe Bryant more in this aspect, since both of these guys skipped out on college. So, forget Jordan, James is no where near him. James isn't even Bryant. Bryant was a completely different person from James when he entered the league.
Bryant's maturity level and understanding of the NBA game because of his father were volumes ahead of where James was at when he was 18.
Bryant has been able to use that to create his own legacy in the NBA with four NBA titles, and a chance to win back-to-back titles without Shaq.
Keep Reading

Cleveland Cavaliers: Like this team?