2010 NBA Playoffs: Orlando Magic-Boston Celtics Position-by-Position Preview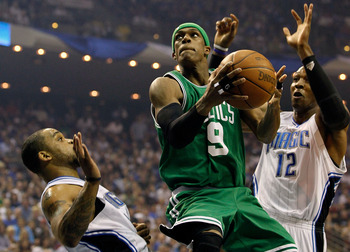 Yes, we all know—LeBron James will not be gracing us with his presence in the Eastern Conference Finals, falling short of his title hopes once again.
He will be a free agent on July 1, make tons of money, and be one of the biggest names ever to reach free agency in NBA history.
But there is still a lot of basketball left to be played, including to determine who will be crowned the 2010 NBA Finals champion.
One one side, you have the Orlando Magic, last year's Eastern Conference representative. They have breezed through the first two rounds, not being severely challenged by anyone. Some doubt their ability to shake off the rust, while others think that are merely a buzz saw looking for their next victim.
On the other side, there is the Boston Celtics, the 2008 NBA champions and a group of grizzled veterans that are closer to AARP than NCAA. This group of grumpy old men are proving everyone wrong that they are over the hill, and through their experience they will make it back to the Finals to play the winner of the Suns-Lakers series.
This is a preview, position by position, of every player and his effect on the games. It will show how the series will unfold and who will be crowned the Eastern Conference champion.
Point Guard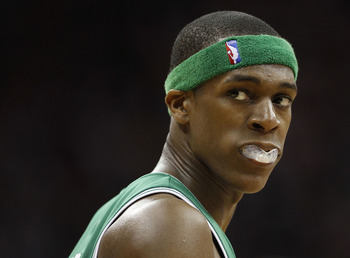 Rajon Rondo vs. Jameer Nelson
I am a big Jameer Nelson fan—always have been, and probably always will be. But the way that Rondo manhandled the Cavaliers was nothing short of a Jason Kidd-type level of play that made everyone around him much better; this is the true measuring stick of a point guard.
Nelson will continue to score around 20 points a game and contribute greatly, but in a head-to-head matchup, Rondo is more valuable.
I believe we will see Rondo's penetration into the paint be halted to some extent, but, nonetheless, he is still one the NBA's rising stars and a true playoff performer.
Advantage: Boston Celtics
Shooting Guard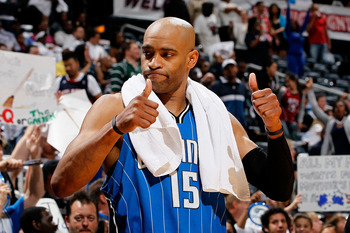 Ray Allen vs. Vince Carter
Ray Allen will never get his due credit, and that continues in this analysis. Vince Carter is streaky, but he seems to be hitting his stride at the perfect time.
For Carter, it is simple. Play within yourself, hit your open shots, and do not try to carry teams like you've had to in the past. Look to see Carter's scoring average to stay down, though.
His job is to get to the free-throw line and make big shots when his team needs it.
I'm thinking that if the Magic want to put Mickael Pietrus on Allen, it will be a much different story than being chased by Mo Williams.
Advantage: Orlando Magic
Small Forward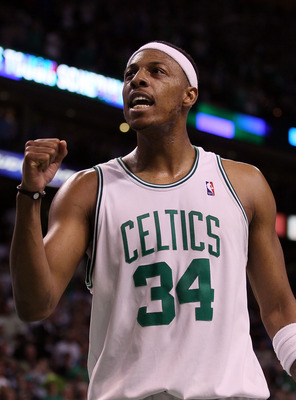 Paul Pierce vs. Mickael Pietrus/Matt Barnes
This is a tricky matchup because Pierce did not play well at all against the Cavaliers aside from a few quick spurts; still, I feel that his track record speaks for itself.
Pietrus and Barnes are three-point shooting and defensive specialists. They will be the X-factors in the series because they are the players that will have to stop runs by the Celtics while knocking down dagger threes on offense.
This could be the end of Pierce's chance at a championship, so expect him to come out with everything he has.
I give Pierce the edge because he is still of the best closer in the last decade.
Advantage: Boston Celtics
Power Forward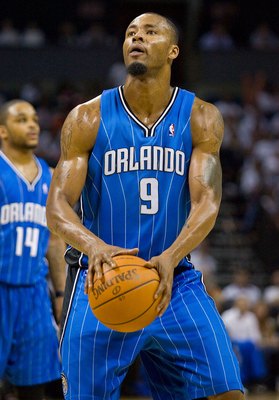 Kevin Garnett vs. Rashard Lewis
Garnett is a future Hall of Famer. Lewis is an overpaid, out-of-place power forward. This should seem easy, but it's not.
Rashard Lewis can stretch the floor and take away from Garnett's ability to block shots and grab rebounds. He is a more-than-competent three-point shooter and has made huge shots for the Magic in the past.
I can see him taking advantage of his speed to tire out Garnett and get him into early foul trouble.
Don't expect Garnett to play like he did in Game Six of the Cleveland series, because he just does not have it like he used to.
Advantage: Orlando Magic
Center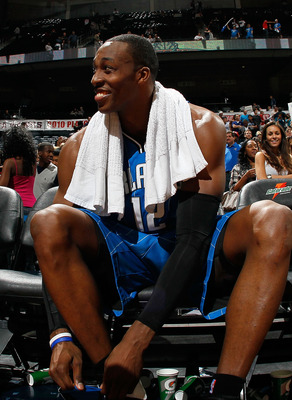 Kendrick Perkins vs. Dwight Howard
This reminds me of a pick-up game in which the biggest guy on one side gets to guard the jacked-up giant on the other team because nobody else wants to and he is the natural fit.
Howard is a legitimate MVP candidate and All-NBA performer. I expect nothing less than domination from Howard, because there is simply nobody that can guard him when he is at the top of his game. Perkins is a nice player, but nice players don't stop the best center in the league.
This is one of the more intriguing matchups, though, because if Perkins can slow him down, the Celts have a chance.
Advantage: Orlando Magic
Benches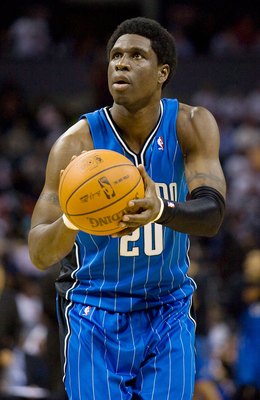 Orlando Magic
Mickael Pietrus
Marcin Gortat
Ryan Anderon
J.J. Reddick
Jason Williams
Boston Celtics
Tony Allen
Glen Davis
Rasheed Wallace
Michael Finley
The Magic have a deeper, younger, more athletic, and better shooting bench that can come in and not only sustain leads but increase them. Many of these players have started games at one point or another this season and are confident when they are in the game.
Advantage: Orlando Magic
Coach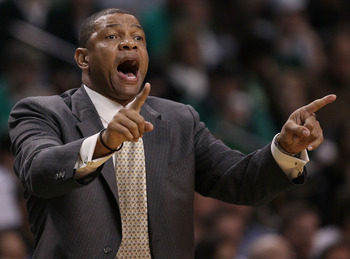 Doc Rivers vs. Stan Van Gundy
Nobody has done more with less this year than Rivers. He has taken abuse all year for his team being done, yet they find themselves in the Conference Finals.
Van Gundy also does not get as much credit as he deserves because his team is just that good.
These men have seen a lot of success, and I cannot see either of them making any big mistakes down the stretch.
Advantage: Push
Winner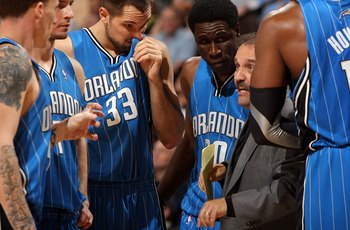 My Prediction
Though this series of games will be tougher for the Orlando Magic, their speed, size, and shooting will allow them to breeze through the seven-game series.
4-1 Magic
Keep Reading

Boston Celtics: Like this team?