Five Unique Aspects of the Monster Mile's Personality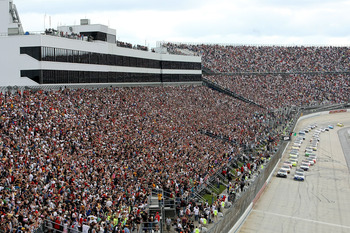 Dover International Speedway is a track unlike any other. With wide, sweeping, high-banked turns, drivers can average speeds of almost 160 miles per hour, despite the track being only a mile in length. Due to a history of toughness and unpredictability, DIS has earned its own nickname: The Monster Mile.
Worthy of its nickname, Dover has a personality all its own. One of only two tracks on the Sprint Cup circuit with a concrete surface, the Monster Mile has been the site of Cup Series events since 1969. Since then, the character of Dover has been developed as thoroughly as a castaway on the television series LOST. Here are the five main aspects of Dover that make it unique.
The Monster Commands Respect
Any driver who enters a race at Dover thinking its just another racetrack will be sadly mistaken. Both rookies and former winners are subject to a moment of humility at any point in time at Dover.
After Joey Logano (20) finished 15th in the spring race, the Monster chose the fall to introduce himself formally to the young rookie. The field stacked up entering turn 3 and Logano was bumped from behind by Tony Stewart. Logano spun across the track and up into the wall, before barrel-rolling down the banking. Luckily, the car came to a rest on its wheels and Logano was able to climb out safely. Former Dover winner Martin Truex Jr. (1) was caught up in the melee.
That is just one instance of the racetrack reminding the drivers who exactly is in charge. Logano described it best, "You can't go on a roller coaster any worse than that."
The Monster Can Take Care of Itself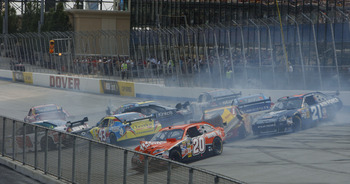 See that mess? When a car goes sideways on the narrow straightaways at Dover, there's little room to maneuver in an attempt to escape damage. No matter how many cars get collected in an accident, one thing always happens. The cars always manage to find themselves at the bottom of the race track.
You see, while its debatable whether or not the Monster hates the cars, it certainly hates wrecked cars and the debris field they leave behind. Known as a track that is, as Darrell Waltrip has said, "self-cleaning," Dover prefers to move its casualties out of the groove and to the inside.
That could be because the banking never goes below nine degrees. It could also be because the Monster doesn't want your wrecked race car in its racing groove, and will move it if necessary. It seems its always necessary.
The Monster Appreciates History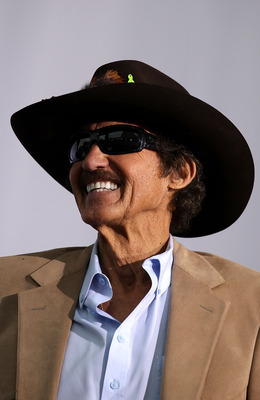 Few racetracks have as much history as Dover International Speedway. Legends Richard Petty and Bobby Allison are tied atop the all-time list with seven wins each. Jimmie Johnson and David Pearson are next with five apiece.
Petty won the inaugural Mason-Dixon 300 held on July 6. Since then, champions like Dale Earnhardt, Darrell Waltrip, Bill Elliott, and Benny Parson to name a few have made trips to victory lane at Dover.
It has been the sight of a few upsets as well. One of Derrike Cope's two career wins happened to be at DIS. Ken Schrader and Kyle Petty have also taken the checkered flag at the Monster Mile.
The elder Petty will be the grand marshall of May 16th's Autism Speaks 400.
The Monster is Loved By Its Fans
The Monster has a respectable following. Containing seating for 140,000 people, Dover has always had enough action to keep fans coming back. According to the track's website, Jack Hoenstine of Queen, Pennsylvania, has attended every race in the track's history.
It's for good reason, too. Dover has been the site of some competitive racing over the years. Only ten races in the track's history have featured fewer than ten lead changes and has featured more than 20 lead changes on 30 occasions.
While Johnson led 569 out of 800 laps in his season sweep of the track last year, he's been on a bit of a down streak lately, meaning this weekend's race could go to anybody.
The Monster Has Heart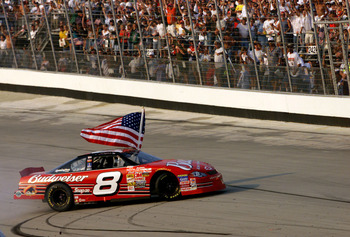 While the Monster Mile is often seen as a big bad bully, it has been the sight for tear-jerking moments as well.
None were anywhere near as emotional as September 23rd, 2001.
It was the first Sprint Cup Series race after the terrorist attacks on September 11th. After a week where the sporting world stood still as a nation mourned the loss of those who died in the attacks on the World Trade Center and Pentagon, it was time to go back racing.
Every pit crew member held an American flag during the pre-race ceremony. Some sponsors had willingly taken their names off hoods of their cars in favor of a flag. Ken Schrader's entire car was in the country's red, white, and blue, with no logos at all.
After 400 miles of racing with heavy hearts, it was Dale Earnhardt, Jr who took the checkered flag. He stopped on the frontstretch where a crewman met him with the American flag, which Earnhardt proceeded to parade around the track. There wasn't a dry eye in the house.
It wasn't a win for Jr. Nation. It was a win for an entire nation.
Keep Reading