Top 25 Hockey Players of All Time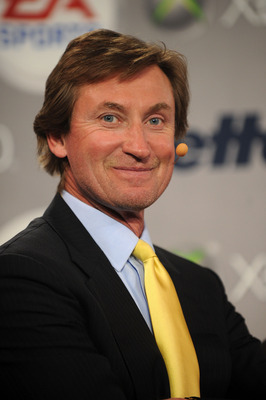 Let's walk through the top 25 players in NHL History.
Will Wayne Gretzky be first? Where will Sidney Crosby and Alexander Ovechkin be ranked? I was going to initially do the top 50 hockey players of all time.
I figured that would be impossible so I have created a list of the top 25 players ever. Will you agree with all my selections? Probably not, but these in my opinion are the best who ever were.
26. Alexander Ovechkin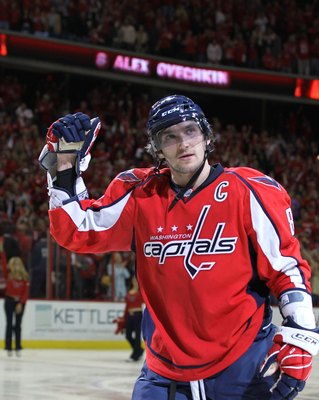 Ovechkin just doesn't have the credentials to make the top 25. His team has not won anything and he has not proven himself in the clutch. BUT he is averaging more than 50 goals a season in his first five.
25. Larry Robinson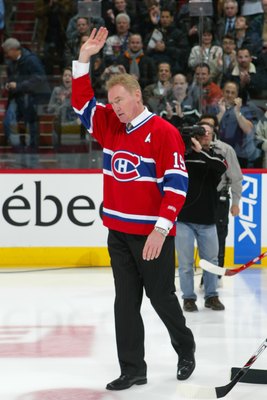 Larry Robinson was a defenseman for the Montreal Canadiens and Los Angeles Kings. Robinson won six Stanley Cups with Montreal and finished his career with an astounding NHL-record +/- 730. Also finished with 958 points.
24. Luc Robitaille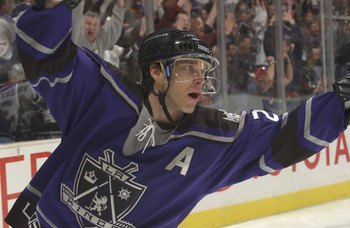 Luc Robitaille is 10th all time in goals scored and 20th all time in points. He won one Stanley Cup as a member of the Red Wings and had eight straight seasons with at least 40 goals at the start of his career.
23. Brett Hull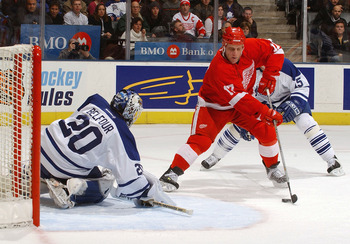 Brett Hull is third all time in goals scored. He won the Stanley Cup twice and had 16 years in a row with 20 goals or more and had over 70 goals three times.
22. Denis Savard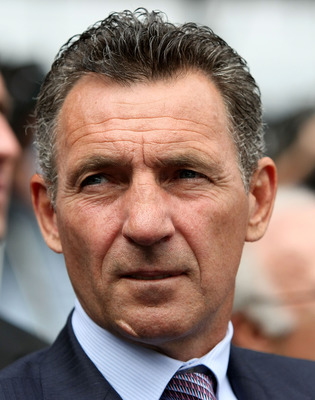 Savard played with the Blackhawks and Canadiens primarily racking up 1,338 points. He only won one Cup, in 92/93 with Montreal.
21. Patrick Roy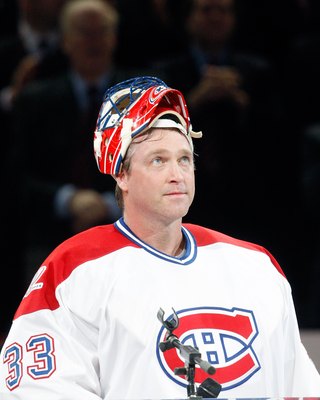 Roy is the greatest goalie in the history of the NHL no matter what anyone says about Martin Brodeur. It's too bad he had to leave. Roy won four Stanley Cups and is now coaching.
20. Stan Mikita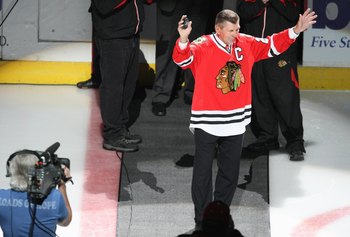 Stan Mikita played 22 years for the Chicago Blackhawks, scoring 1,467 points. Mikita had 14 seasons in a row with at least 70 points. Stan only did win the one Cup with Chicago.
19. Bobby Hull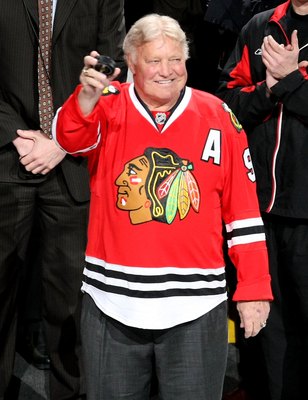 Bobby Hull won seven goal-scoring titles in his career. He won one Stanley Cup as a member of the Blackhawks and was inducted into HHOF in 1983.
18. Ron (Franchise) Francis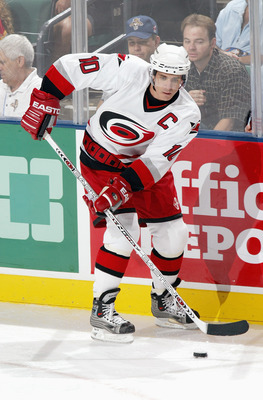 Ron Francis scored over 70 points in a season 16 times during his illustrious career which was highlighted with his two Stanley Cups with the Pittsburgh Penguins.
17. Sidney Crosby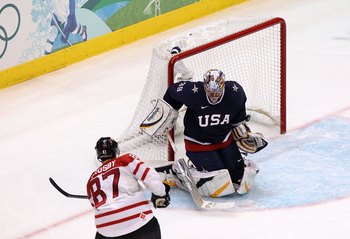 Sidney Crosby is the best player currently playing in the NHL. The picture is his clutch gold medal-winning goal. He has one Stanley Cup and will win many more. He is averaging over 100 points a season in his first five. If he plays 20 years, well, you do the math.
16. Joe Sakic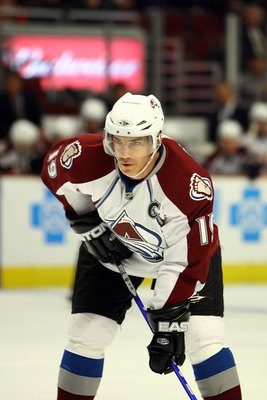 Sakic was one of the best international hockey performers ever and his NHL resume wasn't too bad either. He won two Stanley Cups with the Avs and won the Conn Smythe trophy. He ended his career with 1,641 points.
15. Mike Modano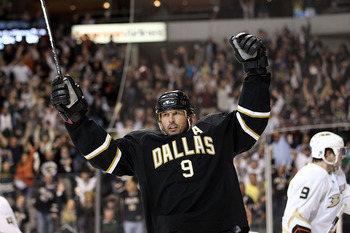 Mike Modano is the greatest player in American Hockey History. He won one Stanley Cup. When Modano was pushed to the shelf two years ago the Stars plummeted and they are still falling. If they lost Modano altogether it won't be good. Modano is in a group with Wayne Gretzky and Brett Hull looking to buy the Stars so good news all around.
Here is a link about his accomplishments and what he means to the NHL.
http://www.nhl.com/ice/news.htm?id=528192
14. Marcel Dionne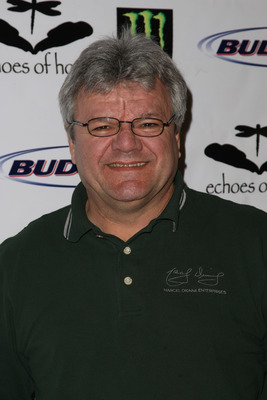 Dionne was a scorer, and he is the best player ever not to win a Stanley Cup.
He had 14 straight seasons with over 70 points and eight seasons with over 100 points. He also had 10 season with over 40 goals.
13. Guy Lafleur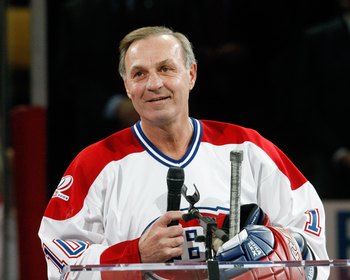 Lafleur was a gamer. He scored 1,353 points and won five Stanley Cups. "He was lightning fast and could score goals like no ones business," one anonymous quote read. He had six straight seasons with over 120 points.
12. Jean Beliveau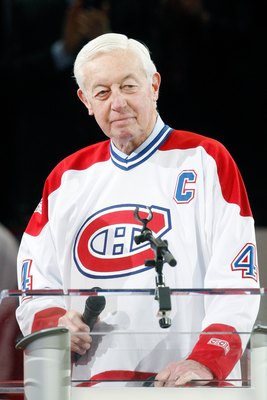 Beliveau won 10 Stanley Cups, thats one for every finger. He was the captain of the best team in the NHL for two decades. He scored 1,219 points but led the team with his determination and grit.
11. Mark Messier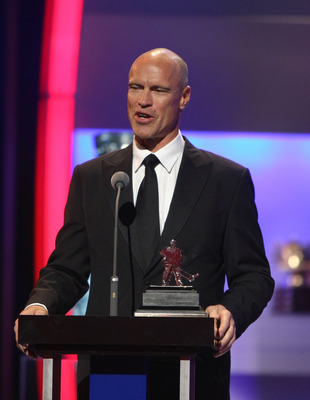 Mark Messier is second in NHL scoring with 1,887 points. He is also second in playoff scoring with 295 points. Mark Messier won six Cups and is the only player to captain two different teams to Stanley Cups.
In 1994 Messier guaranteed that his Rangers would beat New Jersey in six games. In Game Six he scored a hat trick and led his team to victory.
10. Mike Bossy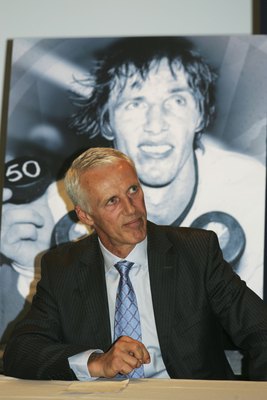 Mike Bossy had nine straight seasons with 50 goals and over 90 points. He scored 1,126 points in 752 games. He only played 10 season as his career was cut very short due to injury. If he didn't get injured he would be in the top five in scoring and first in goals.
9. Paul Coffey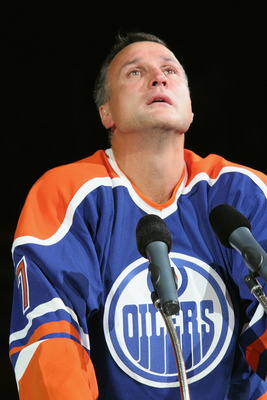 Paul Coffey won five Stanley Cups and is the second highest scoring defenseman in NHL history. He scored 48 goals as a defenseman which is a record for d-men. He is fifth all time in playoff scoring.
8. Steve Yzerman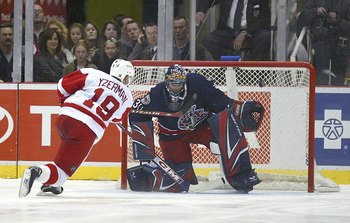 Steve Yzerman went from being one of the best offensive players in the league to being the best two-way player (maybe) ever. He scored 155 points in a season and won four Cups. He has 1,755 points and was a hero in the 2002 Winter Olympics.
7. Phil Esposito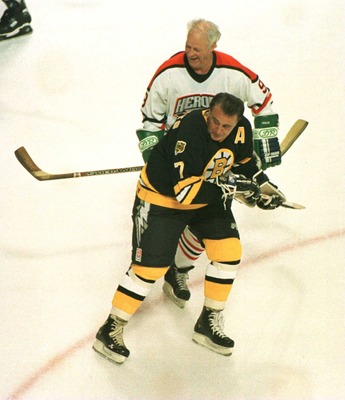 Phil was one of the greatest players ever to step on the ice. He was a key member of the 72 summit series and he scored over 130 points five years in a row. He won five Art Ross trophies and one Stanley Cup.
6. Ray Bourque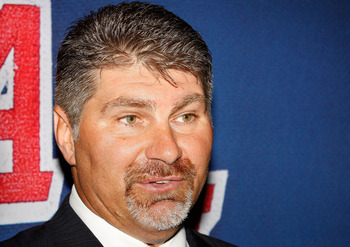 Ray Bourque is the highest scoring defenseman in NHL history. Played in over 20 straight NHL All-Star games. Bourque only won a single Cup.
5. Maurice Richard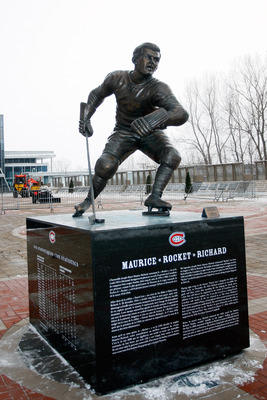 Maurice Richard changed the game of hockey forever the way he played. He is an icon and always will be. Oh and he happened to win five Stanley Cups.
4. Mario Lemieux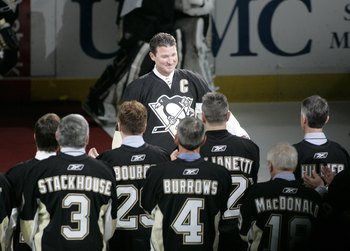 Ten seasons with over 100 points with the highest being 199 in 76 games is a great way to start. Almost scored more points per game then Wayne Gretzky. Still he won two Stanley Cups and is one of the greatest players ever. If his career was not shortened by injury he would have challenged Gretzky's points record.
3. Gordie Howe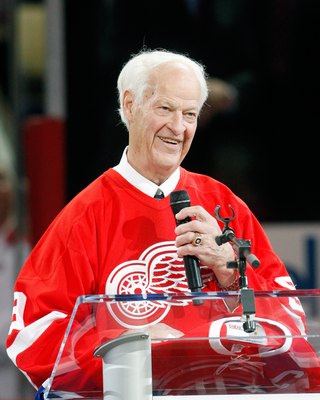 Gordie Howe played for 26 seasons and scored over 70 points in 21 straight seasons. No one in hockey can match that stat. He won Stanley Cups and he won scoring titles. He even played with his sons, on the same team! And he was better then them!
2. Bobby Orr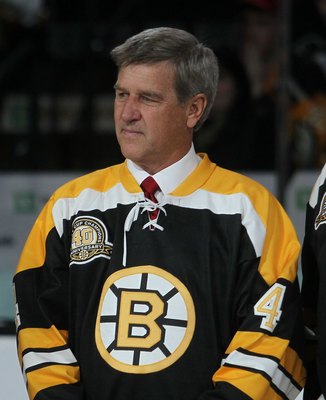 Bobby Orr's career was also shortened but while it lasted he was the best player in the NHL (arguably). He scored six straight years with over 100 points and is the only defenseman to win the scoring title. He scored 953 points in 657 games. He scored points like no one's business and invented the D-Man rush.
1. Wayne Gretzky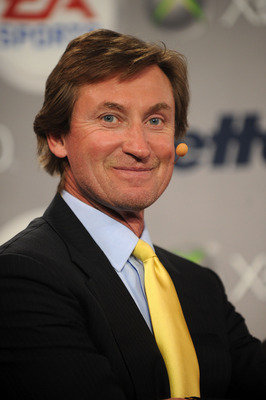 Is anyone surprised? He is the best player in NHL history and no one can even dispute it. His records will never be broken and he will always remain every child's idol.
13 straight seasons with well over 100 points. Sometimes even over 200. Absolutely mind-blowing.
Keep Reading