2010 Projected Defensive Starters for the Arizona Cardinals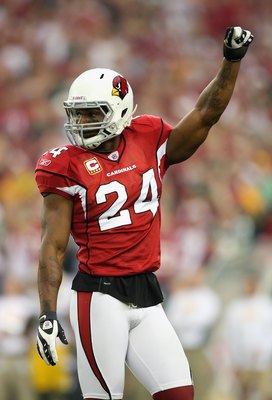 As many changes there will be to the offensive side of the ball for Arizona, there will be just as many changes, if not more, to the defensive side.
Many questions remain:
How will Arizona replace the production of Antrel Rolle and Karlos Dansby?
Will Joey Porter be the Joey Porter of old? Or will he cause problems?
Which young players will step up and perform?
Now, we obviously can't answer those questions right now. But we can look at the guys who should start for Arizona, in what could be a very underrated defense.
Defensive Line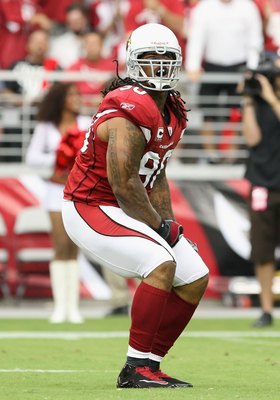 Starters:
LDE: Darnell Dockett
NT: Bryan Robinson
RDE: Calais Campbell
Backups: Alan Branch, Kenny Iwebema, Bryan Robinson
Looming: Gabe Watson
This may actually be the most stable part of the Cardinals defense, mostly because of Dockett and Campbell, who proved to be a very effective 1-2 punch up front last season.
The biggest question mark is the development of rookie Dan Williams. He has the physical tools to be great, and he has some help from veteran Bryan Robinson, who should show him the ropes.
If Williams can adjust quickly, we could be talking about the best defensive front in the NFC West, and one of the best in the league.
Linebackers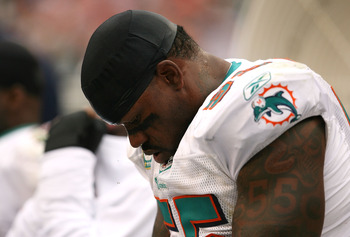 Starters:
OLB: Joey Porter, Clark Haggans
ILB: Paris Lenon, Gerald Hayes
Backups: (OLB) Cody Brown, Will Davis
(ILB) Daryl Washington, Ali Highsmith
Looming: Steve Baggs, O'Brien Schofield
This group definitely has some questions, but unlike the secondary, there's not a question of depth.
It's just a question of whether these boys will be the force Arizona needs them to be or not.
There will be several changes to the core this year, but seemingly good changes.
Joey Porter was brought in specifically to put pressure on the quarterback. He and Clark Haggans, former teammates in Pittsburgh and Colorado St., should be a good outside combination.
And if they should falter, the Cardinals have a wealth of young talent behind them, including last year's 2nd rounder Cody Brown, who was injured all last year.
As well, look out for guys like WIll Davis (who had 2 sacks in limited playing time last season), Steve Baggs (sack leader last season in the CFL), and O'Brien Schofield (4th round selection, but recovering from a torn ACL) to try to find their way into the lineup.
This should definitely keep the outside core of backers well rested.
The big question rests on the interior. Who will replace Karlos Dansby? Daryl Washington seems like the honest answer, and if things go according to plan, he should either start the season, or take the job from Paris Lenon within the first few weeks.
Washington is very quick, and should, I say should, make a good replacement for the departed Dansby (he's even wearing Dansby's old number, 58).
But if he doesn't, then the Cardinals linebackers could be in trouble.
Secondary
Starters:
CB: Dominique Roders-Cromartie, Greg Toler
S: Adrian Wilson, Kerry Rhodes
Backups: (CB) Michael Adams, Jorrick Calvin
(S) Rashad Johnson, Matt Ware
Looming: No one really...
It seems like every year, the Cardinals' secondary undergoes big changes.
That's probably because every year, it's the defense's weak link.
Don't get me wrong, there's lot of talent here. Two Pro-Bowlers in fact.
That wasn't enough against Green Bay and New Orleans last year, though.
So what did the Cardinals do?
They made changes where they could.
Let's start at cornerback, where in a controversial move, they traded Bryant McFadden back to Pittsburgh.
That's fine by me.
"Why?" you ask. Well, because he just didn't fit into the Cardinals system, and he's not nearly as good as advertised.
Stats will tell you differently. But stats don't tell the whole story.
Sure, he didn't give up a lot of big touchdowns or big plays. But that's because he was usually covering the other team's second receiver, while DRC had to guard the team's best receiver.
Stats don't take that into account.
Plus, DRC takes big risks. He gets burned, sure, but he also makes some spectacular plays, which is why he got sent to the Pro Bowl, and not McFadden. So why not make a change?
Supposedly this means that Greg Toler, the second year player who's very similar to DRC, will be the new starter.
But hold on. Someone forgot to tell Whisenhunt.
In training camp, it was Michael Adams who was the other starter.
However, I think by the time the season starts, Toler will have won the job. Although he could win the job in the middle of the season. Who knows?
Meanwhile, at safety, it was as simple as trading spots: Antrel Rolle for Kerry Rhodes. Most people I've heard don't like it. But I'm fine with it.
The Cardinals in my opinion need someone to be a better cover safety than the risk-taking Rolle.
Adrian Wilson already takes enough risks, such as loading up the box, or frequently blitzing.
Arizona could use someone to cover A-Dub's back.
The big danger with the entire secondary, though, is a lack of depth. Should injuries occur like last year in the playoffs, there could be trouble brewing for the Cards.
Keep Reading

Arizona Cardinals: Like this team?