2010 Florida Gators: Which SEC East Team Is The Biggest Threat?
There is plenty of excitement surrounding the 2010 Florida Gators with plenty of questions still unanswered. How far can this Tebow-less version of the Gators go? Who will step up to lead the team back to the SEC Championship?
Before the latter question can be answered, let's take a look at the teams in the SEC East that Florida must face and determine if any can pose a serious threat to the Gators returning to Atlanta to face the SEC West champion.
September 18, 2010—Tennessee Volunteers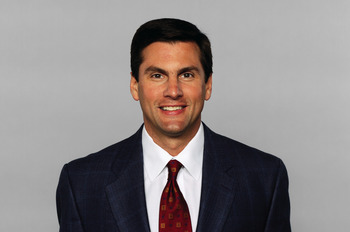 Out goes Lane Kiffin and in comes Derek Dooley, the son of Georgia legend Vince Dooley. It took Kiffin only one year to break the hearts of the Vol Nation, and now they turn to Dooley to resurrect this once proud program.
Well, don't expect much from the Volunteers in 2010.
Dooley will have to focus on recruiting and rebuilding his first season, and when Florida comes to town on September 18, he can only hope that Coach Urban Meyer doesn't order an all-out assault on the Volunteers.
In other words, this could be very ugly for Tennessee. The Gators win this game easily, and start their 2010 record 1-0.
September 25, 2010—Kentucky Wildcats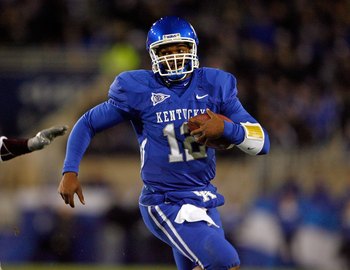 Out goes Rich Brooks and in comes Joker Phillips. Wait, didn't we just cover a new head coach?
Joker Phillips was announced as the heir apparent to Coach Brooks back in 2008, and that reality set in soon after the 2009 season. It should be a seamless transition since Phillips has been on the staff for a few years.
It should be the same song and dance when it comes to playing the Florida Gators, too.
Coach Phillips will have his hands full when he arrives in Gainesville on September 25, and for his sake, I hope he leaves with his dignity in tact.
The Gators will make this their second SEC East victory convincingly.
October 30, 2010—Georgia Bulldogs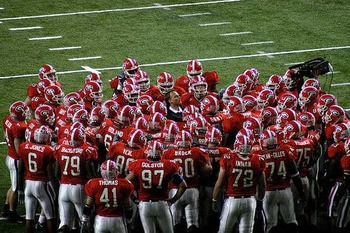 The annual World's Largest Outdoor Cocktail Party has become the annual Florida Gators defeating the Georgia Bulldogs in Jacksonville, Fla. on Halloween weekend. This once proud rivalry has lost much of it's luster as of late.
In fact, since 1990 the Florida Gators have a 17-3 record. There most recent victory was a 41-17 beat-down in 2009. It was also the game in which Tim Tebow broke Herschel Walker's TD record. Talk about rubbing salt in an open wound.
Will anything change in 2010? Perhaps it will be the last game for Coach Richt as head coach of the Bulldogs against the Gators. However, this game could be closer than the 2009 match-up, but the Gators should still win decisively.
The Gators improve to 3-0 in SEC East play.
November 6, 2010—Vanderbilt Commodores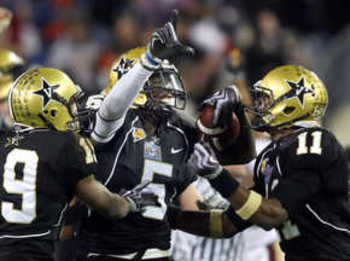 On November 6, 2010, the Gators travel to Nashville to face Vanderbilt.
So what.
Seriously, the fans of Vanderbilt University barely get excited about home football games. Steve Spurrier put it best when he said that nothing was on television if people go to Vanderbilt home football games. OK, so I'm paraphrasing, but you get the idea.
Gators move to 5-0 in SEC East play.
November 13, 2010—South Carolina Gamecocks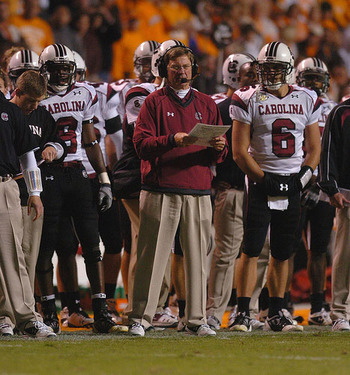 And then there is the OBC—Coach Steve Spurrier and the Gamecocks coming to town on November 13, 2010. This is the game that could trip up the Gators in SEC East play.
With Florida traveling to Alabama on October 2 and surely relishing the role of underdog, it is most likely that the Gators will have one loss when South Carolina comes calling. Also, many feel that this is Coach Spurrier's best team since arriving in Columbia. My personal feeling is that this will be Coach Spurrier's last season, and his last shot at taking down his beloved Florida Gators.
It is my humble opinion that South Carolina will pose the biggest threat to the Florida Gators in the SEC East, but will come up short when it is all said and done. However, it will be a very close and classic match-up.
When it's all said and done, the Florida Gators will go undefeated in the SEC East, but their last game against South Carolina in SEC East play will be their toughest.
Bet on it.
Keep Reading

Florida Gators Football: Like this team?