NCAA: SEC Quarterbacks Under the Magnifying Glass and Why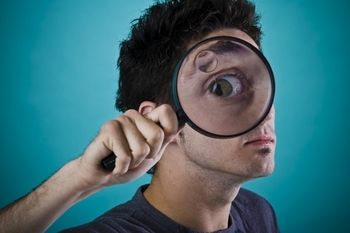 This season several SEC quarterbacks will be under close scrutiny and for different reasons.
While it may not be fair to place so much importance on just one position, the men on this list are the ones who may be most responsible for the fortunes of their team.
Read ahead and find out and see if this this matches your own.
Ryan Mallett (Arkansas)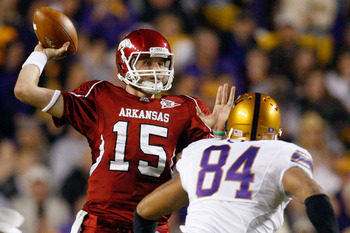 After watching Jevan Snead crash and burn in the NFL draft, Mallet may be patting himself on the back for his decision to stay.
He didn't have the best season last year, much like Snead, and the draft results might have been similar.
But with one last season to show what he really can do and with the Pig Pen a little deeper than last year, Mallet may just have the chance to shine and bolster his draft position.
Even though technically he's a Jr., this is most likely his last year as he is a Sr. by classroom standards. The year of sitting out put him one behind.
People will be watching to see if he made the right choice to stay and many think he already has.
Stephen Garcia (University of South Carolina)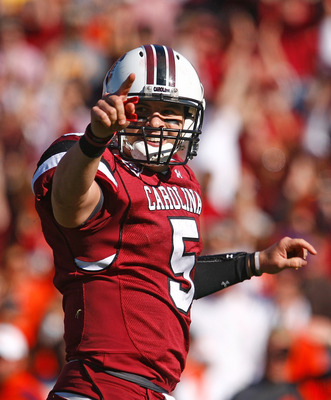 This could be the Old Ball Coach's last chance for a really competitive team in the SEC—and no one will be more important to making a great season a reality than Stephen Garcia.
He will be a Junior this year and people will be watching to see what he has learned after playing with arguably one of the best offensive coaches in the SEC.
In 2008 he threw just six TDs with eight INT's. In 2009 he threw 17 TDs, but still had 10 INT's.
Will he continue to improve? That will be the key to a great season for SC, and everyone will be watching.
Cameron Newton (Auburn)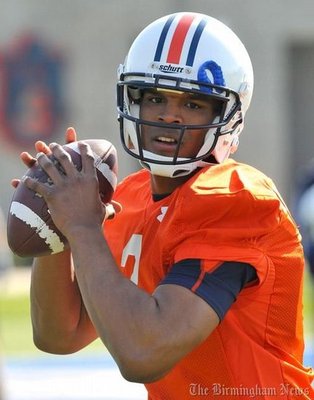 He was supposed to be a star at Florida. Now he must beat Florida.
At one time he was a number one recruit, now he is a retread looking for a second chance.
Many will be watching to see what Newton does with a second chance in Auburn and everyone wants to see if he can live up to the hype.
Jordan Jefferson (LSU)
LSU has done well in recent years—though part of that is because Les Miles can't tell time.
LSU's biggest set-back has been the failure to produce great play from the quarterback position.
Jordan Jefferson seems to be the man yet again this year and many will be watching to see if he can finally improve.
Jefferson throws one INT for every two TDs and last season he was sacked 34 times.
John Brantley (Florida)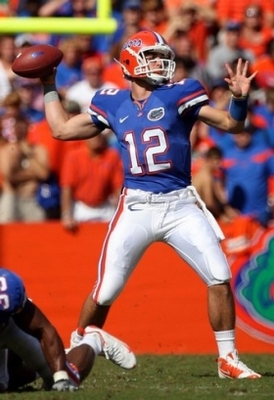 Can there be a world without Tim Tebow at QB for Florida? Yes, and his name is John Brantley.
There are two schools of thought on the subject.
Those who think Florida is going to suffer without Superman and those who think they may have a better overall offense with a true pocket quarterback.
With all eyes on post Tebow Florida, they will look to John Brantley.
Greg McElroy (Alabama)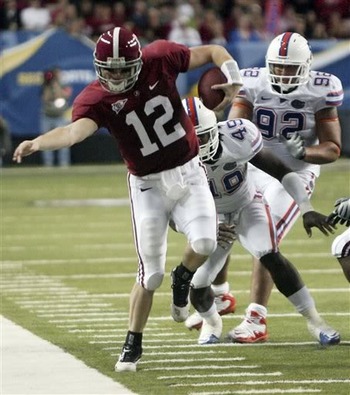 Greg McElroy has a chance to do something only two others have accomplished before him—go undefeated in high school and college as a starting quarterback.
Then there is the small matter of repeating as the BCS National Champion.
With each game the pressure will increase. The question is, how will McElroy respond?
Everyone will be watching to see how he handles the spotlight.
If your into betting, I wouldn't put Greg McElroy on the back-burner.
And There You Have It!
So who will shine and who will whine?
How many of these fine young men will excel under the lights?
A team's fortunes have often been tied to their quarterbacks—and for the young men listed, that has never been more true.
Keep Reading

Alabama Crimson Tide Football: Like this team?