Revisiting the Bears' Biggest 2009 Gameday Blunders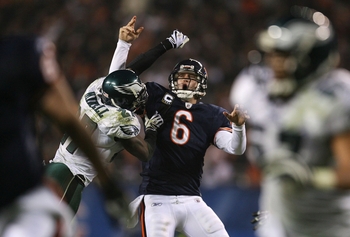 Most people don't like reliving nightmares. I'm usually one of those people.
Looking back on last season, I thought the Bears consistently squandered opportunities. Chicago often needed just a split second to take themselves out of a winable game.
Needless to say, Chicago fans would like to forget 2009. However, I'll let you relive it just one more time.
Jay Cutler Debuts In Green Bay, Throws 4 Interceptions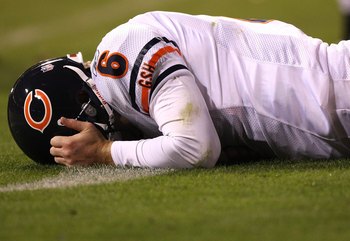 On September 13th of last year, the Bears traveled north to Green Bay for their regular season opener.
Jay Cutler struggled mightly, throwing four interceptions in his debut game with Chicago.
Note: There was a special teams mix-up.
In the Bears own zone, on fourth and long, long-snapper Patrick Mannelly chose to fake a punt, snapping directly to running back Garrett Wolfe. Wolfe, clearly caught off guard, hesitated and was quickly smothered by Green Bay jerseys.
The Bears lost the ball deep in their territory on a standard punt situation.
Falcons Beat Chicago Bears in a Heartbreaker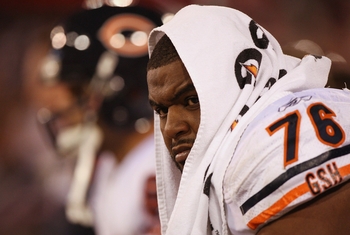 On October 18th, the Atlanta Falcons spoiled Chicago's day.
The Bears, who managed to hang with Matt Ryan, Michael Turner and the rest of the Dirty Birds, could have taken this game.
Here's what went wrong.
The Bears trailed by a touchdown with 3:06 left in regulation.
Jay Cutler, playing well, drove the entire field with virtually no running plays.
The Bears marched from their own 12-yard line down to the Atlanta 5.
What happened you ask? The Bears happened.
Chicago killed themselves with three penalties, with just over a minute left, deep in Atlanta territory.
A false start and an offensive pass interference call stalled the momentum.
However, the biggest flag came with 34 seconds remaining. On 4th-and-1 from the ATL 5, Orlando Pace was whistled for a false start. The penalty pushed Chicago back to the ATL 10. The Bears failed to convert on 4th and 6.
The Massacre in Cincinnati, Ohio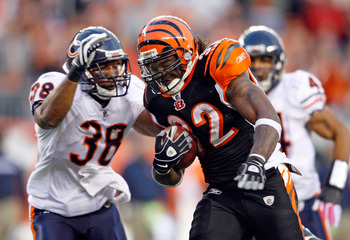 The very next week, Chicago stumbled in a road game at Cincinnati.
The Bears had no business taking the field that Sunday.
It was over before it began, the Bengals took a 7-0 lead just four minutes into the game.
The Bengals scored three more touchdowns and a field goal before halftime, pushing the score to 31-3.
The Bears eventually lost by 35.
Cincinnati scored points on their first seven drives. Six of them went for touchdowns.
Carson Palmer threw for fives scores.
Chad Ochocinco caught 10 balls for 118 yards and two touchdowns.
Cedric Benson ran for a career-high 189 yards and a touchdown.
Warner, Fitzgerald Have Field Day Against Bears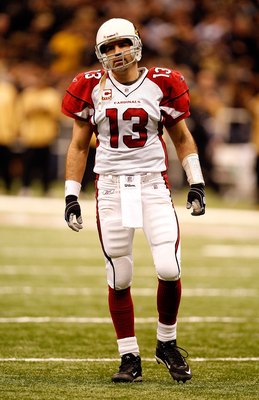 On November 8th, Kurt Warner and Co. embarrassed Chicago in front of their own crowd.
This one should be quick and to the point.
The Cardinals scored a touchdown on their first four drives. Arizona only added a field goal before the half because of time. The Bears lost, again.
Jay Cutler's 5 Interceptions Kill Bears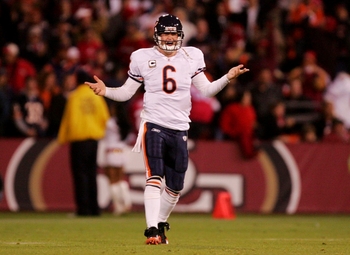 The next Thursday, Jay Cutler threw a career-high five interceptions.
In the cool San Francisco night, the Bears did next to nothing on offense.
Cutler threw two interceptions inside the 5-yard-line, one came on the last play of regulation with the game on the line.
Brett Favre Nearly Tops Career Best Versus Bears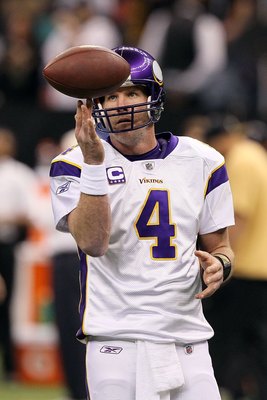 On November 29th, the Vikings blew away their heated rivals.
Total yards for the game: Vikings: 537 Bears: 169. If that stat doesn't just say it all, I don't know what will.
Brett Favre nearly topped his all-time high in passing yards in his 282nd consecutive game. Favre sat out the last half of the 4th quarter and still finished with 392 passing yards.
Ouch.
Beating A Dead Bear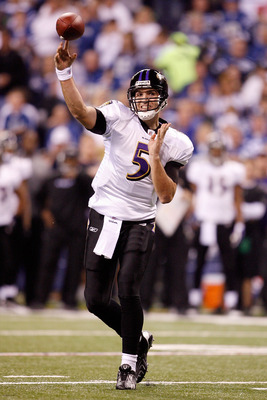 On December 20th, Baltimore added insult to injury against Chicago.
The Good: Earl Bennett produced the team's only points with a punt return touchdown.
The Bad: Joe Flacco threw for four touchdowns. Jay Cutler threw three interceptions and didn't even crack the 100-yard passing mark.
Caleb Hanie threw his lone interception of the season. The Bears had six turnovers that game.
With this beat down, the Bears had lost eight of their last 10 games.
Keep Reading

Chicago Bears: Like this team?