New Jersey Nexts? A How-To Guide for Mikhail Prokhorov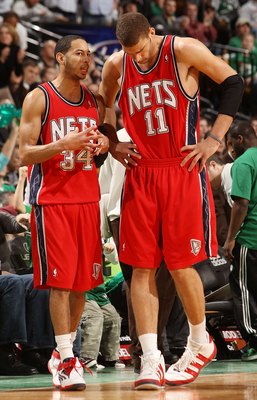 And so it begins, less than a week away from the New Jersey Nets' fateful lottery drawing. It will be either doomsday or celebration time. The next three months look to be the start of something fresh, or the continuation of a longing failure for more than a handful of teams.
While the Knicks have invested more than three seasons into praying for "The King" to reign in the Big Apple, the Nets, with a stronger core of talent, more draft picks and equal to or more money available to spend, are looking at this offseason as a stepping stone to a hopeful dynasty, instead of investing several seasons into hoping one or two superstars can come revive a franchise that hasn't won a playoff series in over a decade.
Here's a look at a few possible scenarios the new billionaire owner Mikhail Prokhorov could encounter in the upcoming months.
The Draft Lottery: May 18th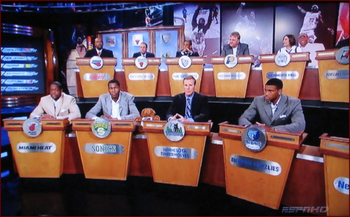 Next Tuesday, I expect new Nets owner Mikhail Prokhorov to attend the NBA Draft lottery, representing his new franchise as a sign of hope and of course a good luck charm.
The Nets franchise doesn't need John Wall as bad as people make it out to be, Devin Harris is surely an All-Star caliber point guard; however John Wall looks to be a once-in-a-generation type talent, and missing out on him could hurt. At the same time, let's say the Nets get the No. 2 pick, the obvious next choice is Ohio State swingman Evan Turner, who looks like a future star.
In my mind Wall and Turner look to be the only sure things in this draft class; having said that I also believe that this draft is pretty deep in talent compared to previous drafts and I think that there are some stars to be found, I just feel that Wall and Turner are the only can't-miss guys. Demarcus Cousins might not be a bad option and I think Xavier Henry will be a Michael Redd clone.
Best Case Scenario: First Pick
In the past seven years only twice has the team with the worst record (the most lottery balls) won the draft lottery (2003 Cleveland-LeBron James and 2004 Orlando-Dwight Howard).
Worst Case Scenario: fourth Pick, I can't see them falling further than that.
Coaching Search: May 19th-June 24th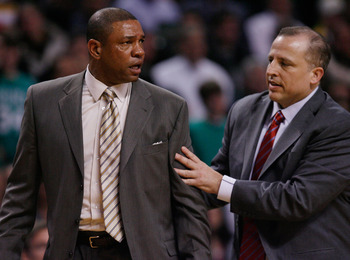 For months now the Nets coaching vacancy has been discussed. Names from college greats Mike Kryzweski and John Calipari have been rumored and both denied any interest, former coaches Avery Johnson, Jeff Van Gundy and Byron Scott wouldn't be a bad choice at all in my eyes, but the guy that I would hire is Boston Celtics assistant Tom Thibodeau, a defensive specialist, who has earned the right and opportunity to coach at the NBA level. He would preach defense and discipline to these young guys and hopefully turn them into a resemblance of both great Pistons' defensive eras.
Please, Mr. Prokhorov, choose Thibodeau. He is the right guy for the job, a promising coach who has experience coaching a championship team that will teach these guys the basics of the NBA game.
The Draft: June 24th
Now the Nets are in the unique position of having three picks in the top 31. Having Dallas's No. 27 pick and the first pick in the second round helps a lot for a team in need of talent like the Nets.
Scenario One - They get the first pick, they draft John Wall, have a true star and will begin marketing him as the savior of the franchise.
Scenario Two - They get the No. 2 pick and draft Evan Turner, who is No. 1a in this draft. Many compare him to Portland's Brandon Roy, as he can play three positions and should be a dynamic player.
Losing out on Wall sounds worse than it is, Turner fits into the Nets' starting rotation right now better than Wall would. Pushing Devin Harris to the two isn't a good idea and I doubt he'd be okay with moving to a sixth man role.
Obviously they could trade Harris for some talent, but I truly doubt you would ever get an equal value in return for Devin Harris. Having drafted Turner you'd move forward with Devin Harris-Evan Turner and Brook Lopez as locks for the starting rotation.
Scenario Three (Worst Case Scenario) - They fall to anywhere from picks No. 3-5, where they would be looking at players like Kentucky's DeMarcus Cousins, Syracuse's Wes Johnson, Georgia Tech's Derrick Favors, Kansas's Xavier Henry and Georgetown's Greg Monroe.
Wes Johnson could step in and be good three, but I'm not sold on him being a true star in the NBA; I think he'll fair somewhere between a Shane Battier and Andre Iguodala.
DeMarcus Cousins has the ability to be the best player coming out of this draft, but once again no one has convinced he'll ever be a superstar. I think, however, he'll be at worst the fourth or fifth best player in this draft, for he could do some damage playing the four in the NBA.
Derrick Favors as well could be a superstar, but would be a project for a year or two before you got any real return on him. All these guys are gonna be good-to-solid NBA players if not great ones, but Wall and Turner would help immediately and that's what the Nets need most.
The Draft Part Two: Pick No. 27 and 31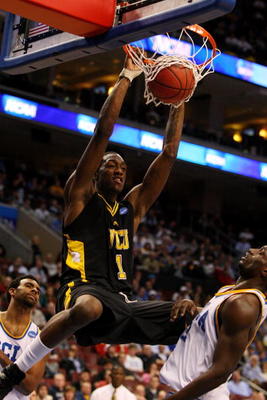 The ideal situation for the Nets would be for one of the lower top-10 guys to fall far in the draft, like a Patrick Patterson, Donatas Motiejunas or Gordon Hayward.
While it is unlikely any of them will be there, there is a chance Texas's Damion James, West Virginia's Devin Ebanks, VCU's Larry Sanders and other players around that class could be there. Maybe packaging the No. 27 and 31 picks to a team like Houston or Minnesota for their mid-first-round pick is an option.
I think Larry Sanders (picture above) will be a very good NBA player in a few years, sorta in the same way Carl Landry has developed. I also think Devin Ebanks would greatly help the Nets, for he will be a very good defensive player who could grow into a very good offensive player in time.
The 31st pick may have some value, as Duke's Jon Scheyer, who many doubt will find success in the NBA, will certainly be available. The recent successes of Steph Curry and J.J. Reddick might open some eyes to the value of someone who looks limited but at the end of the day can use his superior shooting ability to overcome everything else.
Maryland's Greivis Vazquez would add some swagger to the team and will work hard to be a career NBA player, while Xavier's Jordan Crawford will wrongly fall to the second round but has a ton of talent waiting to be tapped. Whoever drafts him will not be unhappy.
And finally I'm not sure if this player will be drafted, if he does it will probably be mid-to-late second round, but Rutgers' center Hamady Ndiaye is an absolute defensive force. Had Ndiaye played for a Top 25 team, he'd be a household name. He is every bit as good at defense as last year's No. 2 pick Hasheem Thabeet and is far more athletic and far more driven. Ndiaye is an exceptional character guy and I'm predicting he could be a super intense NBA stopper if he is given a chance by an NBA team. I saw him play five to six games in person at Rutgers and witnessed him block three consecutive shots on one possession, one with his back turned not even looking at his victim. Remember this name, Mikhail: Hamady Ndiaye.
Free Agency: July 1st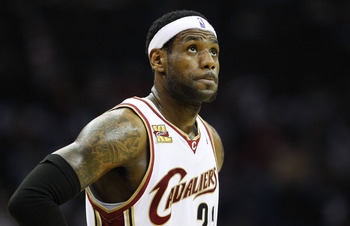 Before making any predictions or analysis, let's take a look at the potential crop of players looking for new teams:
LeBron James, Dwayne Wade, Chris Bosh, Dirk Nowitzki, Amar'e Stoudemire, Joe Johnson, Yao Ming, David Lee, Rudy Gay and Carlos Boozer are top-tier guys.
But John Salmons, Raymond Felton, Matt Barnes, Luis Scola, the returning Josh Childress and Tyrus Thomas are solid players as well. One area the Nets could really improve is the bench; acquiring a shooter like J.J. Reddick or Anthony Morrow would certainly be beneficial.
Best Case Scenario - Many would think LeBron James would be the best case scenario, that may be. Let's say they draft John Wall, trade Devin Harris, sign LeBron and David Lee. Now that's certainly an interesting team. I'd say that team could be favorites in the East, much less the NBA.
Let's look at another option, what if they drafted Evan Turner, signed Chris Bosh and Rudy Gay? Now that's an exceptional, young team, and you could still add some bench players to contribute.
My Personal Guess - They draft John Wall/Evan Turner (depending on the pick) and sign Rudy Gay and David Lee, and let's say Anthony Morrow and Hakim Warrick for depth. You would pair Brook Lopez and David Lee together, two of the top-20 rebounders last season (Lee fourth, Lopez 19th). The Nets would than have the most talented young big men pairing in the league.
You also add in a combination of John Wall/Evan Turner, Rudy Gay, Terrence Williams, likely Devin Harris, another rookie, Chris Douglas Roberts, Anthony Morrow, Hakim Warrick, Yi Jianlian, Kris Humphries and another rookie on the bench, and this has the makings of a team that could certainly compete in the East.
The Future
As you can see, the Nets could go from worst to first in an ideal situation this year. In a realistic situation they will turn around into a decent team with a bright future.
With the arrival of Mikhail Prokhorov sparking the new era of Nets basketball, the new arena in Brooklyn breaking ground and the obvious talent seeming to be blossoming, the future is becoming the present.
I don't see many scenarios where the Nets don't improve vastly this offseason. The worst situation would be drafting a bust with a pick they shouldn't have gotten based on odds, and being idle in free agency.
I would also like to see Rod Thorn make a few intriguing trades, Yi is expendable, as he does not fit the style of basketball I see the Nets playing in the future.
LeBron, D-Wade, Amar'e and Bosh would all be welcomed with opens arms in Jersey, while adding cheaper talents like Rudy Gay and David Lee might pay off and play together better with the talent we already have. Only time will tell. But one thing's for sure, the Prokhorov era has begun.
Keep Reading

Brooklyn Nets: Like this team?