The 50 Hottest Women Wearing Sports Jerseys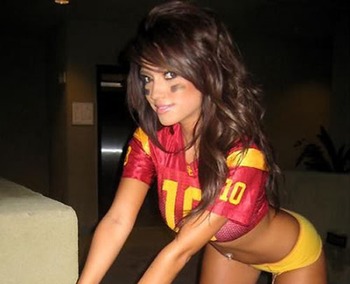 Any guy can agree, sports and women are the two best things ever created.
How can we combine the two things to make every man happy? By having women wear sports jerseys.
There is nothing sexier than a woman sporting her favorite team's gear. It does not even have to be her favorite team as long as she is rocking the gear.
I have done hours of research compiling a list of the sexiest women to wear sports jerseys.
Enjoy!
50. Hooters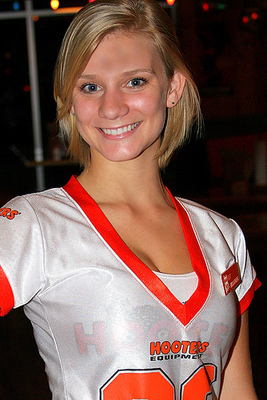 Let's kick this thing kicked off with a Hooters jersey!
49. Big Ben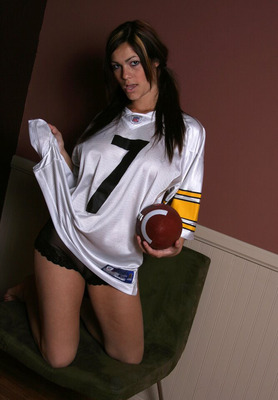 So many Big Ben jokes here but just not enough time.
48. Denise Richards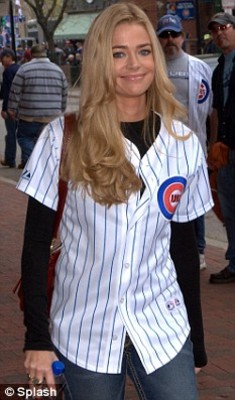 This was shot the same day she sang "Take Me Out to The Ballgame" at Wrigley Field.
All I can say is that the picture turned out much better.
47. Go Titans!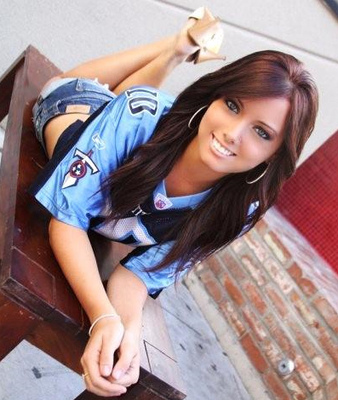 Yes, this picture does include a table but no chairs.
Picture courtesy of Tempe12
46. Dolphin Fan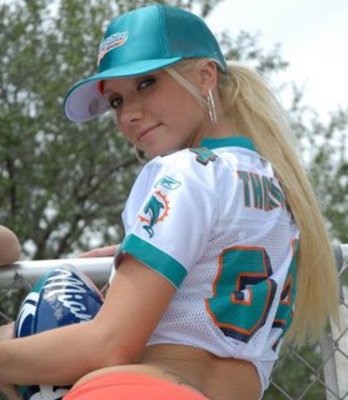 If you were like me than you were probably wondering the same thing.
Is that a Zach Thomas jersey she is wearing?
45. Shawn Johnson
After winning 432 gold medals at the Olympics, Shawn Johnson began playing for the Chicago White Sox as a pinch runner.
She was about to be tagged but she flipped over the player to make it safely to second.
44. Taylor Swift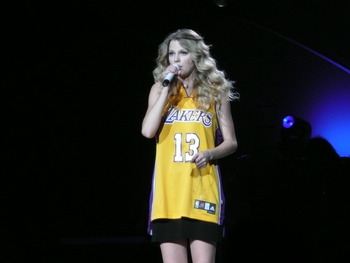 Another celebrity wearing a Lakers jersey.
What's next? A celebrity wearing a Celtics jersey...
43. Jennifer Love Hewitt
42. Shania Twain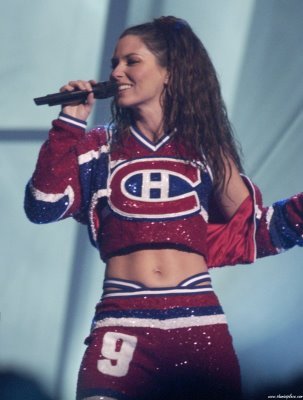 You have to give her respect for always showing love for her team.
Even if she has to bedazzle a jersey to make it look girlie.
41. Carrie Underwood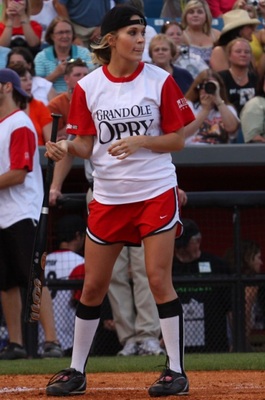 So many people wished Carrie would have taken up strip poker instead of softball.
40. Eva Longoria Parker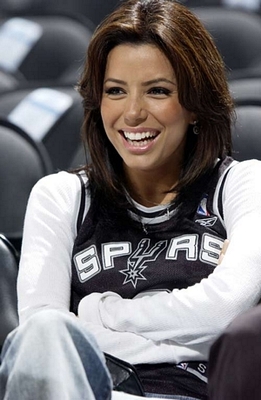 The best part of the San Antonio Spurs is always sitting in the front row.
Eva Longoria Parker is the epitome of sports wives. She is a big supporter and one of the hottest to hit the arena since Paula Abdul danced for the Lakers.
39. Ashanti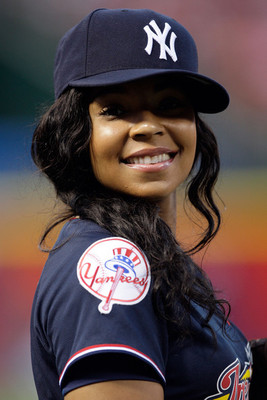 Isn't that the girl from Coach Carter?
Ashanti wins for hottest female to ever wear Yankees gear.
38. Harrington Jersey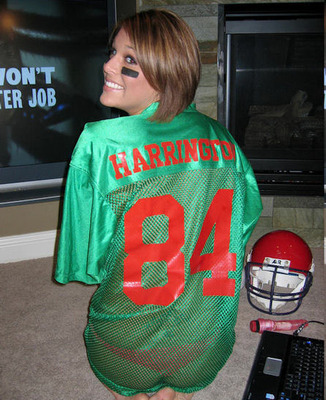 I am pretty sure she is not sporting a Hunter Harrington jersey, junior TE for Evangelical Christian Eagles, but she is not sure where Joey Harrington plays anymore so she made her own version.
Works for me.
37. NBA All Stars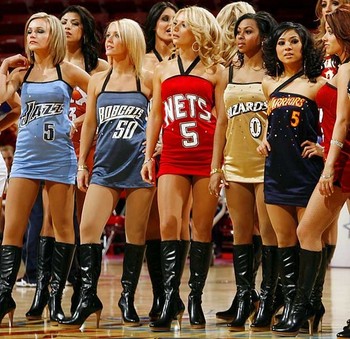 There is so much talent on that court for this shot.
A lot of talent!
36. Jason Witten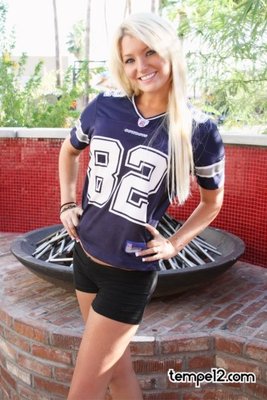 Tony Romo has already requested that she replace Jason Witten as the new tight end on the roster.
Picture courtesy of Tempe12
35. Alyssa Milano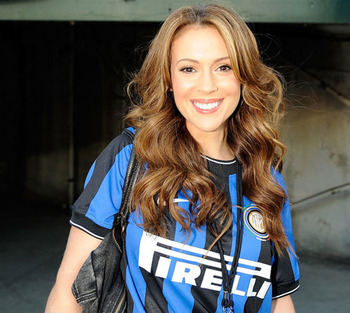 Alyssa Milano is the hottest female celebrity to wear soccer gear.
Hands down, no argument, the hottest!
34. Oregon Ducks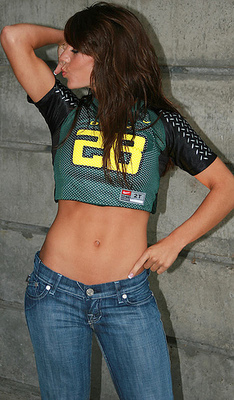 In the words of Michelle McKay from D2, "And when the wind blows hard and the sky is black—Ducks fly together!"
I have no idea what that has to do with this picture but it is about Ducks.
33. Paris Hilton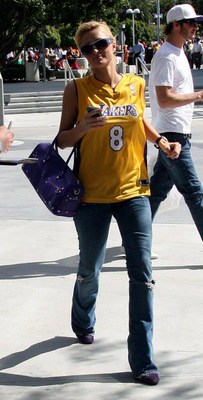 Even with the jersey on, I am pretty sure Paris Hilton could not spell Lakers.
32. Urlacher Fan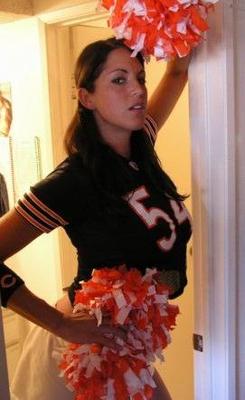 I am pretty sure that she has never cheered for the Bears in her life.
Regardless, she is still looking hot in that Bears gear.
31. Jessica Simpson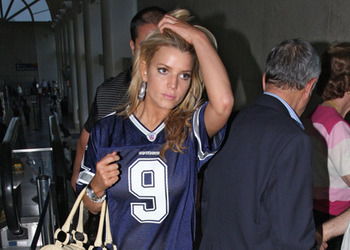 Even though it did not last too long, Jessica Simpson is the sexiest women to ever wear a football jersey.
Except for slides 1, 2, 3, 4, 5, 6...
Let me rephrase, she is the hottest to ever wear a Tony Romo jersey except for slide #13.
30. Arkansas Razorbacks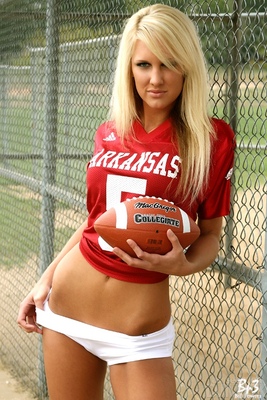 It probably doesn't matter that she is standing by a baseball field sporting a football and jersey. It does not matter at all.
29. Jennifer Lopez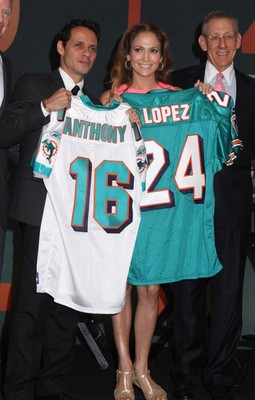 A glimpse into the NFL's future if the players were to go on strike.
With the first pick in the 2012 NFL draft the Miami Dolphins make a trade with Detroit for the top two picks and select Marc Anthony and Jennifer Lopez.
28. Vanessa Bryant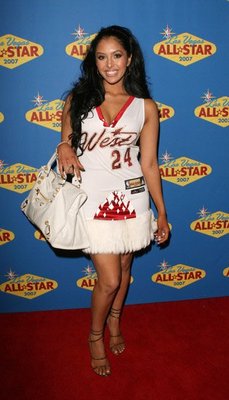 While Kobe Bryant is winning more championships, his wife Vanessa is spending all the money on jersey dresses like this one.
27. Marissa Miller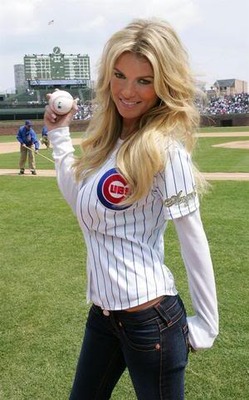 Marissa is easily the hottest female to ever be featured on the cover of Sports Illustrated.
She is now the hottest to ever wear a baseball jersey for a team she doesn't like. Go Cubs!
26. Jessica Lowndes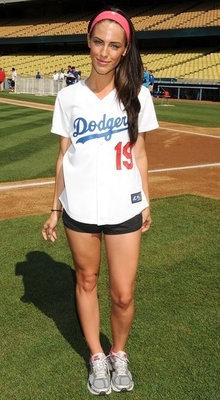 If you do not know who this is then you are not alone.
Apparently she is from the new Beverly Hills 90210. She's a singer too.
But neither of those impress me as much as her sporting a Dodgers jersey and looking better than anyone else who has rocked the gear.
25. Christy Oglevee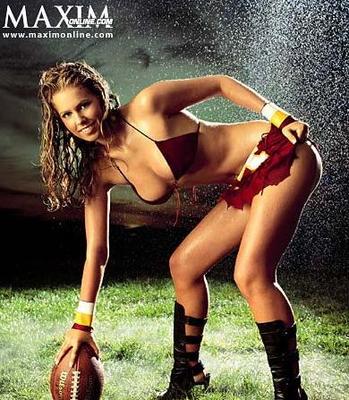 Christy is rocking her husband Chris Cooley's jersey.
He will never be able to top that look, regardless of how good he plays.
24. Go Cards!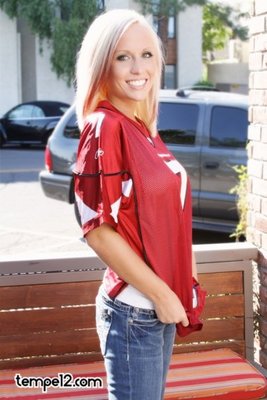 A glimpse into the Arizona Cardinals future quarterback.
Too bad she decided to head back to school and get her degree. The Cards could have used her in the Wildcat formation.
Picture courtesy of Tempe12
23. Go Saints!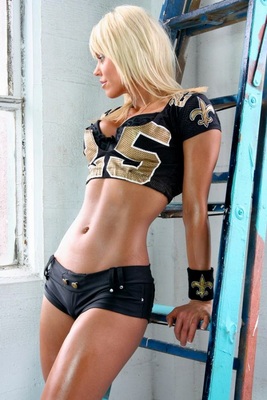 This is in honor of the Saints Super Bowl 44 victory.
You are welcome.
22. Hope Dworaczyk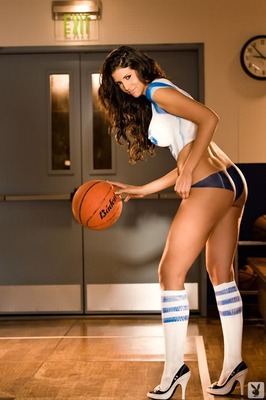 Jason Kidd has won countless awards in his career but none of them come close to his conquering of Hope.
Hope is the hottest WAG in the NBA today.
21. Florida Gators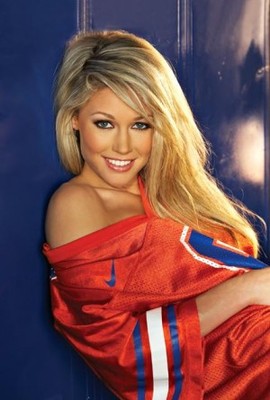 It does not matter how many Tim Tebow jersey's are sold, none will ever look this hot.
20. Giants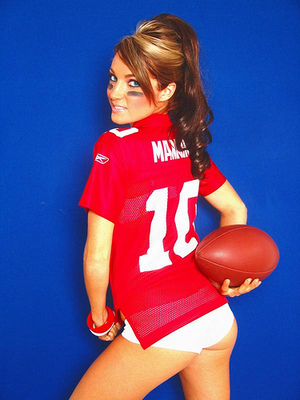 My things to do list:
1. Learn how to play quarterback in the NFL
2. That's it!
19. Da Bears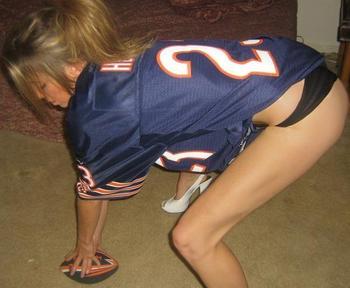 Besides being an all-pro center, she should try out for tight end too.
18. Strahan Fan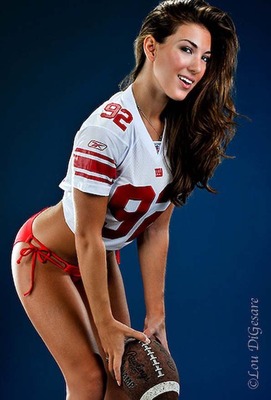 Is that a Tiki Barber jersey? Oh wait no, its a Michael Strahan one.
17. Steeler Fans
I think there is too many women in this picture.
Oh wait, I meant, there is not enough women in this picture.
16. Randall Cunningham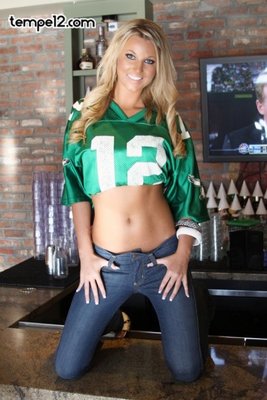 Does anyone else wish Randall Cunningham was still playing?
Picture courtesy of Tempe12
15. Falcons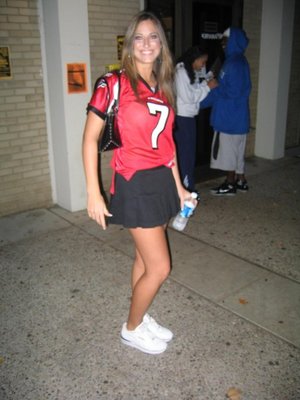 If she was wearing a New Orleans Saints jersey, this would easily be the number one slide.
14. Rivals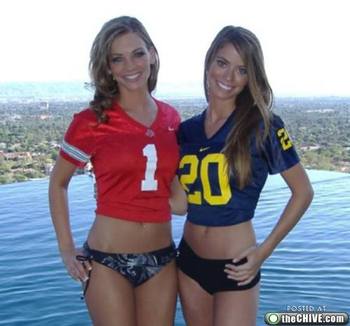 Ohio State vs. Michigan
What football game?
Picture courtesy of Tempe12
13. Cowgirl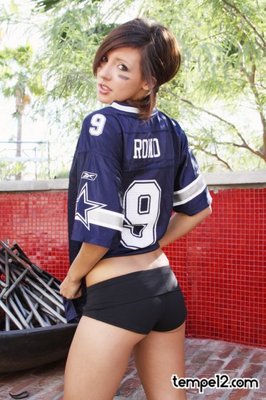 If Tony Romo wasn't so caught up in himself, he would have time to notice the beautiful women, pictured here, totally obsessed with him.
Too bad he only has eyes for celebrities.
Picture courtesy of Tempe12
12. Referee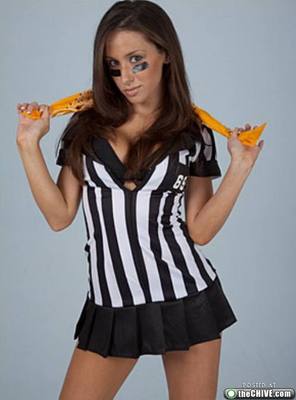 If the NFL wants to make the games more interesting, don't change the rules, change the refs.
How many people would tune into a game between the Rams and the Lions with refs like her?
11. Eli Manning Fan
10. Ashley Judd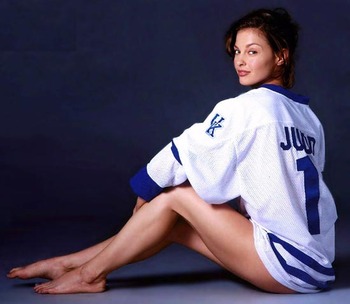 One word, four letters...legs!
9. Philly Fan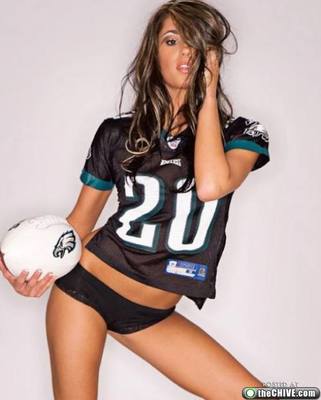 Does it matter that she is wearing a Brain Dawkins jersey when he does not even play for the Eagles anymore?
NO!
She could be wearing a Bart Starr jersey and no one would be complaining.
8. Lingerie Jersey
What was her jersey number?
I am having difficulty seeing it.
7. Denver Broncos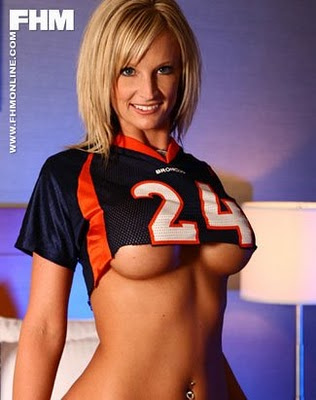 The best play of last season from the Denver Broncos was not on the field, it was when this picture was taken.
6. Kendra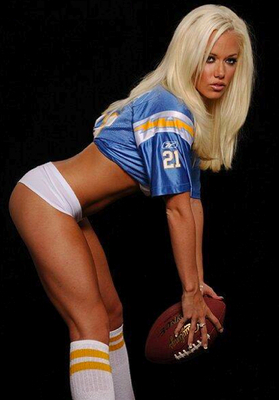 Her love of the game was so extreme that she married a football player just to get on the sidelines whenever she wanted.
If I had the tickets to give away, Kendra would not even have to ask to get a pair.
5. Double Vision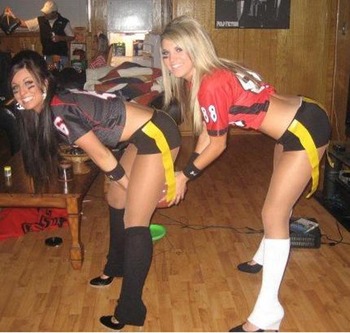 They must be practicing before the big game.
Should someone tell them that they are in the living room of a house and not a football field?
No? Agreed.
4. Kim Kardashian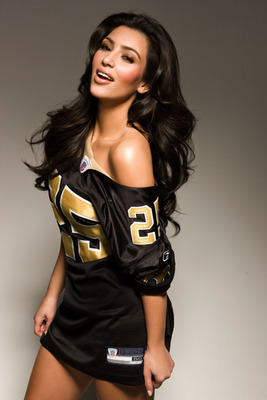 Even though Reggie Bush is no longer in the picture, Kim can still wear his jersey any day of the week. I do not mind.
3. San Diego Charger Fan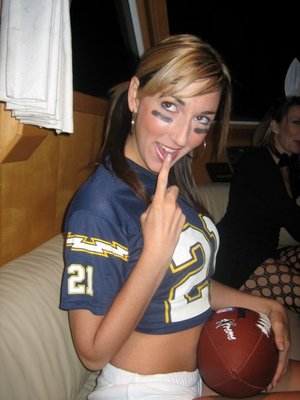 Are you wondering what she is thinking about?
It's probably that she has to buy another LaDainian Tomlinson jersey to replace the outdated one she is posing with.
2. #48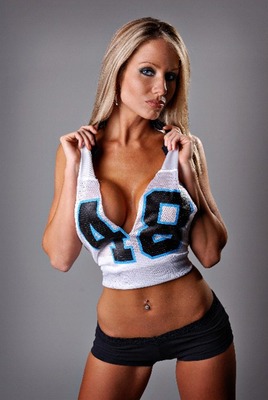 When you look this hot, you do not need a name or even a personality. Wow!
1. USC Girl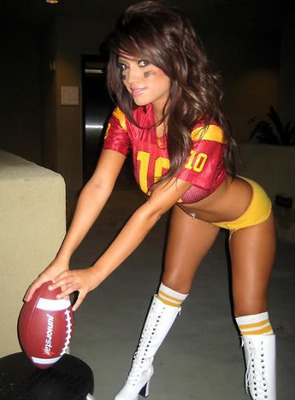 I have one question but I forgot what I was saying.
Keep Reading