Would You Rather: A-Rod or Nelson Cruz? Greinke or King Felix?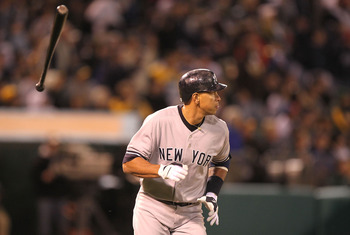 Is speed more important than power? Is experience more valuable than youth? If you had to pick one man to lead your franchise, who would you choose?
In this special Would You Rather: MLB Edition I take a look at some of the burning questions in the game. Would you rather have Doc Halladay or Tim Lincecum? A-Rod or Evan Longoria?
What about anchoring your rotation for the next decade: King Felix or Zack Greinke? Is Jose Reyes a better leadoff hitter than Ichiro? Can anyone other than Mariano Rivera claim to be the game's best closer?
Click here to see who I've chosen, and be sure to let me know who you would pick.
Ron Gardenhire or Mike Scioscia?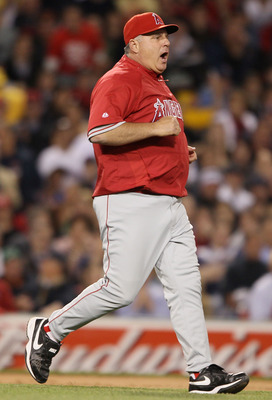 As much as I love the job Gardenhire has done in Minnesota, the fact the Scioscia has a ring gives him the trump card here.
The Angels team of 2002 was somewhat of a surprise after the 75-win team from the previous year, but Scioscia got the most out of his team after guiding them through the Wild Card minefield.
He has won more division titles since 2004 than every other manager combined in the club's 39 years pre-Scioscia, and he is the only man to guide them to championship glory. And people thought it was the rally monkey that did it!
There's actually very little that separates the two managers in terms of other achievements. They have an almost identical winning percentage (.553 for Scioscia compared with .549 for Gardenhire) an I'm sure that they would have similar numbers of wins if it wasn't for the fact that Scioscia has two more years of managerial experience under his belt.
Both managers have led their clubs to the top of the division, although Gardenhire is yet to win an American League pennant despite six AL Central titles. The Twins were a mediocre team in the mid-to-late 90s after winning the World Series in 1991, and Gardenhire turned the club almost instantaneously after taking over from Tom Kelly in 2002.
Scioscia was the more accomplished player and right now he is the better manager. He a simply a master at what he does; look no further than the way he pulled the team up by their cleat laces to play inspired baseball for Nick Adenhart last year.
Roy Halladay or Tim Lincecum
Who would you rather have pitching for you in 2010? The Doc or The Freak?
Whichever stud you have at the top of the rotation, you have to feel comfortable knowing that the ball is in safe hands every fifth day.
You could quite easily make the case for either pitcher.
Halladay has pinpoint control and eats innings each and every time he takes the mound. He has a history of success and he has been dominating in the league since 2002—three years before Lincecum was even drafted.
Timmy, on the other hand, is raw filth. He has seven years on Halladay and the general consensus is he's the best in the game right now. He piles up strikeouts at an astonishing rate, and he has an uncanny ability to keep the ball in the park.
Halladay may have more success pitching in the National League as opposed to having to face the Yankees and Red Sox seven or eight times a season, but Lincecum's stuff is enough to see him past any team he faces. His changeup is the most unhittable pitch in baseball, and his fastball and curve are both plus pitches that demand respect.
Truth be told, I'd rather have Lincecum's pitching and the Phillies batting order. Can you imagine how nasty that would be, especially if you took them out of hitter-friendly Citizens Bank.
Youth wins over experience right now, although I wouldn't argue with Halladay fans or his sparkling 6-1 record. Just don't expect him to throw a shutout every other time he takes the field. He's great, just not a '1.45 ERA' great. Normally I'd give the edge to control over power, but when you can't hit the ball, you're not going to score many runs.
Nelson Cruz or Jason Heyward?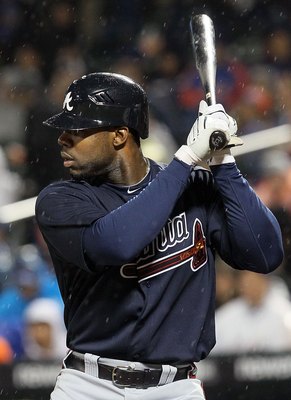 This assumes both players are healthy, as Cruz is on the 15-day DL with a sore right hamstring and Heyward has been fighting through a sore groin.
Heyward can flat out rake. He was the talk of spring training after launching balls out of Champion Stadium in Lake Buena Vista, Fla., at a dizzying rate, and he has not disappointed in 28 games in the major Leagues.
He has raw power to burn and he owns a pretty good eye even though he still strikes out too much.
By contrast, Cruz was never really seen as a legitimate stud until he finally got some serious playing time in 2009. He displayed rare glimpses of power in limited time in '08, but last year was when he showed the world he was the real deal.
Cruz hit 33 home runs in 128 games, solidifying himself as a dangerous weapon in the Texas lineup.
Still, if I had to have a 29-year old All-Star or a 20-year-old with the upside and high ceiling of Heyward, I'd have to go with the Braves uber prospect. Heyward still needs time to tweak his game, but he is a legitimate star in the making. Cruz bloomed late, but Heyward is a beast from the beginning. Once Cruz's average plummets back down to earth by 40 or 50 points, the world will see just how much more valuable Heyward is.
He's tomorrow's star of the future today.
Guy to Build a Team Around: Joe Mauer or Hanley Ramirez?
If you were building a team from the ground up in 2010, would you go with the reigning MVP and No. 1 catcher in the game or Florida's five-tool shortstop?
If the power Mauer displayed in 2009 is for real, it's very hard to argue against the Twins backstop. He has elite-level contact, and that combination of power and hitting for average is enough to anchor the heart of any team. He is the best hitting catcher in all of baseball today and he complements his skill set with perfect glovework and the ability to handle a pitching staff and call a game.
He is a leader on the club and he brings so much more to the clubhouse that just his bat.
There isn't really a knock on Ramirez though. He has the tools to hit 30 home runs and steal 40 bases in any given season, and while his batting crown from 2009 is likely a one-off, there is nobody else in the game who I'd rather have playing shortstop.
Both players have been at the top of their respective positions for the past three or four years and it is really just a matter of personal preference for who you choose. Mauer's MVP award came from a combination of unprecedented power and unsustainable average, in the same way that Ramirez's second-place finish came from an inflated batting average at the expense of a little power.
I think Ramirez is more likely to repeat his 2009 season than Mauer, and for that reason I'd take build my team around him. It's not that Mauer is overrated because he definitely isn't, but because I can't justify picking him over Ramirez with the threat of him regressing to a dozen home runs and a .325 average.
A-Rod or Evan Longoria?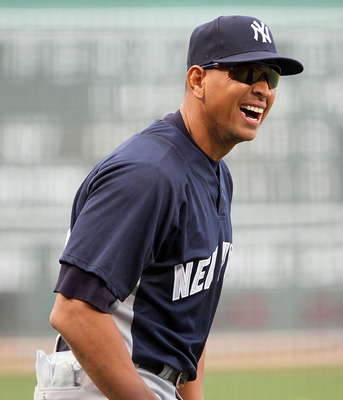 My personal preferences aside, this is a no-brainer for me. While I hate A-Rod and his attitude, he is the natural choice for me.
Looking beyond his brashness and public perception, A-Rod is a hitter. He is a 12-time All-Star, a five-time home run leader, and a three-time MVP. He transitioned smoothly over to third base what seems like an eternity ago, and while he may not win any more defensive accolades, he has the power and speed to lead any team.
A-Rod isn't worth the money he is being paid in terms of pure value-per-dollar, but there's no denying what he has achieved in the game. His detractors can't really point to purely individual honors any more.
I think A-Rod is past his peak, but for the next few years at least I think he still deserves the nod over Longoria who is the undisputed third base star of the future. If you were to ask me who I'd rather pay $30 million dollars for for the next five years I'd go with the Rays star, but if you want to know who is better straight-up today, it's A-Rod.
Longoria's time will come, and by 2012 I think he will have grown into the player that Rodriguez was in the late 90s. By then, A-Rod will be a shell of his former self, if he isn't already there. A-Rod will never hit 45 home runs ever again. Longoria may never hit 45 home runs ever.
Power obviously isn't everything, but leadership aside, A-Rod wins hands down.
Batting Leadoff: Ichiro or Jose Reyes?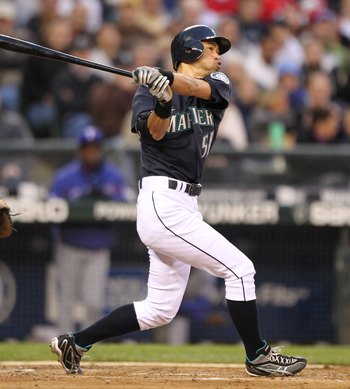 While Reyes is batting third in Jerry Manuel's harebrained excuse for a lineup this may be a moot point, but it's only a matter of time before Reyes moves back to batting leadoff.
It may have to wait until Jason Bay starts hitting or it may come if and when Carlos Beltran returns to the lineup, but there's no doubt that he won't be betting third all year long. When he does, this discussion is well and truly back on.
When he's at the top of the lineup, Reyes is one of the most electrifying players to watch in all of baseball. The sight of him stealing a base or rounding second on a ball hit to the gap has fans on the edge of their seats.
Reyes' real value comes from his wheels, but even with his solid walk rate, I'm not sure Reyes is even one of the top five leadoff men in the game.
Is he valuable to the Mets? Of course. When the Mets win, Reyes has an on-base percentage of .375. When they lose, it's .291. Since Reyes has been a full-time regular in New York, the team is 48-59 (.449) when he's not in the lineup.
But Ichiro is the ultimate leadoff hitter. Now in his 10th season, he has started 1,430 games as the Mariners' No. 1 batter...more than any other hitter over the last decade. In fact, Ichiro has only started 13 Major League games NOT at the top of the order.
What is the secret to his success? An otherwordly batting average is step one. He is a career .333 hitter with two batting titles. While he is known as being a disciplined hitter, he actually bats .393 when he makes contact with the first pitch of an at-bat, and .397 on a 1-0 count.
Ichiro may not still be capable of stealing 40 bases, but consider him one of the best at his craft. A repeat of 2009 is unlikely, but something along the lines of 2008 is almost a sure bet.
Is Ichiro the best leadoff hitter in the game? That's a topic for another day.
Young Stud For the Next 10 Years: Felix Hernandez or Zack Greinke?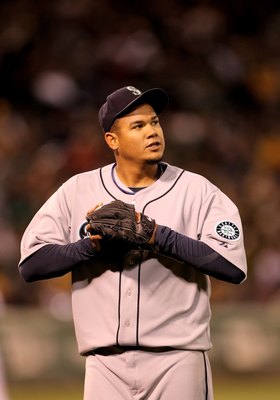 What's not to like about locking either of these pitchers up for the next decade?
Hernandez has probably been the better of the two pitchers up to this point in their careers, despite Greinke almost being pushed over the top by his Cy Young 2009, but which of the two has the best chance at being the biggest star between now and 2020?
I don't think you can put much weight on Greinke's personal depression-fueled problems in 2006 or his bullpen role in 2007, although it is something to keep in the back of your mind.
Both pitchers have thrown a similar number of innings, but Hernandez adjusted to pitching in the Major Leagues much quicker than Greinke did. While Greinke has had a number of ups and downs, Hernandez has been a little more consistent and he's had the offensive support of a better team in Seattle than what Greinke has in Kansas City.
Pick your poison, I suppose.
Hernandez has overpowering stuff even though he is wild and erratic at times, and he has never really shown massive improvement from one year to the next. Part of that is because he came into the league as such a talented player, but it's more likely because he hasn't reached his peak yet. If he can improve his K:BB ratio by cutting down on some walks, there's no telling just how far he can go. The only problem is there's nothing to suggest that is likely.
Greinke on the other hand is two years older than Hernandez and has developed as a pitcher every year since 2007. The trend is clearly encouraging, but the worry is how much more he can grow. I don't think we've seen the very best of Greinke, but we're close.
He has cut down on his walks and harnessed a strikeout pitch and he is every bit the star that he is considered to be. But it's unrealistic to think that he will reach even greater levels and then maintain them over the next decade.
If you ask me who will have the better career, I'm going to have to go with Hernandez. Greinke's statistics may look a little better once he gets out of Kansas, but King Felix is impressive wherever he throws. In terms of this season, don't worry about Greinke's 0-4 record. He's a stud who has been ridiculously unlucky, and these two will be battling for another Cy Young Award come October.
Ninth-Inning Stopper: Mariano Rivera or Any Other Closer?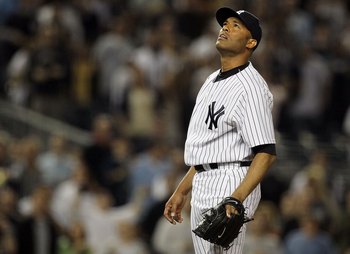 Pick your favorite closer, pick any closer, and I would still tell you that I would rather take Mo.
Trevor Hoffman isn't really in the same league as the Yankees' closer, and once you've got past him, the disparity is even greater to the rest of the field. You could make the argument in any given season that there is someone who has performed statistically better, but I guarantee that there isn't another closer in the game right now who instills the same sense of fear and urgency into the game like Rivera does. Nobody shortens the game like he can.
You could make the argument for someone like Dennis Eckersley if you're talking about other historical greats, but don't start making a mockery of the entire role by throwing out names like Papelbon.
Rivera is simply the best at what he does, armed with one of, if not the, most unhittable pitches in the game.
He's a 10-time All-Star and he has surpassed both 500 saves and 1,000 strikeouts. He's a sure hall of Famer-in waiting and he might just lead the Yankees to another World Series. I don't care who you have, Mo beats them all.
Keep Reading