The 2010 Valero Texas Open Six-Pack
I wish I was riding a wager on Tim Clark last week. He was an astonishing 100:1, and guess what?
He won the Players Championship at TPC Sawgrass last week!
What a terrific Sunday performance we had on display last week.
Lee Westwood is now a concern to me.
Can this guy ever FINISH an event? It always seems to be the major events like this that this guy comes out on fire, leads for three rounds, and then collapses come Sunday.
I guess the good news for us in the gambling circuit was my pick of good 'ol BVP last week. He was 80:1 to win it all, but even though he came up short, he still secured us a decent pay day by placing in the top five (fourth to be exact), cashing us a very respectable 20:1 ticket.
We are off to the 88-year-old Valero Texas Open this week.
This will mark the first year it will be played at the Greg Norman-designed, Sergio Garcia-influenced AT&T Oaks Course at TPC San Antonio. The 15-year run at La Canterra has come to an end.
This track will reward good ball strikers and guys who can hit it far. Good wind players will also have some success here as well.
Last week, I pretty much maintained my status quo in Yahoo Fantasy, yet slipped behind the experts a little further. I now have a total of 2,518 points on the year.
I now trail ALL of the Yahoo experts. Planer has me by 12, Arkush has me by 65, Vara's got me by 107, and the all-star super golf guru, Matt Romig, is edging me out by 312 points.
I dropped to the 62nd percentile in FOHM, and overall, I am now two points lower into the 71st percentile.
Here is my start 'em and sit 'em picks for this week in Yahoo Fantasy Golf:
GROUP A
START Ernie Els
SIT Zach Johnson
GROUP B
START JB Holmes and Kevin Stadler
SIT Bo Van Pelt and Chad Campbell
GROUP C
START Bob Estes
SIT Chris Stroud
I have two honorable mentions this week who almost made the six-pack: Justin Leonard, 25:1, and David Duval, 125:1.
Let's get it on!
No. 1: Bo Van Pelt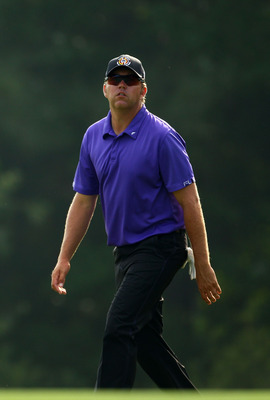 No, you are not seeing things.
BVP has gone from occasional long-shot pick to my No. 1 selection this week.
Bo Van Pelt simply cannot be overlooked again.
He comes into this weak field playing the best golf of his career. His last five tour stops have yielded him 14th-, CUT, third-, fifth-, and fourth-place finishes.
If anyone is primed for a victory, it's got to be BVP.
Linus and Lucy's long lost cousin is a great ball striker, and that gives him a great advantage on this TPC S.A. course. Bo also has finished 11th at The Texas Open before, which should give him even more confidence coming into this week.
Check out some of BVP's stats:
- Ranks 24th on tour in driving distance at just over 290 yards
- Is fifth on tour in GIRs at 70.89 percent
- Leads the tour in ball striking
I really like Bo Van Pelt to show up this week. At 22:1 odds, you can sign me up.
No. 2: Charley Hoffman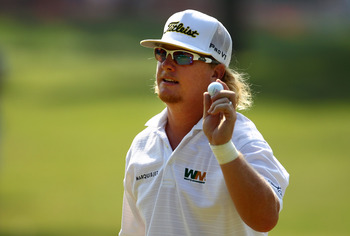 I don't like the hair much, but this cool breeze from southern California seems to like playing in Texas.
Charley typically catches a bit of a "playing well" streak when he enters the Lone Star state. Hoffman has placed eighth, 11th and ninth at The Texas Open in recent years, and I like him to show up this week.
Some people may think Hoffman is a disappointment thus far in 2010, but you must understand, he played way above his normal expectations in the first half of last year.
Coming into this event, Hoffman is on a decent upward trend, telling me that his game is pretty good right now. Combine that with a ho-hum field and he may very well be there come Sunday.
Look at these numbers from Hoffman:
- Places 21st on tour in driving distance at just over 290 yards
- Ranks 34th on tour in ball striking
- Is 13th in par-5 birdie or better scoring at exactly 50 percent
Hoffman comes in this week at 33:1 odds. I expected better value for a pick like him, but his track record here has clearly influenced the line.
No. 3: JB Holmes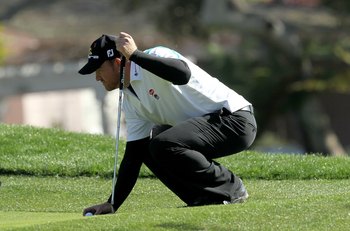 JB Holmes doesn't have much of a track record at The Texas Open, but I think this new Oaks track fits his game, especially when it comes to his massive distance off the tee.
Holmes got off to a hot start early this year. He has been picking and choosing his events as of late. His last five efforts have been a little up and down, but I think we are catching him trending upward at a very opportune time. He has placed 61st, 21st, 47th, CUT, then had a nice T13 in his last attempt.
Look at these key numbers for JB:
- Sixth on tour in driving distance at a whopping 297.5 yards
- Fifth on tour in scoring average at an even 70 strokes per round
- Fourth in putts per round at 27.86 strokes (almost three strokes better than last year)
Again, like Hoffman, I thought I would get more value with this guy, but I still am going with him at 33:1 odds.
No. 4: Chris Stroud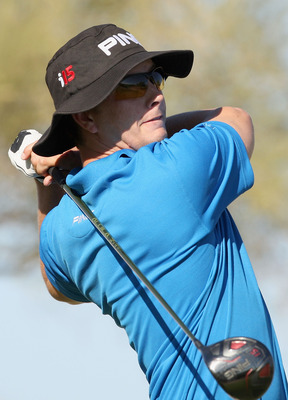 Break out your bucket hats, people, because it's time for my annual "gut-feeling pick": Chris Stroud.
Stroud is not the most common name on tour, but in three attempts in The Texas Open, this guy has placed T6 twice. I can't wait to see how he fares on the new, and much more difficult, Oaks course at TPC S.A.
Stroud is not so well known, but I like the upward swing we are seeing in his game coming into the Texas Open. In his last five events, Chris has gone CUT, CUT, 21st, 29th, and 10th. Not too shabby for a relatively unknown golfer.
It is almost pointless to spew any stats about Stroud, but here is his best one:
- Ranks 37th in par-5 performance at -57 on the year
He may not be a popular pick, but I am giving him a shot at 51:1 odds of winning.
Besides, I have been known to don the bucket hat myself a few times out on the course, so why not?
No. 5: Paul Goydos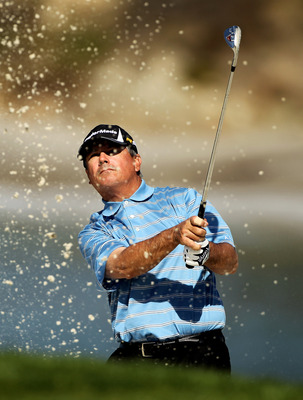 They call him "Sunshine" on tour because of his pleasant demeanor. I am pretty sure you could slam this guy's hand in a car door, and he would still gently smile and say, "That's ok. Could you please open that door back up while I remove my mangled fingers from the door?"
All kidding aside, Goydos has had his moments of greatness on the tour. At The Texas Open, he has had some nice finishes in the past six years, placing 20th, 19th, seventh, eighth, and third.
Don't forget Goydos shot a 63 in the second round of the Sony Open earlier this year, so you know he CAN go low.
So what if he shot an 81 in the fourth round of last week's Players Championship? Who's counting anyway?
His comfort level in the land of steers is quite high, although his recent play on tour has been quite mediocre at best. He has only missed one cut in his past five attempts, however, his best finish in those five efforts is a tie for 38th place.
I really wish Goydos was playing a little better coming into San Antonio, but I think he likes the heat of Texas, and will play pretty well this week.
A couple of stats to consider with "Sunshine":

- Is 18th in driving accuracy at 69.28 percent
- Ranks 23rd on tour in birdies made with 159
- Ranks 59th on tour with 29 putts per round
We finally squeeze some value out of one of our picks. Paul Goydos is 67:1 this week.
No. 6: Bob Estes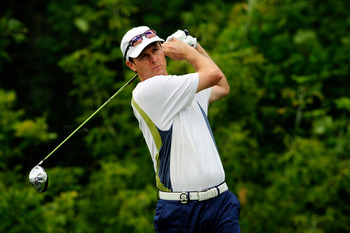 My long shot this week is fairly similar to Goydos, in that his track record in Texas is super.
It's his recent play that is more of a concern.
Four of his last five attempts have either resulted in CUTS, or worse than 44th place. That being said, his most recent effort saw earned him a respectable tie for 26th at last week's Players Championship.
At the Texas Open, Bob Estes has done rather well placing in the top 10 on five separate occasions, his best effort being a victory back in 1994. He has missed the cut only five times in nearly 20 attempts.
Estes may not find his way into the six-pack very often, but this is definitely one of his favorite events to play in, and considering the less-than-stellar field, he may just be there come Sunday.
It wasn't easy, and they aren't pretty, but a few numbers to consider for Bobby:
- Ranks 48th in putts per round at 28.85
- Is 33rd on the career money list, earning just over $18.5 million
- Ranks 58th in scrambling at 60.65 percent
My long-shot value-menu special this week is none other than Bob Estes at 80:1 odds.
Good luck this week, with all of your picks and pools!
Keep Reading