The Top Shelf: Scorers To Watch Out For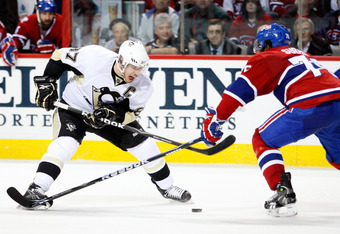 Richard Wolowicz/Getty Images
So all you geniuses that had Michael Cammalleri in your playoff pools are looking pretty good right now, as the winger now sits atop the goal leaders alone with 11 goals in 13 games.
The "Mule" Johan Franzen finally woke up this postseason with a four-goal outburst in Game four against the Sharks, then bowed out afterwards.
And Sidney Crosby finally scored his first goal of the Eastern Conference semifinals to tie him for the league lead in points.
With those scorers in mind the Pucking Awesome Top Shelf, or snipers we have our eye on this week, breaks downsome heavy action in both the Stanley Cup playoffs and upcoming Memorial Cup.
Game seven:
We have said it many times on this site that nothing is better in sports than a Game seven do-or-die.
Now the Candiens face their second consecutive game seven when they travel to the defending Stanley Cup champions' house on Wednesday. Scott Gomez has the most experience in Game sevens, playing in seven in his career with a 5-2 record; he added his second career assist in these pivotal games in a 2-1 win over Washington. Ironically the leader in goals in these games is Andrei Kostitsyn, who had two goals in 2008.
The Penguins faced two game sevens in their run towards Lord Stanley's Cup last season, winning both of them on the road (Capitals and Red Wings).
Their last home Game seven was in 1996, decisive loss to the Florida Panthers. They are led in goal-scoring by Pascal Dupuis, Ruslan Fedotenko and Bill Guerin—who all have three career goals in game sevens.
Those stats tell you that usually a unheralded player comes through in the clutch for a team in these critical games—like Maxime Talbot, who had two goals in the Stanley Cup clincher last year; or like Dominic Moore and Marc-Andre Bergeron who had the only two goals in the massive upset of the Capitals.
Keep one eye on the top players like Crosby, Malkin, Cammalleri and Gionta, but don't be surprised if a Jordan Staal, Matt Cooke, Maxim Lapierre or Benoit Pouliot ends up scoring the big goal.
Blackhawks Up:
The Blackhawks' march towards back-to-back Western Conference Finals appearances has had a different feel about itm and the biggest change has been Jonathan Toews' re-emergence as a big-time player.
Toews is tied with Crosby for the league lead with 19 playoff points and has 11 points in the series against the Canucks.
Though Patrick Kane has gotten most of the press around the league for his flashy goal scoring and smile, it has been the captain Toews leading by example and driving his team to within one win of the Western Conference Finals.
Remember: This is a kid that was named the captain at 20 years old, becoming the third-youngest ever to be named captain. He once scored three times in a shootout for the Canadian team in the 2007 World Junior Championships and was awarded Best Forward in this years' Olympics.
Toews has a knack for coming up big in the biggest situations, and will continue to as the Blackhawks march to their first Stanley Cup final in 18 years.
Memorial Cup:
The 2010 MasterCard Memorial Cup begins in Brandon, Manitoba on May 14.
The teams this season are the host Brandon Wheat Kings of the WHL, the WHL Champion Calgary Hitmen, the QMJHL's Moncton Wildcats, and the OHL Champion Windsor Spitfires.
The tournament will obviously put more pressure on predicted top draft pick Taylor Hall, playing for Windsor, but will feature other top Junior scorers.
For the host Brandon, they will be led by Kings first-round pick, fifth overall Brayden Schenn, who followed a 99-point regular season with 19 playoff points in 15 games.
The Hitmen have two prolific scorers who were both fifth-round picks—Brandon Kozun was picked by the Kings 179th overall in 2009 and had back-to-back 100-point regular seasons. Joel Broda, picked 144th overall in 2008 by the Capitals, had 39 goals this regular season and added 13 more in the Hitmen's run towards the Ed Chynoweth Cup.
Moncton has been led in scoring by two mid-season pickups; Nashville's fifth-round pick in 2009 Gabriel Bourque (not related to Ray) who led the QMJHL with 19 goals in the postseason, and Kelsey Tessier, a fourth-round pick of the Avalanche in 2008. Tessier had 30 points in 21 games.
That brings us last, but certainly not least, to Taylor Hall of the Windsor Spitfires.
All the top prospect has done this postseason is lead the league in points (35 points in 19 games), dispatch Tyler Seguin—the other top prospect—in a head-to-head match-up and win the Robertson Cup as OHL Champions for the second straight season.
Another top scorer to keep your eye on is the Devil's third-round pick of 2008, Adam Henrique, who led the team with 20 goals and won the Wayne Gretzky 99 Award as the Most Valuable Player of the playoffs.
Read more at www.puckingawesome.com
This article is
What is the duplicate article?
Why is this article offensive?
Where is this article plagiarized from?
Why is this article poorly edited?

Pittsburgh Penguins: Like this team?