MLB's 10 Most Indispensable Players in 2010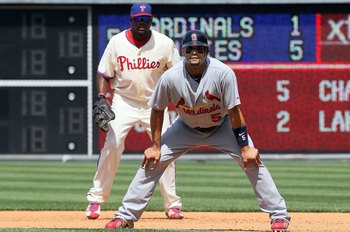 A review of each season's Most Valuable Player voting typically reveals the best players in the game at that particular time. Although each player's team's regular season success is a factor, the vote tally usually has a strong correlation to statistical leader boards.
Those players have almost always earned this recognition through quantifiable performance from RBI, HRs and batting average to wins and saves. Individual team MVP selections often mirror the same approach.
However, determining which players are most indispensable can often entail a much more complex equation. In fact, it usually involves a subjective consideration of many different variables such as the team's makeup, style, flexibility, and depth—along with the player's individual performance, position, and role.
Simply put, it's a matter of assessing which players have the greatest impact on and would be missed the most by their team?
All the players that follow surely have impressive measurable results, but their value to their team includes much more. Here are Major League Baseball's 10 most indispensable players:
No. 10 Jayson Werth, Philadelphia Phillies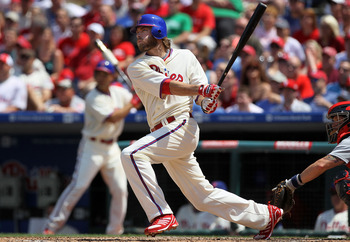 Over the past four seasons Jayson Werth went from being released by the Los Angeles Dodgers to developing into one of baseball's best all-around players. Along the way, he has become an indispensable piece on a team loaded with stars.
Werth's value to the Philadelphia Phillies relates to the many ways he helps them win games and the much needed balance that he provides. His presence as the sole right-handed slugger in the middle of the team's left-handed power trio of Chase Utley, Ryan Howard, and Raul Ibanez provides critical equilibrium.
The athletic right fielder's emergence as a bona fide threat also forces opposing pitchers to challenge Howard rather than feed him a constant diet of breaking balls off the plate. Of course, a simple scan of the 2010 stat sheets clearly reinforces Werth's value.
After 31 games, he is third in the National League with a .349 average, tied for seventh with seven HRs, and sixth with 26 RBI. Werth also is second with a .688 SLG and a 1.105 OPS.
The 30-year-old player's value goes way beyond the batter's box.
Werth has established himself as an outstanding fielder worthy of Gold Glove consideration with his great range and powerful throwing arm. He takes away hits, limits base runners from moving up and racks up assists on those that dare to challenge him. He can capably fill in for center fielder Shane Victorino, but the team has no one near his ability to cover him in right.
Werth's own smart, aggressive base running manufactures runs and puts pressure on opposing teams. Additionally, the past two seasons he has stolen 20 bases and rarely ever gets caught.
No. 9 David Wright, New York Mets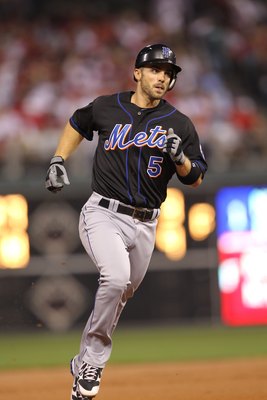 Last season was a train wreck for the New York Mets. After collapsing down the stretch the previous two seasons, the Mets totally pancaked under the weight of bodies thrown on the disabled list.
The team has returned to contender status in 2010, led by third baseman David Wright.
Struggling to adjust to the expansive dimensions of new Citi Field and suffering a serious beaning late in the season, Wright's drop off in production coincided with the team's diminished success. His .307 batting average mirrored his career number, but the drop in HRs and RBI was dramatic.
This season, Wright is on a pace that matches up to the 30 HR and 110 RBI campaigns to which he was accustomed. Although his supporting cast is improved over the injury-depleted cast of a year ago, the Mets large leap in winning percentage and Wright's resurgence are not coincidental.
The two-time Gold Glove winner is also the type of team leader that is capable of keeping his teammates grounded. The classy, articulate third baseman serves as a role model on and off the field.
No. 8 Ryan Zimmerman, Washington Nationals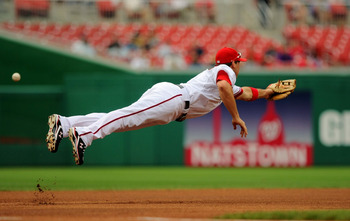 The Washington Nationals appear to be a team on the rise. The club's surprising 17-14 start has gathered attention around the baseball world—and the team just may hang around in the forefront all season with the emergence of its young talent.
Third baseman Ryan Zimmerman is central to the team's fortunes. The 2009 Gold Glove winner anchors the hot corner and the middle of the Nats lineup.
Despite being limited with a strained hamstring, Zimmerman has banged out five HRs, driven in 15 runs and hit .325 in just 23 games. This comes on the heels of a 33 HR, 106 RBI, .292 season a year ago.
Importantly, Zimmerman's maturity and lead-by-example style provides a tremendous role model for the young players around him. He competes hard, exhibits class in all he does, and exudes a humble demeanor despite an ever-expanding resume.
No. 7 Evan Longoria, Tampa Bay Rays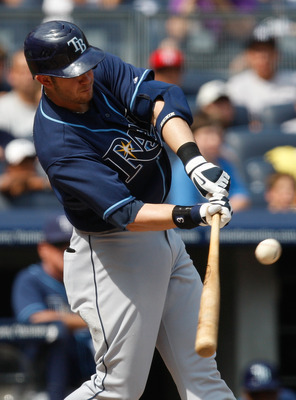 Another third baseman plays a similar role in Tampa Bay. Evan Longoria burst onto the scene after one minor league season to play a starring role in the Rays leap from last place to a World Series appearance in 2008.
Longoria earned A.L. Rookie of the Year honors with his stellar play that season, then took his place amongst baseball's brightest stars in his first full year. In 2009, he smacked 33 HRs, scored 100 runs, drove in 113 RBI, hit .281, and won a Gold Glove for his work in the field.
His upward ascension has continued in 2010 as the Rays have jumped out to a baseball best 22-9 record. The 24-year-old third baseman leads the team in almost every offensive category, including a .325 batting average, 7 HRs, 23 RBI, and a .396 OBP.
It is not a coincidence that Longoria's Major League tenure has aligned with the Rays' sudden emergence as one of baseball's top teams. His personality and superior talent provide the rock solid foundation for the rest of the organization.
No. 6 Tim Lincecum, San Francisco Giants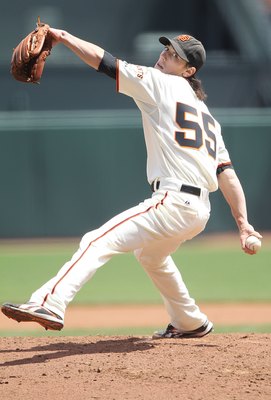 Tim Lincecum has led the resurgence of the San Francisco Giants from bottom feeder to contender over the past few seasons. "The Freak"—as he is affectionately known by his teammates and throughout baseball—tends to define the team's personality and makeup.
The Giants are built around pitchers with dominating stuff—and look for their offense to scratch out enough runs to win. Of course, the two-time defending Cy Young Award winner Lincecum places one of the games most dominant starters at the top of the rotation.
The 26-year-old right-hander with the glare and rock star hair has amassed a 44-17 record in his short tenure thanks to a blazing fastball, sharp slider, and tantalizing changeup. His career 2.82 ERA and 10.3 strikeouts per nine innings further validate his brilliance.
When teams visit AT&T Park or host the Giants, they know that runs will be at a premium. And hitters know they will be seeing some nasty stuff thrown by hurlers with a little bit of a attitude.
Who better to serve as the poster boy than "The Freak?"
No. 5 Hanley Ramirez, Florida Marlins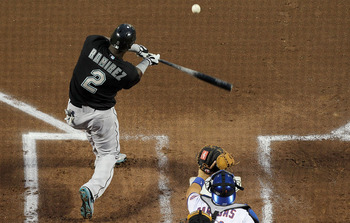 The 26-year-old Hanley Ramirez has already established himself as one of the best offensive players in baseball. What makes him especially valuable and the fifth most indispensable player is that he plays a position that has long been valued as a defense-first position.
The Florida Marlins shortstop is a true five-tool player with the stats to match. With his improvement in the field over the past couple years, Ramirez has no weakness.
The 6'3", 230 pound player has accumulated a .316 lifetime average, including an NL leading .342 in 2009. In his first four full seasons, Ramirez has averaged 118 runs, 26 home runs and 41 stolen bases.
Losing Ramirez would rob the club of its best player in four categories—batting, power hitting, base running, and fielding. The notoriously frugal Marlins recognized his tremendous value to the team by signing him to a six-year, $70 million contract extension in 2008.
No. 4 Albert Pujols, St. Louis Cardinals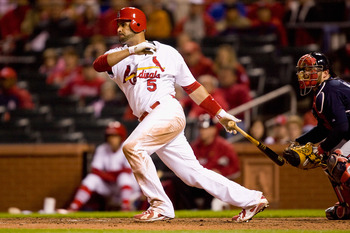 The other worldly numbers pretty much speak for themselves. The only surprise in seeing Albert Pujols on the list might be that there are three players ahead of him.
Pujols is universally recognized as the game's best player, with an ever-expanding resume that is borderline ridiculous—NL Rookie of the Year, eight All-Star squads and three MVPs.
In his 10th season, Pujols' numbers continue to pile up—.333 lifetime batting average, 373 HRs, 1,137 RBI, 1,089 runs, .427 OBP, .626 SLG, and 1.053 OPS.
Doing the math, Pujols averaged 41 HRs, 119 runs, and 124 RBI per year over his first full nine seasons.
The only thing that separates him from sitting atop the list is the position he plays. First base is home to many sluggers around the league, which means that the production drop off of a replacement would likely be less than others ahead of him.
No. 3 Joe Mauer, Minnesota Twins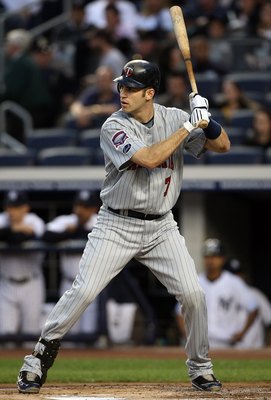 The Minnesota Twins weathered the storm pretty well when Joe Mauer's bruised heel landed him on the bench for eight days. The team currently sits atop the AL Central with a 21-11 record.
Appearances can be deceiving. Any sustained loss of the Twins' $184 million man would be devastating to the team.
Like Hanley Ramirez, Mauer plays a premium position where team's value defense over offense. To the Twins great pleasure and advantage, Mauer is the total package.
Last year's AL MVP led the league in hitting with a .365 average—as a catcher. And it was his third batting title in his first five full seasons. Are you kidding me?
Mauer rounded out his game in 2009 by amping up his power totals, finishing the year with 28 HRs and 96 RBI in just 523 ABs. His .444 OBP, .587 SLG, and 1.031 OPS also topped the junior circuit.
Throw in back-to-back Gold Gloves and you have a truly indispensable player. At 27 years of age and locked up through 2018, the Twins organization believes Mauer will keep them in the hunt for many years to come.
No. 2 Roy Halladay, Philadelphia Phillies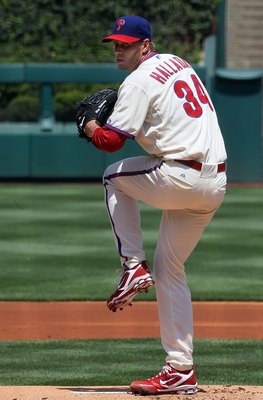 The Phillies made a return trip to the World Series last season. If GM Ruben Amaro had not landed pitcher Cliff Lee at the trade deadline though, they may not have even advanced past the first round of the playoffs or made the postseason tournament.
Lee gave them the much needed bona fide No. 1 starter that was otherwise missing when Cole Hamels lost his command, stuff, and/or mojo during the post-championship P.R. tour.
Fast forward to December, 2009. A couple offseason winter deals later—exit Lee, enter Roy Halladay. The latter now holds down the "top of the rotation stud" role in Philly.
Halladay is arguably the best starting pitcher in baseball. And, make no mistake about it—he is critically important to the Phillies lofty aspirations in 2010.
With Hamels continuing to look a lot like last year's edition, rookie phenom J.A. Happ and Joe Blanton logging lots of time on the D.L., and a 47-year-old pitcher completing the rotation—handing the ball to a classic stopper like Halladay every fifth day has kept them in first place.
The lanky right-hander has started with a flourish, going 6-1 with a 1.45 ERA. No real surprise for a perennial top-five Cy Young finisher with a 154-77 career record and 2.78 ERA over the past two years.
With him, the Phillies are a legitimate championship contender. Without him, not so much.
No. 1 Mariano Rivera, New York Yankees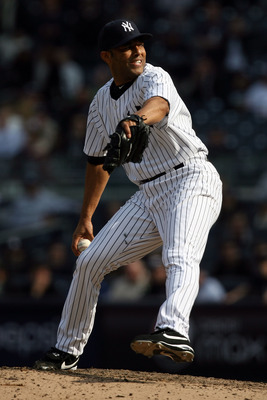 For all the big names and big salaries scattered across the New York Yankees roster, Mariano Rivera is the one player that makes it all work.
Rivera is a true game changer who imposes a subtle sense of urgency in the opposite dugout. He essentially gives opponents one fewer inning to outscore the Bronx Bombers in the regular season—and often times two fewer innings in the postseason.
The 40-year-old right-hander has amassed 533 saves since stepping into the closer role in 1997. The man with the devastating cutter and pinpoint control has compiled a microscopic 2.24 ERA over his long career.
And, even as his age advances, Rivera continues to be "money in the bank." Since 2008, he has converted 90 out of 93 save opportunities.
So, when Joe Girardi makes the call to the 'pen to summon Rivera, confidence soars throughout his teammates and Yankees Nation that it is "game over." Without him, the entire game sets up differently.
The Honorable Mention Pack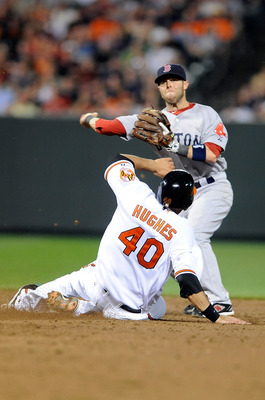 11. Dustin Pedroia, Red Sox
12. Zack Greinke, Royals
13. Derek Jeter, Yankees
14. Chase Utley, Phillies
15. Jonathan Broxton, Dodgers
16. Prince Fielder, Brewers
17. Adrian Gonzalez, Padres
18. Pablo Sandoval, Giants
19. Ryan Howard, Phillies
20. Brian McCann, Braves
21. Kevin Youkilis, Red Sox
22. Ryan Braun, Brewers
23. Johan Santana, Mets
24. Miguel Cabrera, Tigers
25. Troy Tulowitzki, Rockies
26. Michael Young, Rangers
27. Andre Ethier, Dodgers
28. Ichiro Suzuki, Mariners
29. Aaron Hill, Blue Jays
30. Jason Heyward, Braves
Keep Reading