Maxim Hot 100: The Hottest Sports Connections On The List
On Monday, Maxim unleashed their Hot 100 on us, a list of the 100 sexiest women of the year.
This is a perfect example of how sports are sexier than you might think. A whopping 20 individuals on the list are connected to the sports world. 20 percent of the hottest women in the world!
Some are athletes, cheerleaders, wives, and girlfriends, but each of them make sports just a little bit hotter.
No. 100: Lauren Storm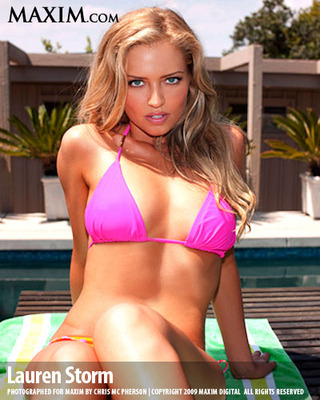 We start at the very top of the list. Ms. Lauren Storm may not be a real cheerleader, but she plays one on the big screen, which is good enough for us.
Come on, you wouldn't look for an excuse to feature this hottie?
No. 98: Chanel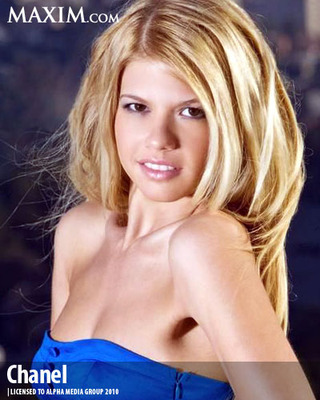 Chanel goes by one name, kind of like Cher or Madonna, but she's much more attractive.
She made Maxim for a quick shot of her in a thong that turned her into an internet sensation. She made our list because she was discovered as the sexy receptionist of skateboarder Rob Dyrdek.
No. 89: Kelly Brook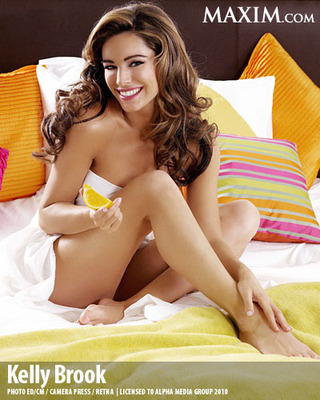 Sexy English model Kelly Brook may not be a household name in the States just yet, but give it time.
She's dating rugby union footballer Danny Cipriani right now, but I'd be okay if she moved on to an athlete that I may have heard of before.
No. 86: Jessie James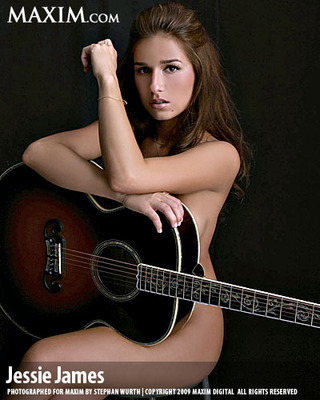 Doing her best Robin Wright impression from Forest Gump here is Jessie James.
I haven't heard any of her music, nor do I plan to, but the sultry singer is now apparently dating Reggie Bush who seems intent on taking down all of the Maxim 100 so he can be successful in at least one thing after college.
No. 82: Stacy Keibler
Stacy Keibler is a woman near and dear to my heart. She got her start as one of the Ravens cheerleaders, then got big as a WWE Diva. And in my world, two loosely tired connections to sports equals one strong one.
Now she may be known more for her fine behind, but we still know and love her for the sports gal that she is.
No. 61: Naya Rivera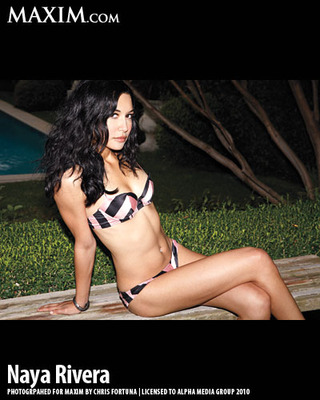 We all love sports, so we may not be hip to the show Glee. Apparently, Naya is a cheerleader on that show.
If she wore this bikini on it, I may actually sit through that crap. For goodness sakes, just look at her.
No. 59: Lindsey Vonn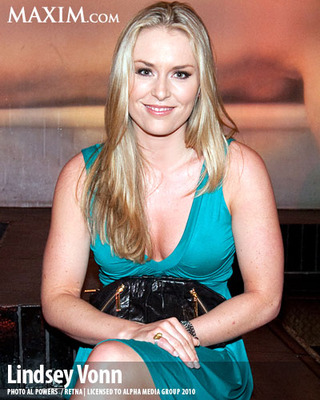 Yay! An actual athlete!
Lindsey Vonn is an alpine skiier who became the face of the Olympics, especially when she played through pain to take home a gold medal.
Her ankle may have been the story of the Olympics, but I admit that I might have been more focused on other parts of her.
No. 58: Erin Andrews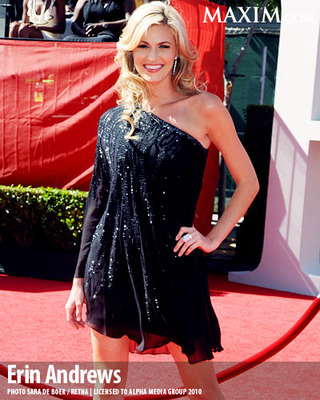 What a year it has been for Erin Andrews since she graced the Maxim Hot 100 last year. There was the whole peeping incident and now she has (literally) bounced back and is rocking it on Dancing With The Stars.
I don't care what Elisabeth Hassellbeck says, I don't think her outfits are skimpy enough!
No. 57: Gabrielle Union
Dwyane Wade may be a fan of his girlfriend, Gabrielle Union, but his ex-wife sure isn't. She's filed a lawsuit against her for lude acts of foreplay in front of the children.
I can't totally speak for the kids, but it kind of sounds like Best Step-Mom Ever to me.
No. 37: Joanna Krupa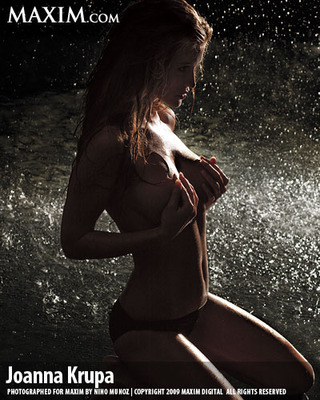 After we go a whole 20 spots without a sport connection on there, we finally get to one of my favorites, Ms. Joanna Krupa.
Not only did Krupa give T.O. the smackdown in this summers The Superstars, but she also dabbles in poker. She can call my bluff any day.
No. 36: Rachelle Leah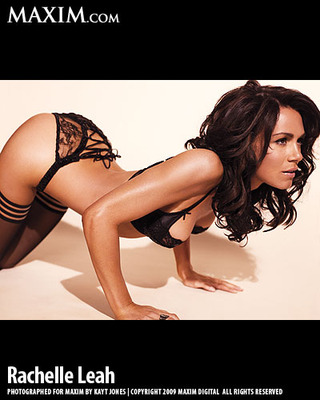 Rachelle Leah is a former/current Octagon girl for UFC. She took a little break for a while, but then came back to guest ring-girl it.
When she's not doing very important things like walking around letting people know what round it is, she also hosts a UFC TV show.
No. 31: Taylor Swift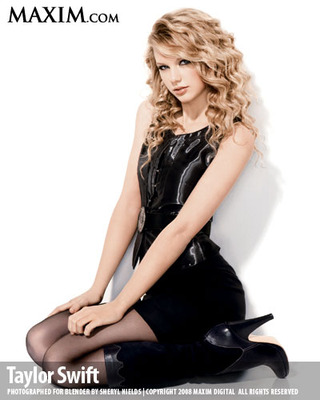 While it hasn't been totally (/at all) confirmed, there have been rumors lately that Taylor Swift started dating Gonzaga star Matt Bouldin.
He seems like the kind of floppy haired dude she would go for, but I'm still waiting for pictures of the two of them together to prove this fantastic rumor to me.
No. 30: Hayden Panettiere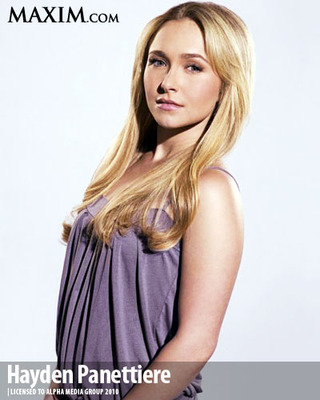 Hayden Panettiere is just hell bent on being around sports. We first got a look at her in Remember The TItans (which just makes us feel creepy), then she took on roles as a cheerleader in Bring It On 3, I Love You Beth Cooper, and then Heroes.
But to bring it home in the weirdest way possible, she is now dating Wladimire Klitchko which may actually eclipse Adriana Lima-Marco Jaric in weirdness.
No. 27: Hilary Duff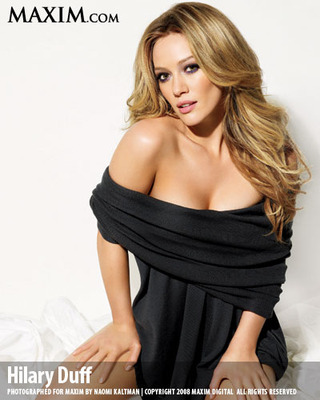 The former Disney star is all growns up and is now currently engaged to hockey player Mike Comrie.
In case you had any doubts about her being grown up, just check out the pictures of her reaction to him asking her...
No. 26: Eliza Dushku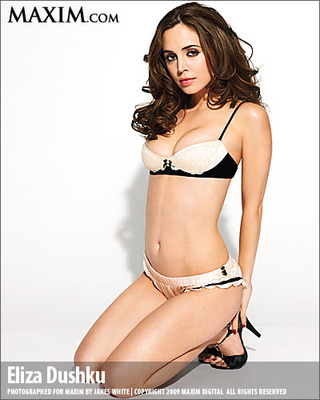 Eliza Dushku sure has strange taste in men.
First she dated pudgy fireballer Brad Penny and now she's currently dating jheri curled former NBA-er Rick Fox.
Who's next Eliza? Shaq?
No. 25: Danica Patrick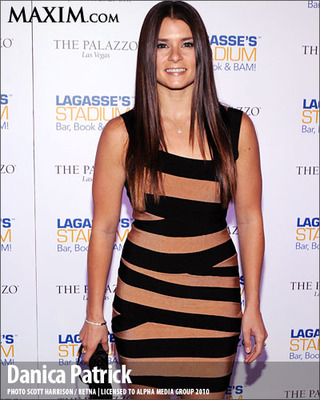 Let the debate begin! Does Danica Patrick, who many people don't even believe she's remotely attractive, belong at No. 25 ahead of all those other women?
You may not agree, but you can't deny that this is becoming the year of Danica in NASCAR, no matter how crappy she's doing. Sex sells baby.
No. 23: Arianny Celeste
While Rachelle Leah is nice and all, Arianny Celeste is the queen of the Octagon Girls for the past, present, and future.
She's incredible and she'll even go to prom with you if you beg enough on YouTube.
No. 9: Kim Kardashian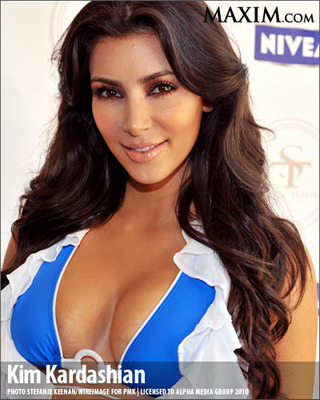 Kim Kardashian, the woman who really isn't famous for anything and has no discernable skills other than being hot and having a spectacular tush breaks into the top 10.
While she is no longer with Reggie Bush, Kim K. seems to have possibly set her sights on Cristiano Ronaldo who himself has set his sights on many, many, many other women.
No. 6: Rihanna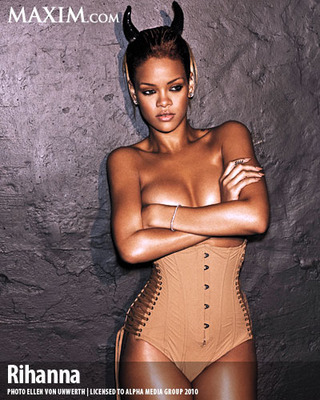 Rihanna is proof that there are some pretty nice perks to playing sports in L.A.
After briefly being linked to Andrew Bynum, Rihanna has been seen running around with Dodger Matt Kemp, who allegedly is moving in with the pop star.
This is when the guys playing for the Brewers throw their beers against the wall.
No. 2: Brooklyn Decker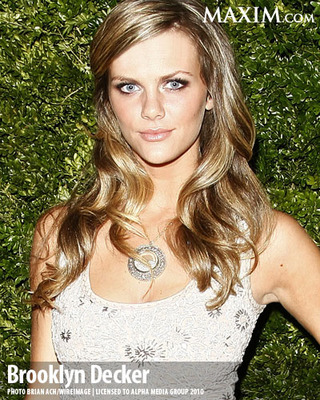 Although she's No. 2 on the list, Brooklyn Decker is No. 1 in our hearts as well as on this particular list.
Katy Perry may have kissed a girl, but Brooklyn Decker went ahead and married Andy Roddick. Far from being a disinterested WAG, she steadfastly goes to his matches, looking incredible each time.
She also landed the Sports Illustrated cover this year, so I'd say it's been a pretty good one for Brooklyn. And maybe even a better one for Andy Roddick...
Keep Reading