10 Reasons Atlanta Hawks' Joe Johnson Is Not a Superstar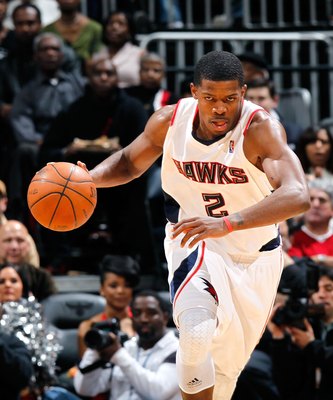 As the NBA playoffs march on, we draw closer and closer to the ultimate prize: the NBA Finals. By now, we clearly know which teams are contenders and which teams are pretenders.
The playoffs have shown many squads' true colors and overall depth. With the Atlanta Hawks down 0-3 in their series against the Magic, a lot of questions are raised about the third seed in the Eastern Conference.
However, the most pressing question lies with Atlanta's star guard Joe Johnson, and his ability to lead the Hawks.
With his team on the verge of getting swept, it's time to examine 10 reasons why Joe Johnson is not a superstar.
Joe Johnson Cannot Lead a Team On His Own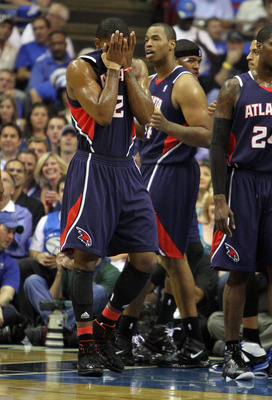 Joe Johnson is a very good player, and has emerged as one of the league's top scorers. However, he cannot lead a team by himself.
Johnson needs help from his supporting cast for the Hawks to succeed. While he is a leader, Johnson can't carry the team on his back night in and night out. Mike Bibby and Josh Smith, among others, are often called on to guide the team when Johnson struggles to do so.
Johnson couldn't carry a bottom feeder, like the Knicks or Nets, to the playoffs.
LeBron James or Kobe Bryant could at least lead the team to a top eight seed.
Joe Johnson Doesn't Have Superstar Numbers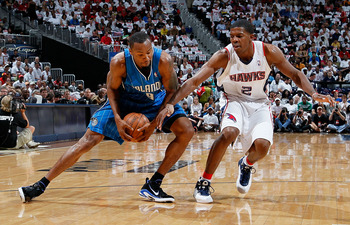 Johnson is a very talented scorer, with excellent shooting touch and solid driving skills.
However, he doesn't have superstar numbers.
Johnson averaged 21.3 points, five assists, 4.6 rebounds and 1.1 steals per game this season.
His numbers, while good, are not "superstar-esqe." Johnson didn't crack the top 10 in any major statistical category and his scoring numbers fell well behind superstars such as James, Bryant, Wade and Kevin Durant.
His statistics are above average, but they certainly don't fall in the superstar category.
Joe Johnson's Playoff Performance Lacks Superstar Status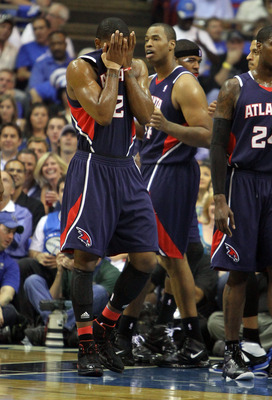 The playoffs are a time when true superstars shine. They will their teams to victory with pure talent and a superior mentality.
Even if their opponent is a better team, they find a way to get their team the playoff W.
Johnson is averaging a rather pedestrian 18.3 points per game in this year's postseason. Even those numbers are inflated, thanks to Atlanta's seven games series with the Bucks.
Against the Magic, Johnson is averaging a mere 12.3 points per game. A superstar never drops below 20 points per game, especially in a crucial second round series.
LeBron is averaging 30.8 PPG in the playoffs, Wade posted 33.2 PPG in his first round series defeat and Kobe is averaging 26.3 PPG. The statistical disparity between Johnson and the real superstars is quite apparent.
Johnson simply isn't getting it done when it counts most.
The Hawks Are About to Get Swept
The Hawks are on the verge of getting swept in their best-of-seven series with the Magic. While some point to Atlanta's inferior roster, the fact is Joe Johnson can't effectively be the presence the Hawks need to prevent a sweep.
Take Dwyane Wade, for example. His Miami Heat were over-matched and lacked the depth to beat the Celtics. Boston is the better team, but Wade still managed to rise from an 0-3 defect and deliver his team at least one victory. And he did it in emphatic fashion, pouring in 46 points (30 in the second half.
Wade showed true superstar nature, which Johnson lacks.
Johnson can't dominate and take his team out of the dumps. He can't go off for 30 points in a half to save his team's season.
If Joe Johnson were a superstar, Atlanta, with the roster they have, would not be in an 0-3 hole.
They certainly would have no problem winning at least one game.
A Joe Johnson Led Team Has Never Made it Past the Second Round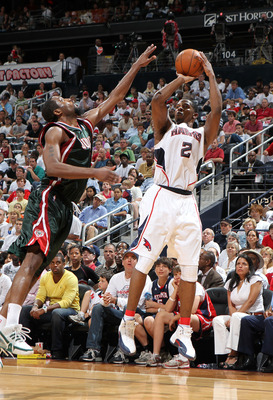 While you could make a case that several superstar caliber players haven't made it past the second round, like Chris Paul and Tracy McGrady, "superstars" are still expected to make deep postseason runs.
Johnson has been a captain in four of his five season with the Hawks. During that time, Atlanta has reached the postseason on three occassions.
And they've failed to make it to the Conference Finals every time.
Johnson has a very good supporting cast, with the depth to make into the East Finals. However, Orlando is completely dominating the Hawks, wasting away all that Atlanta accomplished this season.
If Johnson was a true superstar, he would force his team to make a stronger stand.
The Hawks Close Series With the Bucks In The First Round
The Atlanta Hawks were supposed to have an easy first round match-up against the under-matched, injury-riddled Milwaukee Bucks.
However, the Bucks had a 3-2 series lead and nearly pulled off the upset. While the Hawks were able to reel off two straight victories to climb back, the fact that Milwaukee was able to push the series to seven games without Andrew Bogut says a lot.
Johnson averaged 22.3 points per game in Atlanta's three losses to the Bucks, showing that even when Johnson scores, his team still can't win. He is not fit to carry a team on his back.
The fact that Milwaukee managed three wins without Bogut is the real eye opener. If Johnson was a true superstar, he would have made sure the Hawks weren't on the brink of elimination against a mediocre team.
Joe Johnson Doesn't Outshine His Role Players Enough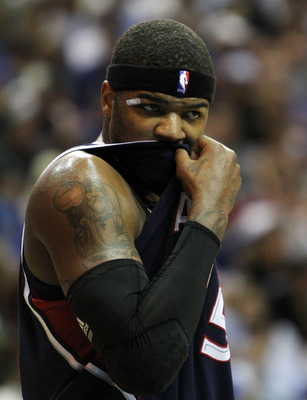 This might sound peculiar at first, but think about it. When you think of the LA Lakers, who immediately comes to your mind? Kobe Bryant.
When you mention the Cavaliers, who do you associate that team with? LeBron James. If you are discussing the Heat, Dwyane Wade automatically pops into your head.
With the Atlanta Hawks, Joe Johnson isn't always the automatic assumption. Sometimes, people will mention Josh Smith or Mike Bibby when they discuss the Hawks.
While it's clear that Johnson is Atlanta's best player, and their "go to guy," he doesn't garner the same type of fear in the fourth quarter that a superstars like Bryant or Wade do.
The Hawks have an excellent starting five with Johnson, Smith, Bibby, Horford and Williams. Its easy to overlook Johnson with the abundance of talent that Atlanta possesses.
The guy simply doesn't outshine his role players enough to be called a superstar.
Joe Johnson Cannot Command a Superstar Contract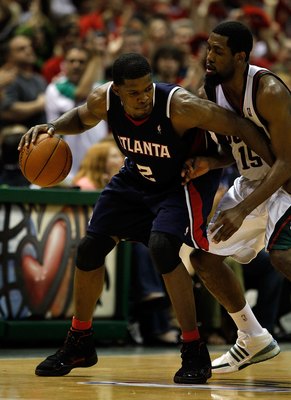 The 2010 free agency period is expected to be one of the most influential offseasons in NBA history.
Many major players have the potential to switch area codes.
Joe Johnson, a free agent this summer, will be one of the most sought after players.
However, Johnson is not the first person on many team's wish lists. LeBron James, Dwyane Wade, Chris Bosh and Amar'e Stoudemire are all in front of Johnson when it comes to dishing out maximum level contracts.
Johnson appears to be a backup plan for teams that fail to acquire the top tier free agents.
Johnson is a star player, and a great second scoring option. He would complement a superstar nicely.
But Johnson simply cannot be depended on to win championships as a team's No. 1 player. Teams will see that in this year's playoffs, and will hesitate to give him a maximum deal.
The only way Johnson might ink a maximum contract is if a team like the Knicks miss out on their first options and get desperate.
Just look at what the Magic did with Rashard Lewis. They gave him superstar money because they needed another all-star to complement Dwight Howard. The difference is the Magic already had a superstar in Howard. The Knicks and Nets (teams that can afford Johnson) do not.
Johnson hasn't accomplished enough to command a maximum contract.
Joe Johnson is All-NBA Third Team-Not First Team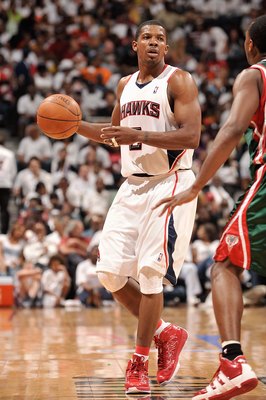 While this point might sound trivial, the ranking proves how Johnson compares with the league's elite. Johnson made the All NBA Third team behind Wade, LeBron, Kobe, Howard, Carmelo, and Durant- all NBA superstars.
While shooting guard is a tough position to be when you have Wade and Brandon Roy in front of you, it just shows how much Johnson is a star and not a superstar.
Joe Johnson Is Not a Superstar Because He Is Not a Superstar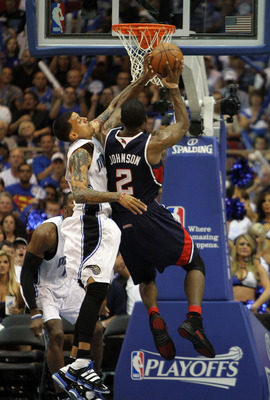 Joe Johnson isn't a superstar because, well um, Joe Johnson isn't a superstar.
He simply lacks superstar status and the aura that surrounds that type of player. He doesn't lift a team like nor does he command the respect of a superstar.
Johnson is a more than capable second option, and would benefit any contending team as a second banana. He ranks among stars such as Dirk Nowitzki (another star that can't lead his team to the promise land), Rashard Lewis, Mo Williams and Pau Gasol.
These players are all viable second options that pick up the slack when the No. 1 guy is having an off night.
But these guys cannot do it on on their own. Johnson just can't be mentioned in the same breath as James, Wade and Bryant. When it boils down to it, Johnson is not a superstar.
Keep Reading

Atlanta Hawks: Like this team?