Chelsea in the FA Cup Final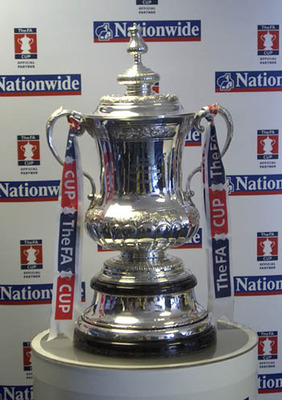 With the Premier League won and locked away in the Stamford Bridge trophy cabinet, Chelsea fans can now turn their attention to the second part of the domestic double: the FA Cup.
Only 6 teams have achieved the League and FA Cup double in the same season: Preston North End, Aston Villa, Tottenham Hotspur, Arsenal, Liverpool, and Manchester United. Chelsea will be looking to add their name to the list.
Current holders Chelsea will also be looking to become the first side since Tottenham Hotspurs in 1982 to retain the FA Cup.
Portsmouth won't be easy pickings however, as Tottenham found out to their cost in the semifinals.
Despite recent successes, Chelsea's history in the FA Cup final hasn't always been smooth sailing. This is a complete list of every FA Cup final Chelsea have featured in.
1915: Chelsea 0 Sheffield United 3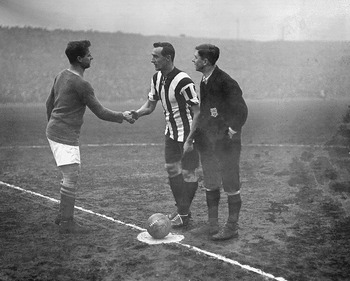 In 1915, 10 years after their formation, Chelsea reached their first FA Cup final against Sheffield United at Old Trafford.
In the event, Chelsea lost 3-0 but football was very much secondary on this day, in what is commonly referred to as the "Khaki Cup Final." Many in the crowd were servicemen, in some cases amputees, who had returned from the front line in the Great War. Never has an FA cup final been played in such somber atmosphere.
1967: Chelsea 1 Tottenham Hotspur 2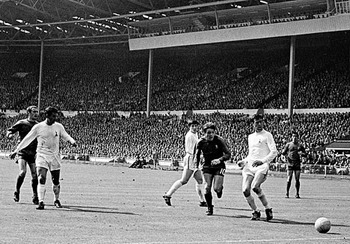 Chelsea had to wait another 52 years before they were next in an FA cup final.
Chelsea faced Tottenham Hotspurs in the first all-London FA cup final, sometimes called the "Cockney Cup final" though both sets of fans will remain adamant they are not cockneys.
There was no joy for Chelsea on this day however as Chelsea were well beaten by a Tottenham side that featured former Chelsea greats Jimmy Greaves and Terry Venables.
1970: Chelsea 2 Leeds United 2; Leeds United 1 Chelsea 2 (replay)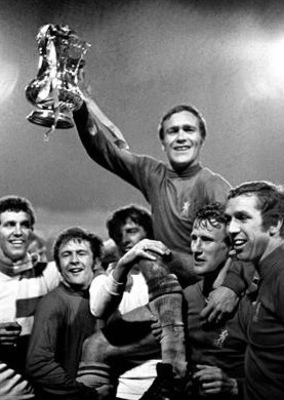 After 65 years, Chelsea were finally able to win the FA cup following an epic encounter with Leeds United.
Leeds were the dominant side of the era. They are remembered as being a very physical side but they were also a very skillful side.
The final was played on a horrible Wembley pitch that had been cut up during the Horse of the Year show that had taken place just a few days beforehand.
Chelsea and Leeds played out a 2-2 draw to bring the FA cup final to a replay for the first time in its history.
The replay was played at Old Trafford in front of a record 28 million TV audience (this only counts people in the UK). In an ill-tempered match, Mick Jones gave Leeds the lead in the 35th minute. Chelsea equalized with a superb diving header from Peter Osgood in the 78th minute that kept up his record of having scored in every round.
Then in the 105th minute of extra time, David Webb headed in an Ian Hutchinson long throw to win the game for Chelsea and with it their first ever FA cup trophy.
1994: Chelsea 0 Manchester United 4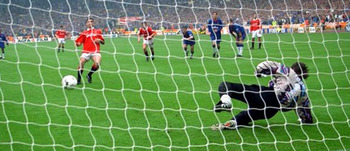 Following their success in 1970, Chelsea would have to wait 24 years before next reaching the FA cup final.
Their return to Wembley however was not a happy one. Despite a bright start that saw Gavin Peacock hit the bar, Chelsea were undone by two penalties in quick succession early in the second half both converted by Eric Cantona. Mark Hughes and Brian McClair added further goals to compound Chelsea's misery as Manchester United won their first league and cup double.
1997: Chelsea 2 Middlesbrough 0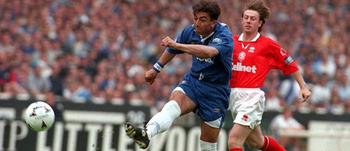 Three years on from their defeat by Manchester United, Chelsea were back at Wembley again.
This time they faced a Middlesbrough side that had been relegated and had already lost the league cup final to Leicester City that same season.
It took Roberto Di Matteo just 42 seconds to create some history with what was then the fastest goal in FA cup final history. Fan favorite Eddie Newton added a second Chelsea goal in the 80th minute to secure Chelsea's first major trophy win in 26 years.
Chelsea manager Ruud Gullitt also made history become the first non-British manager to win the FA cup.
2000: Aston Villa 0 Chelsea 1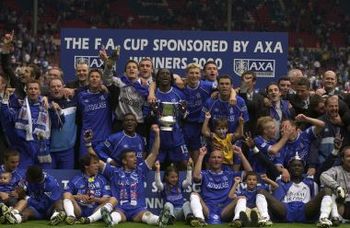 This was the last FA cup final to be played at the old Wembley stadium in front of the famous twin towers.
Sadly, the game itself was a sorry spectacle with few chances. The game was eventually settled by a Roberto Di Matteo goal in the 73rd minute following a blunder from Villa keeper David James.
2002: Arsenal 2 Chelsea 0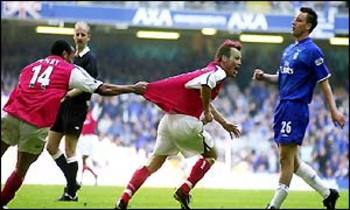 This was Chelsea's first trip to the Millennium Stadium in Cardiff and Claudio Ranieri's first and only final as Chelsea manager.
What had been a close encounter was eventually settled by two stunning strikes first from Ray Parlour and then Freddie Ljungberg to give Arsenal a well earned victory and the first part of a league and cup double they were to complete four days later.
2007: Chelsea 1 Manchester United 0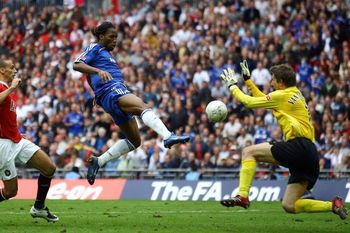 On the paper, this had the makings of a great final. The first final at the new Wembley between the newly crowned Premier League champions and the former champions.
Sadly, it didn't live up to the hype. A dour game was eventually settled by a Didier Drogba strike in extra-time to win Chelsea their fourth FA cup.
The game did however, give Chelsea the honor of being the last cup winners at the old Wembley and the first winners at the new one. This was also to be the last trophy Jose Mourinho won as Chelsea manager
2009: Everton 1 Chelsea 2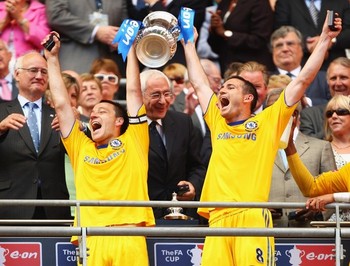 Chelsea claimed their fifth FA cup and second in three seasons, but not without a fight from a resilient Everton team.
Everton took a shock early lead when Louis Saha took 17 seconds off Roberto Di Matteo's record by scoring in 25 seconds. Chelsea were able to regroup however and Didier Drogba equalised in the 21st minute.
In the 73rd minute, Frank Lampard hit a superb strike to give Chelsea the lead. The lead might have been more had the referee spotted a Florent Malouda effort that appeared to cross the line.
This was to prove a fine send off for temporary Chelsea manager Guus Hiddink who had become well loved in a short space of time for the club.
2010: Chelsea ? Portsmouth ?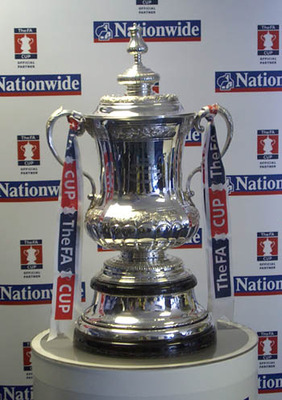 Keep Reading

Chelsea: Like this team?