World Cup 2010—Top 20 Goal Scorers on Display in South Africa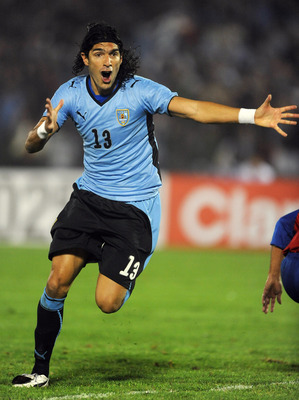 The 2010 World Cup is set to begin June 11th in South Africa, and the best of the best when it comes to international football will be on display.
The favorites to win the tournament include the usual suspects: Brazil, Argentina, and Spain. But, who will take home the biggest individual honor, capturing the Golden Boot?
I have compiled a list of the 20 most likely candidates to score the most goals during the month-long 2010 World Cup and take home the Golden Boot.
20. Landon Donovan—United States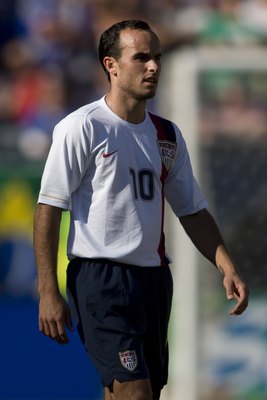 Donovan is the best player on a U.S. team that looked to be a contender before they were bitten hard by the injury bug. He has scored 42 goals for the national team during his career, so expect him to add to that total in South Africa.
19. Alberto Gilardino—Italy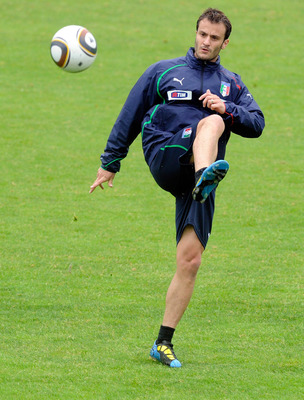 Gilardino is the best player for an Italian side who are uncharacteristically under the radar in 2010. The 27-year-old has scored 16 goals for the perennial favorite who isn't expected to contend in 2010.
18. Sergio Aguero—Argentina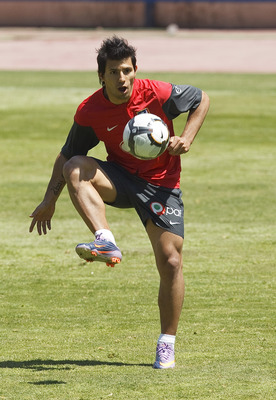 Aguero is the son-in-law of Argentine coach Diego Maradona, and he should get a significant amount of playing time alongside Gonzalo Higuain. He has seven goals in just 21 international appearances at only 22 years of age.
17. Diego Forlan Uruguay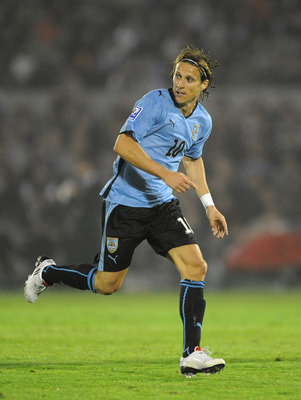 Forlan has scored 23 goals in 61 games for Uruguay during his international career. He gets on the list when Adriano is left off the Brazilian roster. Uruguay has a very strong team meaning Forlan should have plenty of games and chances to add to his goal total.
16. Gonzalo Higuain—Argentina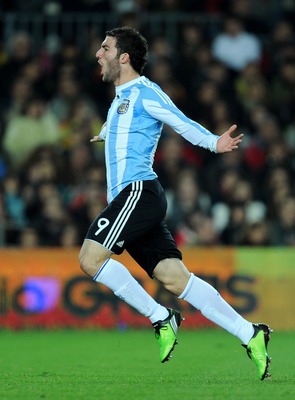 Higuain is another 22-year-old striker for the Argentinians who could have a big World Cup. He has appeared in only four games for the national team, scoring two goals thus far in his career. But, he has scored 59 goals in four seasons for Real Madrid in La Liga.
15. Robin van Persie—Holland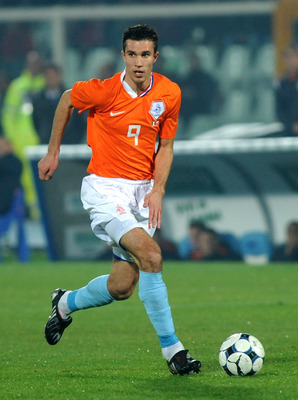 Van Persie is the best player on a Netherlands team that hasn't been as hyped leading up to the 2010 World Cup as it has in years past. He has scored 14 goals thus far during his international career and 48 the last six seasons for his Premiership club, Arsenal.
14. Simao—Portugal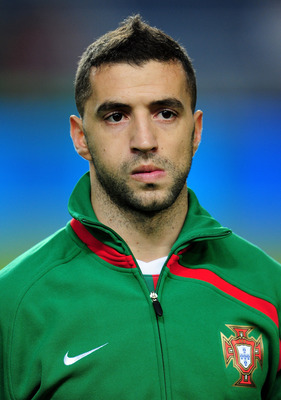 Simao has scored 21 career international goals for Portugal, who could go deep into the tournament. Playing with Cristiano Ronaldo should open up plenty of room for Simao to work on adding to his goal total.
13. Wayne Rooney—England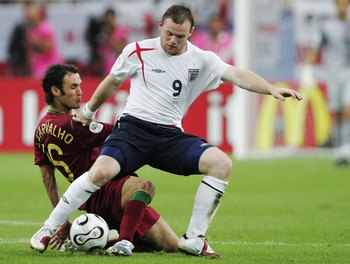 Rooney is the best player on an English team that has a good shot at advancing out of group play. He has 25 goals in 58 games for the English at just 24 years old. He should add several goals to his total depending upon how far his team can go in the tournament.
12. Thierry Henry—France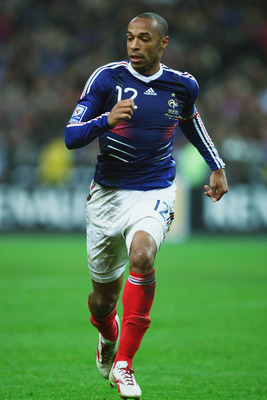 Henry has 51 goals for Lez Blues during his career consisting of 118 games. There have been whispers he has lost a step at age 32, and maybe he has. But, he has 35 goals in 78 games for Barcelona over the last 3 seasons, so if France make a deep run he's got a chance at the Golden Boot.
11. Miroslav Klose—Germany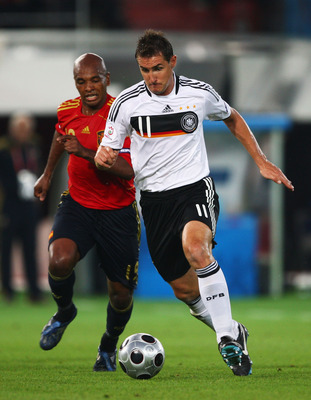 The Bayern Munich striker is the leader of a German team that always seems to contend at the World Cup. Klose has scored 48 goals in 94 appearances for the Germans, and in South Africa he is sure to add to that total.
10. Robinho—Brazil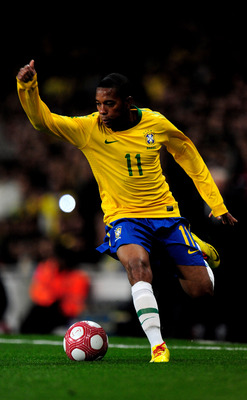 Robinho has 20 goals in 72 appearances for the Brazilian side. And, on a Brazilian team that is a favorite to win the 2010 Cup, he will have plenty of chances to add to that total.
9. Fernando Torres—Spain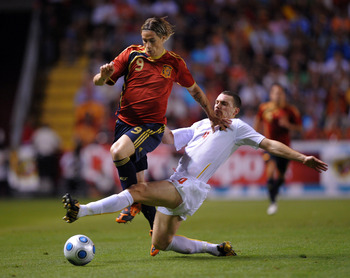 The 26-year-old striker has scored 23 goals in 71 games for the Spanish side who is a favorite to win the 2010 Cup. Teaming with David Villa should allow Torres plenty of open grass to work with on the pitch. He has a chance at the Golden Boot in 2010.
8. Peter Crouch—England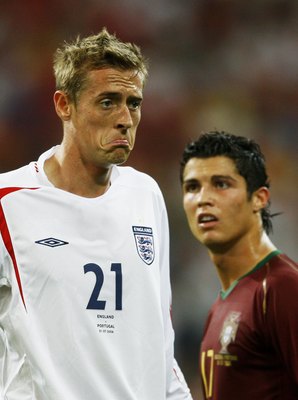 The 6'7" giant of a man on the pitch has scored 20 goals in just 37 games for the English. Crouch will be scoring a lot if the English side can advance deep into the tournament.
7. Luis Fabiano Brazil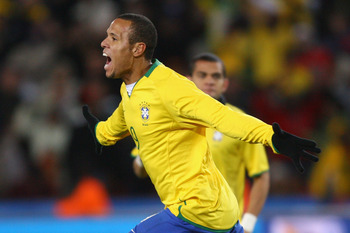 Fabiano has scored 25 goals in just 36 national team appearances for the Brazilians. The only thing that might prevent him from taking home the Golden Boot are his Brazilian teammates who include several other top goal scorers. There might not be enough ball to go around for a stacked Brazilian squad.
6. Samuel Eto'o—Cameroon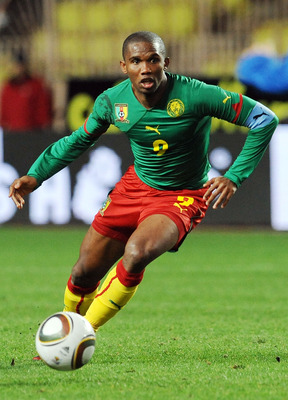 Inter Milan forward Samuel Eto'o is the best player on a Cameroon team that is a good bet to surprise at the 2010 World Cup. He has scored 44 goals in 94 games for the Les Lions Indomptables and will surely add to those accomplishments in South Africa.
5. David Villa—Spain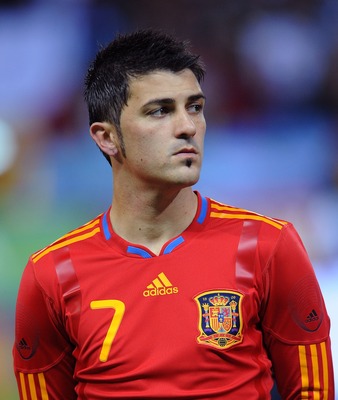 The 28-year-old Spanish forward is arguably the best player in the tournament. He has scored an astonishing 36 goals in just 55 games. Villa will be a serious contender for the Golden Boot if Spain indeed goes far in 2010 as expected.
4. Kaka—Brazil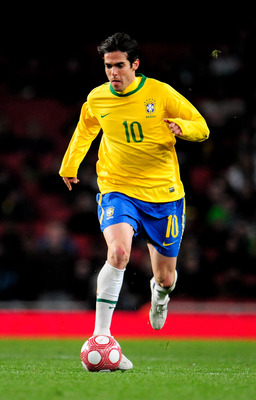 Brazil has four players on this list, the most of any team, and they all can't win the Golden Boot. The best bet to emerge from the pack is midfielder Kaka, number 10. He has scored 26 goals in 73 games for the Brazilians, and perhaps the best player in the tournament will add to that total in 2010 barring injury concerns.
3. Didier Drogba—Cote d'Ivoire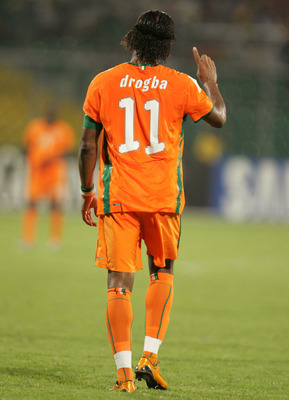 Drogba is an exciting player who is a constant threat to score for an Cote d'Ivoire side that has a real chance to advance out of group play. He has scored 43 goals in just 66 games for his national team—an amazing total. If his team advances deep into the tournament, he might very well take home the golden boot.
2. Cristiano Ronaldo—Portugal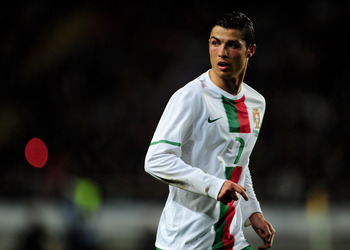 The Kobe Bryant of international football, Ronaldo is the player no one likes, but everyone has to respect his play on the pitch. Kobe himself was reportedly a pretty good soccer player growing up. I don't know about his basketball skills, but Ronaldo's football skills put him in the race for the Golden Boot. He has 22 goals in 69 appearances for the Portuguese and will add to that in June.
1. Lionel Messi—Argentina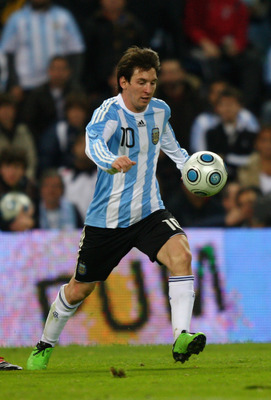 The diminutive 5' 7" Messi is the best player on perhaps the best team in the 2010 World Cup. The 22-year-old might even be the best player in the tournament. He has scored only 13 goals in 44 games for his national team. However, he has scored 86 goals over 6 seasons with Barcelona. For those reasons Messi is my pick to win the Golden Boot at the 2010 World Cup in South Africa.
Keep Reading

Inter Milan: Like this team?