2010 NBA Mock Draft: Kentucky Players Dominate First Round
The playoffs are in full swing, and as June creeps closer it is time to take a look at the 2010 NBA draft. The draft will take place on June 24, but the lottery selection is on May 18. These draft spots currently are not official, although they will not be that far off.
Is John Wall really worth the top pick in the draft, or will Evan Turner slide into the No. 1 spot? Here is a breakdown of all the action.
1. New Jersey Nets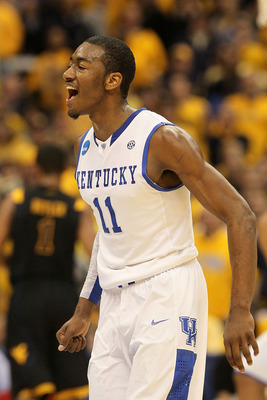 John Wall PG Kentucky
John Wall brings the Nets a dynamic scoring presence that has the potential to bring a big time free agent into the fold this offseason. Devin Harris has been good for the Nets, but passing up on Wall will be too much to ask come June.
2. Minnesota Timberwolves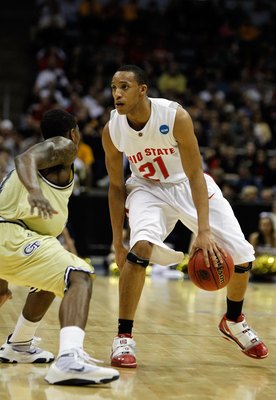 Evan Turner SG/SF Ohio State
Evan Turner will be a great compliment to Johnny Flynn on the perimeter for the Timberwolves. Corey Brewer's lack of production will have Minnesota searching for a scoring guard, and with Turner's ability to play several positions he will find his way on the court at multiple positions.
3. Sacramento Kings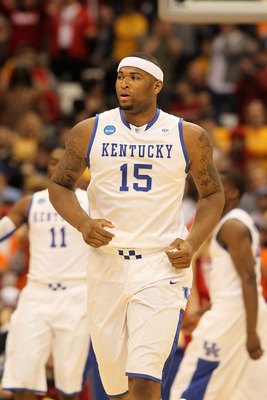 DeMarcus Cousins C Kentucky
Tyreke Evans needs some support in the post for the Kings, adding Cousins will fix that problem quickly. Cousins needs to develop some consistency, but has all the tools to be a successful big man in the NBA.
4. Golden State Warriors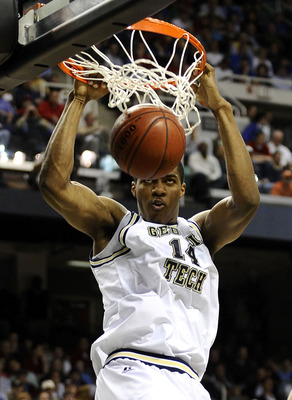 Derrick Favors PF Georgia Tech
Favors will push both Anthony Tolliver and Ronny Turiaf for a starting position in the fall. More than likely Turiaf will be coming off the bench as Favors brings more of a scoring presence and consistent play on both ends of the court. The Warriors have some pieces in place to be successful once again, and Favors will be a large part of that success.
5. Washington Wizards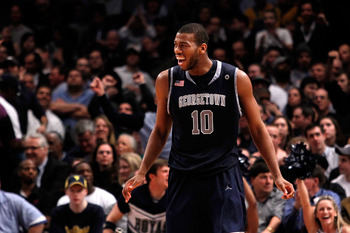 Greg Monroe C Georgetown
The Wizards stay home with this pick and snatch up the Hoyas star center. Greg Monroe will be a solid addition to a team in full scale rebuild mode. Monroe will bring his jump shot and post play to the Washington offense and will quickly become the focal point.
6. Philadelphia 76ers
Wesley Johnson SF Syracuse
Johnson adds the scoring power to Philadelphia that Jason Kapono cannot. He is a versatile player and can play several positions; his rebounding and jump shot will quickly make him a starter for the 76ers.
7. Detroit Pistons
Cole Aldrich C Kansas
Aldrich will be the heir apparent to Ben Wallace, considering Jason Maxiell just is not getting the job done. Aldrich brings more offense to the table than both of them combined and because of that will probably earn a starting position early on in the season. He is a good rebounder and a solid all around player, but it is doubtful he will be come a star in the NBA.
8. Los Angles Clippers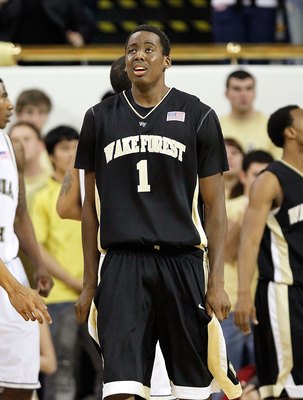 Al-Farouq Aminu SF Wake Forest
Aminu is a great fit for the Clippers. He is an excellent transition player that can knock down a mid-range jump shot with ease. His rebounding and defense will also be an upgrade over current Clipper starter Rasual Butler. Expect to see Aminu team up with Blake Griffin who comes off a season ended injury and will be eager to step back onto the court.
9. Utah Jazz (via New York)
Ed Davis PF North Carolina
The Jazz will use this pick for insurance in case they are not able to resign Carlos Boozer this off-season. Ed Davis will bring size and knack for snagging rebounds to a Jazz back-court needing both. Davis is a good transition player who can evolve into a dominant post player in the NBA. Whether Boozer stays or goes the Jazz upgrade with this pick.
10. Indiana Pacers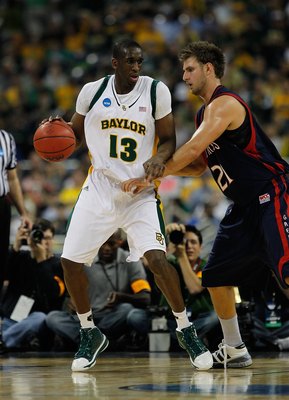 Ekpe Udoh PF Baylor
Udoh is still a little raw, but the Pacers have built some depth and won't immediately need him to contribute. He will adjust to the pace of an NBA game and will begin to get regular minutes around late December. His defense, especially blocking shots will be a valuable addition to Indiana. He still needs to find an identity of the offensive side of the court.
11. New Orleans Hornets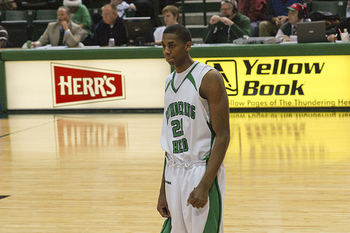 Hassan Whiteside C Marshall
Whiteside is an aggressive shot blocker who can run the court. He has stellar defense and is an excellent rebounder, his offense on the other hand still needs a significant level of development. The Hornets will pick up an insurance policy if Emeka Okafor goes down, or if they want to go big against some of the Western Conference foes by subbing Whiteside for Morris Peterson.
12. Memphis Grizzles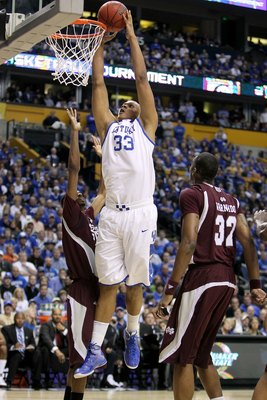 Daniel Orton C Kentucky
The Grizzles need to replace Hasheem Thabeet already after drafting him in 2009. The problem for the Memphis is that at this time in the draft there is not a consistently productive center left on the board worth taking this early.
The need for a big men will be too much for Memphis to overlook and Orton is the best available. He is a very good defender but will have to develop some offense to beat out Thabeet for the starting position for good. Orton is only 6'10'' and is undersized to play center in the NBA as well. However, his tenacity on defense makes up for his size.
13. Toronto Raptors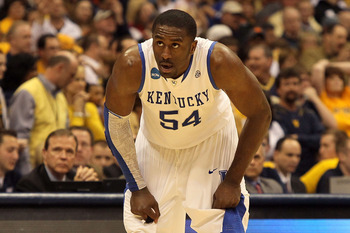 Patrick Paterson PF Kentucky
Paterson will be Chris Bosh's replacement when Bosh opts for free agency this summer. Paterson has the ability to become an above average scorer and is a decent rebounder. He lacks good size at 6'8'' for a power forward and needs to improve his offense in the paint. He is an exceptional defender and will be a key member of the post-Bosh Raptor team.
14. Houston Rockets
Donatas Motiejunas PF/C Lithuania
Motiejunas is a lanky European player that runs the court well. His 7'0'' frame will help on both the offensive a defense side of the court, but he is undersized at 220 pounds. Yao Ming's injury will also have a factor on this selection.
Motiejunas will have trouble playing the center position in the NBA on the defensive side of the court, but is more than able to play it on offense. He has the option to spend another season overseas before joining the club, but may opt to join Houston early depending on Ming's recovery.
15. Milwaukee Bucks (via Chicago)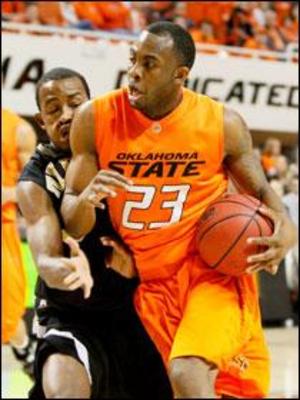 James Anderson SG Oklahoma State
The Bucks are going to need to replace John Salmons who is going to opt out of his contract before the draft. Enter James Anderson, a prolific scorer who can run well in an up-tempo offense.
Anderson is a slashing scorer who also posses a great skill for grabbing boards on both ends of the court. Brandon Jennings needs a complement at the guard position and Anderson will make them a deadly duo.
16. Minnesota Timberwolves (via Charlotte)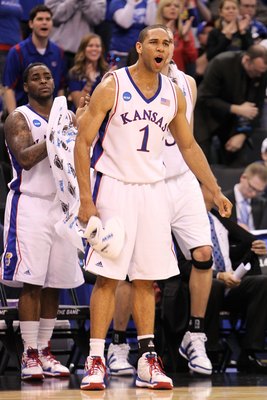 Xavier Henry SG Kansas
Henry is already built for the NBA, so adjustments to the physical abuse will not take him long to conquer. He has a lethal jump shot and can penetrate defenses with ease. Henry will be teamed up with Turner in this draft giving the Timberwolves a leg up on the rebuilding process for the future.
17. Chicago Bulls (via Milwaukee)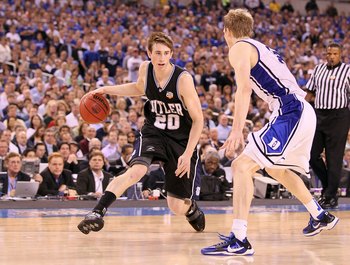 Gordon Hayward SF Butler
Gordon Hayward will add another sharpshooter to the Bulls lineup. He is a larger version of Kirk Hinrich, and is decent rebounder. Hayward is a pickpocket on defense and also has good size to go with those quick hands. He will add good depth to the rotation at small forward or shooting guard for the Bulls.
18. Miami Heat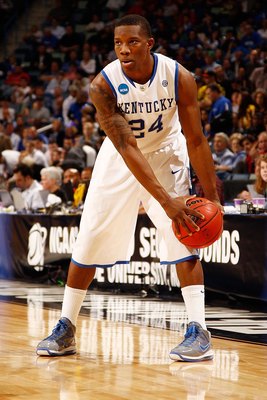 Eric Bledsoe PG Kentucky
The Miami Heat need a point guard, as Mario Chalmers and Carlos Arroyo just are not getting it done for Dwyane Wade. Bledsoe does not have a consistent jump shot and is turnover prone at times, but he is an excellent passer. He uses both his elite speed and smarts to shred defenses during games. Expect the Heat to snatch him up if he is still on the board at this time.
19. Boston Celtics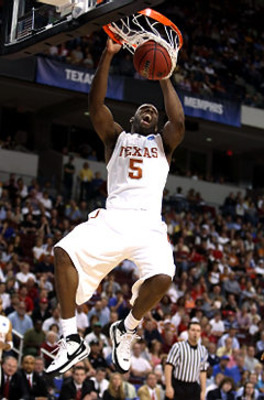 Damion Jones SF Texas
The Celtics want to bring in some youth to the small forward position; Paul Pierce is not getting any younger. Adding Jones gives Boston a hard-nosed defender with the ability to knock down jump shots. Jones can also rebound exceptionally well on the offense glass. Damion Jones is undersized to play the four, but should become a productive three by increasing his offensive game.
20. San Antonio Spurs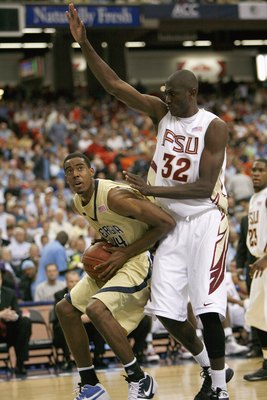 Soloman Alabi C Florida State
The Spurs needs to find a replacement for the aging Antonio McDyess, and Alabi will be that replacement at this point in the draft. He will be a project in his first year or two, but he will still have Duncan and McDyess to show him the ropes. Alabi has a great shot blocking ability and has excellent athletic ability. He is a very good transition player and will benefit from having Tony Parker on the court with him.
21. Oklahoma City Thunder
Luke Babbit SF Nevada
Babbit will help complement Kevin Durant for the Thunder. Durant's ability to play several positions on the court will allow Babbit to play the small forward during the game. He has proved himself to be a consistent scorer, especially from three. His lack of size and speed will hurt him on defense; he is too small to guard a larger forward, but not fast enough for a smaller forward or scoring guard.
22. Portland Trailblazers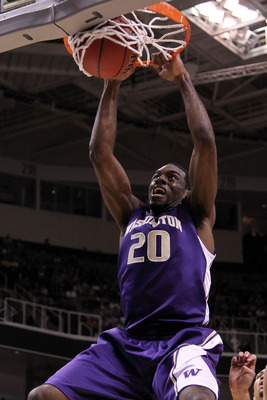 Quincy Pondexter SF Washington
Portland's scouts have seen enough of Pondexter to know he is a great talent. He has athletic ability on both ends of the court. His speed makes him a dynamic slasher and his quick hands on defense yield steals and rebounds. He needs to find some consistency when shooting the ball and needs to improve on his ball handling before he will be ready to make a solid contribution as a full time starter.
23. Minnesota Timberwolves (via Utah)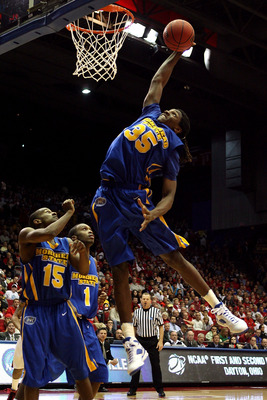 Kenneth Faried PF Morehead State
Faried will add some depth to the Timberwolves big men. They will be able to rebuild this team in the draft this year, and acquiring a big man at this time will prove its benefits down the road. Kenneth Faried is a defensive menace; he can block shots and rebound with ease. His offensive games needs some work, especially outside of the paint. He led the NCAA in rebounds this season with 13.0 a game.
24. Atlanta Hawks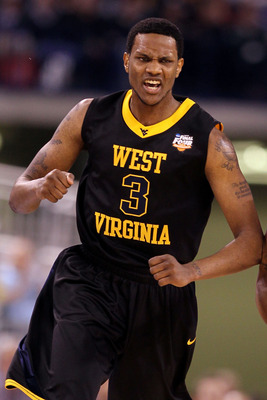 Devin Ebanks SF West Virginia
Ebanks will fit into the Hawks run and gun offense extremely well. He can shoot the ball and also is a solid ball handler. He has the ability to get to the hoop and can rebound the ball on both sides of the court. He needs to become more consistent beyond the arc and also needs to put some weight on that 6'9'' 205 pound frame.
25. Memphis Grizzles
Avery Bradley SG/PG Texas
Bradley will be an insurance pick here for the Grizzles. He can play both positions and could back up Conley or Mayo next season. He lacks a perimeter game; put once inside the arc is a knock down scorer. He lacks size at 6'3'' and 180 pounds but makes it up with his glove like defense.
26. Oklahoma City Thunder (via Phoenix)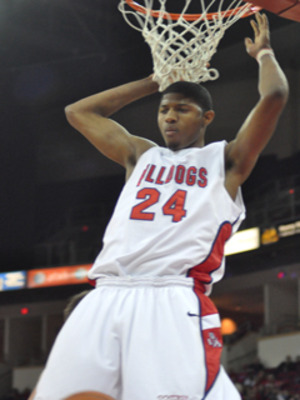 Paul George SF Fresno State
George will be a value pick at this position. He is inconsistent on both ends of the court, but is a sharpshooter beyond the arc. He plays smart and is coachable, giving the Thunder a chance to develop George into a consistent player for them in the future. He is 6'7'' and 185 pounds; he needs to add some strength and should put on some more weight before he will be ready for a grueling NBA season.
27. New Jersey Nets (via Dallas)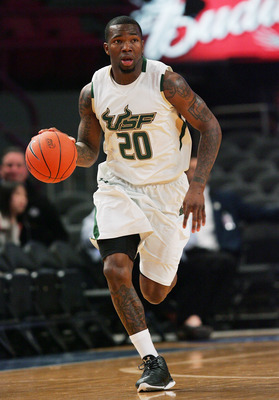 Dominique Jones SG/SF South Florida
Jones was the Big East player of the year last season, and has been a productive scorer and rebounder during his three years in the Big East. He already has NBA size at 6'4'' and 205 pounds. His long arms give him a great advantage when grabbing rebounds on both ends of the court.
He is a slashing scorer with a decent mid-range jump shot. Jones needs to improve his perimeter shooting and needs to reduce his turnovers before becoming a star at the next level.
28. Memphis Grizzles (via L.A. Lakers)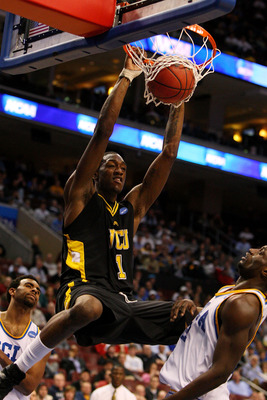 Larry Sanders SF Virginia Commonwealth
Larry Sanders is still too raw to be a lottery pick, at this point in the draft he is worth the pick. Memphis can build some depth in case Rudy Gay leaves for free agency.
Sanders has no real offensive game, but is a solid defender. He can rebound and block shots consistency enough to get some time next season if his offense continues to improve.
29. Orlando Magic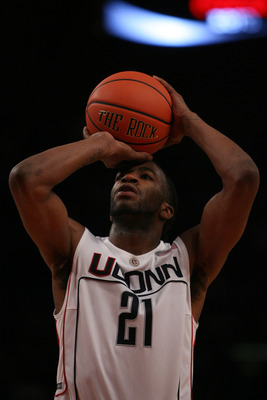 Stanley Robinson SF Connecticut
Robinson would be a solid pick for the Magic here. They can add some depth at small forward by adding a great rebounder. Robinson is a decent mid-range shooter with good defense, especially blocking shots. He lacks consistency on offense and needs to put some weight onto his 6'9'' 215 pound body if he has any hopes at power forward.
30. Washington Wizards (via Cleveland)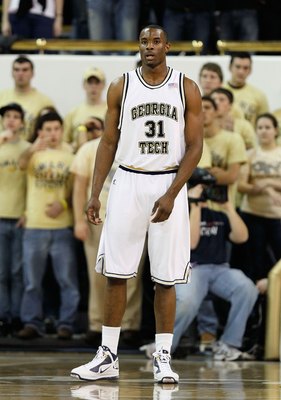 Gani Lawal PF Georgia Tech
Lawal will add some depth to the depleted Wizards squad. He has the potential to be a double-double man at the next level. He plays good defense and is an above average rebounder, he tends to disappear in games at times and needs to become more consistent outside the paint when he has the ball in his hands.
Keep Reading