Mountain West Out of Conference Schedule; Who Has The Toughest Road?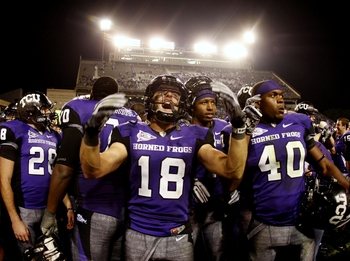 The Mountain West has been knocking on the door of the BCS for a couple of years now, successfully placing three teams into BCS bowls since 2005.
This year the league members have scheduled some interesting match ups versus out of conference competition...some good, some bad, some ugly.
Let's take a look at the strength of the conference members schedules in reverse order (weakest to strongest) along with some predictions for how the season will turn out for each member.
San Diego State; 9th Toughest Schedule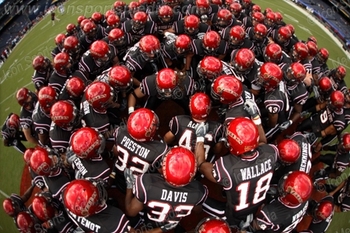 The Aztecs are the only team to never reach a bowl while a conference member, but are looking to turn that around in 2010.
They'll be helped by an out of conference schedule that I am ranking as last in the league in terms of toughness.
Sand Diego State takes on one tough opponent, a Big 12 Missouri team away. Missouri is pretty loaded this year, and is one of the contenders for the Big 12, so I'm not expecting to see an Aztec upset there. The rest of their OOC conference schedule is, however, decidedly less challenging.
The Aztecs take on a lower division Nichols State at home, an always putrid New Mexico State away, and a decidedly mediocre Utah State at home. I expect to see them win all three.
With 15 starters returning, including nine on offense, the Aztecs should be able to score some points and stay in ball games this year.
I'm predicting a 3-5 Mountain West record which, combined with the 3-1 OOC, will get them to 6-6 and land the Aztecs in a minor bowl come next December.
TCU; 8th Toughest Schedule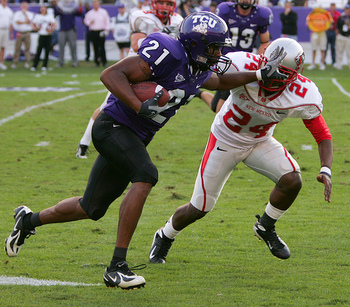 The Froggies return 16 starters from last year's 12-1 squad which won the Mountain West, played in the Fiesta Bowl, and finished ranked sixth in the nation. They should start the season in or close to the top ten in the rankings.
TCU starts the season with a game scheduled in Jerry Jones Cowboy Stadium versus a decent Pac-10 school, Oregon State. This will be a home game for the Frogs, and a chance to shine on a national spot light.
After that, they take on perennial Big 12 bottom dweller, Baylor, in a home game. The Bears are somewhat improved and are a BCS conference team, but remain a squad that has not had a winning season in 15 years. Then, the Frogs take on FCC Tennessee Tech at home in a glorified scrimmage which is a shame. The Frogs had a chance to schedule a game against a quality BCS opponent (UConn had an opening and would have given great exposure to the Northeast media merits). Nope. They wussed out.
They finish with a match up away against metroplex rival SMU, who June Jones coaxed eight wins out of in 2009, turning them around from a dismal one-win campaign in 2008 and breaking a long, long bowl drought for the Ponies. While improved, TCU should be able to handle them.
Net, with one medium tier BCS foe, a lousy BCS team, an improving lower conference team and a FBS team, the Frogs have the 8th toughest schedule in the league.
I'm predicting that they will indeed put it together and run the table again, winning the Conference championship and going to a BCS bowl at 12-0. BYU, Wyoming and especially Utah away will be the bellwether games of the year that will make or break the league season for them.
Colorado State; 7th Toughest Schedule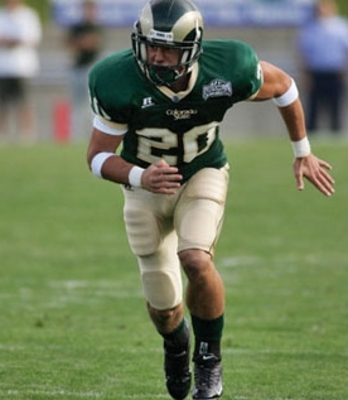 Colorado State started the season on such a positive note last year, winning the first three games.
Then everything went to hell in a hand basket.
Unfortunately, I'm predicting a lot of the same this year. I'm ranking their schedule as slightly tougher than TCU's since they don't play a FBS conference team, but it should allow them to get out of the gate quickly.
The Rams start at home against arch rival Colorado. The Buffs also stink, and Coach Dan Hawkins is on his way out at Boulder. So I'm predicting a Colorado State win in the annual shin dig.
Then the Rams play three mid-tier teams from mid–tier conferences. Away at a Nevada team that lost a bunch from last year's bowl squad, away at Miami of Ohio from the MAC, and home against an Idaho Vandal team that is decent but beatable. So I'm predicting another fast start…4-0 in fact.
And then meltdown time.
The Rams return only five starters on offense and five on defense and have huge holes in many places, especially the offensive line. With most teams in the conference returning a fair amount of talent, I just don't see this as being the year for them to turn it around. I look for them to beat only New Mexico in conference…and end up 5-7, one game short of bowl eligible.
Air Force; 6th Toughest Schedule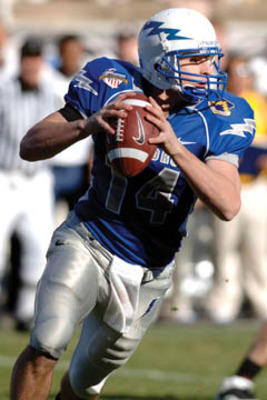 Here's where we get into the meat of the Mountain West OOC scheduling…starting with Air Force.
The Zoomies have been a tough, competitive foe the last couple of years, knocking on the door of the "Big Three" of TCU, BYU and Utah. Is this the year they bust in?
They have one lay down out of conference, a lower division Northwestern State. Additionally, they obviously play their two traditional foes Army and Navy. Army stinks. Navy doesn't. I'm predicting the Falcons will beat the Midshipmen and take home the Commander in Chief's trophy to Colorado Springs as the top service academy team.
Which leaves a toughie…a game against the Oklahoma Sooners in Norman.
I'd love to predict a victory here, but given that the game is on OU's home turf, I think that'll be although row to hoe.
Still, I see Air Force going 3-1 in OOC play. In conference, I think they'll go 4-4, scoring an upset along the way but also falling short themselves in at least one game. Net, a 7-5 mid tier bowl season.
BYU; 5th Toughest Schedule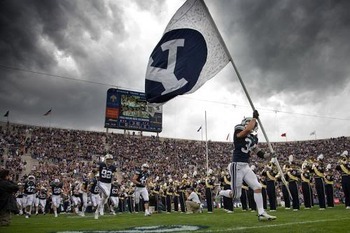 The Cougars have continued to play good football, and are widely considered the best non-BCS team to have not reached the promised land of a BCS bowl. Will they do it this year?
Nope.
BYU has too many holes to replace from last year, starting at the quarterback position. The loss of stellar running back Harvey Unga in the offseason also hurts…a lot.
Despite this, the team has reached the status where they do not rebuild…they re-load. So I expect to see them competitive as always, just a year or two away from one of those special runs.
BYU starts with a tough Pac-10 Washington team at home. The Huskies were 5-7 last year, but return an amazing 20 starters. This will define, in many ways, how the Cougars season goes. Then BYU travels to play Florida State, who smoked them in Provo last year.
I predict they'll split these two games…lose a toughie to Washington, but then bounce back and extract revenge on the Seminoles. The remaining two OOC games, Nevada and away at Utah State, should be safe wins.
So with a 3-1 OOC record, I'm predicting that BYU will finish 5-3 in league…someone will upset them and they'll lose to TCU and Utah. Which will bring an 8-4 season and a decent bowl.
New Mexico; 4th Toughest Schedule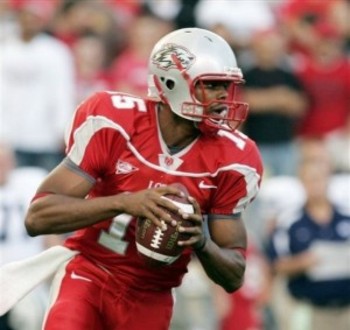 Mike Locksley had a horrible…just horrible…season in his first year as the Lobo's coach.
Off field disruptions, punching out his own assistant and getting suspended for it by the administration, and a 1-11 record combined to make it a version of college football purgatory; not quite hell, but you could see it from there.
He's on a tight leash in year two, and has to produce some results.
Unfortunately for him, the team is not well stocked heading into 2010. Only five offensive and five defensive starters return, and the last few recruiting classes before Locksley came on board were far from stellar.
The Lobos face a very good Oregon team on the road. Expect a blow out. And not one that is in the Lobos favor.
Then they get the Tommy Tuberville version of the Texas Tech Red Raiders. Blow out numero two.
UTEP at home, which is struggling under Mike Price who is another coach under the gun may bring some relief, but I'm not betting on it. That's OOC loss number three. They do get to play one of the least successful programs in college football every year, New Mexico State, for the battle of the Land of Enchantment. State stinks, so they'll win that.
And that's it. I'm predicting a second consecutive 1-11 season, and an end to the Locksley era at the end of 2010.
Wyoming; 3rd Toughest Schedule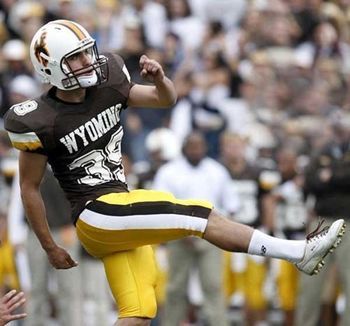 The Cowboys broke through in 2009, scraping together a 6-6 regular season and then winning their bowl to end up 7-6 last year. And, with 15 starters returning, hope are up in the high plains for the 2010 season.
The Pokes have two easy wins out of conference…a lower division Southern Utah team and a away at a MAC Toledo. So why third toughest schedule rating in the league?
Because their other two out of conference games are as tough as they come. They play not one but two teams that will be in the top five and challenging for the national title this year.
Wyoming plays a Boise State team that went undefeated, won the Fiesta Bowl and returns a ridiculous 21 starters at home. The Broncos should start fifth or higher in the national polls.
Wyoming also makes a visit to Austin to play the Longhorns of Texas, who should also start the season in the top five.
That's two tough cookies to munch on.
If, somehow, the Cowboys pull an upset in either of these, they'll have a season for the ages. But, realist that I am, I'm predicting 2-2 in OOC play.
Still, I think those games will pay dividends, and that Wyoming will be a surprise team in the conference this year, going 6-2 in league play. That will bring them to 8-4, and a decent post season bowl berth.
UNLV; 2nd Toughest Schedule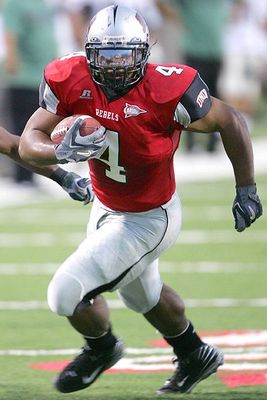 It's a high risk, high reward schedule for new UNLV coach Bobby Hauck. Arriving from a Montana and Inheriting 15 returning starters, he leads a program that is on the cusp…it could go either way.
The Runnin' Rebels have an extra game, playing five OOC games this year. They play two very, very tough BCS foes; a Wisconsin team expected to challenge for the Big Ten title that returns 10 offensive starters, and a West Virginia team that should challenge for the Big East in Morgantown, one of college football's toughest environments. I don't expect a win in either of these.
They also get rival Nevada at home, and have WAC foes Idaho and Hawaii away. With the talent they have, there is no reason for them not to notch victories in those three games.
Still, with a new coach, extra game, and what looks like could be a real woodshed experience against a couple of big ol' BCS bullies, I'm predicting that the Rebels will struggle a bit this year and go 2-6 in league. With a 3-2 OOC record, that will leave them 5-8 and out of the bowl picture. If, and it is a big if, they can pull an upset against one of those BCS guys however, I think they could ride that to a bowl season. But for now it's 5-8 and home for the holidays.
Utah; Toughest Schedule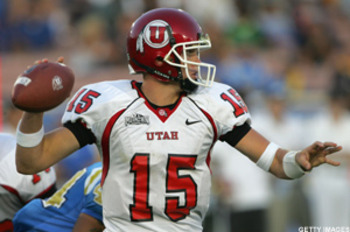 The Utes have been on the threshold for a while now, playing in two BCS bowls (beating Pitt and Alabama). They would very much like to be considered for the top prize, thank you.
To that end, they have put together a schedule that will certainly merit them consideration if they can win out.
They start with home game against a Pitt team that Dave Wannstedt has led back into prominence and should start in the top twenty. Pitt features sensational running back Dion Lewis, who had the best freshman year of any Pitt back since this guy by the name of Tony Dorsett played there back in the 70's.
The Utes get a break when they play a crappy WAC San Jose State team. Then they get Big 12 Iowa State. The Cyclones should be a middle of the pack team this year, coming off of a bowl eligible season last year. Finally, the Utes travel to South Bend, Indiana to play in front of a packed house and Touchdown Jesus when they take on the Fighting Irish of Notre Dame late in the season.
The Utes win these, and get by TCU and BYU and run the rest of the table in the Mountain West, and we're talking BCS championship.
Well, we can keep our fingers crossed. Utah returns seven offensive starters, but only four on defense. They have reached the status, however, of a premium program, one that re-loads rather than re-builds. They have had excellent recruiting classes for seven years running now, and are as such very well stocked with talent.
I think they'll stumble against the Irish, and also against the Frogs, ending up 10-2, (7-1 in league play) and getting to a very good bowl, perhaps the Cotton.
But then, they could run it…that is why they play the games.
Keep Reading

TCU Football: Like this team?