2010 NBA Draft: Five Players Philadelphia 76ers Should Stay Far, Far Away From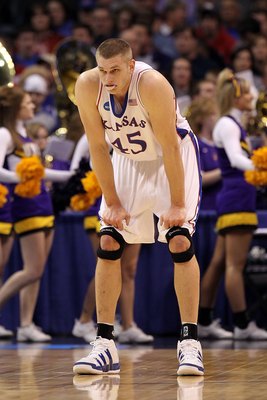 After examining five players the Sixers should draft recently, it's time to go the opposite direction—looking at players the Sixers should absolutely not draft at No. 6. (This draft slot assumes that there's no funny business with the lottery this year.)
Let's review: First and foremost, the Sixers are in dire need of a shooting guard that can, well, actually knock down a long-range jumper every once in a while. And with Samuel Dalembert's contract expiring after next season, the Sixers should already be searching for his replacement.
This list makes a few assumptions:
1) John Wall, Evan Turner, DeMarcus Cousins, Derrick Favors, and Wesley Johnson are off the board by the No. 6 pick, in some order.
2) The Sixers aren't drafting for "best available talent," they're drafting to fill a need. If they're drafting the most talented player at No. 6, they'd virtually be guaranteeing themselves another power forward or wingman, which couldn't be further from a need for the Sixers.
That's also not to say the five guys on this list aren't talented or won't be long-time, successful NBA players. These five guys simply don't fit with the roster the Sixers already have. (And if the Sixers end up drafting any of the five, they should immediately look to see what they could get in return from another team.)
With that said, let's take a look at five guys who the Sixers may be tempted to pick...but should stay far, far away from.
Cole Aldrich, C, Kansas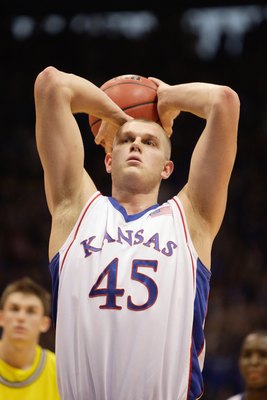 If the Sixers draft Cole Aldrich at No. 6, they're destroying any semblance of hope until 2013, when Elton Brand's contract expires.
Aldrich is the poster child for a team picking cautiously, not aggressively. He appears like a lock to last a decade in the NBA after three years and a national title under Bill Self at Kansas, but his ceiling is often being compared to that of Joel Przybilla's (with better offense).
Aldrich can be great for a team that's close to contending for an NBA championship—a team looking for role players to fill in any holes, where he won't be relied on to shoulder a heavy load early in his career.
The Sixers, who were basically eliminated from the playoffs by January, aren't in that position.
While Aldrich can contribute defensively as a rookie, he struggles in transition, which should be the Sixers' bread-and-butter next season if they hope to re-enter playoff contention.
Sadly, as of this writing, ESPN's Chad Ford and DraftExpress are projecting the Sixers to select Aldrich at No. 6.
If the Sixers aren't in the mood to take risks in this draft and want a safe pick, Aldrich is about as safe as you can get at No. 6. If they want to give themselves a real chance at contending in the next five years, they'll cross Aldrich off their draft board very early in the process.
Ed Davis, PF, North Carolina
Let's get this straight. Ed Davis was the best holdover from the UNC championship team in 2009 and was expected to ease UNC's transition from the Tyler Hansbrough era. Instead, Davis couldn't break out all year, broke his hand in February, and UNC collapsed down the stretch to miss the NCAA tournament entirely.
That's the guy the Sixers are supposed to give $3 million a year to?
Davis still has a cast on his hand, which will naturally limit his workout potential in the coming weeks. Even if he's a workout wonder somehow, the Sixers already have Brand, Marreese Speights, and Jason Smith on the roster as power forwards.
It's hard to imagine a reason they should spend such a high pick on another one, unless he's the Kevin Durant of power forwards.
If the Sixers end up picking Davis, he does run the floor well, which would help the Sixers get back to a transition-oriented attack. Once the Sixers finally free themselves of the chokehold of Brand's contract, a young front court of Davis and Speights could turn into a Josh Smith-Al Horford type of an athletic post presence.
Still, the Sixers have much more pressing needs than a fourth power forward. Since Davis isn't a sure-fire All-Star, the Sixers should look elsewhere with the pick.
Al-Farouq Aminu, SF, Wake Forest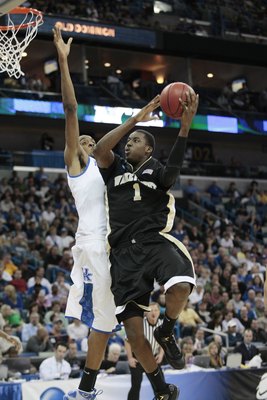 Of everyone on this list, Aminu could prove most tempting for the Sixers in the coming weeks. Naturally, he's also the player in this list who the Sixers least need.
Aminu is a 6'8" hyper-athletic combo forward who runs up and down the court extremely well. Unfortunately, he also shot below 30 percent from downtown in his two years at Wake, and at only 205 pounds, he's not yet strong enough to play the four in the NBA.
The Sixers are already stacked with inconsistent three-point shooting wingmen—with Andre Iguodala, Thaddeus Young, and Rodney Carney all on the roster. The last thing they need is a Thad Young clone when Iggy's jacking up 28-foot bricks as last-second shots next season.
For a team searching for a small forward with a mid-range game that can run, Aminu's their dream prospect. The Sixers already went that route in 2007 with Young and can't afford to attempt a re-do on Young with such pressing needs at shooting guard and center.
Given how athletic Aminu is, there's a chance the Sixers could fall in love with him during workouts. If the front office has any sense of roster management, however, they've got to stay away from Aminu this year.
Greg Monroe, PF, Georgetown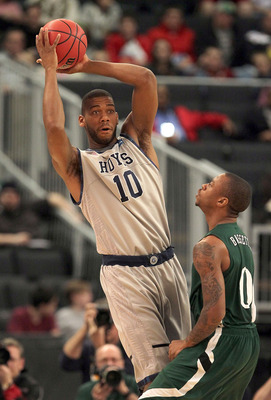 Much like UNC's Davis, Greg Monroe is a highly-skilled big man that unfortunately has no place with the Sixers in the coming seasons, given their current direction.
Monroe's the best passing big man in all of college basketball, and he often outperformed Georgetown point guard Chris Wright in terms of guiding the Hoya offense this season. For a team looking for a multi-dimensional post man to build around, Monroe would make total sense.
Sadly, the Sixers lit $80 million on fire by signing Brand two years ago, a week after drafting Speights. The logjam that's existed at the position ever since leaves no room for spending a high pick on a power forward, even one as talented as Monroe.
Ironically, had Philly decided to retain Eddie Jordan and his Princeton offense, Monroe would have been a better fit for the Sixers, having just run the Princeton for two years at Georgetown. Monroe's the perfect big man for the Princeton—someone who can score at will one minute and dissect double-teams with crisp passes the next.
Instead, the Brand contract will continue to limit the direction the Sixers can realistically go this summer. Despite Monroe's talents, he'd likely get buried on the Sixers' bench alongside long-time bench warmer, Willie Green.
Ekpe Udoh, PF, Baylor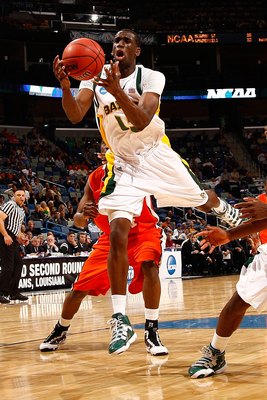 Of any of the guys on the list, Udoh's the one who would make the most sense for the Sixers—although drafting him at No. 6 would likely be seen as a bit of a reach.
Udoh's coming off a fantastic NCAA tournament appearance, where his athleticism, ball-handling skills, and shot-blocking ability were on full display for two weeks. While he needs to continue adding strength to his 6'10" body, he should be able to come in and contribute right away next season for some NBA team.
The biggest problem with Udoh is the fact that his offensive game is a work very much in progress. While Udoh averaged nearly 14 points and 10 rebounds per game this season, his offensive production quickly plummeted when Baylor got into Big 12 play, and he only recovered in March.
Could the Sixers afford pairing Udoh with Dalembert and get away with it offensively? When Dalembert leaves, can a pairing of Udoh and Speights in the frontcourt make up for each others' respective offensive and defensive liabilities?
Udoh's a phenomenally talented player, and if the Sixers traded down to the late lottery and drafted him, it'd be hard to complain. Drafting him at No. 6, however, when players like Xavier Henry and Hassan Whiteside can fill legitimate needs for the Sixers, would be evidence of a Sixers team neglecting their weaknesses in favor of a luxury.
Until the Sixers can win 30 games in a season again, they're in no position to be drafting for luxury with the No. 6 pick.
Keep Reading

Philadelphia 76ers: Like this team?