Super 14 Power Rankings: Round 13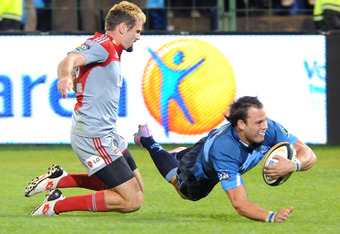 Gallo Images/Getty Images
Week 13 has seen that the competition is going to go right down to the wire next week with seven teams still in the semifinal hunt, with only one assured a place.
The Stormers take on the Bulls in what should be a cracker as the two top South African sides do battle. A loss could spell the end to the Stormers season whereas a win almost certainly see that they get a home semifinal.
The Crusaders return home to take on the Brumbies in what is effectively a quarterfinal for both sides. This one is no easier to pick than the Bulls vs Stormers as the Crusaders have to undergo the long trip back from South Africa, yet they played well against the Bulls and should beat the Brumbies.
Another game that will be treated as a quarterfinal is that of the Waratahs and Hurricanes. The Hurricanes are flying high at the moment with three bonus point wins in a row and would have to be favourites going into the game against a Waratahs side who got their season back on track last week.
The final contender, the Reds, take on the Highlanders. Any result is possible here depending on what Highlanders side decides to turn up.
So there it is and just for the record my pick for top four, in order, is; Bulls, Hurricanes, Crusaders, Stormers.
Now for this week's rankings:
1. The Bulls (1): Last Week: Won vs Crusaders 40-35 Win/Loss: 10-2
The Bulls extended their unbeaten record at Loftus to 18 consecutive wins as they sneaked home against a Crusaders side who seemed to be back to their old selves. They have a tough game against the Stormers next week, but having guaranteed the top spot, the result is purely academic for the Bulls.
Positives: A win over the highly rated Crusaders. Showed good fight to come back after a strong Crusaders start.
Negatives: Only just sneaked home. Their defence looked dodgy at times.
2. The Hurricanes (7): Last Week: Won vs Reds 44-21 Win/Loss: 7-4-1
After three bonus point wins the Hurricanes have risen five places in the rankings. This shows just how close the competition is at the top of the table. Hosea Gear looks to be back to his rampaging best and Cory Jane has been class from the back. One would have to expect their resurgence to continue as they take on the Waratahs next week.
Positives: Try scoring is not a problem, they are finding the form that they displayed at the start of the season and are now only one win away from a semifinal spot.
Negatives: They let the Reds get off to a good lead in the first half.
3. The Waratahs (5): Last Week: Won vs Chiefs 46-19 Win/Loss: 8-4
The Waratahs go up on the basis that a win is better than a loss. They were far too good for a Chiefs slide whose season has gone from bad to worse after such a good start. They play the Hurricanes next week for a semifinal place.
Positives: Seem to be back to their winning ways after a slip up against the Highlanders the week before.
Negatives: Might struggle to contain the Hurricanes next week.
4. The Crusaders (3): Last Week: Lost vs Bulls 40-35 Win/Loss: 7-4-1
Yes, the Crusaders did lose their third game in a row. But they also got as close as anyone has to toppling the Bulls at Loftus in the last few seasons which can't be underestimated. This will give them a boost psychologically is they have to play their again in the finals. Also their was the incident with the forward pass with the Bulls last try. Replays showed that the ball had indeed been knocked back off Owen Franks into a Bulls players head. Not too sure on the interpretation of the rule but would that make the Bulls player who then caught the ball offside?
Positives: Reminded us just how good they can be, really gave 100% against a formidable Bulls side.
Negatives: Despite all this, a loss is a loss. Must win game against the Brumbies next week.
5. The Stormers (2): Last Week: Lost vs Sharks 20-14 Win/Loss: 8-4
After an upset loss to the Sharks, the Stormers fall three places in the rankings this week. An awful blunder behind the goal line which led to Ruan Pienaar's try turned out to be the difference. After looking the form side in the competition for a time, their is now a chance that they may not even make the top four. They play the Bulls next week and will not need to look far for motivation to beat the competitions leading team.
Positives: Still coming second on the table, would have to like their chances against the Bulls, even if I don't.
Negatives: The loss to the Sharks could be detrimental to their chances.
6. The Brumbies (6): Last Week: Won vs Highlanders 31-3 Win/Loss: 8-4
The Brumbies were far too good for the Highlanders as they held them to only 3 points. They were in good try scoring form as they touched down four times (five times if you count Stephen Moore's effort). Matt Toomua ran well from first five, always providing a threat. Need a win next week to claim a top four place.
Positives: Attacked well, defended well, played well in general. In saying this, their real test will come next week.
Negatives: Must win game next week, won't find it so easy to run through the Crusaders.
7. The Reds (4): Last Week: Lost vs Hurricanes 44-21 Win/Loss: 7-5
After two wallopings in a row the Reds drop to the bottom place of the contenders. Don't count them out however. They play a very beatable Highlanders side next week and a bonus point win could potentially see them through if other results go their way.
Positives: A winnable last game.
Negatives: Coming off two horror performances. Their second halves have been awful.
8. The Sharks (8): Last Week: Won vs Stormers 20-14 Win/Loss: 6-6
From here on in the rankings are purely academic. That didn't stop the Sharks from toppling the Stormers as Ruan Pienaar kicked them home and scored a lucky try. Had they not had such a slow start to the competition, who knows where they could have ended up.
Positives: Great win over one of the competitions top teams.
Negatives: Those first five games are coming back to haunt them.
9. The Blues (9): Last Week: Won vs Lions 56-14 Win/Loss: 6-6
The Blues dispatched of the Lions in Johannesburg as they ran in six tries to two. Joe Rokocoko continued his return to form picking up two. Don't read too much into this game, the Lions have been awful this year. They take on the Chiefs next week where they will look to end their season on a high.
Positives: Got another win, good to see them scoring tries.
Negatives: As I say, don't read too much into this performance.
10. The Cheetahs (13): Last Week: Won vs Force 29-14 Win/Loss: 4-7-1
The Cheetahs picked up back-to-back wins to rise three places in the rankings. They looked good against the Force, scoring four tries. Their home record has been quite good this year but their inability to win on the road will continue to hold them back.
Positives: Back-to-back bonus point wins. Scoring tries doesn't seem to be a problem.
Negatives: As I say, their performance away form home has cost them.
11. The Force (11): Last Week: Lost vs Cheetahs 29-14 Win/Loss: 4-8
Lost to the Cheetahs, look to be struggling in South Africa, will continue to struggle against Sharks next week.
Positives: Not a lot at the moment. At least they showed some good form at times this year, if they could bring that form consistently they could be a real threat.
Negatives: A loss to the Cheetahs doesn't bode well.
12. The Chiefs (10): Last Week: Lost vs Waratahs 46-19 Win/Loss: 4-6-1
It seems amazing that the Chiefs were amongst the top four teams for the first three rounds of this season. They had a great start, going three from three on the road. Since then they have only managed one win and one draw. Hence their low ranking.
Positives: None at the moment, they have been terrible.
Negatives: Their performance since coming back from South Africa.
13. The Highlanders (12): Last Week: Lost vs Brumbies 31-3 Win/Loss: 3-9
The Highlanders were their own worst enemies against the Brumbies. They seem to always find new ways to bomb tries when they look certain to score. They were unlucky not to get a penalty try late in the first half but it would have made no difference.
Positives: Consistency. They showed how they can perform against the Waratahs. If they could play like that every week they would be real contenders.
Negatives: They seem unable to hold onto the ball, something crucial in winning games funnily enough.
14. The Lions (14): Last Week: Lost vs Blues 56-14 Win/Loss: 0-12
The Lions are one loss away from a winless season. Need I say anymore?
Positives: None.
Negatives: Really need to take a look at themselves and make some drastic changes for next season.
This article is
What is the duplicate article?
Why is this article offensive?
Where is this article plagiarized from?
Why is this article poorly edited?