Top Five Current Pittsburgh Steelers Team Leaders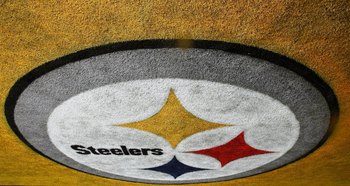 The Pittsburgh Steelers have a long history of employing players with the ability to be a leader on the field, as well as off the field. Even as far back as the beginning of the Chuck Noll era, there has always been a group of guys who take it upon themselves to step up and take control of their team.
The current roster is no exception and the following slides are who I would consider to be the top five current team leaders of the Steelers. If you disagree with any of my selections, please feel free to let me know who you would have picked instead.
UPDATE:
I caught a lot of heat for my decision to include Jeff Reed as a top 5 team leader. You should know that I did my research first and I stand by my decision.
Reed is involved with the charity "Kick For Kids" which receives $300 for every field goal he makes. He also is involved in the "Junior Achievement" program which is aimed at helping kids to reach their full potential. Jeff also worked to raise money for an operation that saved the life of a 5 year old child with a brain tumor.
How about all of the game winning field goals that Jeff Reed has kicked? I can't give you an exact number, but I can tell you that there were quite a few.
Do you think that all of the incoming rookies making the roster on special teams mentor themselves? The answer is no. Special teams captain Jeff Reed is responsible for that too.
It's sad that a man can do so many great things and still be shown so much disrespect. Leading your team to a championship is one thing, but leading the children and other members of your community to a better life is something only a true leader can accomplish. People should realize that football is only a game played for fun. The greatest football players are not the ones that made it to Canton based on stats, they are the ones that made a positive impact on their community and strive to make a difference.
Jeff Reed has more than shown he is capable of stepping up and being a leader on the field and off. He deserves to be #5 on this list, if not higher.
No. 5: Jeff Reed, Kicker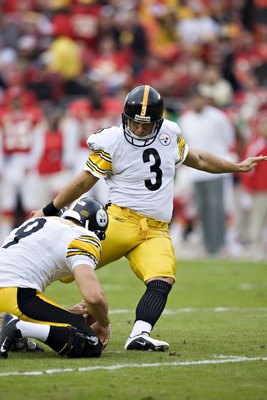 Midway through the 2002 season, Reed was signed to replace the injured Todd Peterson. He finished the season having scored 100 points and replaced Peterson as the Steelers primary kicker. Reed is currently known as one of the most accurate kickers in NFL history and is without question the leader of Pittsburgh's special teams unit.
If only he could have treated that paper towel dispenser inside the Sheetz bathroom with the same respect his teammates show him. He could have saved himself a couple hundred bucks and maybe used it for a delicious treat at The Cheesecake Factory downtown.
No. 4; Ben Roethlisberger, Quarterback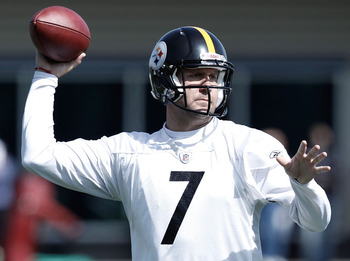 This is the selection that I will probably catch hell for given recent events, but here goes nothing.
During the second game of the season his rookie year, Big Ben was thrust into the starting job after Tommy Maddox was injured in the third quarter. Even though he led the team to somewhat of a comeback, the Steelers lost the game. Incredibly though, Ben finished his rookie season 13-0 and made the playoffs. Since then he has won two Super Bowls and had a couple of Pro Bowl appearances.
Even though he has been accused of sexual assault twice since 2008, this is still his team and they are his players. Had Ben not been accused of those crimes, he would probably be at the top of this list. The embarrassment and shame that he has brought to the Rooney family and Steelers fans though is enough to bump him down to No. 4.
No. 3; Aaron Smith, Defensive End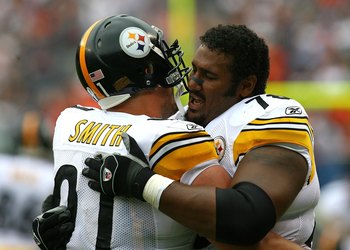 Since being drafted in the fourth round of the 1999 NFL draft, Aaron Smith has done his job and has done it well. Often referred to as one of the most underrated players in football, Smith has quietly been an anchor for one of the NFL's most feared defenses of the past decade.
He is a major reason the Steelers are able to stop the run so well and why they usually rank at the top of the league defensively. His true value became apparent after he injured his shoulder last season. Smith's absence from the lineup was a real eye opener for Pittsburgh and makes the 1st round selection of Ziggy Hood in 2008 much more justifiable.
Smith still has a few more years of good football in him and hopefully can help lead the Steelers to a seventh Lombardi trophy before he decides to call it quits.
No. 2; Hines Ward, Wide Receiver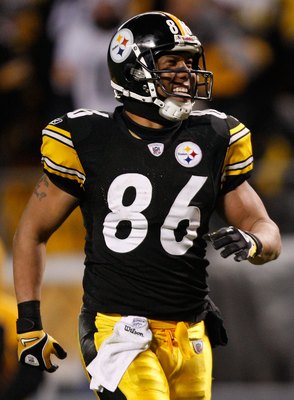 Who can argue with this? Since he entered the league in 1998, Hines Ward has turned his name into a legacy. He owns almost every receiving record in franchise history, he is regarded as one of the best receivers to ever play the game, he has the ability to punish a defender (just ask Keith Rivers), and without question will be enshrined to the Pro Football Hall of Fame as soon as he is eligible.
During his 12-year career, Ward has won the Super Bowl twice. He received MVP honors in Super Bowl XL and has been selected to the Pro Bowl four times. Ward also is a three-time second team All-Pro selection, was named the team MVP three times, and was also named the team co-MVP twice.
Along with being a proven winner, Ward is undoubtedly the leader of Pittsburgh's offense. He wins games, he always has a positive outlook no matter what (have you ever seen him without a smile on his face?), and he teaches the young players how to succeed.
Hines Ward is one of the best mentors in the NFL and his leadership is a big reason why the Steelers are a fixture in the playoffs almost every year.
No. 1; Troy Polamalu, Safety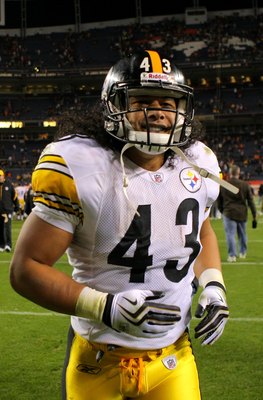 If you followed the Steelers last season, you probably remember how they fell apart after Troy Polamalu was lost for the season to injury. Until then, I don't think that anybody realized just how valuable he is to the team. Polamalu is one of the few NFL players to legitimately be labeled as "irreplaceable" because he is so good at what he does.
With Polamalu on the field, the Steelers play at a much higher level. He inspires the players around him to play harder and is always a threat to cash in on a big play. Free safety Ryan Clark is a mediocre player at best but when he plays opposite to Polamalu he looks like he should be playing in the Pro Bowl.
A majority of teams build their game plans around him, yet no team can seem to stop him. The athletic skills that Polamalu was blessed enough to be born with are nothing short of perfection. Troy plays his own special brand of football and its one that you just can't coach.
Troy Polamalu is as much of a leader off the field as he is on it. He is very active in the community and gives back whenever he can. He also dedicates a lot of time and resources to sick children at the children's hospital. Polamalu is a great inspiration and he very well may be the greatest team leader in the NFL.
Keep Reading

Pittsburgh Steelers: Like this team?