Didn't See That Coming: The 20 Most Unexpected Heroes In Sports History
Sports fans worldwide come home each and every day from a long day of work, plant their rear end down on the couch, and tune in to ESPN, so they can watch "experts" predict the unpredictable.
Everything about sports is unpredictable.
For every Michael Jordan there's a Robert Horry, and for every David Ortiz there's an Aaron Boone.
In fact, if there's one thing we can expect from sports, it's the unexpected.
However, there are times when the word unexpected greatly surpasses it's dictionary definition. When men who's names sound foreign to even the most educated sports fans, become immortal.
This list is a tribute to 20 of those men who gave unexpected a whole new meaning.
Without further ado, I give you the 20 most unheralded heroes in the history of sports.
20. Desmond Howard, Super Bowl XXXI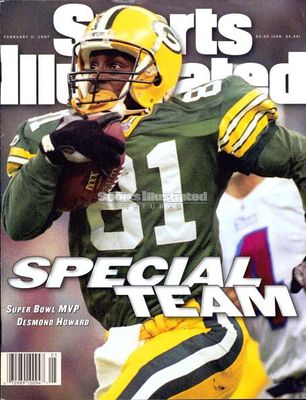 Desmond Howard was special, well at least until he was drafted, after that he kind of sucked.
At overall pick No. 4, it's no secret that Desmond Howard was a disappointment, but he was one hell of a kick returner in his only full season as a Packer.
Back in 1997 everybody knew Desmond Howard was a threat on special teams, but during Super Bowl XXXI he proved all the more threatening.
A grand total of zero people had Desmond Howard on the top five of their "Players Most Likely To Win Super Bowl MVP Trophy" list going into Super Bowl XXXI, but going out he was anybody's vote.
His 99-yard kickoff return touchdown in the closing moments of the third quarter iced the game for the Packers, and it wasn't all he had to say during the game.
He totaled a Super Bowl Record, 244 all-purpose yards during the game.
Brett Favre haters can thank Howard, because he is the sole reason that Favre never locked up a Super Bowl MVP trophy.
19. Jumbo Elliott, "The Monday Night Miracle"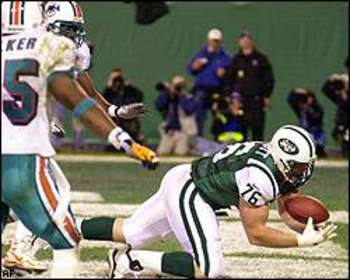 Remember that Sunday when we all kicked over our TV's because those Monday Night Football commercials were getting played out?
"Remember that Monday when...," we all considered a divorce with TV through those tough times, but luckily the Monday Night Miracle saved our marriages.
Of course you remember it, going into the fourth quarter, Miami led the Jets 30-7, only to watch their lead evaporate as Vinny Testaverde caught fire.
He brought the Jets up and down the field to tie the game at 30. Just two plays later, Dolphins' quarterback Jay Fiedler hit Leslie Shepherd with a 46-yard dagger to put the Dolphins up.
At that moment every Jets fan thought their miraculous comeback was all for nothing. However, Testaverde had other ideas.
He brought the Jets down to the Dolphins' three yard line, and then this already crazy game got all the more insane.
Even on a tackle-eligible at receiver play, nobody could have dreamed what came next. Vinny Testaverde hit un-covered Offensive Tackle Jumbo Elliott for a three-yard, game-tying touchdown.
At 6'7", and 305 pounds, Elliott was not your typical receiver.
In fact he proved that, when he juggled the pass three times that my little sister could have grabbed in her sleep.
Right now, you're most likely opening Google in another tab to try and find out where he is now. Okay, maybe not, but I'll tell you anyway.
Jumbo owns a bunch of Dunkin' Donuts stores out on Long Island. If America Runs on Dunkin', then Long Island Runs on Jumbo. Okay I'll stop now.
18. John Paxson, 1993 NBA Finals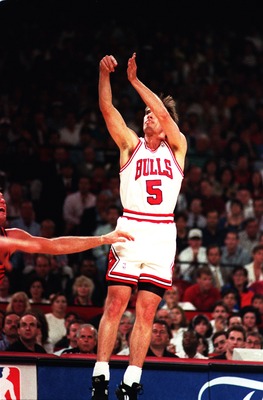 When you think of the 1990s Chicago Bulls, chances are John Paxson is the first name that comes to mind.
Just kidding.
The Bulls' dynasty of the 1990s was due in little part to Paxson.
He was nothing more than an extra body who could occasionally hit a three to most Bulls fans, well at least until Game Six of the 1993 NBA Finals.
With time winding down, and the Bulls trailing by two, Michael Jordan was getting the ball, and everybody knew it.
If you told a Bulls fan that Jordan wasn't shooting that ball, they would have laughed. Once they realized you were series they probably would have assumed that Scottie "Second Banana" Pippen would be taking the shot.
Wrong again.
Horace Grant? B.J Armstrong? (two hours later) John Paxson?
There you go.
In fact if you had predicted that Paxson was taking that shot, please see me to claim your prize.
17. Dexter Jackson, Super Bowl XXXVII
Going in to Super Bowl XXXVII, most Bucs' fans were asking each other a few simple questions:
How many interceptions do you think John Lynch will have?
How many tackles will Derrick Brooks secure?
How many times will The Overweight Messiah (Yes I'm talking about Warren Sapp) slam Rich Gannon to the turf?
However, it was Dexter Jackson who would give Rich Gannon nightmares that still haunt him in his sleep today.
Jackson picked two passes in the Buccaneers, 48-21 rout of the Raiders.
He was handed MVP honors, and declared for free agency without a seconds hesitation.
He reached an agreement with the Pittsburgh Steelers, but then decided Arizona was the place to be.
Still in need of a safety, the Steelers decided to go with Plan B, and draft Troy Polamalu. I'm sure Dan Rooney is losing sleep over ending up with Polamalu instead of Jackson, but we all have to cut our losses sometimes.
16. James Washington, Super Bowl XXVIII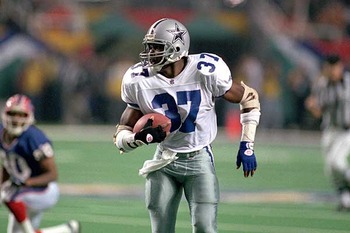 The 1993 Dallas Cowboys had a disgusting amount of talent, in fact it was so disgusting that I'm not alone when I say that I couldn't watch a Cowboys game without taking a quick shower at halftime.
Okay, maybe I am alone there, but it's safe to say they had a whole lot of talent.
James Washington was not exactly the first name that came to mind when speaking of this talent, but that's probably because nobody knew he had any.
Going into Super Bowl XXVIII, Washington was starting as a nickelback (fifth defensive back) for the Cowboys. In fact the only reason he even got to play was because of the Bills use of three-receiver sets.
However, he made the most of his time.
Washington recorded 11 tackles, an interception and a touchdown in the game.
15. Robert Horry, a Few Thousand Times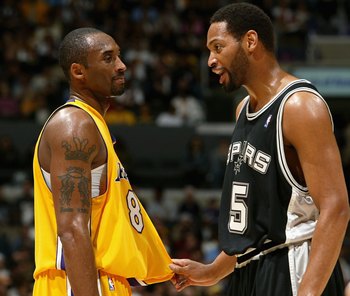 It's amazing, no matter how many game-winning shots Robert Horry hits, we're always surprised to see them.
However, when a guy who has a career average of seven points per game hits a clutch shot, it should be surprising.
Time and time again Horry finds a way to get the ball in big situations, and he delivers like a mailman.
How many "role" players have their own YouTube video of their 10 most clutch playoff moments?
Let's take a look at Horry's.
http://www.youtube.com/watch?v=GHkArsWPZbg
14. Kirk Gibson, 1988 World Series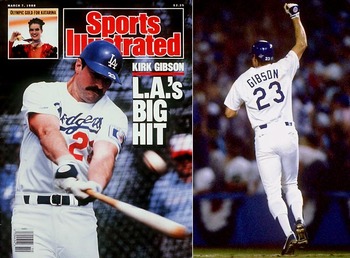 I'm not as impressed with Gibson as most people are, I mean hitting a home run on zero legs like he did was impressive, but I would have been more impressed if he did it on negative one legs.
All kidding aside, despite being the 1988 NL MVP, it's safe to say not many people expected Gibson to go yard in Game One of the World Series.
The reason for that: The man could barely walk.
Gibson, spent most of Game One in the locker room, icing his bum right knee and left hamstring, so when he emerged from the tunnel it gave us all that Willis Reed feel.
Except Reed scored four points in Game seven of the 1970 NBA Finals, Gibson on the other hand came out of nowhere to hit the game-winning home run.
Jack Buck would soon recite the words that have echoed through time, "I don't believe what I just saw!" And he wasn't the only one.
13. Don Larsen, 1956 World Series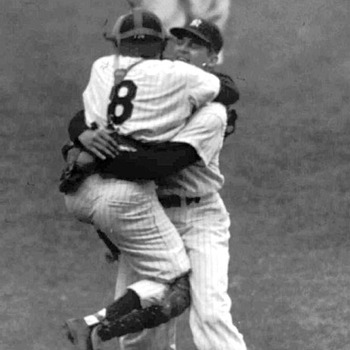 Don Larsen was a mediocre pitcher at best during his career.
He never won 20 games in a season, but he did lose 20 in a season. He has as many 10-win seasons(two), as he has ten-loss seasons. He struck out more than 100 hitters in a season just once.
Alright, maybe mediocre was the wrong word, he was terrible.
Going in to the 1956 World Series it was a mystery to most Yankee fans why Larsen was even on the roster, that wasn't mysterious for long.
It was Game Five of the 1956 World Series, the Yankees and Dodgers were knotted up at two games a piece, Don Larsen took the mound. Yankee fans just prayed that he could keep them in the game.
He threw the only perfect game in World Series History.
I have no idea what Larsen ate for breakfast on the morning of October 8, 1956, but whatever it was, Javier Vazquez should have some.
12. Mike Jones, Super Bowl XXXIV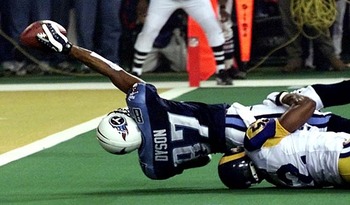 We all know the image: Kevin Dyson stretching his hand out like he doesn't care if it detaches from the socket. We all know the scene: the closing seconds of Super Bowl XXXIV.
However, there is one thing we don't know: Who the hell is Mike Jones?
Well at least we didn't know that until he made "The Tackle Heard 'Round the World."
Super Bowl XXXIV might have been the greatest Super Bowl of all time.
When Kurt Warner hit Isaac Bruce for a 73-yard Touchdown pass with under two minutes to go in the game, it looked like "The Greatest Show on Turf" had this one in the bag.
Steve McNair soon showed us that looks can be deceiving. He rallied his troops withing striking distance.
McNair managed to bring the Titans to the Rams 10-yard line with six seconds left. They had enough time for one last play.
Steve McNair hit Kevin Dyson on a slant pattern where it looked like scoring was a foregone conclusion, until Mike Jones saved the day.
Who?
Jones had made just 53 tackles all season, but he picked a good time for No. 54.
Maybe Jones was just in the right place at the right time, but the man saved the Super Bowl for his team, and made one hell of a tackle from behind.
Had Jones been overpowered by Dyson for one second, he would have scored easily, but Jones just manhandled him.
He knew that he couldn't give Jones one ray of daylight, and he didn't.
That was one hell of a tackle.
11. Tom Brady, The 2001 Season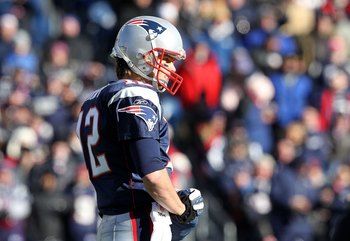 I know what you're thinking: Who the hell is Tom Brady?!?!?!
I was wondering the same thing, but after hours of Google searches I think I've come to a conclusion.
It turns out he is not part of the Brady Bunch as his last name would suggest, he is actually a quarterback for the New England Patriots. Who knew?
All kidding aside, there was a time that hearing Tom Brady and Super Bowl in the same sentence was about as big a joke as the WNBA (Only a little pun intended.)
Well, that was if you knew who Tom Brady was.
When Drew Bledsoe went down with an injury during a week two game against the New York Jets back in 2001, Brady came in to replace him.
Eventually, this Tom Brady guy actually turned out to be okay, he led the Patriots to an 11-5 record, and later a Super Bowl title.
Not bad for sixth-round pick, huh?
10. Derek Fisher, 2004 Western Conference Semi-Finals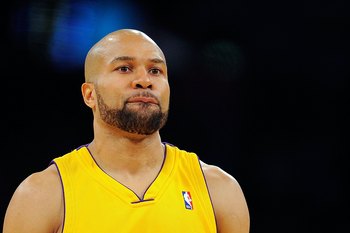 Let's play a little game of Go Fish:
There's .4 seconds left in a 2004 Lakers' playoff game, who's going to take the final shot.
Ummmmm Kobe Bryant. Go fish.
The Shaqtus? (See Bryant, Kobe)
Gary Payton? (See Shaqtus, The)
The answer is Derek Fisher of course (get it, Go Fish. Tough crowd I see.)
Derek Fisher was always appreciated as a good role player, but he was never "The Guy in L.A".
Fisher was not usually the first name that came to mind, when talking about the Lakers, and that's probably because he was never anything special.
He was a good leader, and an even better role player, but Kobe was usually the guy to take a shot with the clock winding down.
However, that wasn't the case during Game Five of the 2004 Western Conference Semi-Finals.
With .4 seconds left on the clock, and the Lakers trailing the Spurs 73-73, nobody could have dreamed that the Lakers would come away with that game, but they did.
The ball was inbounded to Fisher, and he, jumped, turned, and shot all in one motion to beat the buzzer.
Oh, by the way he made the shot. Fisher's .4 second shot could be the greatest in playoff history.
9. Bucky Dent, 1978 AL East One-Game Playoff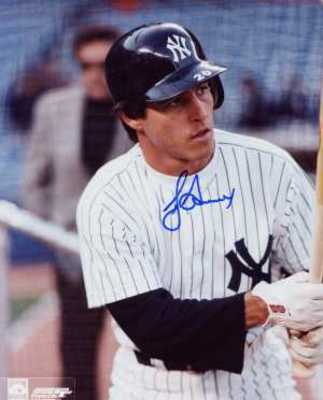 Bucky Dent hit home runs like they were going into style.
In a 12-year career he hit just 40, but one of those 40 is legendary.
Things weren't looking good for the Bronx Bombers during the 1978 season. During mid-July they trailed the Red Sox by as many as 14 games in the AL East division race.
The Yankees then went on a tear, and managed to tie the Red Sox for the division lead. Because they were tied at the 162 game mark, they went to a one-game playoff to decide who would take the AL East crown.
Trailing the Red Sox 2-0 in the seventh inning the Yankees were in desperate need of a big hit, and Bucky Dent delivered.
The Yankees number nine hitter, and the least powerful hitter in their lineup-Bucky Dent-knocked a three-run home run over the Green Monster.
This gave the Yankees the lead, and they never looked back.
8. Upset, 1919 Sanford Memorial Stakes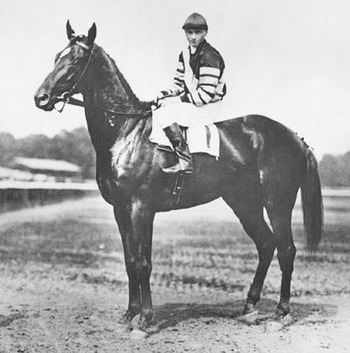 Man-O-War was the Bill Russell of horse racing-He didn't lose.
Literally, until the 1919 Sanford Memorial Stakes he had never lost a race in his life.
Betting against Man-O-War was like streaking- If you have common sense, you don't do it.
If you would have put $10 on Upset to win the 1919 Sanford Memorial Stakes, you would have came away $990 richer.
That's how unlikely he was to win. He was a 100-1 underdog.
When Upset handed Man-O-War the only loss of his dominant 21 race career, the world stopped spinning for a second.
Anybody, who picked against Man-O-War was stupid, but anybody who picked 100-1 underdog, Upset to beat Man-O-War was a new kind of stupid.
This is by far the greatest underdog story that nobody knows about, and Upset was extremely unheralded going into this race.
7. Buster Douglas, Febuary 11, 1990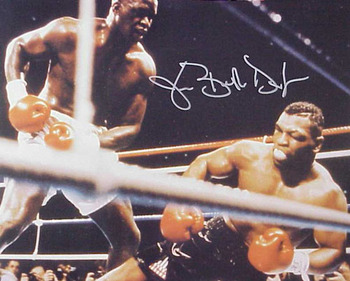 There was a time when you didn't need to steal Mike Tyson's tiger if you wanted him to knock you out.
Mike Tyson beat people up because he enjoyed causing them physical pain, Mike Tyson was "The Baddest Man on the Planet.'
NOBODY got the best of Mike Tyson back in the day, every time we watched him fight we were witnessing greatness.
When Buster Douglas Knocked Out Mike Tyson, it was the end of Tyson as we knew him.
Not only was he no longer undefeated, but the world finally realized that even Mike Tyson wasn't invincible.
Buster Douglas was a 45-1 underdog going into his fight with Tyson, but to the public his chances at victory were even less likely.
Mike Tyson was a god at one time, and Buster Douglas was the first step in his fall from grace.
I bet you Buster couldn't have beaten Mike on Nintendo.
6. Timmy Smith, Super Bowl 22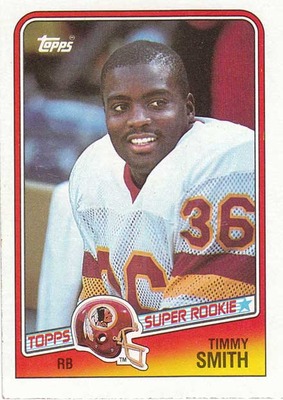 Timmy Smith carried the ball just 29 times in the 1987 season, yet he carried it 22 times during the Super Bowl.
That's what I call coming out of nowhere.
He carried it with great success too, Smith ran for 204 yards and two touchdowns during the game.
I don't even think the Redskins expected that.
5. Mike Eruzione, 1980 Winter Olympics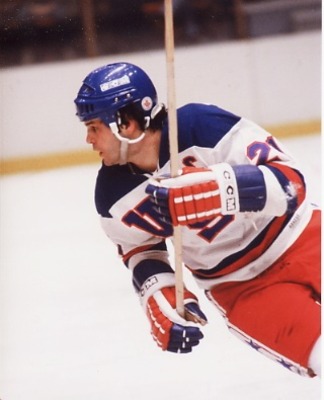 Do you believe in miracles?
Mike Eruzione became about as American as hot dogs after the 1980 Winter Olympics.
The Miracle On Ice was maybe the greatest moment in American Sports.
Team USA (made up of a bunch of college hockey players) defeated the Soviet Team (made up of the best hockey players in the world.)
In other words, Team USA took a team of kids under 23 years old (most of which never played in the NHL) and defeated some of the best players professional hockey had to offer.
There's no way any of that would have happened without Mike Eruzione.
He was a great leader, who got all he possibly could out of a bunch of teenagers (keep in mind he was just 25 himself).
Nobody expected Team USA or Mike Eruzione to succeed in the 1980 Winter Olympics, but Eruzione did it.
4. Stephane Matteau, 1994 Eastern Conference Finals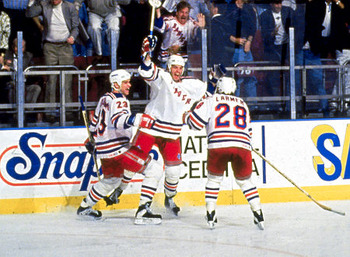 If Mark Messier is Jesus in New York, then Stephane Matteau should probably be Moses.
If you took a poll of non-Ranger fans, and asked who Stephane Matteau was, you might see some head-scratching.
I'm sure you're all aware that the Rangers won the Stanley Cup back in 1994, and gave a celebration for the ages, but what you're probably not aware of is that Stephane Matteau had a whole lot to do with that.
He scored not one, but two overtime goals for the Rangers in the 1994 Eastern Conference Finals against the Devils.
His first overtime goal won Game three, and his second, clinched Game Seven and a spot in the Stanley Cup for the Rangers.
Who saw that coming?
3. Aaron Bleepin' Boone, 2003 ALCS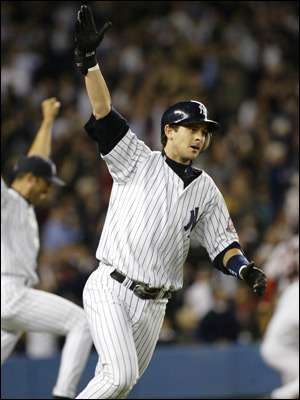 "1918! 1918! 1918!"
Thanks to Aaron Boone we got to chant it for another full year at "The House That Ruth Built."
Aaron Boone was caught in a platoon with Robin Ventura for much of the 2003 season, and he was thought of as nothing more than a body to most Yankee fans.
Boone had come into Game Seven of the 2003 ALCS earlier as a pinch runner earlier in the game.
I don't know what to say about this one: Boone was the LAST Yankee you would have expected to send the Yankees to the World Series.
Let's break out the video, because this moment was to crazy for words:
http://www.youtube.com/watch?v=_6kaM7K_WXY
2. Steve Bartman, 2003 NLCS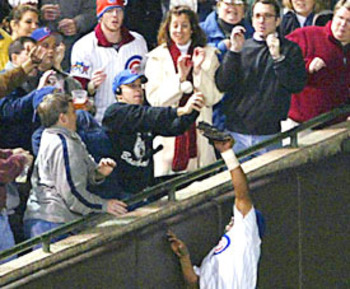 If you're from the North Side of Chicago, and you're reading this, STOP. If you're a Southsider, then I suggest not teasing Cubs fans who were alive in 1919, because that was 10 times worse.
Most people think of Bartman as a villain, but that's because people from Chicago tend to have big mouths.
If you're a Cubs fan, Steve Bartman is not a hero to you, but if you're a Marlins fan he is. Which is what people tend to forget: In killing the Cubs hopes, Bartman sent the Marlins home happy.
Steve Bartman cast a spell on the Cubs, (as if they needed it) and in doing so sent an extremely young and talented Florida Marlins team to the Fall Classic.
If you predicted that Steve Bartman would have had an effect on Game SIx of the NLCS, then you should probably alert your doctor immediately.
Steve Bartman is the definition of unheralded, and to quite a few people he was a hero as well.
It's a shame that he dropped the damn ball!
1. David Tyree, Super Bowl 42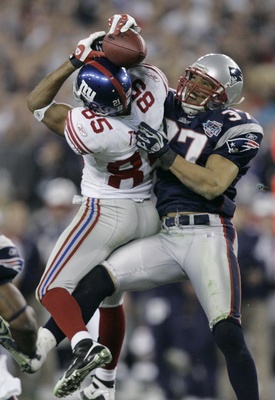 During Super Bowl 42, even David Tyree's mother said, "Who the hell is number 85?!?!" when Tyree made his ridiculous helmet catch.
The man was a special teams player who made four catches the entire 2007 season!
Sometimes I wonder what he was doing on the field in the first place, more than how the hell he did what he did.
People often forget that it was his five-yard touchdown catch that put the Giants ahead of the Patriots, 10-7, early in the fourth quarter.
With 1:15 remaining on the clock, the Giants faced a third-and-five on their own 44-yard line. They were in desperate need of a big play, and they got it.
The play broke down, and Eli Manning decided that he was Adrian Peterson for one play as he busted through defenders who were all over him like a girl at the bar.
Despite breaking through the pass-rush and gaining more time, Eli panicked and heaved a pass at David Tyree seemingly without looking at him.
Then came the catch.
Luckily David Tyree was wearing his moon shoes as he jumped into the air like Nate Robinson and used his head in a whole new way.
Tyree pinned the ball to his helmet and held on despite Future Hall of Fame Safety, Rodney Harrison trying to knock it out with all he had.
If you're making a list of unheralded heroes, you won't get to far without mentioning David Tyree.
Keep Reading