Clemson Tigers 2010: Eight Things We Know Following Spring Practice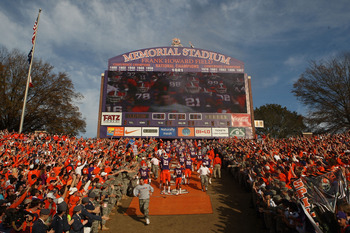 Spring practice, along with the Orange and White game, have come and gone for Tiger Nation. Even with the talent the Tigers lost to graduation, optimism still reigns in the Upstate.
To be complete, there are some major question marks for Clemson football as well heading into the 2010 season.
Here are some observations about coach Dabo Swinney's team following the spring sessions.
1) Kyle Parker is at least considering returning for football season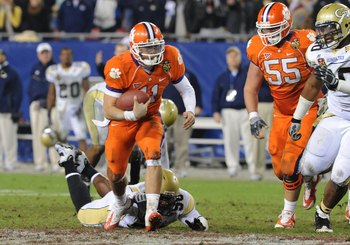 That's a good thing.
Starting as a redshirt freshman in 2009, Kyle Parker made tremendous strides throughout the season. He made his share of freshman mistakes, but developed much better game management skills as the season went on.
Parker has the best arm the Tigers have seen in quite some time. He can make every throw necessary to win at the collegiate level. He has also learned when to throw the ball away.
Parker's decision between major league baseball (and millions) and another season as the Tiger's signal caller is coming. Let's hope he has another 12 to 14 games wearing pads left on the docket.
2) Tajh Boyd isn't quite ready to start--yet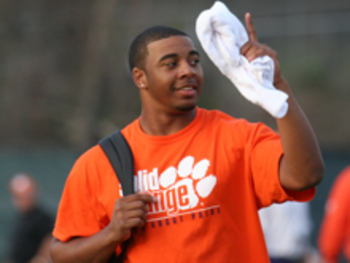 That's a bad thing. But Boyd may not be as far behind schedule as his stats in the spring game would suggest.
Kevin Steele gave Boyd just about everything he had in the Orange and White contest. Blitzes off the corner and from the safeties kept him under pressure every time he was on the field. That's what it is going to take to get the next stud quarterback ready for game situations.
Boyd even had his bright spots. He's learned how to find Dwayne Allen, both as a primary target and as a check down. That will only serve to extend drives and keep the Clemson offense on the field.
That's a really, really good thing.
3) DeAndre McDaniel and Rashard Hall are as good as advertised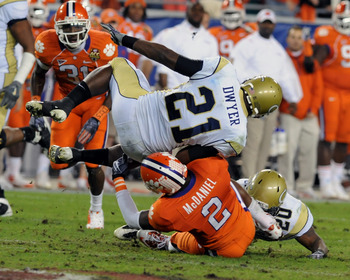 In 2009 it was the Tennessee duo of Eric Berry and Janzen Jackson that were widely regarded as the best safety tandem in the nation.
In 2010, that title will be held by a team wearing a bolder shade of orange.
With a year of maturation under Hall's belt, McDaniel will have the leeway to play the strong safety position as aggressively as anyone in the nation. Expect him to excel in the interception department and in run support.
Who cares about the press or the Thorpe Award? Whether they get the credit or not, it will lead to teams simply being scared to throw.
4) The linebackers will improve from 2009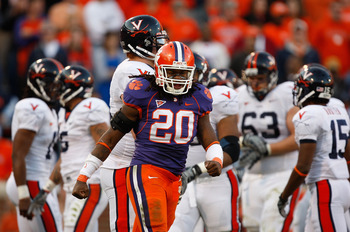 Even with the loss of Kavell Conner, expect more production from the linebackers in 2010.
Brandon Maye is as capable as ever. Corico Hawkins had a big spring.
Most importantly, the entire defense is getting used to Kevin Steele's system. Whenever a coordinator is changed, there is a period of adjustment. It's always toughest for the linebackers, simply because they have the broadest roles on the field.
There will have to be significant improvement in linebacker play for Clemson to beat Georgia Tech's triple option style of play. This will be the year that both happen.
5) Dwayne Allen will be a primary target in the Clemson offense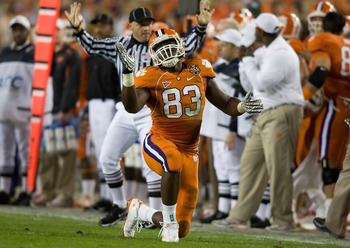 Evidently Tajh Boyd likes to throw to him.
Both Swinney and Napier love to use the tight ends as receiving targets rather than just blockers. Michael Palmer had his breakout season last year.
Clemson has another big tight end prospect who has committed to the team for 2011. Eric Maclain chose the Tigers over Tennessee and a host of others, mainly because of the role he saw the position has in this Tiger offense.
This year is Allen's time to shine. As long as he can remember where to line up (he cost the Tigers a score in last year's Florida State game with an illegal formation penalty) things should go well.
6) The placekicking game will be an adventure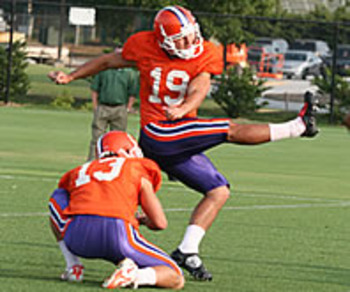 Once upon a time, Richard Jackson was a seasoned kicker with an outstanding leg and nerves of steel.
Then he got the yips and began to miss every chance he got, including extra points. While he's also developed into a stellar punter, the Tigers need someone who can put the ball through the uprights on a consistent basis.
Spencer Benton has had his shot in addition to Jackson. Expect the battle for the kicking job to continue when summer practice starts up.
7) The job at wide receiver is wide open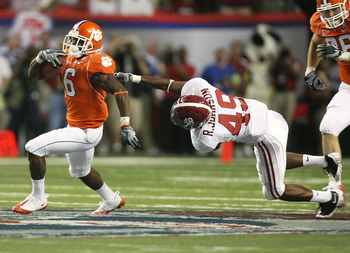 Jacoby Ford is pictured here. Unfortunately, he's an Oakland Raider now.
There is no clear-cut, number one wide receiver waiting in the wings. Xavier Dye has never stepped up. Jaron Brown has had a fumbling problem. Marquan Jones has shown flashes, but hasn't been consistent.
Expect the competition to really heat up this summer. Joe Craig, Martavis Bryant, and DeAndre Hopkins are all incoming freshmen with potential. Until then, who knows?
8) Andre Ellington and Jamie Harper had better be ready for a load
It may not be "Thunder and Lightning" revisited, but the bruiser and the burner will have their chance to impress this season.
The departure of C.J. Spiller and Jacoby Ford, coupled with the lack of experiece at wide receiver means that Ellington and Harper will be counted on to carry the bulk of the offense, especially early in the year.
Harper can run you over. Ellington can run past you. If they can consistently pick up first downs and help manage the clock, Clemson has a real chance to turn heads when they head down I-85 to Auburn for an early season showdown with the other Tigers.
Keep Reading

Clemson Football: Like this team?