Rockin' Around the Express: Will Ferrell Guest Stars for Round Rock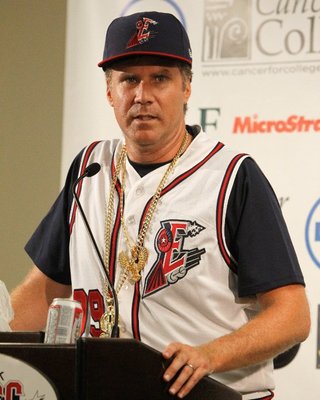 Comedian actor Will Ferrell was on hand at Round Rock's Dell Diamond on Thursday evening, May 6, guest starring for the Express (the Houston Astros' triple-A affiliate).
After watching a majority of the game from the owner's suite, Ferrell entertained fans when he emerged from the bullpen as Billy Ray "Rojo" Johnson to start the sixth inning.
The character "Rojo," an American-born pitcher out of Venezuela, was used as part of a skit during intermission leading up to Ferrell singing "Take Me Out to the Ballgame" in the seventh inning.
Ferrell is in town to host a charity golf tournament, The Will Powered Golf Classic, today (Friday, May 7) at Cimmaron Hills Country Club in Georgetown, Texas.
The tournament benefits Cancer for College, an organization which provides educational scholarships to cancer survivors.
This years marks the first time the gold tourney has come to Central Texas, though it hopefully won't be the last.
In the slides that follow, you'll get a quick glimpse of Ferrell at his finest: From press conference quotes to live action on the field of play…
Meet The Media: Round Rock Press Conference I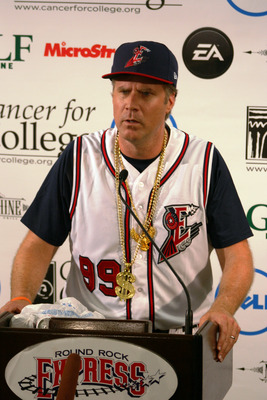 From, "Blue, you're my boy" to "Once it hits your lips, it's so good," Old School's funniest character made his Round Rock debut at Dell Diamond on Tuesday, May 6, for the Express.
And he put on quite a performance.
From his press conference finesse to his on-the-field antics, Will Ferrell had the stadium's fans drinking and laughing while enjoying America's Pastime on "thirsty Thursday" night at Dell Diamond.
"Mentally, I feel like I have the strength of 10 men after that," Ferrell said in his post-game press conference. "Anyway, I think that Nashville showed a lot of stuff tonight; especially No. 4."
(Don't worry, you'll see why he referenced "No. 4" in just a few shorts slides).
Meet The Media: Round Rock Press Conference II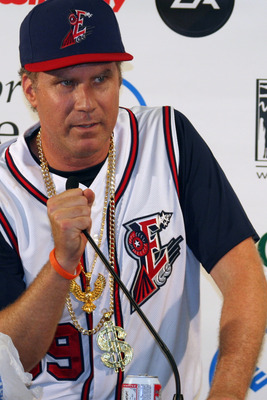 "If I do retire, it will be near my family's ranch in Waco," Will Ferrell told the media to laughter in his post-game press conference. "You know, it's funny. I've only been here for about seven minutes and already you guys feel like a family."
Great stuff from one of the kings of comedy…
Billy Ray "Rojo" Johnson: Sixth Inning Relief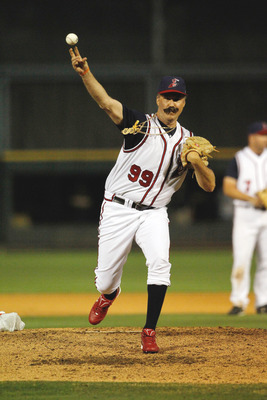 The Express went to Billy Ray "Rojo" Johnson for relief in the sixth inning, as Will Ferrell emerged from center field to the applause of the crowd.
However, he didn't last long as you'll soon find out…
Billy Ray "Rojo" Johnson: Mound Meeting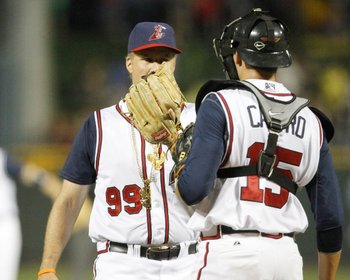 After a brief but heated discussion with Express catcher Jason Castro, Johnson continued with his mound appearance.
But it was only one pitch longer as Johnson was ejected for throwing at the first batter he faced (No. 4 for Nashville), leading to a confrontation on the mound and a chase soon thereafter.
Billy Ray "Rojo" Johnson: Chasing Daylight I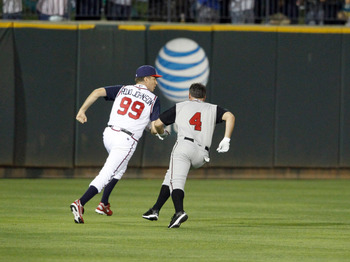 After being tossed from the game for throwing at the batter, it was all Will Ferrell after he sprayed down his opponent with beer before taking off running.
What a night for a ballgame…
Billy Ray "Rojo" Johnson: Chasing Daylight II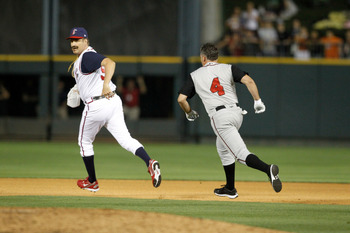 The "chase" went on for a while, much to the entertainment of those in attendance at Dell Diamond on Thursday night, as everyone had a laugh: Both on and off the field of play.
Shortly after running all the way to the outfield before retreating back to the infield and backup help from Express teammates, cooler heads began to prevail.
Billy Ray "Rojo" Johnson: Round Rock Resolution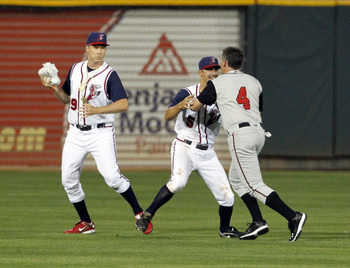 With his teammates backing their relief pitcher, a Round Rock resolution was soon met as all parties went their separate ways with smiles on their faces.
It was quite a fun and exciting night for the fans who got a taste of both great baseball and great comedy in one sitting.
Billy Ray "Rojo" Johnson: Up Close and Personal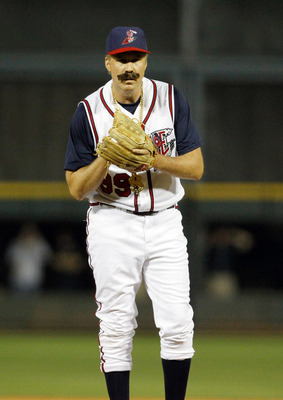 Nothing says Will Ferrell like this close up and personal shot of Billy Ray "Rojo" Johnson as he is about to release a pitch.
Thanks to guys like Ferrell, fans (such as myself) can take a deep breath and realize that it's just a game we're talking about here.
It makes that disappointment of a very poor start for the Houston Astros and Round Rock Express feel a bit better when Ferrell's on the hill.
I can just see him now on the cruise back to the hotel after leaving the ballpark, having nothing more than an Old School moment and reminiscing about times with "Blue."
"In this corner, weighing in at 110 pounds and pushing 89 years of age and the recent recipient of a brand new plastic hip, Joseph "Blue" Polaski."
From Old School times to his brief stint with the Round Rock Express baseball team, Ferrell's got the whole field covered…
*****
Denton Ramsey may be reached via email at denton.ramsey@gmail.com
[All Photos Courtesy of Round Rock Express Baseball / Larry Little, Director of Communications]
Keep Reading

Houston Astros: Like this team?