Darlington Raceway Claims Dale Earnhardt Jr. As First Victim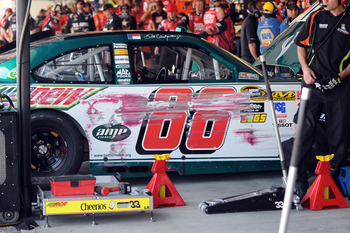 NASCAR Sprint Cup rolled into Darlington Raceway for the Showtime Southern 500.
Practice for the Sprint Cup cars started at 11:30 eastern and by 11:35 eastern the Lady In Black had claimed her first victim.
Dale Earnhardt Jr. took the honors of claiming the first Darlington stripe of the 2010 season.
Damage to the right side of his No. 88 Amp Energy Chevrolet was not too severe, but it did cover the complete right side of the car from front to back.
Photo Credit: David Yeazell
Photos copyright David Yeazell
No Rookie Mistake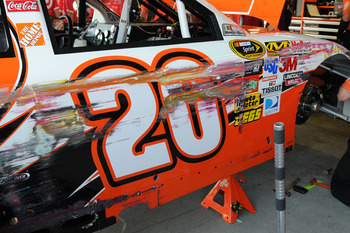 Not to be outdone by the seven time most popular driver, Joey Logano introduced his No. 20 Home Depot Chevrolet to the Lady in Black just seconds behind Earnhardt Jr.
Logano's damage was also slight, but did require some extensive work by his crew.
Before the first practice ended, Kurt Busch would also be included on Darlington's wall list.
No All Star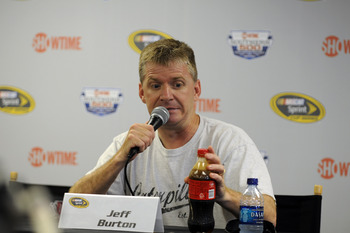 Jeff Burton was the first driver visiting the Darlington media center.
Questions centered around Burton not being in the All Star race this year and what he planned to do about it.
Burton said he was slightly disappointed but had two, maybe three, chances to get into the race.
Social sites like Twitter and Facebook could be outlets for Burton to get a popular fan vote, but according to his public relations people Burton does not participate in any of those mediums.
Championship Formula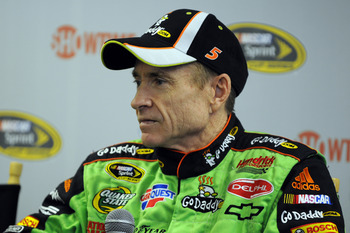 Mark Martin made an early morning visit to the media center and was immediately asked about the formula he needed to win a championship.
The formula is simple said Martin, I have to have the most points at the end.
Martin said he feels good about Darlington and last years win was very special to him.
Massage Therapist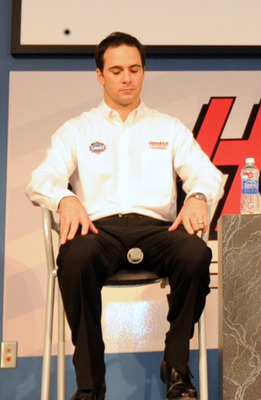 Members of the media wasted no time asking Jimmie Johnson where he's been the past several races.
While still posting good finishes, Johnson has still fallen out of the top spot in points.
"There are tracks that work for you and some that don't work for you."
"Statistically were have performed right about where we normally do in the past few weeks."
Johnson continued to give reasons and analogies of why their performance has faltered slightly, but assured everyone they're working just as hard as always.
"So we are all kind of massaging our packages and I hope that we get what we need out of the No. 48 car soon so we can get back to victory lane."
Even if Johnson doesn't find victory lane soon, massaging his package should alleviate some of the discomfort.
Waiting for Their Driver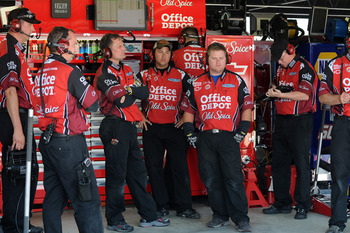 Crew members of Tony Stewart's No. 14 Office Depot wait patiently while their driver runs practice laps around Darlington Raceway.
Even though he hit the wall last year during practice, Stewart did post a top five finish in the race.
This year Stewart has stayed off the wall but can't seem to find any speed. At the end of first practice Stewart was listed 31st on the speed charts.
Guarded Finishes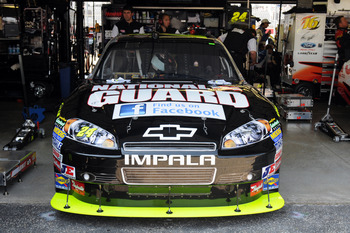 Jeff Gordon's No. 24 Chevrolet will carry the National Guard colors this weekend at Darlington.
Gordon has done everything possible to find victory lane this year. His record at Darlington is arguably the best in the business with a top five finish in each of the last five years, including a victory in 2007.
Gordon is tough at just about every race track. The Lady in Black has always smiled on Gordon. If victory lane is near, Darlington might just be where Gordon finds it.
Keep Reading