The Top 20 Rematches in UFC History, Part Two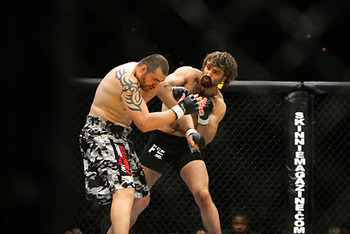 Rematches are a big part of MMA. Can you honestly tell me we wouldn't be where we are today if Tim Sylvia and Andrei Arlovski hadn't battled it out three times in the UFC Octagon? Well, we probably would, considering that those fights set the new standard for boredom.
But intense series of fights between two fighters can be a major drawing point for fans. Don't tell me that Ken Shamrock's intense hatred for Tito Ortiz didn't have something to do with them drawing about 750,000 pay-per-view fans in the mid-2000s when they fought, or when they drew an equally impressive number to Spike when they fought for a third time.
Fans like rematches, especially when they feel one fighter was given the short end of the stick in the first fight.
In the 17 year history of the UFC, there have been many rematches, from the lesser-known series between Oleg Taktarov and Dan Severn, to the almost legendary battles between UFC rivals Tito Ortiz and Chuck Liddell.
In the following contents, I have compiled the top 10 rematches in UFC history.
If you can think of any rematches I left out, or that you think should have been in a different spot, leave a comment.
Now on to the Main Event!
Number 10: Pedro Rizzo vs. Randy Couture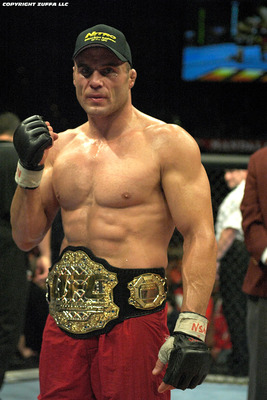 Series Leader: Randy Couture, 2-0
Have you ever seen something that looked so painful that you cringe? So painful that you close your eyes and imagine what it would be like to go through that? Then you see it again, and you wonder how much pain that person must be going through.
At UFC 31, Randy Couture ate a number of brutal leg kicks that can possibly be described as the above kind of painful. One of those leg kicks are enough to make any man crumple to the floor in pain, but not Randy Couture. He showed visible signs of pain, but he never backed down.
Through all five rounds, both Pedro Rizzo and Randy Couture fought, each taking hard hits, but both delivering just as many. At the end of one of the greatest fights of all time, a winner rose from the blood and sweat (and probably a few tears) that made this fight. It was controversial, yes, but the judges all had the fight for Randy Couture, making him the winner by unanimous decision.
However, due to the controversy, there was an immediate rematch scheduled at UFC 34, six months later. Pedro Rizzo was determined to show who the real winner was. Randy Couture was determined to show that the judges didn't make a mistake.
At 1:38 of the third round, Couture got his wish. After the first fight, which was highly painful and also left a divot in his left quad, the second fight was a relief. It lasted only half of the first, and Couture did a lot better on the stand up. He won the fight via TKO in what was a great cap to one of the best series in UFC history.
Number Nine: Forrest Griffin vs. Tito Ortiz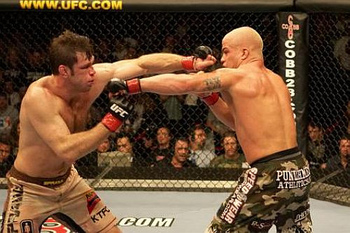 Series Leader: Tied, 1-1
Tito Ortiz and Forrest Griffin are two of the UFC's most popular fighters. Both are good fighters, both have been the champion of their division, both relate to fans, and both can brawl. These two have met each other in the Octagon twice, and both times, they produced great fights.
The first time they met in the Octagon was UFC 59, on April 15, 2006. Forrest Griffin was riding a wave of momentum after winning The Ultimate Fighter, and then beating two fighters afterwards.
Tito Ortiz's career was definitely on the down side, but he had still won two straight against the Canadian Patrick Coté and the dangerous Brazilian, Vitor Belfort, respectively.
The first round went badly for Griffin, who got hit hard on a few occasions, and failed to do anything in return to Ortiz, who easily won the first round. The rest of the fight was much more favorable towards Griffin, who showed that he had what it takes to hang with the big boys.
Despite the fact that some had him winning the fight, the judges scored the fight as a split decision win for Ortiz, who would go on to win his next two fights, both against Ken Shamrock.
Although it was a setback he probably didn't foresee, Griffin went on to win four out of his next five fights, including the light heavyweight title fight against Quinton Jackson.
Forrest then lost the belt in his first title defense against Rashad Evans, who in turn lost to Lyoto Machida. Forrest then took eight months off to rehab a broken hand suffered against Rashad. In that time, Tito Ortiz was released by the UFC due to contractual disputes.
After getting KO'd spectacularly against P4P king Anderson Silva at UFC 101, Forrest would take the next three months off before stepping in for an injured Mark Coleman against, you guessed it, Tito Ortiz.
Both fighters were excited about the rematch, which would be the main event of UFC 106. The first round went Ortiz' way, due to a few takedowns. The second round was a win for Forrest, but it was the third round where Griffin took charge.
He landed a multitude of punches, each of which caught Ortiz good, and without Ortiz ever threatening in the third round, it became an easy to score contest. The score was announced. Forrest Griffin won a split decision.
Right now, Forrest Griffin has dropped out of his fight with Antonio Rogerio Nogueira at UFC 114. He was replaced with Jason Brilz. Tito Ortiz is currently recuperating from a short stay in the lockdown, otherwise known as county jail. The charges are unclear, but it's strongly hinted as domestic violence.
Number Eight: Quinton Jackson vs. Chuck Liddell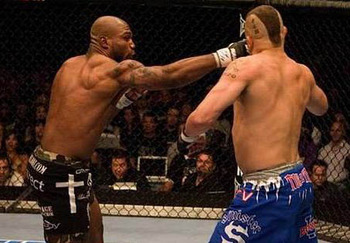 Series Leader: Quinton Jackson, 2-0
Chuck Liddell may have gone into UFC 71 with the Championship belt around his waist, but his rematch with Rampage Jackson was more than another title defense. It was a chance for Liddell to gain redemption after losing to Rampage at PRIDE: Final Conflict 2003.
Both Chuck Liddell and Quinton Jackson entered the 2003 PRIDE Middleweight Grand Prix, and both of them felt that at the end, they would emerge as the Grand Prix winner. Of course, for that to happen, they would have to get past some very stiff tests.
Chuck Liddell's first "test" came in the form of Dutch kickboxer Alistair Overeem, who presented almost no threat to Liddell through the whole three minute fight. Liddell KO'd him with a vicious left hook and advanced in the tournament.
Rampage had a tougher time advancing. His first fight was against Murilo Bustamante, who Rampage beat by split decision.
The fight between Chuck Liddell and Quinton Jackson took place on November 9, 2003. The fight would actually take just over one round. In a preview of what was to come in four years, Chuck Liddell got KO'd. After the fight, he went back to the UFC to cement his status as the best light heavyweight of all time.
Rampage would go on to get destroyed in his fight against Wanderlei Silva, who would get crowned the Grand Prix champ.
Their next fight would take place after Zuffa acquired Rampage's contract when it absorbed WFA. A rematch with Chuck Liddell was immediately set up. It would take place at UFC 71, and it would be for the belt.
Once again, Rampage would beat Chuck Liddell in stunning fashion. This time, it took only two minutes. What won it? Well if you move your eyes to the left, you should see a right hand seemingly embedded in Liddel's chin. That there would be your culprit.
Since then, Rampage has gone on to lose the title to Forrest Griffin. With a win over Rashad Evans later this month, he should be the next to challenge for the light-heavyweight title.
Liddell has lost four of his last five fights and is completely irrelevant within the division.
Number Seven: Frank Trigg vs. Matt Hughes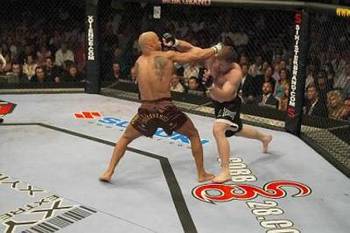 Series Leader: Matt Hughes, 2-0
Matt Hughes and Frank Trigg don't like each other. They don't care if anyone knows it. They want you to know it. These two were one of the UFC's first good rivalries, and rest assured, it was a good one. It had marketability, it had talent, and a real good guy/bad guy tone to it.
The first fight was a fun affair. It was somewhat back and forth for its whole four minute time period, and when it ended via an awesome standing rear-naked choke, the crowd was both awed and excited at the same time.
The second fight was also only about four minutes, but it had enough excitement to continue the elation from watching Forrest Griffin and Stephan Bonnar slug it out for three rounds one week previously.
Matt Hughes started the fight out with a shove, and after that you knew it was going to be good. At one point, Frank Trigg had a mad rear-naked choke locked in. We're talking both hooks, arms clasped, body squeezing chokage. And Matt Hughes somehow found his way out of it.
Later in the fight, Matt Hughes would lock in a rear-naked choke of his own and win the fight. Same opponent, same ending.
Matt Hughes is now a UFC welterweight gatekeeper, although he performs the job admirably and without complaint. Frank Trigg was recently released from the promotion after a two fight, two loss stint that saw him get KO'd by Josh Koscheck and Matt Serra respectively.
Number Six: Chuck Liddell vs. Tito Ortiz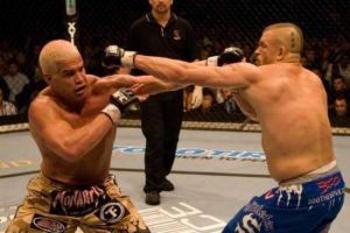 Series Leader: Chuck Liddell, 2-0
These guys pretty much set the bar for rivalry. Both of them can make a case for being the best UFC light-heavyweight of all time. Having a win over the other would pretty much seal the argument. If that's the case, then we should crown Chuck Liddell right now.
The first fight came after years of waiting. Everyone wanted to see the fight. Chuck Liddell, the fans, Dana White, everybody. The only person who didn't was the only person who could make the fight happen. Of course, it was Tito Ortiz.
When the fight finally did happen, it was very climatic. After years of ducking Liddell, Ortiz had finally stepped up to fight. And boy, was it worth it.
The first fight ended as a KO win for Liddell. It was disputed by Ortiz who said that one of Liddell's thumbs connected with his eye. That is a common technique in Kempo karate, a style Liddell utilizes, but it is illegal under UFC rules. It didn't matter.
The second fight came two-and-a-half years after the first. This time, it was for Liddell's championship belt. And Liddell never did give it up (Until Rampage KO'd him, again). Again, the fight ended as another KO win for Liddell and another loss for Tito Ortiz, who would go on to lose three of his next four fights.
Number Five: Anderson Silva vs. Rich Franklin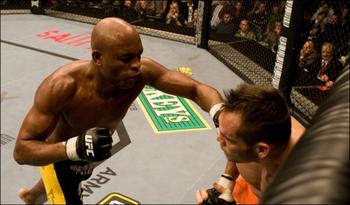 Series Leader: Anderson Silva, 2-0
Anderson Silva, when he made his UFC debut, wasn't widely known to US fans of the sport. He quickly established himself over fan favorite Chris Leben, landing 100 percent of his strikes and ending it quickly. His next fight was against the UFC middleweight champion, longtime UFC fighter Rich Franklin.
When those two fought, it was like cold water being thrown in the face of the UFC. Rich Franklin was the best middleweight in the world at the time. And here Anderson Silva was making him look bad. Rich Franklin was one of the best strikers in the UFC at the time. And it took Anderson Silva three minutes to show everyone how outdated they were. The Anderson Silva show was on.
Franklin was shocked of course. Anderson Silva had shown him a whole new side of losing, one that was very painful. Silva would display his superior ground game against Travis Lutter in the next fight, and then he would once again out-point a dangerous opponent in Nate Marquardt for his first defense. (Lutter weighed in overweight, therefore making it a three round, non-title bout.)
Then came the rematch with Rich Franklin. This time, it was in Franklin's hometown of Cincinnati, Ohio. The venue didn't matter. Rich Franklin had a good first round, but the second round proved to be his undoing. He got muay-thai-ed into dreamland, getting KO'd two minutes into the second.
Almost three years later, Rich Franklin is still in the UFC. He is fighting less and less, but has a fight with Chuck Liddell currently scheduled for UFC 115. Anderson Silva is still the champ, as you probably know.
Number Four: B.J Penn vs. Georges St. Pierre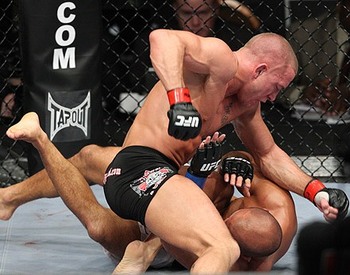 Series Leader: Georges St. Pierre, 2-0
You see that photo? BJ Penn is laying there. He has his hands up there, trying to protect his face. You think he feels helpless? He's BJ Penn. He shouldn't. Not with all that skill.
But then you factor in his opponent. That bald dude getting ready to drop a bomb on him is Georges St. Pierre. Anything BJ does, St. Pierre does better. That's how good he is. However, the first fight between them was more competitive.
The first fight was way back in 2006 at UFC 58. Georges St. Pierre had begun his ascension to the mythical figure he is today. BJ Penn was already one of the greatest ever, and he was still going strong. However, on that night, one of them had to lose. (Technically, they could have drew, but what fun is that?)
Georges St. Pierre WAS the better man on that night, beating BJ Penn by split decision. However, due to an injury by Georges St. Pierre suffered in the fight between him and Penn, he was forced to drop out of his next fight against Matt Hughes. BJ Penn stepped in.
Penn would go on to lose that fight as well, marking the only time in his career he has lost back-to-back fights.
Way, way later, at UFC 94, Georges St. Pierre and BJ Penn squared off again. This version of St. Pierre was the P4P king. He had the wrestling, the jiu-jitsu, and the striking. He could hang with anyone. BJ Penn was the lightweight kingpin. He had only been defeated once in his career at lightweight.
Pre-fight predictions had George St. Pierre as the favorite. And for good reason. St. Pierre took Penn down at will and brutalized him for four rounds, before BJ's corner (wisely) threw in the towel.
Looking back on it now, the result was no surprise to anyone except BJ Penn and his camp. Present day, Georges St. Pierre isn't scheduled for a fight. BJ Penn is set to rematch Frankie Edgar for the lightweight championship belt.
Number Three: Chuck Liddell vs. Randy Couture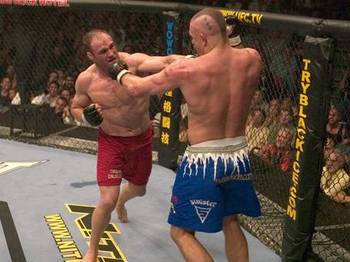 Series Leader: Chuck Liddell, 2-1
The corresponding photo was proven to be the exception, not the rule. The rule? Chuck Liddell was unbeatable unless he was fighting someone with the name of Quinton Jackson. The exception was, of course, Randy Couture's (TKO) victory over him at UFC 43.
The first fight between these three was going to be Liddell's coming out party on the rest of the MMA world. He was going to knock Randy Couture out, claim the title, and then never lose it again for the rest of his career. Well, at least that was the plan.
Like he always does, Randy Couture game-planned for Chuck Liddell perfectly. Instead of chasing Chuck down like all of his other victims, Randy cut him off. He prevented him from escaping. He used straight jabs to counteract Chuck's hooks.
The plan worked. Randy was able to gain the full mount on Chuck Liddell and rain down blows until the fight was stopped.
The next two fights were essentially the same thing. The second fight was a quick one. Chuck ended it by KO with one punch barely two minutes into the fight. This fight was also for the light-heavyweight championship. The second fight managed to make it into the second round, where Randy was once again KO'd by Chuck Liddell.
Right now this is only a trilogy. But with Joe Silva's tendency of putting old, boring fighters in Main Events, don't be surprised if this headlines a PPV in the next year.
Number Two: Georges St. Pierre vs. Matt Serra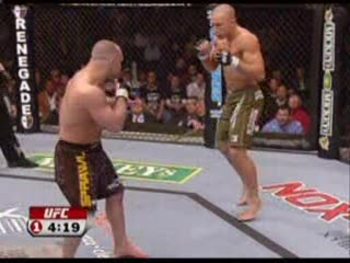 Series Leader: Tied, 1-1
The greatest upset in MMA history. GSP was a part of it. He was on the receiving end. Can you believe that? Of course you can.
It happened three years ago. But imagine sitting there, watching this event, thinking GSP is going to kill this guy in a minute, then BAM! he gets hit with a bomb overhand right, and then next thing you know the ref is holding Matt Serra's hand up.
The first fight obviously didn't go as planned for Georges St. Pierre. Of course it didn't. Losing is never in the game plan, unless you happen to be a member of the Minnesota Vikings who wears No. 4—but this isn't football. Everyone has seen the first fight. So allow me to skip the analysis...
...And make my way to the second fight. By the time the second fight rolled around, GSP was a different fighter. Instead of standing and trading with fighters, he would simply wait until they started a combo, then BOOM! he took them down. Matt Serra was no different. GSP clearly dominated that fight. He landed punches, knees, elbows—you name it, and it was landed. Except headbutts. Those are illegal.
Matt Serra's only real claims to fame are participating on TUF 4 and beating Georges St. Pierre. Right now, he doesn't have a fight scheduled, although he is fresh off of a sweet KO win over Frank Trigg at UFC 109.
Number One: Tim Sylvia vs. Andrei Arlovski
Series Leader: Tim Sylvia, 2-1
Naw, I'm just kidding. The real number one is next. Didn't mean to scare you guys.
Number One: Brock Lesnar vs. Frank Mir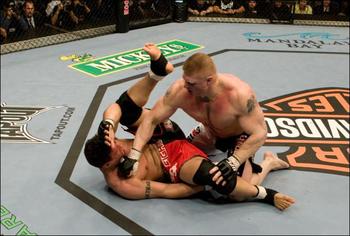 Series Leader: Tied, 1-1
This probably tops any rivalry in MMA. How many fighters have said that they're going to cause the other to die of Octagon related injuries? None. Frank Mir is the only one who said that. He isn't even fighting Lesnar. He was caught looking ahead and he got ran over by a freight train named Shane Carwin.
But back at UFC 81, Frank Mir and Brock Lesnar did fight. And for the minute and a half that it lasted, it had rivalry written all over it.
Frank Mir has always been known for his ground prowess. Against Brock Lesnar, he had none. Both the first and the second time. But the first time, Frank Mir used his ground prowess to help him achieve a win. He managed to lock in a knee bar in the first round. Advantage: Mir.
The second time around, he wasn't so lucky. Brock Lesnar used all his weight to hold Mir down and punish him. As Lesnar said, "I'm going to take this crowbar and shove it up his ass," or at least something along the lines of that. Shove he did.
Frank Mir lasted a round and a half of Lesnar's brutal ground onslaught before the ref took pity on him and stopped the fight.
Right now, Brock Lesnar is scheduled for the best heavyweight title fight in UFC history. He will be fighting against Shane Carwin at UFC 116. I can't wait.
As for Mir, he got caught looking ahead against Shane Carwin, and Carwin made him pay a very painful price for it. Frank Mir will continue his long battle to the back of the division, hopefully scoring a fight against Roy Nelson or Junior dos Santos on his way back up.
Thanks For Reading!!!
Thanks for reading guys. Please, like this article if you're feeling it. If not, comment on it and let's see if we can get a debate started.
Keep Reading