Recently, the league announced the first, second and third ALL NBA teams, as well as the NBA ALL-DEFENSIVE TEAMS.
I agree with the picks for the most part, (except that Rajon Rondo should have been on one of the All NBA teams, and Kobe isn't first team All-Defense anymore. Everyone knows it, but the voters are last to see it, it seems.)
We will debate the picks for the next few days, which is why lists are so great.
But let's get to a much more fun list.
The most memorable missteps of the great regular season that just ended.
You have probably heard about a few of them in passing, but have you seen them all in one place? I doubt it.
And if you have, then blame Google, bcause I checked everywhere before compiling mine.
Now without further ado — Let us begin!
Forward: Glenn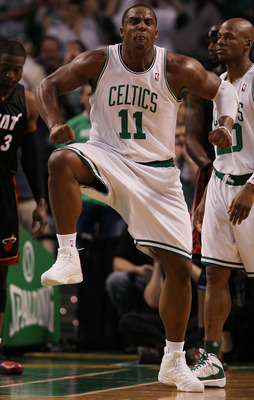 Let me begin this by saying, I love how Big Baby hustles. He will dive for balls 10 times a game if need be.
He is undersized but makes up for it with his unbridled energy. And no one can forget how well he played last year for the Celtics when KG was out.
But, Big Baby has had his off court decisions questioned a few times. Most notably as this season began.
According to numerous sources, the story goes like this:
Mr. Davis, noted party-er that he is, took his "best friend" from high school, Shawn Bridgewater, out for a night on the town.
The night ended with a Black SUV rocking and Davis and Bridgewater emerging from inside with bloody noses. Davis also was shirtless and his hand was hurting.
In fact his hand was broken, causing him to be out for several weeks early in the season.
This incident revealed two things; first, the Boston Nightlife is so good it makes you want to slap somebody.
(*Shouts out to Club Naked for taking care of me last time I was in town.)
And two, When Big Baby tells you that you are his best friend, you should probably duck!
Guard: JR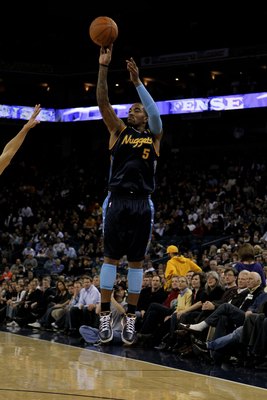 JR Smith is many things for the Denver Nuggets; three point threat, fast break finisher and sixth man of the year nominee. He also has a sweet jumper.
Unfortunately, one thing he has never been accused of being, is a decision maker. Not good ones, at least.
In a game in April against OKC, teammate Captain Carmelo Anthony, drove the lane and was hit hard.
Anthony fell to the court, and laid out, starfish style, in the paint.
No foul was called.
In fact, 'Melo was called for a travel and played continued.
Like any good team, the Thunder saw that they had a man advantage and took the ball down court.
Now, here is where it gets good.
The Thunder guard throws the ball down the court, hoping for an easy basket, instead it's intercepted by Mr. Smith.
As you watch the video, you can see him thinking about what to do next. He knows he can do one of four things:
A) Call time out so that they can scrape his teammate off the court.
B) Call timeout because there are only four guys in his color jersey that are conscious, and there are five defenders.
C) Call Time out!
He chose D: Drive one on five down the court, jump over Carmelo (barely missing the fallen soldier's head,) pass the ball to himself, and then be called for traveling.
In a word. Awesome.
http://www.youtube.com/watch?v=V1Wk-v3XB5U
Guard: Kobe Bean Bryant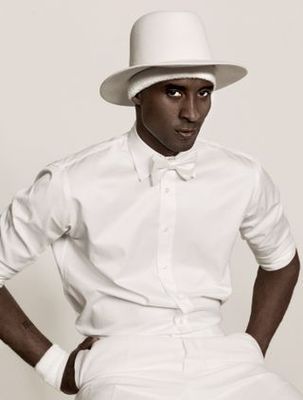 Kobe Bryant is arguably one of the best basketball players ever to lace up sneakers.
Kobe Bryant has won an MVP award, A finals MVP award and four NBA championships.
Kobe Bryant has been voted to numerous first team All NBA and NBA ALL DEFENSE teams.
According to the web, Kobe Bryant gives generously to charities such as:
* After-School All-Stars

* Cathy's Kids Foundation
* Vijay Amritraj Foundation
Kobe Bryant speaks several languages fluently and seems to be a loving father to his two beautiful daughters.
Sadly, Kobe Bryant chose to pose for the picture to the left.
Sigh.
Forward: Hedo
Hedo is a renaissance man. He does what he feels like doing, when he feels like doing it. And for those who don't know, he has been nicknamed the "Michael Jordan of Turkey."
Hedo was arguably the most important player on the Orlando Magic last year and they made it all the way to the NBA Finals.
But alas, Hedo was a free agent after the season, and instead of re-upping with the Magic, the word is he moved on to Toronto because his wife loves the city.
And you can't blame a man for wanting his family to be happy.
But Hedo wouldn't be a first team ALL-OOPS member if that was his only controversial decision.
According to many sources, Hedo called in sick one day in March with the "flu." No biggie, everybody gets sick, right?
Well later that night, Hedo felt a lot better. So much so, that he was spotted getting his groove on in a Yorkville Night club.
No, I don't know where Yorkville is, but the club can't be that hot if all shirts were still on and no blood was shed.
Anyway, the Raptors suspended him and rumors are they still hold a grudge.
Unfortunately, for Toronto, Hedo has a long contract and Canadian winters cause a lot of sick days.
Party on, Turkish Jordan. Party on.
CEnter: Dwight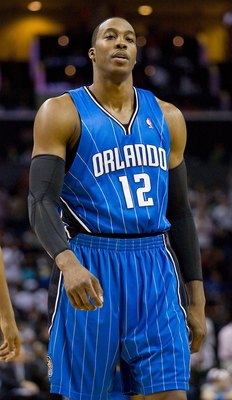 Dwight Howard seems like a really cool guy.
He's always smiling, can do dead on impersonations of Stan Van Gundy, as well as Charles Barkley, and has those great T-Mobile commercials running.
Dwight is also the best center on the planet right now. He has led the NBA in rebounds and blocked shots for the second straight year.
He is the reigning Defensive Player of the year and led the magic to the second best regular season record in the league.
Unfortunately, like most of us, Dwight is a fool for love. Superman's kryptonite was a former Orlando Magic Cheerleader by the name of Royce Reed.
Sigh...
Ms. Reed is one of the "stars" on VH-1's Basketball wives, which features the significant others of all world talents such as Michael Olowokandi, Antoine Walker and Meadowlark Lemon.
The show features lots of crying, lamenting and of course, champagne tossing. As in, "Hoe, you are a groupie and you need to leave my man alone, (splash!)."
By the way, Mrs. Lemon wouldn't be caught dead on a show like that. I made that part up.
But that isn't the worst transgression of Royce Reed.
See, this last spring, Ludacris, the rapper, hosted a bikini pool party and Ms. Reed was the most memorable contestant in the "Booty dropping, coochie popping dance contest".
So everywhere you looked on the internet you could find vivid streaming video of the mother of Mr. Howard's first born son, gyrating with one leg in the air, one leg around her back and a third leg moonwalking. (She's apparently very talented.)
For all that, if you're like me you're wondering, what was first prize?
NBA regular season tickets.
Sigh...
Keep Reading

Los Angeles Lakers: Like this team?