Five Possible Trade Destinations for Roy Oswalt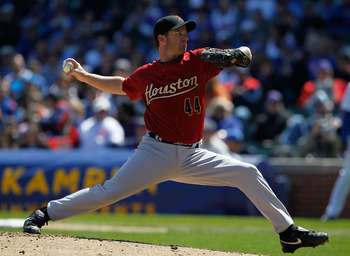 With every pitch, Roy Oswalt's time with the Astros comes one step closer to its end.
One of the game's premier pitchers since 2001, Oswalt is the biggest bargaining chip for an Astros franchise in desperate need of an overhaul.
At age 32 and the author of 139 career wins, Oswalt's name will be linked to trade talks as the season reaches its make-or-break point in July, where contenders (and pretenders) will dial up Astros general manager Ed Wade with possible scenarios to entice Houston to play "Let's Make a Deal."
As the season continues to take form, there are at least five teams that would have the right combination (playoff aspirations, quality young prospects and the ability to absorb the remaining $30-plus million of Oswalt's contract) that would force the Astros to part ways with the second-winningest pitcher in franchise annals.
5. New York Yankees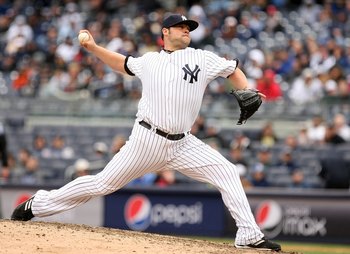 Oswalt for P Joba Chamberlain?
Keep dreaming, Astros fans....
Still, you can't discuss trading Oswalt without considering the Yankees, who will have their hands full keeping pace with Tampa Bay during the summer.
New York doesn't have an apparent weakness, but GM Brian Cashman and manager Joe Girardi's patience with Javier Vazquez (1-3, 9.78 in five starts) wears thin with each 430-foot blast Vazquez allows.
The Astros remain high on C Jason Castro, but the Yanks have a solid prospect behind the plate in Austin Romine (.341-3-17 in Class AA). Romine's path is blocked by super prospect Jesus Montero and has as higher ceiling than Casto.
Class AA lefty Jeremy Bleich would be a name the Astros consider, along with slick-fielding 2B David Adams. OF Melky Mesa is a five-tool prospect that has considerable upside and is a name the Astros should throw into the mix.
4. Texas Rangers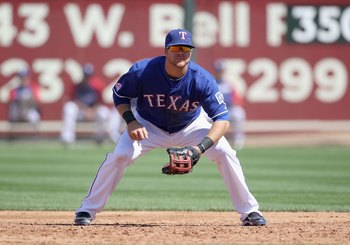 Team president Nolan Ryan believes the Rangers are a 92-win club, and the franchise has more than enough top-tier prospects to step up to the table.
Slugging 1B Chris Davis (above) would provide the Astros with a much-needed jolt of youth and power. While Lance Berkman is currently entrenched at first, he does have a $2 million buyout after the end of the season; Berkman's name will also be targeted as the deadline approaches.
Davis began his career as a third baseman and could be moved back to the hot corner.
Among the arms the Rangers could make available are lefty Matt Harrison (1-1, 4.97 in five starts with Texas), Class AA right-hander Danny Gutierrez or Class AAA righty Tommy Hunter.
3. Tampa Bay Rays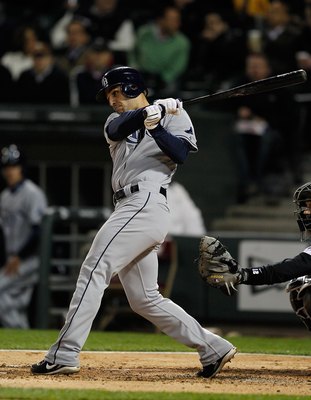 That the cost-conscious Rays could be interested in an Oswalt deal isn't too far-fetched. If they're serious about winning a second American League pennant in three years, Tampa would be wise to make a play.
No team is brimming with prospects like the Rays, who have major league-ready talent awaiting in the bushes. RHP Jeremy Hellickson, LHP Jake McGee, LHP Alex Torres, SS Reid Brignac and 1B/3B Matthew Sweeney are among the list of players that would help upgrade the Astros' farm system while giving them viable contributors in 2011 and beyond.
Perhaps the most intriguing prospect the Rays would market is utility player Sean Rodriguez. Currently riding the big league bench, Rodriguez has middle of the order pop and is capable of playing seven positions. The 25-year-old would be a must-have in any package Tampa presents.
2. Atlanta Braves
Oswalt has a no-trade clause in his contract, but the Mississippi native would listen more intently if the Braves came knocking.
RHP Kris Medlen is similar to Oswalt: a small (5'10", 175-lb) yet productive hurler, but his future could lie as a possible closer. Medlen would be part of a package that could also include Class A OF Adam Milligan or Class AA OF Cody Johnson; Johnson is regarded as one of the best pure power hitters in the minors who has drawn comparisons to Arizona's Mark Reynolds.
LHP Jo-Jo Reyes' act may have worn thin with the Braves, but has enough skills to merit consideration. Like Sheryl Crow once sang, a change will do you good...
1. Los Angeles Angels of Anaheim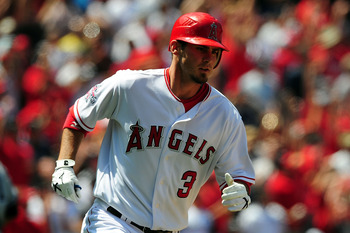 The Angels are in need of an ace to solidify a shaky rotation, and owner Artie Moreno would have no qualms about taking on Oswalt's salary.
Placing Oswalt atop a rotation that includes Ervin Santana, Jared Weaver, Scott Kazmir and Joe Saunders would give the Angels an equalizer to Seattle's 1-2 punch of Felix Hernandez and Cliff Lee.
The Angels would be willing to part ways with 3B Brandon Wood, a one-time prospect who has yet to make his mark in the bigs. A change of scenery might be the tonic Wood needs to tap into his potential. Hard-throwing lefty Trevor Reckling (3-1, 4.64 in Class AAA) is a soon to be 22-year-old that projects as a number two starter.
RF Angel Castillo is another 21-year-old that projects as a quality big leaguer, but the 6'3", 190-pounder is off to a slow start (.213) in High A.
Keep Reading

Houston Astros: Like this team?