10 Canucks You Need To Watch In Game 4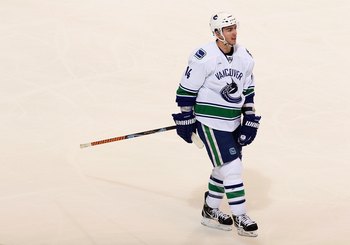 After watching yet another debacle of a game, I have to say something about the play of the following players. This isn't a slideshow which is the "glass half empty" type, if you will. It contains both positive and negative comments.
Make sure you keep an eye on the play of these players in game 4, however, because their actions in the next game will decide the fate of this team heading into Chicago. True, game 3 had some terrible calls and there was more Luongo-bashing to witness, but the Canucks didn't deserve to win. They showed their fans again how they couldn't keep up the pressure for a full 60 minutes.
It's not like I'm giving the Blackhawks much credit, but they took the opportunity that came to them in the 2nd period (off the Burrows penalty), and they capitalized, putting the game away. For all those hoping for another Canuck comeback in the 3rd, you should have seen this coming.
The Blackhawks have more of a killer instinct than the Canucks, and there is no such thing as "3rd period heroics" against Chicago.
Ryan Kesler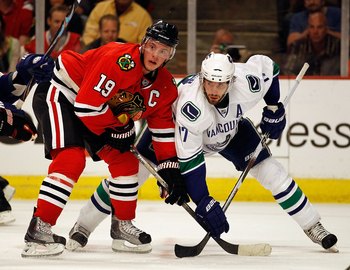 Kesler will not accomplish anything with the line of Burrows and Raymond against the Hawks. He has successfully been neutralized by Chicago, and Vigneault is too blind to notice. Ryan's a power forward and a fast center, but he hasn't been a factor so far in any big way.
In game 4, look for him to be more physical. That's how he gets points, by being in the face of the other team. So far, the only irritation Kesler's given anyone, is the Vancouver fans, who are waiting to see when the 75 point producer will get back to the game that has made him successful in the past.
Daniel Sedin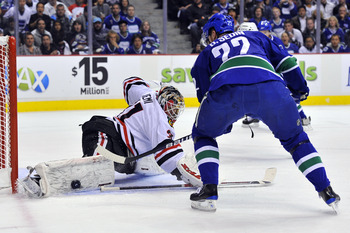 Daniel had some great chances in the first period of game 3, but he failed to score on all of them. Once he got frustrated, he let the Hawks' players get to him, and every time one of them took a jab at him, he reacted.
Look for the scoring Sedin to be more composed in game 4. He and Henrik both have to be, or they will not be a threat. If Daniel Sedin (and Henrik, for that matter) are cool and calm, they can control the play and frustrate the other side.
Mikael Samuelsson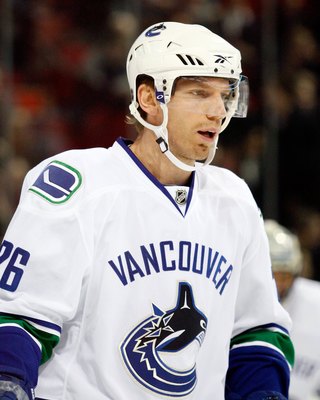 Samuelsson was again solid in game 3. But just like Daniel, he had the shots and the chances, but he couldn't capitalize. There's not much to say in the way of him belonging with the Sedins. He can definitely be the perfect fit, but if he doesn't show some grit in game 4, he'll be replaced by Burrows.
Vigneault won't show much patience with the top line if Samuelsson can't get going. He's been key in the Canucks success so far, and he needs to continue to be a threat.
Kyle Wellwood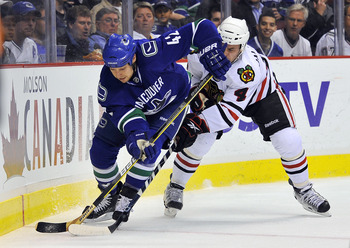 Wellwood doesn't strike me as a player that should be playing a lot of minutes against the Hawks in any game. He was fast to start game 3, but as the game got on, his lack of speed was highlighted as the Hawks just skated around him whenever he tried to take the puck away or pull a deke. What makes it worse is the fact that Vigneault was playing the 3rd line more than the 2nd one in the first 40 minutes.
Honestly, I don't know what to say. Watch for Wellwood to screw up a sweet play in game 4, because honestly, I don't think he can score worth a damn unless the players he's playing against don't know how to be physical.
Roberto Luongo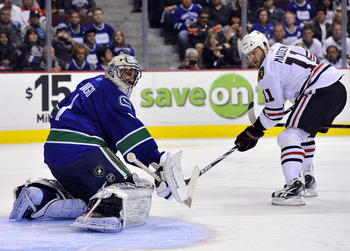 Luongo was solid in the first 2 games of this series, but just like last year, the Hawks are starting to get to him. Now I would blame this on the D, but when you've got a goalie like that in your net, you expect him to perform at a higher level. 4 of the 5 goals Luongo let in were off rebounds or terrible puck handling. That being said, he has tried to be the difference in this series, but he needs a little more help from his defense.
Luongo will need to be near perfect in game 4 (yes, I am captain obvious), but other than that, the Canucks will have to find some way of letting him see the pucks being fired towards the net. Dustin Byfuglien, a defenseman who was brought up to the front just so he could bother Bobby Luo, got a hat trick in game 3... do I need to say more?
Shane O'Brien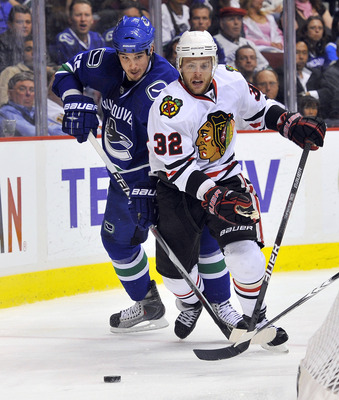 I feel somehow sad writing this, but Shane O'Brien is a big key to Vancouver's success, when he stays composed and physical, which is a hard thing for Shane to do. He can take a lot of stupid penalties, but he is an asset on the penalty kill and against any top line.
In game 3, he let the Hawks get to him (him and half the Canuck team), and his play changed. Let me explain that one. Usually, O'Brien will knock down his man and go for the puck. That was not the case in game 3; he was focused more on the man than the puck. I counted at least 3 times when he could have cleared the puck out the Canucks zone after downing a man, but instead he stayed on top of the Blackhawk and kept hitting/irritating the forward.
Hey Shane, you're no replacement for Willie Mitchell, but you're capable of being one. Come game 4, show Canuck nation that business is business, and stick to thinking about the team.
Mason Raymond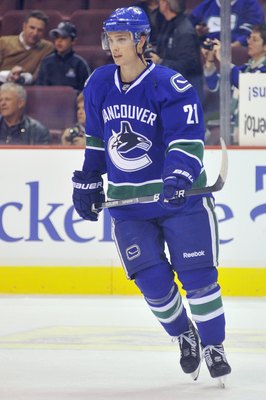 I used to say that Hansen was all speed and no skill, that Gaborik was both speed and skill, and that Raymond was somewhere in the middle. I've changed my mind. When it comes to the playoffs, this young player needs to show the Canucks that he can step up. One of the things that the Vancouver roster boasted was depth, and when the Sedins aren't brilliant and Kesler can't get it going, then who do you turn to?
Raymond has no excuse not to produce when he's paired up with Kesler and Burrows, along with Ehrhoff. Imagining the speed is one thing, but showcasing it with some skill would be nice.
I'd like to see Raymond get a goal in the next game. Unlike what happened with Burrows, I think it'll get him going.
Pavol Demitra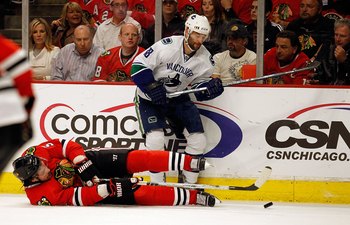 Another playmaker who's been showing up in streaks. First, the Olympics, then a couple promising moments late in the season, and a goal recently against Chicago. But where is Demitra (actually, where is most of the Canucks "depth of scoring"), when the Sedins aren't exactly clicking?
This guy should be playing with Burrows and Kesler, his passing ability could help that line in a way Raymond could only hope.
**And go figure, Demitra has been scratched from the line-up for Game 4.
Alex Burrows
Oh Alex... I used to think you had a brain on you, but I guess I was wrong. Your team was playing great in the first and second of a close game 3, and your team had been given a gift in the way of icing, and those Sedins were about to step onto the ice against a tired Chicago squad... And all you could think about was giving Brian Campbell a piece of your mind (which couldn't have been much, come to think of it).
It was a stupid play that put the Canucks down a man, and down 3-1. The game was basically over, since it was immediately noticeable how the entire team changed their play. Yes, I am blaming Alex Burrows largely for the game 3 loss that occurred.
He will be looking to save his name in the 4th game, but he needs to remain calm. It's no secret that Burrows is a pest, and almost all the Blackhawks want to get under his skin, but once he lets them, it could have dire consequences for his own team, cue the game 3 debacle.
Christian Ehrhoff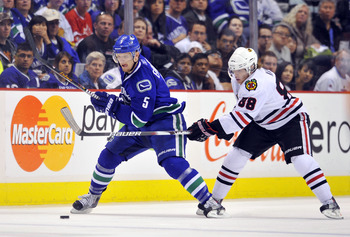 One of the few positives throughout this series has been Ehrhoff's play. The guy's a beast, going coast to coast a couple of times and keeping the Hawks, if not in their own zone, at least out of the Nucks'. Christian Ehrhoff is consistent, and reliable, rarely having an off night.
I bet he'll be a major reason for the Canucks prevailing in game 4, if they manage to pull it off. Some more offense from the back end would help as well (I am talking about goals, not assists, as I am aware that Edler and Salo combined for 4 assists in game 3).
Ehrhoff has been the core of the Vancouver defense, and if it needs to improve, he needs to lead the way.
Keep Reading

Vancouver Canucks: Like this team?