Zero to Hero: Barry Zito's Progress with the San Francisco Giants
Barry Zito has been incredible. He is 5-0 with a 1.49 ERA and 0.92 WHIP in 42.1 innings pitched. That is far from the Zito Giants fans were used to seeing from 2007 to the first half of 2009.
How did Zito make this transition from "major" disappointment to "rebounding" stud?
Here are five aspects that have contributed to Zito's success from the second half of 2009 to now.
(Statistical information courtesy of Fangraphs.com.)
Reason No. 1: Tim Lincecum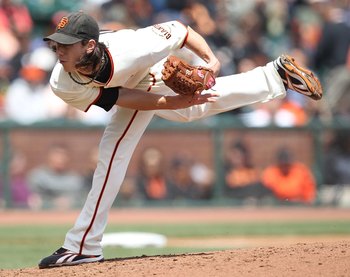 When Barry Zito was signed to a seven-year, $126 million contact prior to the 2007 season, it was assumed that he was going to be the Giants' ace of the future. Unfortunately, that was not a fair standard to hold against him.
For starters, at the time of the contract, Zito was about to turn 29 years old and had already pitched seven seasons in the majors with the Oakland Athletics (he also pitched over 210 innings each season in that time span, with the exception of 2000, his rookie year).
So, when Zito didn't live up to expectations, it was natural for Giants fans to bash and criticize him for not "earning" his contract.
However, with Tim Lincecum assuming the mantle as the team's ace, the results have been much different. When Lincecum was made the team's Opening Day starter in 2009, Zito went on to have his best season as a Giant, posting a 1.35 WHIP, a 4.03 ERA and a 4.31 fielding-independent pitching metric (his best FIP since 2003, when it was 4.05).
With Lincecum the front-line starter again, Zito has continued to do well this year in 2010.
Thus, with Lincecum the main man in the rotation, Zito isn't forced to be the "guy" anymore in the rotation and isn't required to shoulder the load and hopes of this Giants team. He is able to pitch without much pressure (which he did in Oakland because he pitched along with Tim Hudson and Mark Mulder), which caters to his laid-back attitude and approach.
Would Zito be the pitcher he is today without Lincecum? Maybe, but I would highly doubt it. Zito isn't a No. 1 starter anymore. However, as a middle-of-the-rotation guy, he is still very good.
Reason No. 2: Stronger Command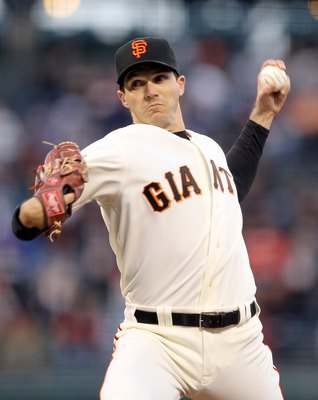 Surprisingly, command and control is something Barry Zito has struggled with throughout his career. Even though he is not a high strikeout pitcher (his highest strikeout rate was 8.61, in 2001), he has been prone to high walk numbers from season to season (his career BB/9 average is 3.70).
Command definitely proved to be something Zito struggled with when he made his transition across the Bay in 2007. During his first year, he posted a BB/9 of 3.80 and a BB/K ratio of 1.58 (the league average is about two).
In 2008, he immensely struggled to locate his pitches. Not only did he post the highest BB/9 of his career (5.10), but he posted a below-average BB/K ratio to boot (1.18).
What was Zito's problem his first two years? Just look at his ability to throw strikes.
In 2007, Zito threw 51.4 percent of his pitches for strikes (which actually was 1.4 percent above the league average). However, in 2008, he dramatically dropped in that category, as he threw only 47.2 percent of his pitches for strikes (which was almost four percent below the league average).
Since 2009, though, Zito's started to show some of the command he had in Oakland when he won a Cy Young. He threw 52.7 of his pitches for strikes in 2009 (3.3 percent above the league average and a 5.5 percent increase from his percentage in 2008) and has thrown 54 percent of his pitches for strikes this season.
The most impressive aspect about Zito's improved command? Despite hitters seeing more pitches in the strike zone, hitters have had a harder time making contact against Zito (his contact rate fell from 82.8 percent in 2008 to 82.2 percent in 2009 to 81.5 percent in 2010).
Reason No. 3: Increased Velocity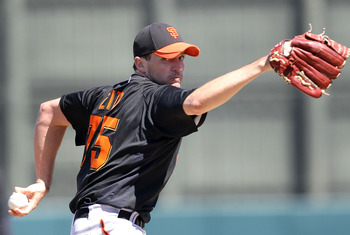 If you look at his velocity charts on Fangraphs.com, Zito has increased the velocity on his fastball since he broke in with the Giants in 2007.
In 2007, Zito's fastball ranged from the low to mid-80s in miles per hour and averaged 84.5 mph. In 2008, his fastball increased as they year went on (it ranged from low to mid-80s in the first half to consistently in the mid- to high 80s range) but it still only averaged 84.9 MPH.
Since 2009, though, Zito has brought some heat on his fastball. Last year, his fastball averaged 86.5 mph (his highest fastball velocity since 2005) and this year his fastball averages 85.9 mph (ranging in the 85-88 MPH range).
Why is this increase in fastball velocity important? It has led to him being more effective with his curve and changeup. Last year, his curveball was valued at 1.93 runs above average per 100 pitches (which means he prevented 1.93 runs per 100 pitches), according to Fangraphs. This year, his curve is valued at 7.18 runs above average per 100 pitches and his changeup is valued at 2.36 runs above average per 100 pitches.
That certainly wasn't happening in 2008, when he didn't have much velocity behind his fastball (his changeup and curve had negative values that season).
Reason No. 4: He's Gotten Luckier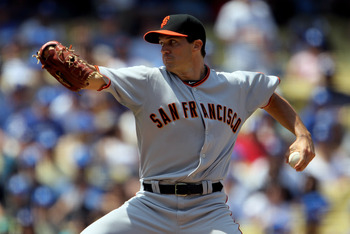 Zito's luck has been up and down with the Giants since he arrived in 2007. Despite having a fortunate BABIP of .272 in 2007 (35 points below the league average that year), he only had a strand rate of 69.7 percent (one percent below the league average in 2007).
In 2008, it was the worst of both worlds. He sported a BABIP of .305 (one point above the league average and a 33-point increase from the previous year) and a strand rate of 65.7 percent (5.7 percent below the league average). Hence, it was predictable why Zito posted a high but "not as bad as you would think" FIP of 4.72 (in comparison, his FIP in 2007 was 4.82).
It has been a different story luck-wise though for Zito since 2009. Last year, Zito's BABIP was .290 (13 points below the league average) and his strand rate was 75 percent (the league-average strand rate in 2009 was 71.9 percent). This year has been remarkable. Until his last start, he had a BABIP of .228 and a strand rate of 82.1 percent.
Granted, those numbers in 2010 aren't really sustainable, and they most likely will go up (his xFIP is 4.05). On the bright side, it seems as if Zito's luck has turned around after his first two seasons in San Francisco, which is positive for Zito and the Giants.
Reason No. 5: Striped Socks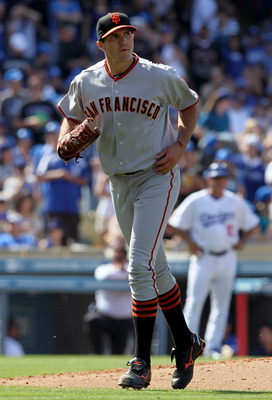 Win-Loss numbers with the Giants without striped socks: 31-43.
Win-Loss numbers with the Giants with striped socks: 5-0.
Is it coincidence?
Maybe; maybe not. Baseball can be a funny game.
At the same time, the superstitious side of me definitely wouldn't mind him continuing to wear the black socks with the orange stripes at the top.
Let it ride, Barry!
Keep Reading

San Francisco Giants: Like this team?