Arizona Cardinals: Projected Offensive Starters
So now that the NFL Draft is over, what is there to talk about when it comes to pro football?
The answer: Plenty!
(At least that's my hope...)
And in the Valley of the Sun, where it's been the busiest offseason in years, there's always a lot to talk about.
Like who the starters will be in the upcoming season.
Let's get going, shall we?
Quarterback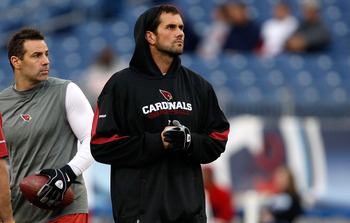 Projected Starter: Matt Leinart
Backup: Derek Anderson
Looming: John Skelton
This is arguably the most debated single position for the Arizona Cardinals this offseason.
And for good reason.
I'm personally behind Matt Leinart. So is Larry Fitzgerald, who said so in my interview with him (check my previous articles for the full interview).
But if he should not play up to expectations, as in previous years, I am more than willing to throw my support behind Derek Anderson, who arguably could return to Pro Bowl form with the weapons he has in Arizona.
Then there's John Skelton, the athletic freak, but still raw. If you haven't seen his Sports Science video on espn.com, do it just for fun.
Ultimately, this job is Matt Leinart's to lose. If he plays like he did when he came on for Kurt Warner against the Saints, all should be well.
But if he plays like he did against the Rams or Bears, Derek Anderson better be ready.
Running Back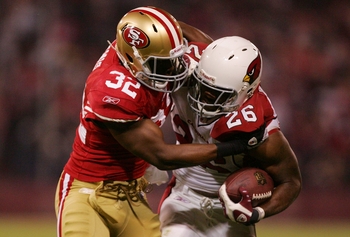 Projected Starter: Beanie Wells
Backup: Tim Hightower
Looming: LaRod Stephens-Howling
This position, for the first time in who knows how long, is one of the few positions where there aren't any questions.
Strange to say that about the Arizona Cardinals huh?
The only real question is how many carries/touches each running back gets.
Oh, and whether this is Beanie Wells' year to break out.
Wells certainly made a splash at the end of last year, and Cardinals fans have high hopes for the youngster from Ohio State.
And since the Cardinals have questions at quarterback, and the offensive line looks to be its best in years, you may see a team that actually runs the ball more.
Gasp.
That's definitely a change in the norm for Arizona.
But this should also help Tim Hightower, who's a solid backup/change of pace back. Although Tim and the third back, LaRod Stephens-Howling, will probably be more effective in the passing game.
And then there's Stephens-Howling, who the coaching staff thinks could morph into a Darren Sproles type back.
All in all, I'd say that the Cardinals have one of the more effective backfields in all of the NFC.
Wide Receivers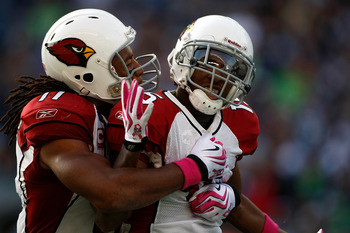 Projected Starters: Larry Fitzgerald, Steve Breaston
Backup: Early Doucet
Looming: Andre Roberts, Onrea Jones, Ed Gant
And for the first time in several years, the Cardinals actually don't have a super deep receiving core.
Gasp.
And they have some big shoes to fill with the loss of Anquan Boldin.
Particularly the combination of Breaston and Doucet.
Doucet, in particular, is the unknown here. He came alive in the playoffs last year and practically looked like Boldin against Green Bay.
Breaston, if nothing else, could see a rise in fantasy value due to being the No.2 receiver...for now.
Doucet could have that by the end of the year. Mark my words.
The biggest question mark for Arizona is depth. They've had great depth in previous years, but this year they've got a rookie (Roberts) and a couple of practice squad guys (the aforementioned Gant and Jones) vying for the fourth, fifth, and sixth receiver positions.
Roberts could be a great find and should fill the fourth receiver position well.
But if Breaston, Doucet, or Fitzgerald goes down with an injury, the Cards could be in some trouble.
Tight Ends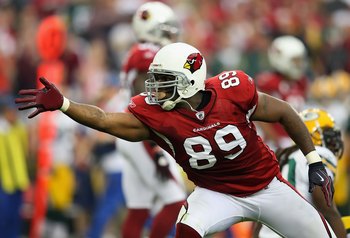 Starter: Ben Patrick
Backup: Stephen Spach
Looming: Jim Dray
Don't laugh.
This may be the year that the tight end actually has meaning for the Arizona Cardinals.
And although they don't catch too many passes in the Arizona offense, they do a good bit of blocking out of two tight end sets, which we may see more of with the lack of a fullback on Arizona's roster.
This is where I believe Ben Patrick comes in. Patrick, I believe, has the best hands of the tight ends on the roster, even if his blocking skills aren't strong.
And with Matt Leinart (or Anderson) taking over, they'd probably like to have a big target to throw to.
Then comes Stephen Spach, as he's almost a sixth offensive lineman and could mean a great deal to the Arizona rushing attack.
Dray, the seventh round draft pick from Stanford, could soon take Spach's place if he can translate to the NFL.
In fact, his teammates at Stanford described him as a "sixth offensive lineman."
The tight ends could definitely mean more to the Cardinals this year.
Offensive Lineman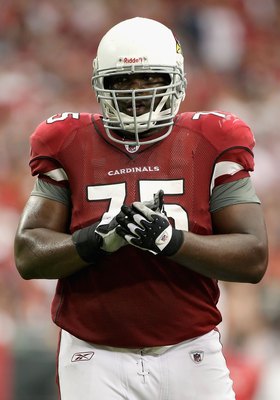 Projected Starters: Levi Brown (LT), Alan Faneca (LG), Lyle Sendlein (C), Reggie Wells (RG), Brandon Keith (RT)
Backups: Rex Hadnot (G/T), Herman Johnson (T), Jeremy Bridges (G/T)
For once, it appears that the Cardinals questions on offense don't lie with the offensive line.
That's what bringing in a veteran like Alan Faneca will do for you.
Now don't get me wrong. The casual observer looks at Arizona and still sees a decent offensive line.
In fact, many of the 2011 Mock Drafts (yes, there are those out there...) have Arizona taking an offensive lineman.
And to be frank, I'm sick of it.
The Cardinals didn't even take one this year. That's how confident they feel about their line, particularly their line coach, Russ Grimm.
And then they added Faneca.
You following me yet?
The biggest question is actually who will start where?
Projections right now have Levi Brown moving to left tackle, Faneca at left guard, Lyle Sendlein at center, Reggie Wells at right tackle and maybe Brandon Keith at right tackle.
But, for once, there's some key depth. Rex Hadnot was signed this offseason to provide that, Jeremy Bridges has played several games for the Cards, and Herman Johnson is an up and coming (and very large) second-year tackle.
And then the team could re-sign Deuce Lutui.
It looks promising, and I could be completely wrong on the order of the line.
But for once, that's okay.
Special Teams
Starters: Ben Graham (P), Jay Feely (K), Andre Roberts (PR), LaRod Stephens-Howling and Justin Miller (KR)
This is the area that has dramatically improved under Coach Whisenhunt.
The Cardinals have one of the best punters in the league (who lost out only to Andy Lee in Pro-Bowl voting), and one of the best veterans in the league at kicker.
The questions marks in this area are at the return positions.
Steve Breaston has been the punt returner for the last couple of years. But that could change this year with him stepping up alongside Larry Fitzgerald.
As such, the staff may want Breaston to take a few less hits. Andre Roberts seems to provide the perfect solution, as it's something he did in college at the Citadel.
And on kickoff returns LaRod Stephens-Howling should be back, and maybe even better than his rookie year when he took one the distance against the Titans.
But he actually should have some help this year. Justin Miller just recently signed with the Cards, and he made the Pro Bowl recently as a kickoff returner.
It looks like this year, the Cards special teams could be a strength.
Keep Reading

Arizona Cardinals: Like this team?