MMA: The Top Twenty Rematches In UFC History, Part 1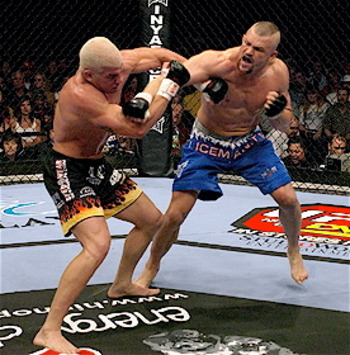 Rematches are a big part of MMA. Can you honestly tell me we wouldn't be where we are today if Tim Sylvia and Andrei Arlovski hadn't battled it out three times in the UFC Octagon? Well, we probably would, considering that those fights set the new standard for boredom.
But intense series of fights between two fighters can be a major drawing point for fans. Don't tell me that Ken Shamrock's intense hatred for Tito Ortiz didn't have something to do with them drawing about 750,000 pay-per-view battles in the mid-2000's when they fought, or when they drew an equally as impressive number to Spike when they fought for a third time.
Fans like rematches, especially when they feel one fighter was given the short end of the stick in the first fight.
In the 17 year history of the UFC, there have been many rematches, from the lesser-known series between Oleg Taktarov and Dan Severn, to the almost legendary battles between UFC rivals Tito Ortiz and Chuck Liddell.
In the following contents, I have compiled a list of the twenty best series of fights, or rematches.
Please feel free to comment, and let me know which rematches you felt were left out. It makes for a great debate. Now, on to the main event!
20. Ken Shamrock vs. Tito Ortiz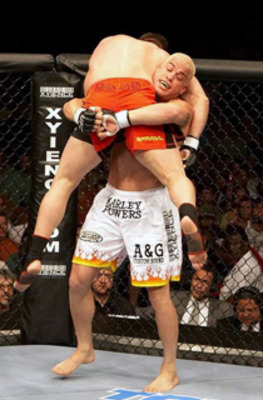 Series Leader: Tito Ortiz, 3-0
The picture for this slide pretty much illustrates how each fight went. Barring the first fight, where Ken Shamrock was somewhat competitive, Tito Ortiz dominated. Plain and simple.
Their first fight spanned four rounds and basically consisted of Ken Shamrock escaping from bad positions on the ground.
Despite getting pummeled, he held on until the end of the third round, where the fight was stopped when his corner threw in the towel.

The second fight occurred almost four years after the first. The result was the same; The only difference was that Tito won after almost a minute and a half in.
In order to milk all he could out of this "rivalry," Dana White proposed an immediate rematch, in which the score could be settled once and for all.

The third chance didn't matter. The result was almost the exact same. The only difference, was, you guessed it, time.
This time, the first round was almost halfway through when Ken Shamrock was lying on the canvas. A loser once again.
Fast forward three years, and Tito Ortiz is still doing well as a coach/fighter for the UFC.
Ken Shamrock is currently unemployed, although he is rumored to be fighting Dan Severn on July 4 for a regional promotion.
19. Forrest Griffin vs. Stephan Bonnar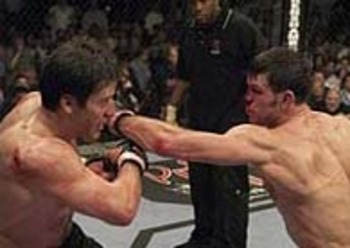 Series Leader: Forrest Griffin, 2-0
Stephan Bonnar vs. Forrest Griffin 1 was one of the greatest MMA fights of all time. Forget technicality. Forget protecting the chin.
Forget the six-figure contract waiting for the winner. Just go out there and swing. That's what these two did for three rounds.
Of course, everyone knows all about the first fight. If you haven't seen it, I suggest you go watch it.
Or, for a better idea, just with littler guys, go watch Chan Sung Jung swing wild with Leonard Garcia for three rounds.
Anyways. Although the first fight was an excellent display of two drunkards going at it, the second fight was easier on the eyes for the technical fans of the sport.
It really showed how far Forrest Griffin had come since the end of TUF 1, and it showed that Stephan Bonnar would never go on to be the champ.
Of course, knowing what we know today, even putting consecutive wins together is hard for Bonnar, but come on! After the second fight, which was a good fight for what it was worth, Bonnar again found himself on the losing end of a Forrest Griffin fight result.
Since then, Forrest Griffin has gone on to become the champ, get knocked out spectacularly in consecutive fights, and provide us with a FOTN for compensation.
Stephan Bonnar has been relegated down to gatekeeper status, which is way more than he can ask for.
18. Jeremy Horn vs. Chuck Liddell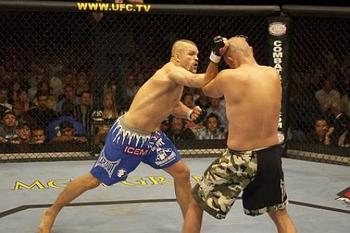 Series Leader: Split, 1-1
Jeremy Horn is like the Brett Favre of MMA. Not in age; Jeremy Horn is only 34. But in experience, Horn is as wise as Yoda himself.
He is the veteran of over 100 MMA fights, and last time I checked, he has only lost 17 times. If you add that up, that is at least 83 victories.
Jeremy Horn is also one of the only men who can say that he has beaten Chuck Liddell. Of course, that number grows anytime Chuck fights someone, but you get the drift. Jeremy Horn actually handed Chuck his first career loss.
The event was UFC 19, and Jeremy was the veteran of only 31 fights. Chuck Liddell was 29, and had only fought in two fights previously. Jeremy Horn was able to secure an arm triangle choke, and the rest is history.
Of course, Chuck Liddell was able to get his revenge, but it came a lot later into his career, when he was first starting to emerge as one of the all time greats.
The event was UFC 54, and Chuck Liddell was on a tear. After beating Randy Couture to win the vacant UFC 205 lb. title, Chuck was the winner of 3 consecutive fights, and had only lost twice in his past sixteen fights.
Jeremy Horn had accumulated well over fifty fights by this point, but despite his experience advantage, most thought Chuck would avenge his first career loss. Avenge he did.
Liddell pulverized Jeremy Horn, landing big punch after big punch. To think that Jeremy Horn lasted as long as he did (2:46 of the 4th Round) is a miracle, especially when you consider that the majority of it was standing.
It was this win that propelled Chuck Liddell into one of the greatest title defense runs in MMA history.
Looking back now, how were we to know that Chuck Liddell would go on to lose four of his last five fights, and that Jeremy Horn would shrug the loss off and keep going strong? We weren't.
17. Renato Sobral vs. Chuck Liddell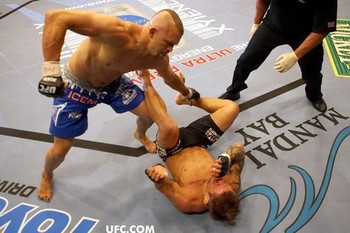 Series Leader: Chuck Liddell, 2-0
Renato Sobral can be credited with two things: Having a weak chin, and having one of the best submission games in MMA.
Unfortunately, neither of them helped him much against Chuck Liddell, who made a living KOing his opponents back in the day.
Both fights ended in virtually the same result. Both were KO's but the method to achieve were different. At UFC 40, where their first fight took place, Liddell KO'd Babalu with a headkick. Aren't headkick KO's nice?
Anyways, at UFC 62, Liddell utilized his killer counter striking to KO Babalu within the first two minutes. It would be among the last of Babalu's UFC appearances.
His last UFC appearance? UFC 74. The opponent? David Heath. The fight was a little bit controversial, to say the least.
Now, Babalu fights for DREAM. Liddell is currently prepping for a fight with Rich Franklin.
16. Anthony Johnson vs. Kevin Burns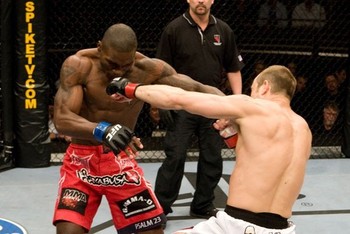 Series Leader: Tied, 1-1
Speaking of KO's via headkick, let's get onto our next matchup. The first fight between these two guys was shaping up to be a great one.
The first rwo rounds of the fight had been killer. The third round would likely be the deciding point in the fight. Both fighters intitated contact almost immediately.
Then, next thing you know, Anthony Johnson is laying down over on one side, and this fight is over. No, not by headkick. Eye-poke. However, in the next fight, Anthony Johnson showed what happens when you poke him in the eye.
After controlling the fight for the first two rounds, he landed a beautiful headkick on Burns. No extra pounding needed.
Kevin Burns had dropped like a stone. Look ahead to present day, and Anthony Johnson is still employed by the UFC. Kevin Burns, however, was released.
15: BJ Penn vs. Jens Pulver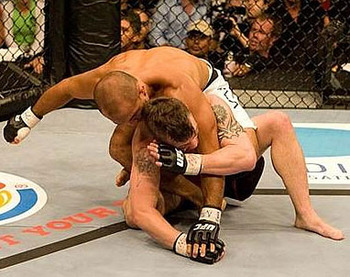 Series Leader: Tied, 1-1
When people talk about the greatest lightweights in the history of the sport, usually people think of BJ Penn first. Then, Takanori Gomi makes his way into the conversation.
After him, you get a man many consider to be one of the first truly well rounded fighters: Jens Pulver. Jens Pulver was a great power puncher, and also was a great wrestler.
He came out of Miletich Fighting Systems, which was known back at the start of the decade for putting out top notch talent.
After Pulver had established himself as a top lightweight, he soon found himself standing across from The Prodigy- BJ Penn.
Despite owning the lightweight belt, and having already established himself as the best lightweight in the world, Jens Pulver was the underdog heading into their first fight.
In a fight that was much longer than originally expected, Jens Pulver showed that no one should ever doubt him heading into a fight.
After that fight, Jens Pulver would go on to fight in about nine different MMA promotions over the next six and a half years.
BJ Penn, of course, solidified his name as one of the best in the sport.
Heading into their second match up at the TUF 5 finale, things were more heated between the two then ever before. Both Jens Pulver and BJ Penn wanted to knock the other out. However, neither of them would get their wish.
BJ Penn easily won the first round of the fight, and then took things into his own hands in the second round, getting Pulver's back and submitting him 2:12 seconds in.
The fight would cap what was one of the greatest rivalries, at least in the 155-pound division.
Fast forward to present day, and BJ Penn is recovering from his only loss in the lightweight division since Jan. 11, 2002. Jens Pulver is taking another year off after getting submitted by Javier Vazquez at WEC 47.
14. Vitor Belfort vs. Randy Couture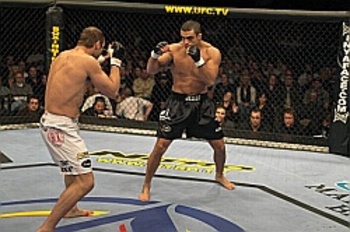 Series Leader: Couture, 2-1
Vitor Belfort was in the prime of his career going into his second fight with Randy Couture. He had a favorable record. He had only lost three times in his career. (Chuck Liddell, Kazushi Sakuraba, and Randy Couture) And, his opponent, Randy Couture was nearing 40 years of age.
Surely, the younger fighter would win this easily. And he did. The fight was stopped at 49 seconds of the first round after a seam on Belfort's glove opened a large cut on Couture.
Although the ending was bizarre, a win is a win, and Belfort was glad to even the series with Couture. An immediate rematch was scheduled, but surely Belfort could win again?
Not if Couture had anything to say about it. Showing that his first win at UFC 15 wasn't a fluke, Randy Couture showed that old(er) age wasn't a factor, battling Belfort for three rounds en route to a TKO victory after the third round.
Coming back to present day, Randy Couture is still in the UFC, currently riding a two fight win streak and looking towards a fight with former boxer James Toney.
Vitor Belfort is also employed with the UFC. He is on a five fight win streak. He doesn't have a fight currently scheduled. Bring on a contender!
13. Georges St. Pierre vs. Matt Hughes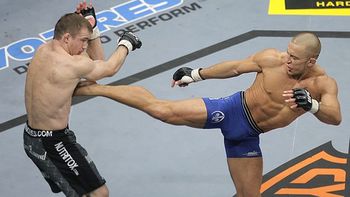 Series Leader: Georges St. Pierre, 2-1
This series is one of the true passings of the torch in MMA. Matt Hughes is the best welterweight in the history of the sport. Georges St. Pierre is the most well rounded fighter in the sport today.
When this fight first took place, however, Matt Hughes was still in his fighting prime, and Georges St. Pierre was nowhere near the fighting mastermind he is today. Despite having some success, St. Pierre was finished by a beautiful armbar transition very late in the first round.
After the fight, St. Pierre admits that he was so intimidated by Matt Hughes that he couldn't even look him in the eye. Fast forward to their next fight, and Georges St. Pierre was a different fighter. This time he could actually look Matt Hughes in the eye, and his confidence showed in the fight, where he abused Matt Hughes for one round, eventually landing the killer blows in the second round.
Can you say head kick knock out? Fast forward again, and Georges St. Pierre is climbing the p4p ranks like a monkey. His fight with Matt Hughes is for the interrim title, and the winner gets a shot at Matt Serra, who is one of only two fighters to beat St. Pierre.
Georges St. Pierre quickly shows that he belongs in a rematch with Serra, defeating Matt Hughes via armbar late in the second round.
Present day, Matt Hughes is a fading star who has basically fallen to gatekeeper status within the UFC welterweight division. Georges St. Pierre is arguably the best fighter on the planet, and he is the current champion of the UFC welterweight division.
12. Quinton Jackson vs. Wanderlei Silva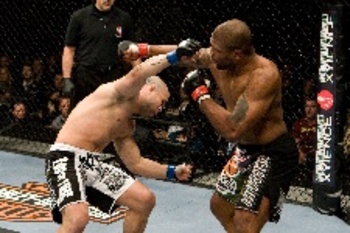 Series Leader: Wanderlei Silva, 2-1
Quinton Jackson and Wanderlei Silva were arguably PRIDE Fighting Championships' best fighters. Both delivered great performances, and both had engaging personalities.
But when it came to fighting each other, only one person stood out from the other: Wanderlei Silva. Back in his prime, Wandy would use a savage Muay Thai game to crumple his opponents to the ground, unconscious. He was quite possibly the most feared man in MMA. With a nickname like The Axe Murderer, anyone can see why.
Wandy fought Quinton Jackson in PRIDE twice. The first is quite possibly the most popular KO video in PRIDE history. It basically consisted of Wandy landing a barrage of unanswered knees to Jackson's chin. After about four knees, he pitched forward into the ropes that surround the ring, out cold.
The second fight isn't as popular. It was a simple KO, also achieved by the use of brutal knees. Going into their third fight, this time under the UFC banner, over four years later, Wandy was nearing the end of his career. His fight game was suffering, and he had only collected one win in his last four attempts.
Rampage put him back in the loss column with a brutal left hook that dropped Wandy unconscious in the first round.
Fast forward a year and a half, and Wandy is coming off of an awesome win over Michael Bisping at UFC 110. Rampage Jackson is set to fight Rashad Evans at UFC 114 later this month.
11. BJ Penn vs. Matt Hughes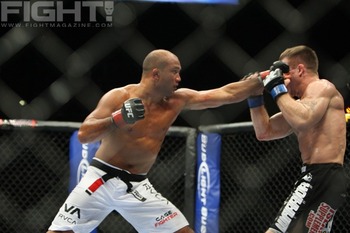 Series Leader: Tied, 1-1
Everyone already knows the story of Matt Hughes and BJ Penn. But not everyone knows about their history together, so let's get to teaching it.
Following the destruction of the UFC lightweight division, BJ Penn needed another place to beat on helpless fighters. Owing to his natural body size, and the fact that he loves being challenged, BJ Penn made the difficult(ish) decision to move up to welterweight and fight Matt Hughes for the title.
Despite being a big underdog, BJ Penn actually managed to shock the world and beat Matt Hughes, winning by rear naked choke late in the first round.
After this, Penn was stripped of his title after leaving the UFC to fight for other promotions, leaving Matt Hughes to battle some kid named St. Pierre for the title.
When Penn came back to the promotion two years later, he was granted an immediate number one contendership fight for Hughes' title. Despite losing the fight via split decision, Penn still challenged Hughes for the belt, due to Georges St. Pierre injuring himself and dropping out of the fight.
BJ Penn was actually winning the first two rounds, before seemingly running out of energy and then losing the fight by TKO in the third round. Matt Hughes and BJ Penn haven't fought each other since then, although a trilogy would be pretty sweet.
Since then, BJ Penn has gone on to win the lightweight belt, defend it, challenge for the welterweight belt, lose horribly, defend his lightweight belt twice, and then lose it to Frankie Edgar. He currently has an immediate rematch scheduled for UFC 118.
LOOK OUT FOR PART TWO
Thanks for reading into it thus far. If you're interested, please comment below. Be sure to catch part two sometime tomorrow morning.
Keep Reading