Oakland Raiders: Five QBs in Camp, Only One Legitimate Starter!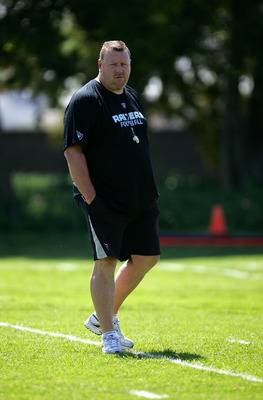 The great offseason the Oakland Raiders are having has stirred optimism within Raider Nation. The fans are more excited this year than they have been in nearly a decade, and rightfully so.
A great draft provided some nice talent in positions of need. Middle linebacker, defensive tackle, cornerback, and offensive tackle were all addressed. The undrafted free agent period provided even more depth on the offensive line and in the linebacking corps.
That said, the offseason move that has Raider fans all atwitter is the trade with the Washington Redskins to acquire quarterback Jason Campbell. The team quickly signed Campbell to a contract extension that will keep him in Oakland through the 2011 season, and most Raider fans are ecstatic!
This acquisition means the Raiders have five quarterbacks on the roster for organized team activities and training camp. Since most teams only carry three quarterbacks into the regular season, it's safe to assume that at least two of these five men are going to be cut by opening day.
This slide show will look at each quarterback, analyze their career, and attempt to predict who will be cut, who will stay, and who will start.
Let's get to it...
Charlie Frye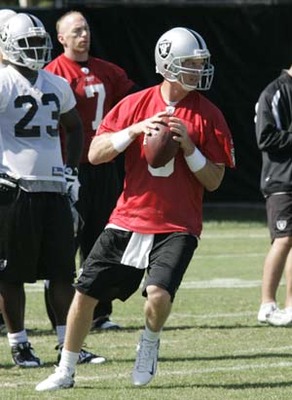 Charlie Frye has seen most everything in his five seasons. He's been the back-up in Cleveland, the starter in Cleveland, the back-up in Seattle, and the back-up in Oakland.
That's a busy career: already!
He has started a total of 23 games for all three teams achieving a record of 7-16, throwing 17 touchdowns, 29 interceptions, and 62 percent completions for a 69.8 passer rating.
His play on the field has been inconsistent at best while in Oakland. In three games, he has one win, two losses, a 60.9 completion percentage, and only one touchdown against four interceptions.
He's just not getting it done.
It is my opinion that Frye will be the first quarterback to be asked by "the Turk" to visit Coach Cable and bring his playbook.
Kyle Boller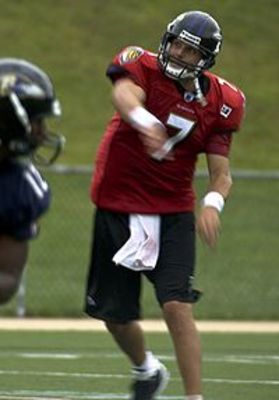 Kyle Boller was picked up this offseason to provide depth and competition at the quarterback position. Once called a franchise quarterback himself, Boller was expected to push JaMarcus Russell and Bruce Gradkowski.
Whether he succeeded in his charge may never be known.
In his 46 career starts, Boller has a record of 20-26, 48 touchdowns, and 50 interceptions with a career passer rating of 70.6. Not spectacular by any means.
There are a lot of holes in Boller's game. He struggles in reading defensive coverages, delivering an accurate ball, and getting the ball out on time. He throws a lot of interceptions and takes a lot of sacks.
These traits are not conducive to winning.
I can see Boller being the second quarterback to turn in his playbook and start looking for work elsewhere.
JaMarcus Russell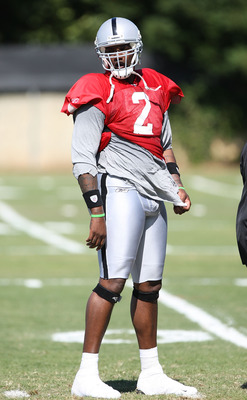 Easily the most polarizing figure in Raider Nation. Fans seem to either love JaMarcus Russell, or hate him. There doesn't appear to be many in between.
We all know the trials and tribulations of Russell. The criticism of his work ethic, his weight (physical fitness), and his offseason behavior. Whether any of the speculation is true or not, it would all go away if he were performing better on the field.
He has all the physical tools to win, but hasn't done so yet.
To perform better, he'll need to work harder than he has, get himself in better shape, and prepare better than in the recent past.
In 25 career starts, Russell has put up a record of 7-18, 18 touchdowns, 23 interceptions, and a career passer rating of 65.2. Fans expect more from a first overall pick and a $60 million man.
That said, Al Davis' opinion is the only one that matters. Davis is clearly not satisfied that the "Russell experiment" has fully played out. If he was, Russell would have been cut already.
Because of the Davis influence, I can see Russell being on the roster on opening day as the third quarterback at least.
Bruce Gradkowski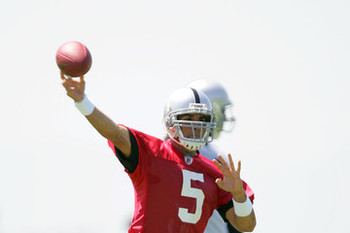 Bruce Gradkowski won the heart of the majority of Raider Nation with his gutty play and fiery leadership in the 2009 season. The Raider record of three touchdowns in the final quarter to beat the hated Steelers sealed the deal.
Gradkowski has been on three teams in four years; most of it as the back-up. In that time, he has shown that he may be a bit injury prone, but also showed that he recovers quickly and is tough enough to play with some pain.
In his four starts for the Raiders, Gradkowski's stats are not flashy at all. His career numbers aren't much better either. A record of 5-11, nine touchdowns, 10 interceptions, 53.3 percent completions, and a passer rating of 65.9. Not good, but still better than Russell and Frye!
Gradkowski is not the future of the Raiders, but he is a quality back-up with a great attitude and work ethic. These attributes, coupled with the respect he has earned from the team should keep Gradkowski on the regular season roster as a back-up.
Jason Campbell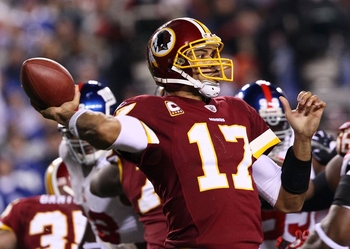 It is no secret to anyone that Jason Campbell is the most successful quarterback on the Raiders' roster. Not even the hard-core Russell supporters can deny that!
He's the only quarterback on the roster that has more touchdowns than interceptions in his career.
Campbell was the 25th overall pick of the Washington Redskins in the 2005 NFL draft. He took over the starting job for the last seven games of his rookie year and has been a starter ever since.
In 52 career starts, Campbell's stats have improved every year, despite having to learn four offenses, under two head coaches, and never having more than one legitimate wide receiver (Santana Moss).
In 2009, Campbell did not get a lot of support from the Redskins' coaching staff or offensive line. He still managed to have the best statistical season of his career.
A record of 4-12 was not indicative of the effort put in by Campbell. He had a completion percentage of 64.5, with 20 touchdowns, 15 interceptions, 3,618 yards, and an 86.4 passer rating.
Now Campbell finds himself in a situation in which he'll be running an offense that is more suited to his talents than the West Coast offense. He'll have a greatly improved offensive line, and he'll have more than one or two legitimate weapons, making it much easier to spread the ball around.
Campbell will most certainly feel more at home in the offense, will get a lot more love from the fans than he is used to, and will excel in Oakland.
The fact is that Jason Campbell gives the Raiders the best chance to win, and will most likely be the unquestioned starter for the Raiders on opening day.
That's all I have...for now!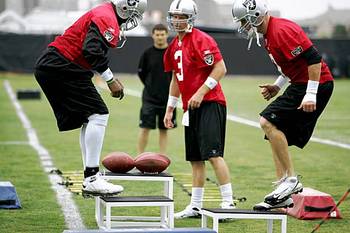 Let me make one thing perfectly clear. The preceding slideshow does not reflect what I would do or who I would cut. It states only what I think will happen based upon what I know about Al Davis, Tom Cable, and how the Raiders tend to operate.
Ultimately, it doesn't matter what I would do, what the fans would do, or what the rest of the league would do. It only matters what Cable, Davis, and the rest of the coaching staff will do.
So, what do you say Raider fans? Did I get it right? If not, what did I get wrong?
Let me hear your thoughts!
Keep Reading

Oakland Raiders: Like this team?