10 Predictions of Varying Boldness for the 2010 College Football Season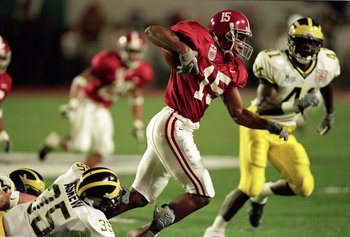 This is a list of things that I think may very well happen. Due to the nature of prognosticating, I tried to predict things that may come across as unexpected, or dare I say, "BOLD". My predictions will cover all 4 of the major conferences, and will even delve into some mid-majors like the Big East and ACC (Ooh, sick burn).
Honestly, I'm not intentionally hating on any teams, but the way things are shaping up, I think there will be more than a couple surprises for the favorites in each conference.
1. Preseason #1 vs. Preseason #2 Bowl Game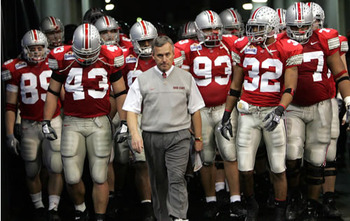 We will see a possible, if not probable preseason #1 Alabama vs preseason #2 Ohio State playing in a January bowl game. The only thing is, the bowl will be the Citrus (Capital One) Bowl. Alabama loses a couple games early on in the season, slip up somewhere else unexpectedly, and Ohio State loses tough conference games at Wisconsin and at Iowa. If it's any consolation to fans, this will make for one heck of a non-BCS bowl game!
2. Penn State beats Alabama in Tuscaloosa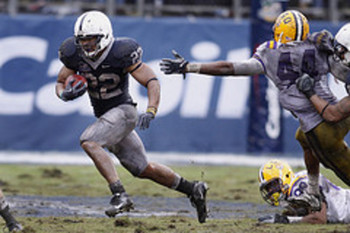 Why could it go down like this? This may seem extreme, maybe even ridiculous to some people, especially 'Bama fans, but unfortunately for them they play Penn State 3 or 4 weeks too early. Penn State is likely going to try and run the ball as much as they can early on in the season while they break in their new quarterback. They return one of the premier running backs in the Big Ten, if not all of college football in Evan Royster, as well as most of their offensive line from last year. Alabama on the other hand, while still talented up front, returns little experience to their front seven. Also, If 'Bama stacks the box and forces Penn State to pass, while also losing the bulk of their sacks from last year, they also have two new starters at corner going against a team that returns all of its starting receivers from a year ago.
Penn State will have its hands full with the 'Bama offense, but unlike most of the teams 'Bama faces in the SEC, Penn State always fields a physical defense that won't back down to the physical Crimson Tide run game. Penn State does a better job than just about every team in college football in bringing in and developing their front seven, and Linebacker U will definitely need to reload at LB if they hope to hold Alabama's offense in check.
3. Arkansas Will Win AT LEAST a share of the SEC West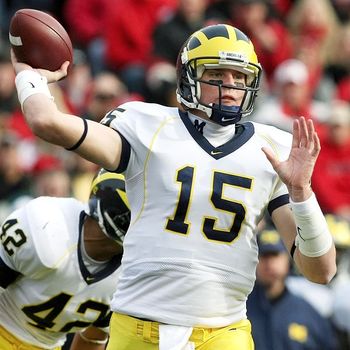 Arkansas is a serious contender this year in the SEC West, and could very well be the team that represents the division in the SEC Championship game against Florida. They have a favorable schedule in a down year for the SEC, avoiding Florida and catching Alabama early in the season at home and before the Tide's inexperienced corner duo can get too many reps in. They return the best passing offense in the SEC from '09, including star quarterback Ryan Mallett-the gem of the SEC, and 5 of his 6 favorite targets. They do have a tough game at Auburn, but return more than their counterparts from a team that beat them soundly last year.
4. Iowa will win the Big Ten title outright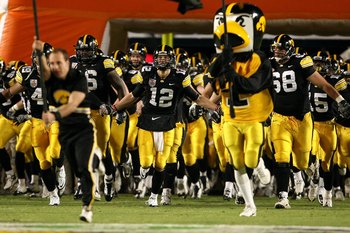 The timing is right for Iowa this year. They match up well with Wisconsin and Penn State, and get both, along with Ohio State at home. They play the Buckeyes late in the year, giving their offensive line time to gel, and shouldn't be as beat up this time around. Ricky Stanzi will cut down on the stupid turnovers, they'll have a surprisingly good, deep backfield, and my oh my, this might be the class of all defenses in college football in 2010.
5. Four Big Ten Teams Finish in the Top 12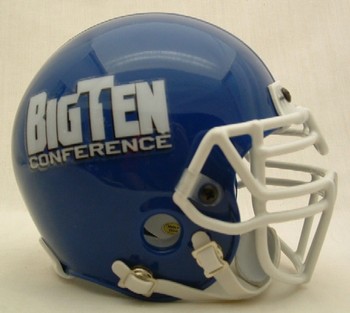 The Big Ten will prove to be the deepest conference this year, especially with the SEC in a down year. Expect Penn State, Ohio State, Iowa and Wisconsin to all finish with double-digit wins, and don't be surprised if by season's end, the top four teams in the Big Ten are all in the final AP's top ten.
6. Washington will win AT LEAST a share of the Pac 10 title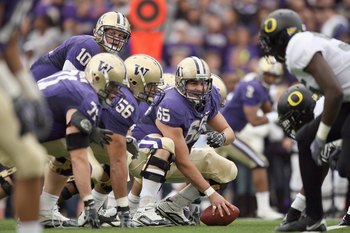 Washington was a much better team than their 5-7 record suggested last year. They dominated a game at home against LSU and beat USC. They return 20 of 22 starters from last year, and they'll need every one with the schedule they play this year. I'd be immensely impressed, and equally surprised if they go undefeated on the year, but with the questions regarding Oregon after Masoli's suspension, Arizona's rebuilding, and getting Oregon State at home (not to mention their key losses from a season ago), Washington will be tough to beat. Yes, they do play at USC, but they return a whole lot more to a team that beat USC last year; I don't think it's inconceivable that they can go to LA and win a game in the Coliseum.
7. Washington will beat Nebraska
This will be Washington's coming out party game - the game that will really put them on the national radar. There's no doubt Nebraska has a tough defense. With that said, the question still remains, how much will they miss Ndamukong Suh? And I'll be honest with everyone, I have absolutely no faith in the Cornhusker's offense. I'm sure they'll have a solid running game, but if/when Washington stacks the box, I'm not sure Zac Lee will be able to make them pay. I love this Washington team, and this will be the game that makes everyone else love them a little too much too.
8. North Carolina Will Finish Atop the ACC and play in a BCS Bowl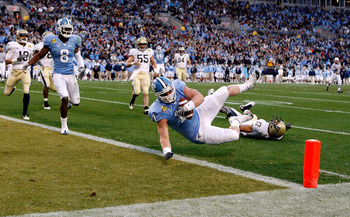 North Carolina is definitely a team flying under the radar. After the first week of the season, everyone will know who they are and that they're for real when the beat LSU handily and start their assault on the ACC. They return 19 of 22 possible starters from a very good team last year, and Butch Davis is one of the best in the business at recruiting and developing talent. (See the early 2000s Miami teams as evidence of this). They're deep, and they have a favorable schedule. They get Ga Tech and Va Tech at home, and by the time they play Miami they could easily be 6-1 or 7-0 playing with a ton of confidence.
9. UCONN Will Win the Big East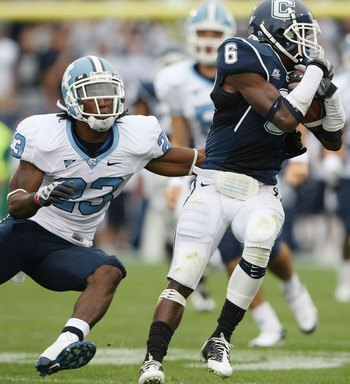 Pretty soon, I think people are going to find out that UCONN is going to be the team to beat in the Big East. They're going to pick up where they left off last year and run through a conference that is otherwise a crapshoot. They easily return the most from any of the obvious conference contenders while getting Pitt, West Virginia and Cincinnati at home. They do have to play a late-season game at South Florida, but beat them by 3 scores last year and return more talent.
While Cincinnati's offense will again be explosive, it lost most of it's hellacious defense from last year, and Pitt only returns half of its starters. All of UCONN's losses were close, all were to bowl teams, and 3 of the 5 were on the road. They could be the shining star, in an otherwise medocre conference.
10. Boise State Will Not Go Undefeated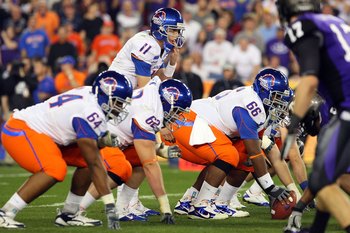 As much as people may hate me for writing this, I just don't see Boise going undefeated this year. They've got a tougher schedule this year than last and have to travel way too far to play Va Tech. Oregon State is better than people realize and will be a tough game, and they have to play at Nevada late in the year. The law of averages will eventually catch up with Boise this year, and they won't be able to make it 3 regular seasons in a row unscathed, which is unfortunate because that probably means they won't get a BCS Bowl bid, despite having one of the top tier teams in all of college football.
Keep Reading

Arkansas Razorbacks Football: Like this team?