The Top Shelf: Scorers Big and Small in the NHL Playoffs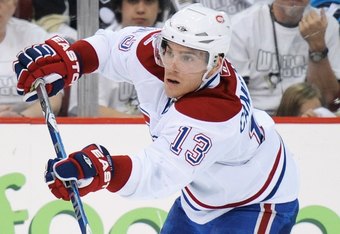 Jamie Sabau/Getty Images
Scoring a goal in the regular season is one thing, but scoring a goal in a must-win triple OT game for your season is another. That is why here at Pucking Awesome we are bringing back the Tuesday Top Shelf column, or some top scorers around the NHL, AHL and Major Juniors. Remember it was in this column last year that we introduced a young Tyler Myers, and he has become a major player in the race for the Calder.
Surpise Leaders
The league leaders of lamp lighters in the post-season has some major surprise candidates; with Joe Pavelski (9 goals), Michael Cammalleri (8 goals), and Mikael Samuelsson (8 goals).
The 25-year-old Pavelski, who already has the Sharks franchise record for goals in a single post-season, already was known as a goal scorer coming into the playoffs with 83 career goals in 275 games, but only had six career playoff goals in 25 games.
One stat that stands out for the speedy center has been his knack to shoot the puck at opportune times as he is second in the league with 41 shots, if he continues to fire at this rate he will have led the Sharks into unfamiliar territory.
Cammalleri was one of the prize free agent acquisitions as the Canadiens transformed their roster this offseason. The 27-year-old broke out with 34 goals for the Kings in 2006-07 and again proved it not to be a fluke with a 39 goal campaign last year in Calgary.
In only 65 games this season Cammalleri chipped in 26 goals in his first season of a five-year contract. The 5'9" winger also has a knack of scoring goals in the clutch. In the five Canadiens' wins this post-season he has two game winning goals. In his career he has 24 career game winning goals.
Last, but certainly not least, is the Canucks Mikael Samuelsson who has moved on up to the Sedin's line and has taken advantage of it. The 33-year-old had a career high 30-goals this season, and that was with missing eight games in March. The former Red Wing was not only brought in this offseason to bring some veteran Stanley Cup winning experience, but to give this team some secondary scoring past the Sedin's, little did they know in the post-season he would combine with them for a Swedish elite line that has been one of the most productive lines so far.
Out of Nowhere
We have all heard of the stories of guys who came out of nowhere to become big playoff scorers. John Druce, who scored 14 goals for the Capitals in the 1990 post-season, and Chris Kontos, who had 9 goals for the Kings in 1989 playoffs. Well, the latest candidate is a former All-Star who did not sign with a team until after the new years.
Miroslav Satan was signed for the rest of the season on January 2nd . At that time he was just signed as a warm body to help an injury and goal deficient Bruins team. The 34 year old was last seen skating with the Stanley Cup in Pittsburgh, even though he was relegated to the AHL that season. Satan then played well in the Olympics for the surprising Slovaks, helping them to a fourth place finish.
All the former 40-goal scorer has done is score big goals, as the Bruins are two wins away from the Eastern Conference Finals. Of his four goals this post-season, two of them have been of the game winning fashion including an OT goal in a pivotal Game 4 victory over his former team, the Sabres.
Down on the Farm
The rich get richer. If there is any solace in the Capitals disappointing early exit is that down on the farm Hershey is building some pieces for the team to rebound next year. The Bears have the top four scorers so far in the AHL Calder Cup Playoffs, including a former 7th round pick that could make some noise for the Capitals next season.
Andrew Gordon was the 197th overall pick of the 2004 NHL Entry Draft, all he has done since was score goals for the Bears. In the regular season the 23-year-old winger led Hershey with 37 goals and has followed that with a very successful playoffs with nine goals.
Hershey has been so dominant that they have not played a game since they closed out a sweep of the Albany River Rats on April 29th , they still await their Eastern Conference Finals opponent. Whomever it will be they will have their hands full of scorers to defend, so at least Capitals fans have that to look forward to.
Read more at www.puckingawesome.com
This article is
What is the duplicate article?
Why is this article offensive?
Where is this article plagiarized from?
Why is this article poorly edited?