Phillies Fan Tasered Video: Why He Deserved It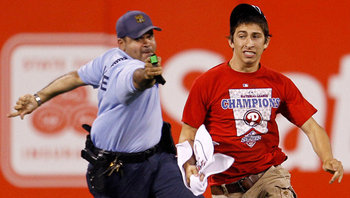 Remember the good old days when fans just got tackled for running on the field? Not anymore.
A 17-year-old fan who ran onto the field during the Phillies-Cardinals game at Citizens Bank Park was taken down by a Taser.
This was no Zach Galifianakis in "The Hangover" either. There was no fight.
I think we may have just discovered the game changer in the War on Streakers.
Can't Outrun This
The teen had Phillies security winded until the Philly police officer pulled the gun. Then it was a smooth slide and a grass nap for the kid.
Philadelphia police Lt. Frank Vanore said the department will examine if this was "proper use of the equipment," meaning the Taser.
No doubt it was appropriate. Games are already dragging on to three and a half hours. We don't need punk kids looking to be YouTube sensations messing up the brisk pace of the game.
The First, But Probably Not the Last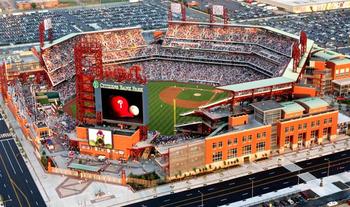 After the fan went down, cameras caught several Phillies with gloves placed over their faces to hide their laughs.
Phillies spokeswomen Bonnie Clark said the police department is investigating the matter and discussing with the team whether using the stun gun was appropriate.
It's the first time a Taser has been used by police in Philly to apprehend a spectator who ran onto the field.
The fan will be charged with criminal trespass and related offenses, the team said.
The Phillies didn't release his name, but given that the photo is dead-on to his face, he won't dodge Internet infamy for long.
Keep Reading