The Five Things the Atlanta Hawks Must do to Make Orlando Magic Vanish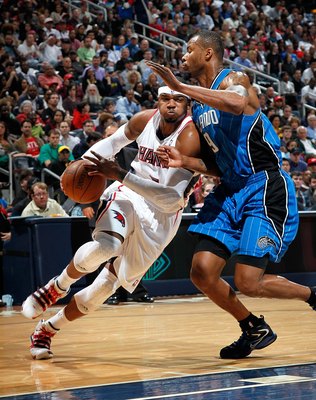 Heading into Tuesday the Hawks and Magic series will be the last to get their second round series started and the NBA may have left best (or at least most intriguing) for last.
Atlanta is fresh off defeating the Milwuakee Bucks, a task that took seven games to complete when nearly no one gave the Bucks even a fighting chance or victory.
Conversely, Orlando swept their first round opponent, the Charlotte Bobcats, who tasted the playoffs for the first time in franchise history.
Now it's the Hawks that are the massive underdogs and many believe the Magic will fly through this second round series with a few waves of the magic wand.
But not so fast, Atlanta will battle tough and this could be the most competitive series in the second round. If it's going to be, here are the five key things the Hawks must do.
Be Defensive Minded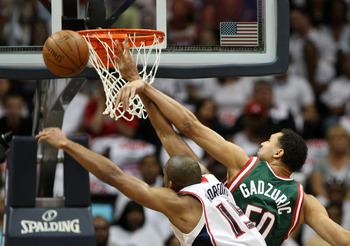 The Hawks finished off first round foe Milwuakee with a 21-point blowout in Game Seven Sunday, allowing a paltry 74 points on 32.6 percent shooting.
Atlanta blocked an amazing total of eight shots, led by Al Horford's three, while completely dominating on the boards 63-44.
The Hawks also won Game Five by allowing the Bucks only 32.9 percent, winning 83-69. In fact, in Atlanta's playoff wins this season, they gave up an average of 80.25 points, compared to 103 points in losses.
Hawks coach Mike Woodson believes defense is so important he told reporters after their Game Seven win: "The only way we get out of this series is we defend. We did that in Milwaukee…and then [today]. So it was our defense that came through for us to end this series."
No doubt Woodson thinks that true of the next series as well, and he can only hope the effort is there on that end of the floor.
Limit Dwight Howard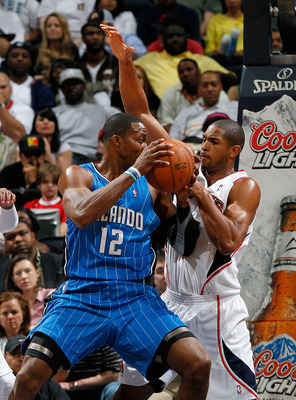 Speaking of giving lots of effort on the defensive end, the Hawks must try to slow down the most dominant center in the NBA, Orlando's Dwight Howard.
Howard was relatively quiet in the first round, as his 9.8 PPG were just over half his season average (18.3) and his 9.3 RPG were down nearly four from the regular season (13.2).
No one in Orlando expects Howard to play that way versus Atlanta, while the Hawks have to hope for locking him down with foul trouble as Charlotte did.
Against a Bucks team without Andrew Bogut the Hawks ruled on the inside (42.7-39.1 rebounds per game) with an astounding 6.9 blocks per contest—but Howard is a beast.
At 6'11" 265 pounds, his body is plainly too big, his arms are like two robust tree trunks. But he's also too athletic for the biggest players in the game to keep up, his only weakness is sloppiness with fouls.
Al Horford will be going head to head versus Howard, and will be giving up 20 pounds at 6'10" 245. Still, his play has been paramount in the playoffs, 15.6 PPG, 9.9 RPG and it must continue to be for the Hawks to hang with Howard and the Magic now.
If Horford keeps scoring and boarding well, he'll make Howard work on both ends giving him more chances to foul and take himself out of the game.
Look for this to possibly develop into the match up of the series—a classic battle of big men.
Joe Johnson's Production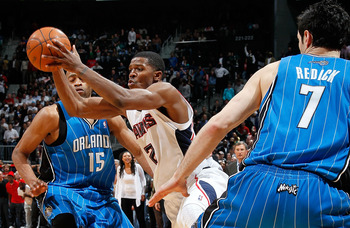 Joe Johnson is one of the best scorers in the NBA and he's sustained that scoring (20.9 PPG) in postseason so far. The more amazing thing is how Johnson's improved in both rebounds (5.4 per), and assists (5.7 per), both up .8 over regular season averages.
He's upped his game at the most key point in the season, it's benefited his team and Johnson's grown into a leadership role.
Johnson will be matched up against an aged Vince Carter who can still shoot the lights out in a mid range game. In Orlando's first four games Carter averaged 15.5 PPG and 4 RPG against the Bobcats, in an inconsistent fashion. In Games One and Three Carter scored only 11 per, but in Games Two and Four his average was up to 20.
Conversely, Johnson scored well over 20 in every game but two (13, 8). He shot a putrid 10-30 in Games Five and Seven, with the Hawks losing the first and winning the second.
If Johnson can keep filling up the stat line consistently, especially at the end of the series this time, it's positive for Hawks for sure.
Josh Smith's All-Around Play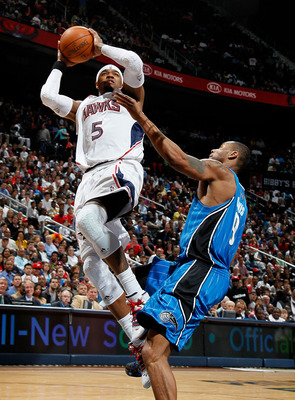 Josh Smith has been huge for the Hawks in the playoffs, literally and figuratively.
His 6'9" 240 pound frame allows him to physically battle for boards, which he grabs 9.7 per game this postseason. Smith is a force to be reckoned with in the paint, as he can drive and dunk with ease as well.
Still, at 13.1 PPG and 3.3 APG in the playoffs, Smith's production is slightly down, it will have to improve in the second round for Atlanta to win versus Orlando.
Can this blossoming fifth year star turn it up another notch and help the Hawks move onto the Eastern Finals?
Bench Production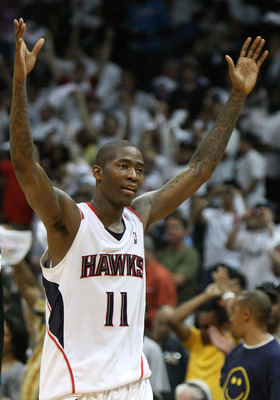 Atlanta and Orlando have some of the best starting fives in the NBA, but the Hawks are the deeper team.
Led by Sixth Man of the Year Jamal Crawford, the Hawks backups can ball.
Crawford averages 15.9 PPG in the playoffs and his best game came in Atlanta's Game Six 83-69 win over the Bucks. In the game he stacked the stat line with 24 points, five boards, two dimes and a steal.
Together, the Magic's two best bench players in Mickael Pietrus and J.J. Reddick don't even produce as much as Crawford does alone (14 PPG, 3.1 APG).
As long as Crawford keeps up his stellar play it vastly improves the Hawks chances to beat the Magic starting Tuesday.
Intangibles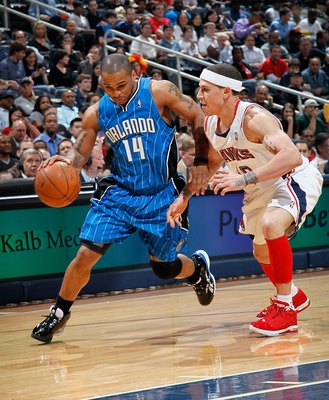 This is the classic match up of a rested team versus one that's still in the groove of playing playoff basketball.
The Magic have had eight days off, surely enough time to rest weary bodies, but was it so much that Orlando struggles to find their rhythm?
Could the Magic be sabotaged by too much rest?
On the flip side, the Hawks just got finished with a grueling seven game series and will be less energetic than the Magic to be sure.
If Atlanta wants to potentially steal a game and the home court advantage, the best chance is in Game One today which tips off at 8:00 ET on TNT.
Keep Reading

Atlanta Hawks: Like this team?