The American League All-Star Team for April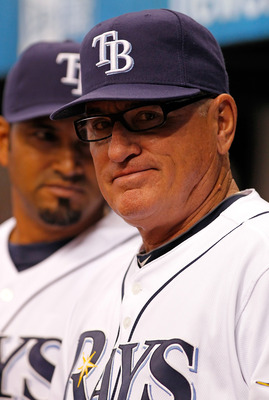 This is an All-Star starting lineup, as would be voted by the fans (if the fans actually knew what they were doing), plus a starting rotation and one relief pitcher.
But this is one fan's opinion: mine. It was an easy exercise. There were several somewhat close calls, but nothing which I had to wring my hands over.
All numbers displayed are from the month of April only, and nothing these players did in the first couple of games in May had any impact.
One thing I wanted to do was to actually have a real, live designated hitter (DH) as the team's DH, not just put any hitter who didn't make the cut at this position.
While most positions had dominating first months, the DH position did not.
Adam Lind of the Toronto Blue Jays and Vladimir Guerrero of the Texas Rangers are having decent, but not great starts.
So I chose one of the "losers" from the other positions, as there were many deserving players from that second status list, and with better productivity than the real, live DH's.
If this team played in the real, live 2010 All-Star game, the manager would be Joe Girardi, last season's World Series manager. But for a couple of reasons, I am picking Joe Maddon of the Tampa Bay Rays as my American League manager.
First, his 2010 team has the major league's best overall record, and second, he and I shared a drink and half hour conversation during the 2008 Winter Meetings in Las Vegas.
He also coaches his players to play the game hard all the time, even in Spring Training.
I like the guy.
He was funny, direct and open to every part of the conversation, even about the recently completed World Series.
Maddon is my manager...and now for the team.
C - Jorge Posada, New York Yankees
Sorry, Joe Mauer fans. Big Joe did not make the cut this April.
Jorge Posada was a big part of the New York Yankees' April record of 15-7. With Mark Teixeira and Alex Rodriguez not having productive Aprils, someone had to help drive in those key runs.
And with a line of .310 BA/.394 OBP/.638 SLG/1.032 OPS, Posada stepped in and produced. Those percentage numbers included four doubles, five home runs and 12 RBI. He also scored 11 runs.
With continued production in his late 30's (Posada is 38), he is accumulating stats which rank among the best offensive catchers of all time.
Honorable Mention - Joe Mauer (Minnesota).
1B - Paul Konerko, Chicago White Sox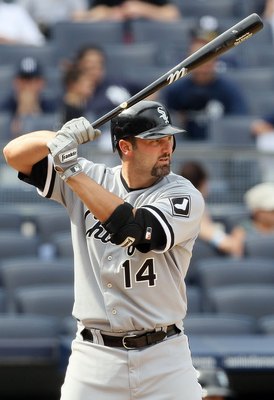 Paul Konerko has been an absolute beast this April, and it has continued into May.
Konerko has slashed .297 BA/.413 OBP/.784 SLG/1.147 OPS with 13 runs scored, three doubles, 11 home runs and 21 RBI.
He has come back strong from a slightly disappointing 2009, and terrible 2008 season. Does it have anything to do with his free agent status after this season?
Honorable Mention - Justin Morneau (Minnestoa) and Miguel Cabrera (Detroit).
2B - Robinson Cano, New York Yankees
The first legitimate no-brainer pick.
Pushed prior to the season by manager Joe Girardi to be more consistent in his overall game, both at bat and in the field, Cano has responded very well.
Placed as the No. 5 hitter, Cano has been a hitting machine, producing a Pujols-esque line of .400 BA/.436 OBP/.765 SLG/1.201 OPS in April. Cano racked five doubles, eight home runs and drove in 18 runs during the month.
As with Jorge Posada, Cano has been the Yankees' lineup producers during April in the wake of the struggling Mark Teixeira and Alex Rodriguez.
His defense at second base is absolutely stellar, and his throwing arm is the best in baseball at his position.
He is a unanimous choice for this spot as no other players even made the cut for a cursory review.
SS - Derek Jeter, New York Yankees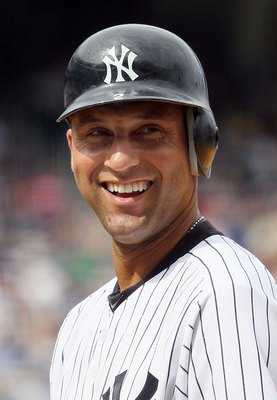 No wonder why Derek Jeter is smiling in this picture. He just found out he made my April All-Star team!
Before some fans think this All-Star squad is just a Yankee tribute, it really is not. They have had some very important players with strong starts, and that includes shortstop Jeter.
While Alex Gonzalez of Toronto has had a better power April and Jason Bartlett of Tampa is his usual steady self, no shortstop in April has had more an impact for their respective team than has Jeter.
Once again from the leadoff spot, Jeter has produced a slash line of .330 BA/.354 OBP/.521 SLG/.875 OPS with four doubles, four homers and 18 RBI.
He has produced as needed, concluding April with a big HR and two-run triple during the final game of the month Friday night.
Jeter's numbers and team importance warrant inclusion on this team, but this decision was of the narrowest of margins over Gonzalez, who has good power numbers, but struck out 24 times in April and made four errors.
Honorable Mention - Alex Gonzalez (Toronto) and Jason Bartlett (Tampa Bay).
3B - Evan Longoria, Tampa Bay Rays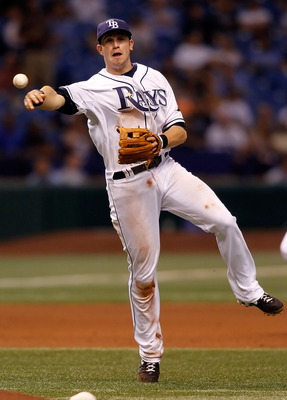 It is no coincidence that when the Tampa Bay Rays finally brought up Evan Longoria in the beginning of the 2008 season, the Rays became a solid team.
I say finally brought up because the Rays tried to play that game with highly touted rookies to save a few dollars by pushing back their arbitration years.
When the Rays began 2008 with a 3-5 record, and little offense, the decision was made to promote Longoria.
He made his debut two days later, provided immediate right-handed power support to a lineup sorely in need of such muscle, and has never looked back.
Longoria started off this season with a robust April, hitting for average and power while continuing to display great defense. He has hit .342 BA/.405 OBP/.602 SLG/1.002 OPS in April with 22 runs scored, eight doubles, five homers with 18 RBI.
The Rays pitching is great this season, but they are not in first place right now if Longoria played elsewhere.
Similar to Robinson Cano, Longoria is a unanimous choice for this spot as no other players even made the cut for the cursory review.
LF - Carl Crawford, Tampa Bay Rays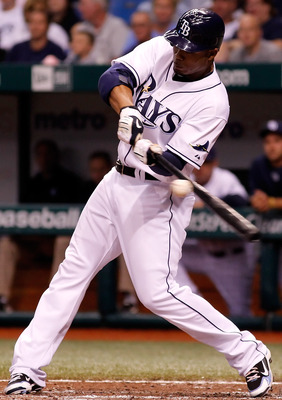 It has finally come together for Carl Crawford over the last three seasons, just in time for his free agent future.
Crawford has played extremely well this season with a .337 BA/.390 OBP/.551 SLG/.941 OPS in April with 17 runs scored, nine doubles, two triples, two homers and 13 RBI. He has also stolen seven bases.
While he will likely be the top targeted outfielder in next year's free agent crop, the way he plays and how well he fits in the Tampa Bay lineup leads me to believe that Crawford stays put and signs a four-year deal for a little below top money.
Crawford is a small town guy, and appears to shy away from the spotlight. He seems comfortable in Tampa. He needs Tampa, and Tampa needs him.
Honorable Mention - Johnny Damon (Detroit), Scott Podsednik (Kansas City), Brett Gardner (Yankees), and Austin Kearns (Cleveland).
CF - Vernon Wells, Toronto Blue Jays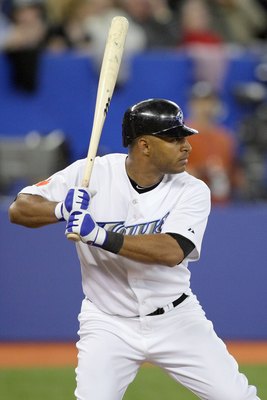 Another big day with the bat from Vernon Wells. It seemed like every day in April, that is what baseball people were saying.
No one in baseball, not even the always-positive GM of the Blue Jays, Alex Anthopoulos, could have even expected this from Wells.
But Alex the GM will take it.
Coming off a terrible season in 2009, Wells has rebounded well this season, powering his way to a .337 BA/.396 OBP/.717 SLG/1.113 OPS with 20 runs scored, 11 doubles, eight homers and 16 RBI.
He has always maintained his stellar defensive prowess, even during the very subpar 2009.
Wells' resurgence has helped Toronto, universally regarded as the American League East cellar dweller for 2010, into third place in the notoriously tough division.
If the Blue Jays stay out of the race between Tampa Bay and the Yankees, Wells, if he continues his overall play, could be major trade bait come late June or July.
Honorable Mention - Austin Jackson (Detroit), Franklin Guttierez (Seattle) and Torii Hunter (Los Angeles Angels).
RF - Nelson Cruz, Texas Rangers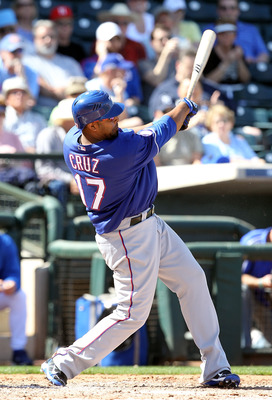 What is amazing about Nelson Cruz is that while not playing a single game in April after the 26th (placed on the 15-day disabled list), he still had the best numbers and production of any right fielder in the American League.
Cruz continued on after his breakout 2009 season with an even more impressive 2010 campaign. He has improved his ability to hit for average and power, yet has still continued to be a speed demon on the bases.
His slash line of .323 BA/.419 OBP/.758 SLG/1.177 OPS was second to the red-hot first baseman on this team, Paul Konerko.
Word is that Cruz is coming along nicely from his strained hamstring and should be returning to the Texas Rangers lineup once he is eligible to come off the disabled list.
Honorable Mention - Magglio Ordonez (Detroit) and Shin-Soo Choo (Cleveland).
DH - Justin Morneau, Minnesota Twins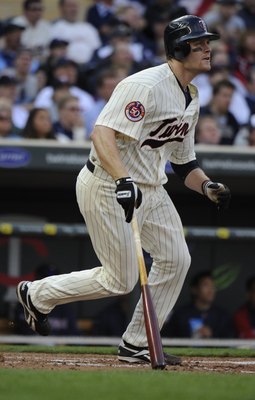 Can you believe I thought Justin Morneau might have a bad 2010 because he was coming off a broken back last season?
A hitter's back is very important for a power hitter, and I did not know for sure if Justin was going to be fully recovered from the injury which prematurely ended his 2009 season.
Also, his first season hitting away from the climate friendly Metrodome might affect his power production.
But Morneau has continued upon his MVP-type seasons this April, putting up a line of .347 BA/.490 OBP/.640 SLG/1.130 OPS, which ranked third behind Paul Konerko and Nelson Cruz.
Morneau is one of the premier power hitters in the American League and deserved a spot on this All Star team.
SP - Andy Pettitte, New York Yankees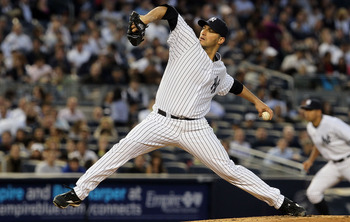 He was thinking retirement after the 2008 season, then decided to return for another year and won another World Series ring.
He was contemplating retirement again after last season, but came back and now has the best start of his career.
Andy Pettitte in April had a 3-0 record, 2.12 ERA, a 1.147 WHIP and 25 strikeouts in 34 innings pitched.
He dominated the first four games against the expected best hitting teams in the American League including Boston, Texas and Los Angeles twice.
The Yankees have won all five games which Pettitte has started.
Similar to Posada, Andy is accumulating key statistics which put him into the conversation with all the best left-handed pitchers in recent history.
He is currently 15th in all-time wins for a left-handed pitcher, and could be in 11th place at the end of 2010 with 10 more victories.
SP - Matt Garza, Tampa Bay Rays
Matt Garza has become the ace of a pitching staff with the potential of having four aces. The Rays have the best and youngest staff in baseball, and show what a team can accomplish when they let their young pitchers pitch.
Garza had one bad outing allowing five earned runs in five innings, but dominated in his other four games. In those four contests, Garza did not allow more than one earned run.
I saw his last start on television, and with a 10-run lead over Kansas City, Garza was still starting hitters off with his devastating curve ball. He is a complete pitcher.
During April, Garza fashioned a 4-1 record, 2.06 ERA, 1.143 WHIP and 34 strikeouts in 35 innings pitched. And I really like the five decisions in five starts, not letting the bullpen determine the outcome of his and the team's games.
This a starting pitching factor which Zack Greinke has yet to understand.
SP - John Danks, Chicago White Sox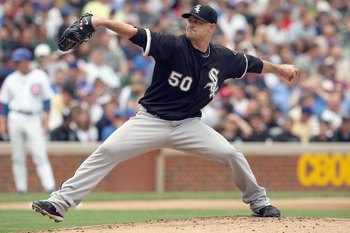 John Danks is better half of the terrible trade between the Texas Rangers and Chicago White Sox during December 2006.
Trading Brandon McCarthy to the Rangers, the Sox picked up Danks, a former first-round pick who did become the early winner the Rangers had envisioned.
Danks struggled as a 22-year-old in 2007, had a good 2008 breakout season, following up with a quality 2009.
His 2010 start is now establishing himself as a bona fide ace, and the leader of a pretty good White Sox rotation. During April, Danks had a 3-0 record, 1.55 ERA, a 0.862 WHIP and 26 strikeouts in 29 innings pitched.
In what has become a reported growing trend in baseball, young pitchers are hooking themselves at the hip of veteran hurlers, learning the finer points. Danks targeted Mark Buerhle, the perfect game hurler of the White Sox staff.
From his mentor, Danks has learned to work quickly to keep his fielders in the game and to locate all his pitches to both sides of the plate.
Because of this, Danks is keeping hitters off balance with change of speeds and his catch-and-throw style.
He has become a durable starter, not missing a start the last three seasons.
Amazing what good pitching mechanics can do.
SP - Francisco Liriano, Minnesota Twins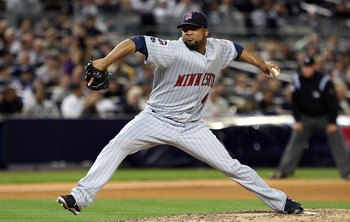 He was the next Johan Santana, then after the 2006 Tommy John surgery, he became the next poster child for the innings limit/pitch count noodnicks.
For the umpteenth time, it is incorrect pitching mechanics, and not innings and/or pitch count overload, which causes the majority of arm injuries.
Anyway...similar to Vernon Wells, our team's centerfielder, Liriano has overcome a disastrous 2009 season to come out of the 2010 gates with guns blazing.
He dominated American League hitters in April with a 3-0 record, 0.93 ERA, a 0.966 WHIP and 27 strikeouts in 29 innings pitched.
His resurgence corresponds with the fine start for the Minnesota Twins, currently in first place within the AL Central division.
Liriano has become the new de facto ace of the Twins, and the team couldn't be more delighted.
SP - Colby Lewis, Texas Rangers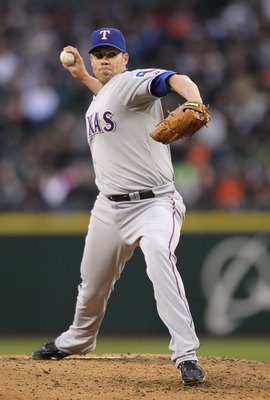 What do CC Sabathia, AJ Burnett, Jered Weaver, Fausto Carmona and David Price have in common? They all had great Aprils but did not make this All-Star team.
They were good, but not good enough to make this team.
Never thought you would see a 30-year-old journeyman on this team who hasn't pitched in the majors since 2007, did you?
Well, Colby Lewis has made this All Star team. And to think I wasn't a big fan of his even making the Texas Rangers starting rotation out of Spring Training. I would have preferred if the Rangers went with Derek Holland.
Lewis only made the team because Tommy Hunter strained his oblique in Spring Training, but has made the most of his opportunity. Although he has not played in the majors since 2007, he did play in Japan over the last two seasons.
He has produced a 3-0 record, 2.76 ERA with 1.102 WHIP and 38 K's in 32 April innings. Lewis (and fellow new starter CJ Wilson) has kept the Rangers rotation intact after the injury to Hunter and the ineffectiveness of other Rangers starters Rich Harden, Matt Harrison and Scott Feldman.
Plus, this might be the only time Lewis ever makes an All-Star team.
Honorable Mention - All the pitchers listed in my above trivia question.
RP - Mariano Rivera, New York Yankees
Did you expect anybody else?
Mariano Rivera has not allowed a run yet, has no record (good for a closer), and seven saves in 10 appearances. In nine innings, Rivera has allowed three hits and walked two, while striking out nine hitters.
His WHIP is a ridiculously low 0.556, and despite the reduced velocity over the last several seasons, Rivera (and his cutter) are still the best in the business.
Honorable Mention - Jon Rauch (Twins) and David Aardsma (Seattle).
Keep Reading