Ex-Georgia QB Zach Mettenberger Pleads Guilty to Sexual Battery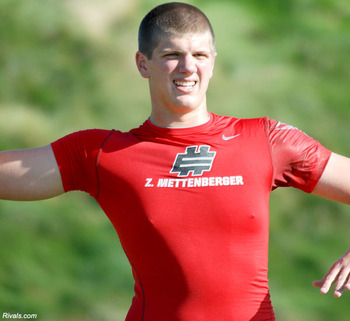 Those hoping for a mea culpa and a return to the Georgia football team for touted recruit Zach Mettenberger need to find other hopes and dreams.
Mettenberger pleaded guilty in Lowndes Country Superior Court Monday to two counts of misdemeanor sexual battery arising from a March 7 incident at a Remerton, Ga., bar.
"The sexual battery counts were the result of Mettenberger grabbing the breasts and touching the buttocks of the victim," Southern Judicial Circuit district attorney J. David Miller said in an e-mail to the Atlanta Journal Constitution Monday afternoon.
The judgment includes a stipulation that Mettenberger is banned from stepping foot in the town of Valdosta.
According to the district attorney, Mettenberger "was sentenced to two concurrent 12-month periods of probation under the First Offender act, is to pay $35 per month for a probation supervision fee, pay a fine of $1,000 on each count, must consent to searches of his person, vehicle and premises at any time by any law enforcement officer without a search warrant and without probable cause and must not object to any item seized during any such search from being admitted into evidence in any court proceeding, must not drink any alcoholic beverage, nor be at any place where alcoholic beverages are sold, is banished from the city of Valdosta and must have no contact, direct or indirect, with the victim in the case."
Miller said the Remerton Police Department and the victim in the case "were satisfied with this resolution."
Miller said other charges originally filed in the case — underage possession of alcohol, disorderly conduct, obstruction and possession of false identification — were dismissed "in consideration of the guilty pleas."
How did this all go downhill so quickly for another "Berger" cooked by his own libido?
March: In the Running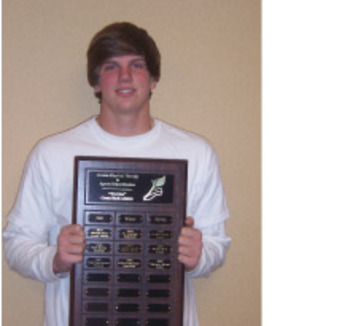 Mettenberger came into spring practice as a redshirt freshman intent on winning the starting position with Joe Cox graduated.
Mettenberger is a graduate of Oconee (Ga.) County High School and was a highly touted prospect alongside Tampa's Aaron Murray, the No. 3-rated quarterback in the nation by one recruiting Web site and was a Parade High School All-America pick.
Mettenberger appeared to be neck-and-neck with Murray this spring. He participated in all 15 sessions of Georgia's spring practice, which ended with the G-Day intra-squad scrimmage on April 10.
Here, Mettenberger is in action during the Oconee County spring game.
Spring Game: Decent Results But Trouble Looming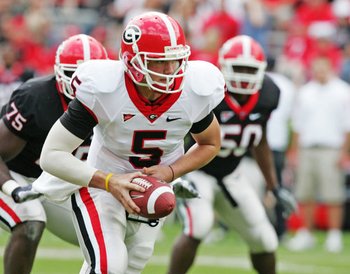 Mettenberger played in the Bulldogs' spring game April 10 and completed six of 10 passes for 150 yards, including touchdowns of 24 and 39 yards. Logan Gray, a junior and Cox backup last season, was 10 of 17 passes for 132 yards and one TD. Murray was the least impressive of the three, connecting on 10 of 22 for 96 yards with one interception.
But it was then that head coach Mark Richt first said the frosh was facing at least a one-game suspension for a spring-break drinking arrest. That was the March 7 arrest.
The End of the UGA Days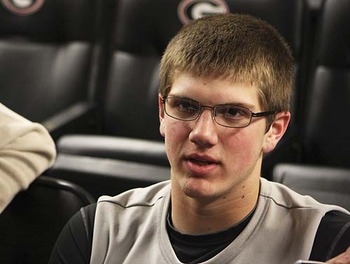 Richt originally said that Mettenberger would face a sitdown Sept. 4 against Louisiana Monroe due to the bar incident. But when charges became more serious and sexual allegations came to light, the athletic program kicked Mettenberger out April 18.
Mettenberger is the second player kicked off the Georgia team this spring.
Richt dismissed backup outside linebacker Montez Robinson from the squad April 4 after Robinson was arrested on a misdemeanor charge of simple battery/family violence, his third arrest in five months.
What Now For Georgia QBs?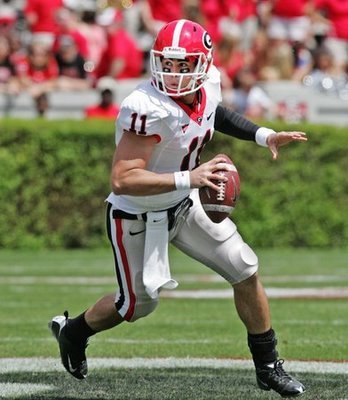 Murray appears to be the man for now, as he was named the starter by Richt.
That makes the boosters happy -- to see a kid with a gun a la Matthew Stafford -- at the top of the depth chart. Gray has talked about transferring, leaving the potential for no depth at the position.
Richt said at a Savannah booster luncheon last week that he was still trying to convince Gray to stay in Athens.
Another quarterback, Hutson Mason, from Lassiter High School in Marietta, Ga., will join the Georgia program this summer.
Keep Reading